How Can I Merge Disk 0 and Disk 1 in Windows 11/10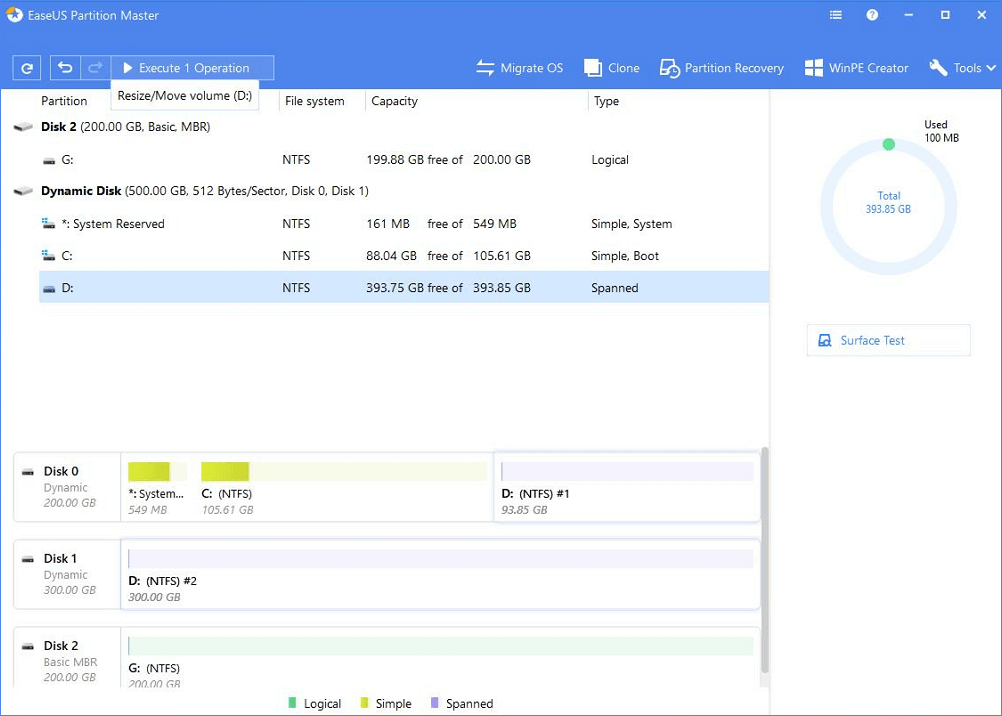 Quick Access on How to Merge Disk 0 and Disk 1
You need two steps and you can merge the two disks:
First, convert the two disks into dynamic disks
Second, merge the two disks with EaseUS Partition Master
How Can I Merge Disk 0 and Disk 1 to Extend Disk Space
"There are three disks on my computer. The disk 0 is almost full because I often use it to save and back up terabytes of data. However, my disk 1 has lots of free space. I wonder, can I merge disk 0 and disk 1 to get more space for my disk 0? Can I move unallocated space on disk 1 to disk 0?" Or how to take the volume from disk 1 to disk 0?"
Most users may have experienced the same problem: one of their disks gets full while the other has lots of unallocated space. The best choice to make full use of all space is to merge the two disks. Or move volume from disk o to disk 1. On this page, we'll show you how to effectively merge disk 0 and disk 1 (just two disks) with ease. You can also use the provided method on this page to merge even more disks on Windows PC.
Preparations Before Combine Disk 0 and Disk 1
To merge disk 0 and disk 1, you need to do the following preparations.
1. Download reliable partition manager software 
Professional partition manager software - EaseUS Partition Master can help you merge two disks effectively, allowing you to make full use of disk space. This software has many highlights:
Resize/move, merge, clone partition, and check file system error.
Clone disk, convert to MBR/GPT, convert to dynamic/basic, and even wipe data.
Migrate OS to SSD to speed up Windows without reinstalling.
2. Make sure the second disk contains enough unallocated space
As long as the second disk contains unallocated space, you can add it to the target disk to extend partitions.
 Tip

1. It doesn't support merging external hard drives or devices.
2. Only internal hard disks can be merged as one disk.
3. Only unallocated space can be merged into another disk.
4. It doesn't support increasing C drive across two hard disks.
How to Merge Two Disks as One in Windows 11/10
You just need two steps and you can merge the two disks. First, convert the two disks into dynamic disks. Second, merge the two disks. Now, let's start to merge two disks in Windows 11/10:
Step 1. Convert Basic into Dynamic
Right-click one of the disks (disk 0, disk 1 or disk 2) that you want to merge, choose "Convert to Dynamic".
Confirm the disk conversion from the Basic to Dynamic.
Select the other disk (with lots of free space) and convert it to a dynamic disk in the same way.
When both of the disks have been converted into dynamic disks, as shown below, you can follow Step 2 to merge free space from one disk to another now.
Step 2. Merge Two Disks into One Disk
Note: The other dynamic must be unallocated space. If it's not, use EaseUS Partition Master to delete all the partitions on it. What's more, you cannot merge a system partition even you have converted to dynamic.
Select the full disk, right-click on it and choose "Resize/Move".
Use your mouse to drag the partition panel rightward or leftward to extend partition size.
Sometimes, the unallocated space is on the left of the partition you want to extend. If you want to move unallocated space, just drag the left partition handle leftwards to the size you want.
Click "Execute Operation" and you are able to merge space from one disk to the other.
How to Merge Two Partitions on the Same Disk
If you have two adjacent partitions on the same disk, you can also merge them with the help of EaseUS partition software. Compared with Disk Management, EaseUS Partition Master won't ask you to delete a volume to create a new space. Instead, as long as the source partition and the target partition are adjoining partitions, you can combine them directly.
Steps to combine two adjacent partitions on the same disk:
Step 1: Select the target partition
Right-click on the partition which you want to add space to and keep, and select "Merge".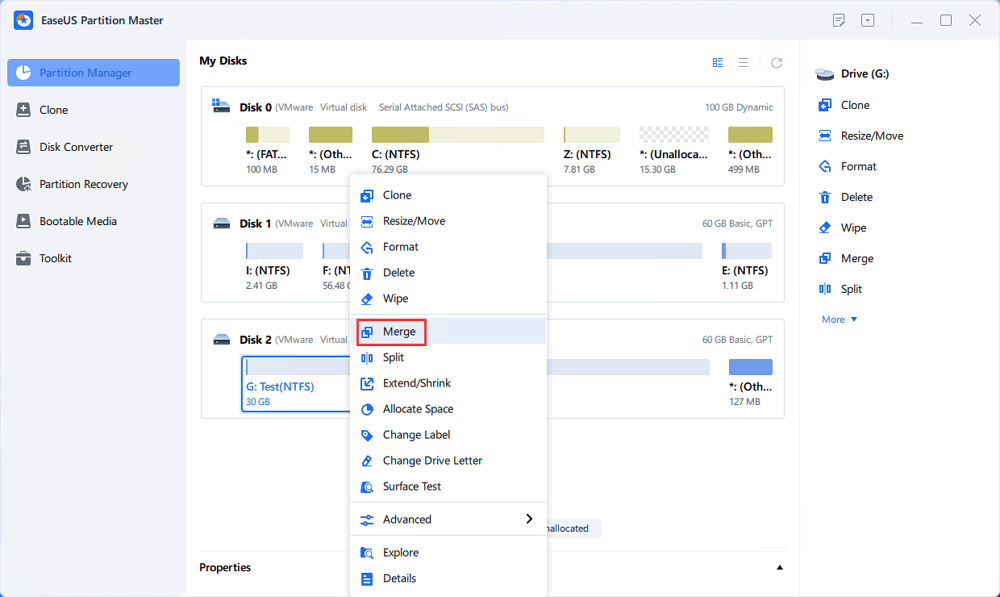 Step 2: Select a neighbor partition to merge
Select one partition next to the former selected partition and click "OK" to continue.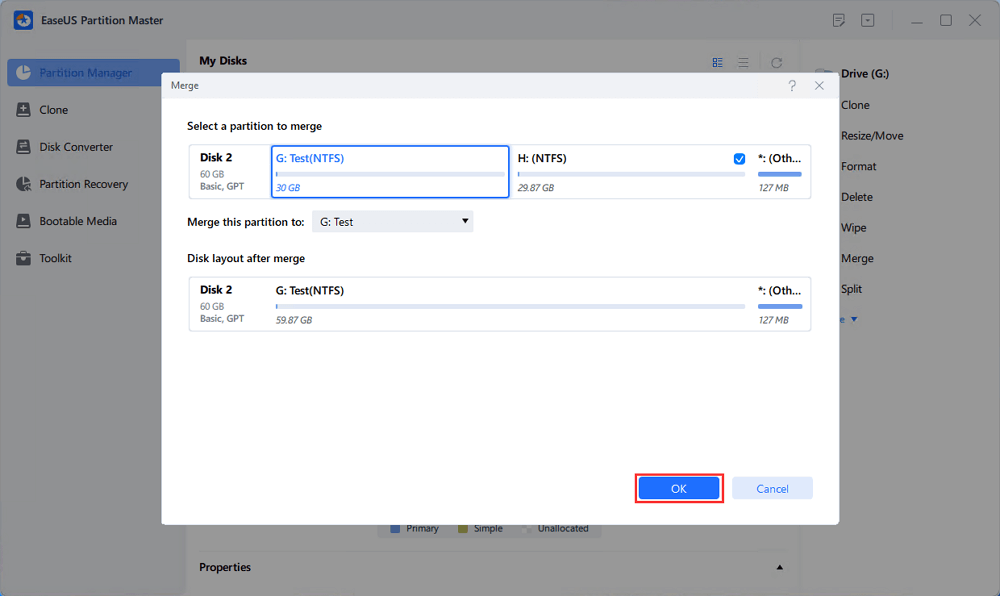 Step 3: Execute operation to merge partitions
1. Click the "Execute Operation" button at the top and then click "Apply".
2. The program will merge space and add files from the second partition to the first partition.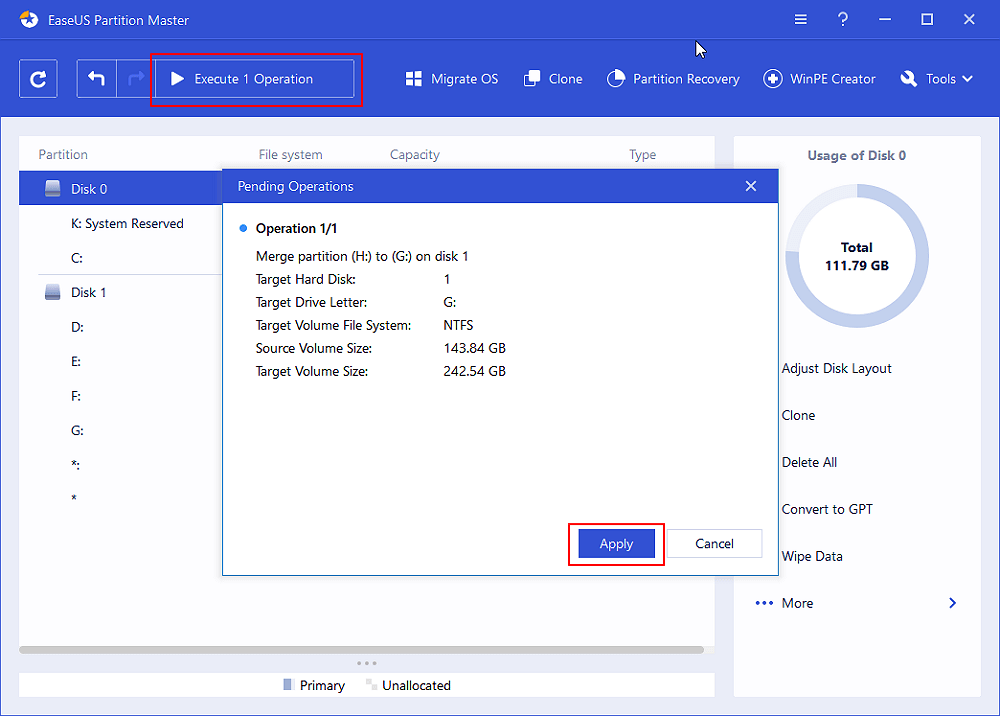 Conclusion
You can merge two adjacent partitions to extend C drive or other drives. You can also merge two disks by converting them into dynamic disks. EaseUS disk management tool plays a vital role in managing your disk space. You can always turn to EaseUS for help when you are faced with disk management issues.
Move Unallocated Space from One Disk To Another FAQs
We provide you with several questions and answers. If you want to get additional help, you can read on.
What is the difference between disk 0 and disk 1?
Disk 1 and Disk 0 are two different physical discs. Disk 0 maybe 120 GB SSD. Disk 1 maybe 1 TB HDD. It nearly covers your requirement of having more storage space.
Is Dynamic Disk better than basic?
A dynamic disk gives more flexibility than a basic disk because it does not use a partition table to keep track of all partitions. Instead, it uses a hidden logical disk manager (LDM) or virtual disk service (VDS) to track information about the disk's dynamic partitions or volumes.
How do I add space from disk 1 to disk 0?
You need two steps, and you can merge the two disks. 
Step 1. Convert the two disks into dynamic disks. 
Step 2. Resize one of the disk partition to add space to it.
Can you combine two SSDs?
Yes. If none of them is a system disk, you can merge SSDs with the help of EaseUS Partition Master.

Roxanne is one of the main contributors to EaseUS and has created multiple posts on digital devices like PCs, Mobile phones, tablets, Mac, etc. She loves to share ideas with people of the same interest.

Brithny is a technology enthusiast, aiming to make readers' tech life easy and enjoyable. She loves exploring new technologies and writing technical how-to tips. On her spare time, she loves sharing things about her favorite singer - Taylor Swift on her Facebook or Twitter.
I love that the changes you make with EaseUS Partition Master Free aren't immediately applied to the disks. It makes it way easier to play out what will happen after you've made all the changes. I also think the overall look and feel of EaseUS Partition Master Free makes whatever you're doing with your computer's partitions easy.

 Read More

Partition Master Free can Resize, Move, Merge, Migrate, and Copy disks or partitions; convert to local, change label, defragment, check and explore partition; and much more. A premium upgrade adds free tech support and the ability to resize dynamic volumes.

 Read More

It won't hot image your drives or align them, but since it's coupled with a partition manager, it allows you do perform many tasks at once, instead of just cloning drives. You can move partitions around, resize them, defragment, and more, along with the other tools you'd expect from a cloning tool.

 Read More
About EaseUS Partition Master
All-round disk & partition management software for personal and commercial use. Let it manage your storage drive: resize, format, delete, clone, convert, etc.
Video Tutorial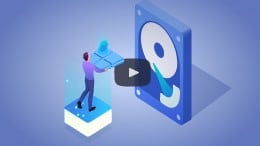 How to Partititon a Hard Drive on Windows 10/8/7
Was This Page Helpful
How Can We Help You
Find answers to common questions below.