When you carelessly delete the system reserved partition, it may cause boot problems or system update problems on your computer. How to fix this problem? Don't worry, here below you'll find relative solutions to recover deleted system reserved partition and cope with the boot errors on your PC.
Here below are some effective methods for you to repair or recover system reserved partition in Windows 10/8/7:
Note: Before you do any changes on your computer, please do remember to backup important files and data in your PC into an external storage device.
Method 1. Use bootable disk to reboot system and fix system reserved partition deleted problem
When you fail to boot system due to the deletion of system reserved partition, an Emergency bootable disk may help. But the disk shall be created before you commit the mistake. How to use the system bootable disk?
Professional partition manager - EaseUS Partition Master may help you to create system bootable disk with ease. With the bootable disk, you can reboot the system and choose to boot your computer from the bootable disk. Then the deleted system reserved partition will be back. And everything will work alright.
Method 2. Restore deleted system reserved partition with partition manager software
You may think this cannot be possible. The truth is that yes, you do can restore the system reserved partition without any obstacles when you happen to delete it by mistake. How?
Here we'd like to recommend you try EaseUS Partition Master which allows you to restore the deleted partition with ease. It also works to restore the deleted system reserved partition. Free download it, and follow below steps to restore the system reserved partition now:
1. Launch EaseUS Partition Master > Click Wizard > Choose Partition recovery wizard > Next.
2. Select recovery mode: Automatic or Manual > Click Next.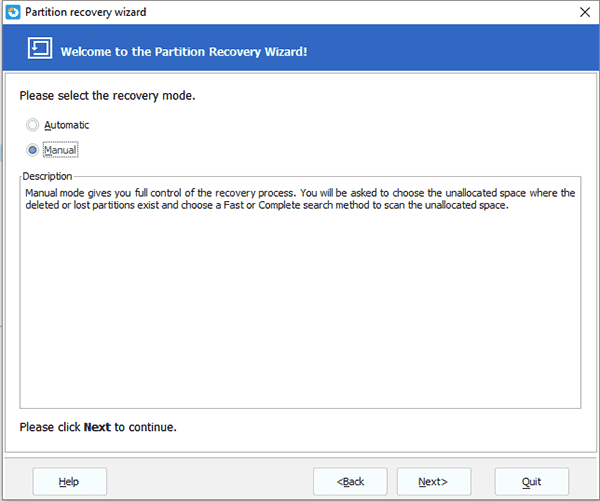 Automatic mode will recover all deleted or lost unallocated space on all hard disks in your PC. But it's not always possible to recover all partitions in this mode.
Therefore, Manual mode is more recommended to restore the lost partition.
3. Select the Unallocated space and click Next > Select a search method: Fast or Complete.
In order to find deleted system reserved partition, we recommend you to try Complete mode.
Then click Next.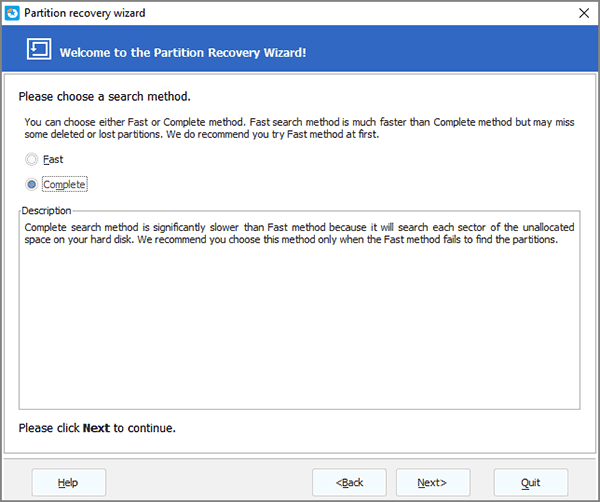 4.Wait for the program to find your lost partitions and select the listed system reserved partition and click Proceed.
If it didn't find the lost partition for you, you may try again to continue using the Complete search method.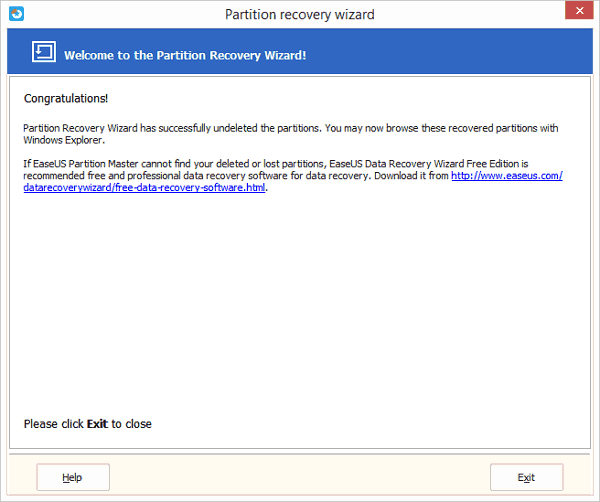 After this, you may check the files in the system reserved partition to see whether they were still there.
If not, you can search relative Windows system files and copy the system reserved partition, reboot computer and reuse the system again.
Method 3. Rebuild or repair (deleted) system reserved partition via cmd (command prompt)
1. Boot computer with Windows 10/8/7 installation media and press Shift + F10;
2. Run the following commands at the command prompt:
If you receive the error message "Element not found", you may need to mark the boot partition as active with diskpart firstly.
3. Enter the commands below at the command prompt:
diskpart
select disk 0
list partition
select partition #
Note: Select the "System Reserved" partition (if you have it) or the Windows OS partition.
4. Type: bootrec /fixboot + Enter at the command prompt.
5. Type: bootrec /rebuildbcd + Enter in the command prompt.
After these steps, you can reboot PC and continue to use your computer again, and the deleted system reserved partition will be restored.
Method 4. Reinstall Windows OS to restore/recover deleted system reserved partition
If you've tried all these steps, you may need to perform a reinstallation of your present system.
You can either go to Microsoft Windows page to download relative ISO files for your Windows system and install it or go to some download website to get the installation patches for your present Windows OS.
After reinstalling the new system, the lost system reserved partition will be restored and the whole computer will run properly again.