
About the Author
Hot Topics in 2022
(3 Free Methods) How to Remove or Delete Partition Windows 11/10
The Windows operating system allows users to manage partitions by themselves. Therefore, users can delete one partition and expand another partition. In this article, we'd like to introduce three free and easy methods to delete partitions on Windows 11/10.
The common demands for deleting a partition in Windows 11/10 are usually as follows:
Delete a data storage partition that is unnecessary
Delete a recovery partition on a computer or laptop
Delete a partition during Windows 11/10 installation
Delete the unallocated partition in Windows 11/10/8/7
Whenever you need to remove a partition in Windows 11/10, you can start with any one of the three ways within this page: [1] Windows Disk Management; [2] Diskpart command and [3] EaseUS hard drive partitioning software.
Note: All methods mentioned will erase the data stored in the partition. Back up your important data before proceeding. Then, follow the step-by-step guide to remove any unwanted partition and reallocate your Windows 11/10 disk space.
Method 1. Remove Windows 11/10 Partition with Disk Management
Applies to: remove data storage drive like D, E, F in a Windows 11/10 computer; delete one partition each time
To remove partitions in Windows 11/10 using Disk Management, follow the steps below:
Step 1: Search "Disk Management" at the Start Menu.
Step 2: Right-click the drive or partition by clicking "Delete Volume" in the Disk Management panel.
Step 3: Select "Yes" to continue the removal process. Then you've successfully deleted or removed your Windows 11/10 disk.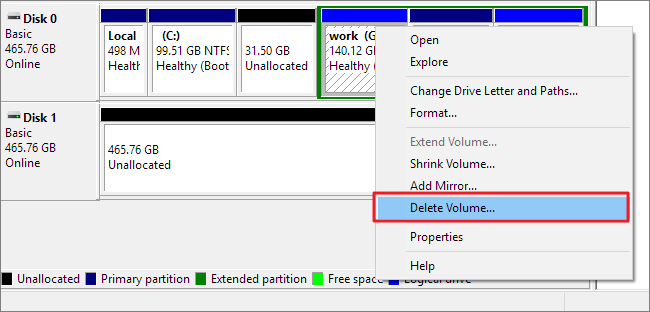 After doing so, the deleted partition becomes unallocated space. You can apply further operations to the unallocated space.
Method 2. Delete Partition Windows 11/10 in Diskpart
Applies to: delete data partition, recovery partition, or EFI partition in Windows 11/10 (require a recovery disk); delete all partitions one time
Here is the step-by-step guide for deleting partition in Diskpart:
Step 1: Press the "Windows" + "R" key simultaneously to bring up the Run box. Type cmd and hit Enter.
Step 2: Type the following commands each after to delete a partition from your computer.
diskpart
list disk
selected disk #
list partition
select partition #
delete partition
Step 3: Type exit to close the Command Prompt window.
Method 3. Delete Partition Windows 11/10 with Free Hard Drive Partitioning Software
Applies to: delete data partition, recovery partition, or EFI partition in Windows 11/10; delete all partitions one time
If you delete the partition in order to expand other partitions. Then the free hard drive partitioning software - EaseUS Partition Master would be a better choice. It is an all-in-one partition management tool that supports users to delete and resize partitions with ease. Compared with the diskpart method, it's able to delete one or more partitions at a time, yet is more user-friendly, without requiring a solid computer skill.
Now download EaseUS Partition Master and follow the detailed guide below.
Guide: How to delete partition in Windows 11/10
Step 1. Launch EaseUS Partition Master, and click "Partition Manager".
Make sure that you've backed up the important data before deleting any partition on your disk.
Step 2. Select to delete partition or delete all partitions on hard drive.
Delete single partition: right-click on a partition that you want to delete and choose "Delete".
Delete all partitions: right-click a hard drive that you want to delete all partitions, and select "Delete All".
Step 3. Click "Yes" to confirm the deletion.
Step 4. Click "Execute xx Task" and then click "Apply" to save the change.
0:00 - 0:26 Delete single volumes; 0:27 - 0:53 Delete all partitions.
After doing so, you can enlarge other disks or do more operations using EaseUS Partition Master for free.
The following video tutorial shows how to partition a hard drive with EaseUS Partition Master, including how to resize, create, delete a partition and extend the C drive. 
Bonus Tip - Can't Delete Partition During Windows 11/10 Installation
Can't delete a partition in Windows 11/10? It's because you're attempting to delete a protected partition using the default Disk Management, like a C drive, boot drive, recovery drive, or an OEM partition. When you can't delete a partition Windows 11/10 install, you can try solutions as follows.
Step 1: Boot up with Windows installation media (USB/DVD).
Step 2: On the first screen. Press SHIFT + F10 and type the below commands:
diskpart
select disk 0
clean
exit
Step 3: Continue with Installation, select custom, select the unallocated partition then click Next (Do not create partition/format. Let Windows create the needed partitions.
Step 4: When prompted for a product key. Click on "I don't have the product key" or "Skip this step".
About the Author

Roxanne is one of the main contributors to EaseUS and has created multiple posts on digital devices like PCs, Mobile phones, tablets, Mac, etc. She loves to share ideas with people of the same interest.

Brithny is a technology enthusiast, aiming to make readers' tech life easy and enjoyable. She loves exploring new technologies and writing technical how-to tips. On her spare time, she loves sharing things about her favorite singer - Taylor Swift on her Facebook or Twitter.
Product Reviews
I love that the changes you make with EaseUS Partition Master Free aren't immediately applied to the disks. It makes it way easier to play out what will happen after you've made all the changes. I also think the overall look and feel of EaseUS Partition Master Free makes whatever you're doing with your computer's partitions easy.

 Read More

Partition Master Free can Resize, Move, Merge, Migrate, and Copy disks or partitions; convert to local, change label, defragment, check and explore partition; and much more. A premium upgrade adds free tech support and the ability to resize dynamic volumes.

 Read More

It won't hot image your drives or align them, but since it's coupled with a partition manager, it allows you do perform many tasks at once, instead of just cloning drives. You can move partitions around, resize them, defragment, and more, along with the other tools you'd expect from a cloning tool.

 Read More