Have you recently upgraded the OS with Windows 10 but found no way to remove the partition Windows 10 free? Does your C drive keeps telling you that it is running out of space or your disk space is not allocated properly which may cause some partitions are full and some are still empty?
To solve this case, you need to remove the partition and then resize partition in Windows 10. Here we'll provide you with two reliable methods: Disk Management and partition management software for Windows 10.
Remove Windows 10 Partition with Disk Management
Do remember to back up your important data before trying any methods to partition or perform any operations in Windows 10. Then follow next steps to remove your Windows 10 partition and reallocate your Windows 10 disk space:
Step 1: Search "Disk Management" at the Start Menu or Search tool. Enter Windows 10 Disk Management. Right-click the drive or partition by clicking "Delete Volume".
Step 2: Select "Yes" to let the system complete the removing process. Then you've successfully deleted or removed your Windows 10 disk.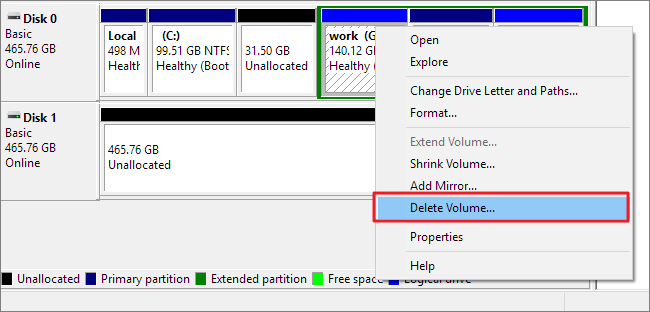 After doing so, you will get some unallocated space. Then you can extend wanted partitions or adjust other partition space.
Delete Partition with Free Partition Software
If you find disk management cannot help you remove system partition or dynamic partition, or merge partitions, you need another tool - free partition software.
EaseUS Partition Master Free is capable of helping you delete or remove Windows 10 partitions for free. It also offers other options for you to do more operations on your Windows 10 partition such as partition hard drive in Windows 10, format the partition and combine partitions.
Do not hesitate any more. Back up your data on the partition before you remove the partition. Download this software and follow the next steps to remove the partition in Windows 10 right now:
 Notice:

If you saved important data in the partition which you want to delete, move and save those data to another secure location in advance.
Step 1: Install and launch EaseUS Partition Master on PC
On the main window, right-click on the hard drive partition which you want to delete and select "Delete".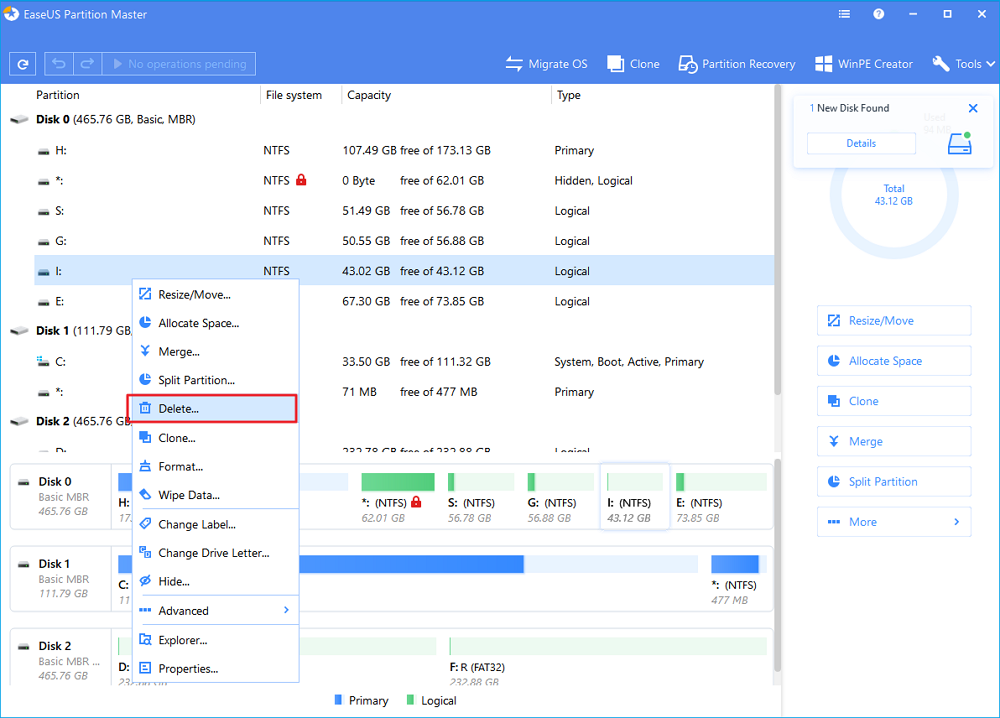 Step 2: Confirm the deletion
Step 3: Execute to delete the partition
After doing so, you can repartition your Windows 10 disk and do more operations for free. EaseUS Partition Master also works excellent in dealing with other problems such as resize NTFS partition, perform free partition recovery from unallocated space or partition magic x64 etc.