Overview of NTFS
NTFS (Windows NT File System) is the standard file system of Windows NT, including its later versions Windows 2000, Windows XP, Windows Server 2003, Windows Server 2008, Windows Vista, Windows 7 and Windows 8/10.
NTFS is a high-performance and self-healing file system proprietary to Windows XP, Vista, 2003, 2000, NT & Windows 7 and Windows 8, which supports file-level security, compression and auditing. It also supports large volumes and powerful storage solution such as RAID. The most important new feature of NTFS is the ability to encrypt files and folders to protect your sensitive data. To avoid crippling Windows NT, Microsoft created a new file system that was not based on FAT - New Technology File System or NTFS.
Advantages of NTFS
NTFS was designed to meet a number of specific goals. The following are reasons why you should choose NTFS to be your partition file system:
1. Reliability: NTFS can help to avoid data loss, and improve fault tolerance during the process of recoverying.
2. Security and Access Control:NTFS has a built-in facility for controlling access to folders or files on a hard disk. So it can implement applications and networks that require security and the ability to manage who can read or write various data.
3. Storage Efficiency: When NTFS was developed, most PCs used FAT16, which resulted in wasting some disk space. NTFS avoids this problem by using a quite different method of allocating space to files than FAT does.
4. Breaking Size Barriers: NTFS allows very large partition sizes, in anticipation of growing hard disk capacities, as well as the use of RAID arrays.
5. Long File Names: NTFS allows file names to be up to 255 characters, instead of the 8+3 character limitation of conventional FAT.
6. Networking: While networking is common today, it was still in its relatively early stages in the PC world when Windows NT was developed. At around that time, businesses were just beginning to understand the importance of networking, and Windows NT was given some facilities to enable networking on a larger scale.
Why to resize NTFS partition?
Due to these points, NTFS is not only the most commonly used file system at present, but also tend to replace FAT file system some day. In order to maximize the performance of NTFS partition, we need to organize our NTFS partition regularly. When NTFS partition runs out of space, the most helpful operation is to extend NTFS partition.
What do you concern about most when you resize NTFS partition? Easy operation? Data security? I think the answer is "both". To fulfill the needs of computer users to resize NTFS partition easily and safely, this article will provide a free partition manager to resize NTFS partition without any data loss.
Solution: How to resize NTFS partition without losing data?
Although Windows Vista/Windows 7/Windows 8 allow users to extend or shrink partition with the built-in disk manager, there are too many limitations.
Based on recommendations from many computer users, the best way to resize NTFS partition without losing data is to use the reliable third-party free NTFS partition resizing software - EaseUS Partition Master Free Edition. Moreover, apart from basic and advanced partition manager functions, this free partition manager software also provides other two main useful features like Copy disk and Partition recovery wizard.
1. Download EaseUS Partition Master Free Edition and then directly launch this NTFS partition resizing freeware. Select the NTFS partition to be resized.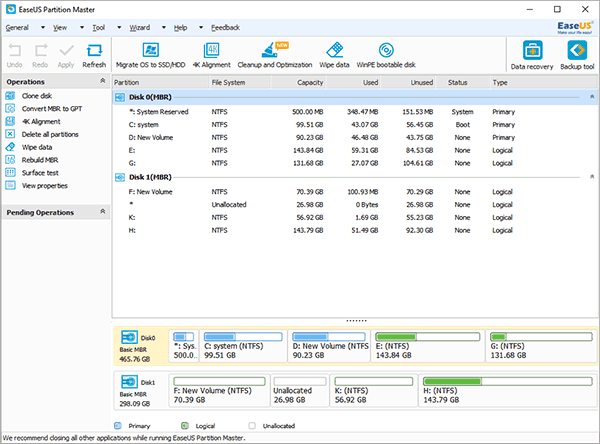 2. Then click "Resize/Move partition" to continue resizing NTFS partition by simply operations. Then Choose "Apply" to finish the NTFS partition resizing process.
More details about this NTFS partition resizing software
Actually, this free partition manager - EaseUS Partition Master Free Edition supports both NTFS and FAT file system. In other words, it not only allows you to resize NTFS partition, but also to resize FAT partition.
Moreover, the "Create partition" utility built in this program can help you create NTFS/FAT partition. Its "Convert to NTFS" function enables you to convert FAT (FAT12/FAT16/FAT32) to NTFS file system. Its "Merge partition" function enables you to merge FAT/NTFS partition to another NTFS partition.