Overview of NTFS
NTFS (Windows NT File System) is the standard file system of Windows NT, including its later versions Windows 2000, Windows XP, Windows Server 2003, Windows Server 2008, Windows Vista, Windows 7 and Windows 8/10.
NTFS is a high-performance and self-healing file system proprietary to Windows XP, Vista, 2003, 2000, NT & Windows 7 and Windows 8, which supports file-level security, compression, and auditing. It's also compatible with storage devices with large volumes and huge storage devices such as RAID. The most important new feature of NTFS is the ability to encrypt files and folders to protect your sensitive data. To avoid crippling Windows NT, Microsoft created a new file system that was not based on FAT - New Technology File System or NTFS.
Advantages of NTFS
NTFS was designed to meet some specific goals. The following are reasons why you should choose NTFS to be your partition file system:
1. Reliability: NTFS can help to avoid data loss, and improve fault tolerance during the process of recovery.
2. Security and Access Control: NTFS has a built-in facility for controlling access to folders or files on a hard disk. So it can implement applications and networks that require security and the ability to manage who can read or write various data.
3. Storage Efficiency: When NTFS was developed, most PCs used FAT16, which resulted in wasting some disk space. NTFS avoids this problem by using a different method of allocating space to files than FAT does.
4. Breaking Size Barriers: NTFS supports huge partition sizes, in anticipation of growing hard disk capacities, as well as the use of RAID arrays.
5. Long File Names: NTFS allows file names to be up to 255 characters, instead of the 8+3 character limitation of conventional FAT.
Need to resize NTFS partition
Due to these points, NTFS is not only the most commonly used file system at present, but also tend to replace FAT file system some day. To maximize the performance of NTFS partition, we need to organize our NTFS partition regularly. When NTFS partition runs out of space, the most helpful operation is to extend NTFS partition.
What do you concern about most when you resize NTFS partition? Easy operation? Data security? I think the answer is "both". To resize NTFS partition safely, this article will provide a free partition manager to resize NTFS partition without any data loss.
How to resize NTFS partition without losing data
Although Windows Vista/Windows 7/Windows 8 allows users to extend or shrink the partition with the built-in disk manager, there are too many limitations.
Based on recommendations from many computer users, the best way to realize this goal is to use the reliable third-party free NTFS partition resizing software - EaseUS Partition Master Free Edition. Moreover, apart from basic and advanced partition manager functions, this free partition manager software also provides other two main useful features like Copy disk and Partition recovery wizard.
Step 1: Locate the drive/partition
Step 2: Resize the partition
You can either shrink the selected partition or extend it.
To shrink the partition, simply use your mouse to drag one of its ends into unallocated space. Expand the "Advanced Settings" list, where you can see the exact disk space for each partition. Once done, click "OK".
Fig. 1 Unallocated space before the drive.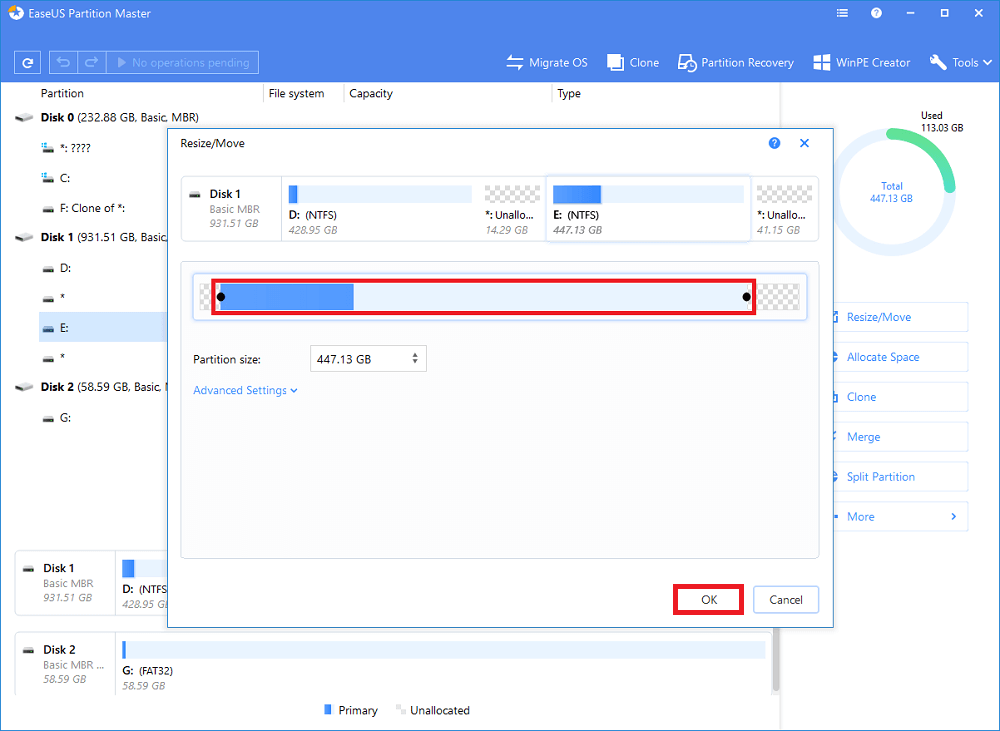 Fig. 2 Unallocated space after the drive.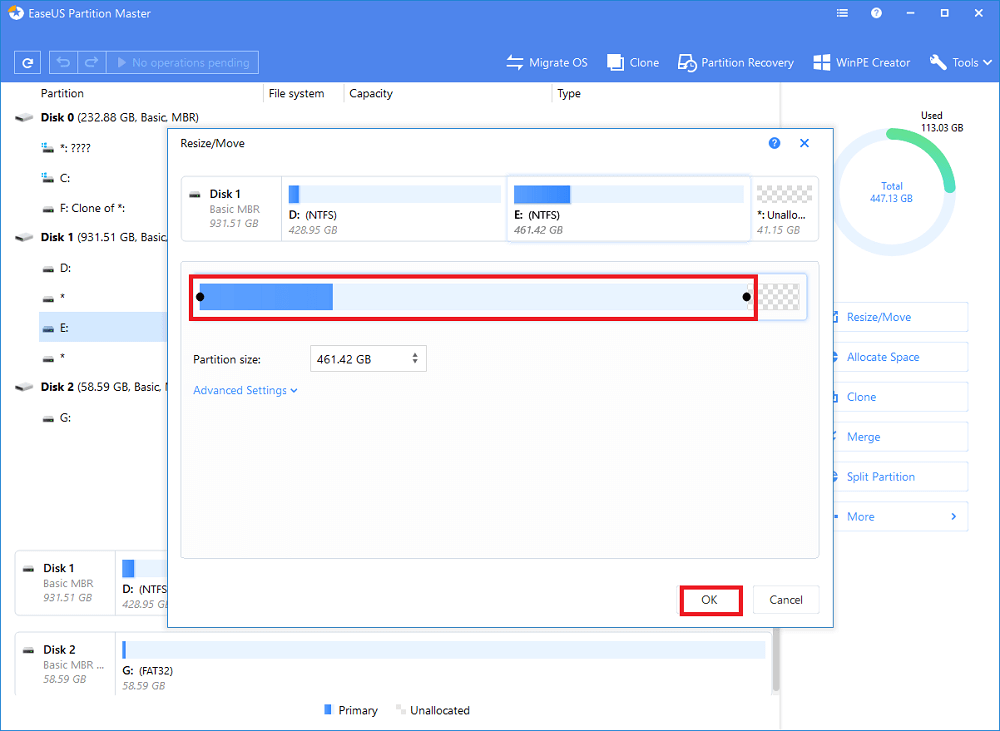 To extend the partition, make sure that there is unallocated space aside (if there isn't, follow the above steps to create some). In the same way, drag your mouse towards the unallocated space. Click "OK".
Fig. 3 Add unallocated space into the partition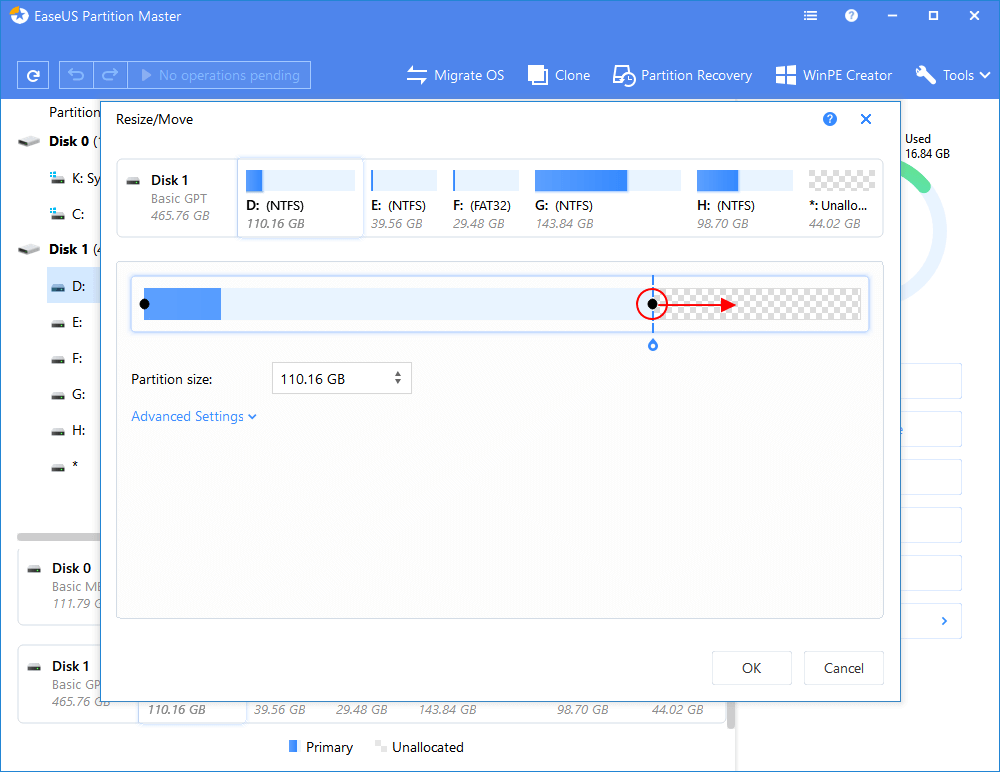 Step 3: Apply changes
More details about this NTFS partition resizing software
This free partition manager - EaseUS Partition Master Free Edition supports both NTFS and FAT file system. In other words, it not only allows you to resize NTFS partition, but also to resize FAT partition.
Moreover, the "Create partition" utility built in this program can help you create a NTFS/FAT partition. Its "Convert to NTFS" function enables you to convert FAT (FAT12/FAT16/FAT32) to NTFS file system. Its "Merge partition" function enables you to merge FAT/NTFS partition to another NTFS partition.
100% of people found this article helpful.
Frequently Asked Questions
Why Choose EaseUS Partition Master?

"I've used Partition Master Professional many times to create, delete, format, move, rename, and resize partitions." —PCWorld

"Partitioning tools have come a very long since the days of complicated command line utilities and EASEUS Partition Master is one of the most advanced programs available." —TECH ADVISOR

"I love that the changes you make with EaseUS Partition Master Free aren't immediately applied to the disks. It makes it way easier to play out what will happen after you've made all the changes." —Lifewire
Will the "Migrate OS" feature transfer the Windows system files only or the whole C drive?

To ensure that the migrated system will boot normally, the Migrate OS feature will transfer all the files in the system and the boot partitions. Generally, the boot partition is the C drive so the transfer will include all the files in C.
Does EaseUS Partition Master license apply to multiple computers?

The license of Partition Master Professional and Server editions can be used on 1 computer only, while that for for the Technician and Unlimited editions can be used on multiple machines.
What is the difference between EaseUS Partition Master Trial version and the Free version?

Free is for home users only, with most basic functions available such as partition resize and clone. While trial can help you understand how this product works and test what a full license can do on a business or server OS machine.
Will it cause any data loss after resizing the partition in EaseUS Partition Master?

Generally, it will not cause any data loss or boot issue by resizing a partition. However, in order to protect your data, we suggest that you backup the partition before resizing, in case of any unexpected situations such as power outages, computer hardware failures, etc. You can use EaseUS Todo Backup to backup the partition and its trial version is fully functioned for 30 days.
What should I prepare before resizing the partition?

On the partition that is going to be operated, there might be some files being occupied by other programs. To ensure a successful operation, we suggest that you close all the unnecessary software before resizing that partition. Otherwise, EaseUS Partition Master will detect the partition being locked by the other software and require a reboot to resize the partition under boot mode.
About EaseUS Partition Master
All-round disk & partition management software for personal and commercial use. Let it manage your storage drive: resize, format, delete, clone, convert, etc.