This article was written based on the popular needs of how to resize partition Windows 10, and people like it as we gave detailed instructions on how to shrink volume Windows 10 as well as how to make full use of unallocated space in Windows 10. Since we were targeting the average Windows users who prefer a user-friendly and direct way to freely adjust the size of a drive partition, so previously we outlined the article with two easy-to-access assistive tools:
#1. The built-in Windows 10 Disk Management
#2. The third-party free partition manager
Both partition management tools can greatly assist you to shrink a disk volume, like the system C drive, but you'll find that the third-party software provides users with more intuitive operation and more versatile disk managing functions. As a complementary solution for advanced users with some computer skills, the Windows command prompt is also attainable.
#3 Windows 10 DiskPart Command Full Guide>>

list volume
select <volumenumber>
shrink=<desiredsize>
Windows 10 partition resize allows you to resize hard drive partitions under Windows 10 32 bit and 64 bit OS. This article will show you how to resize Windows 10 partition.
Can Windows 10 Built-in Disk Management Resize Windows 10 Partition?
Yes. Windows 10 built-in Disk Management has the ability to shrink volume and extend volume. Just right click on "My Computer", choose "Manage", and you will get a popup window, choose "Disk Management" in the left navigation bar. And then, your hard disk condition will show as follow. Then you need to right-click on the partition which you want to shrink, and choose "Shrink Volume", then type a number how much disk space you want to free up.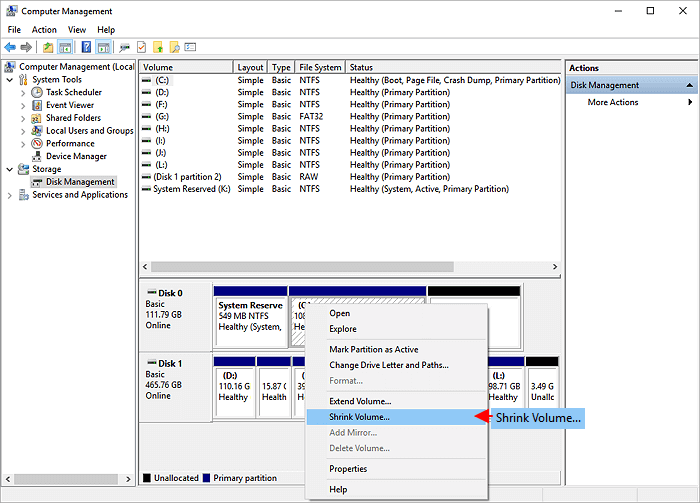 When there is some unallocated space next to the partition that you want to extend and right-click the partition that you want to extend, choose "Extend Volume", and type the number of that unallocated space. Then Windows 10 partition resize is done.
Although there is some improvement in the Disk Management Tool in Windows 10, it still has many limitations in partition management. (Please refer to the comparison table below). Because some advanced partition management in Windows 10 is still unavailable when you find your system partition is out of space which will be in red as below:

In this condition, people have to seek the best partition manager software for Windows 10. EaseUS Partition Master, a comprehensive free partition manager, and system optimization software for Windows-based administration works well with Windows 10.
How to Resize Windows 10 Partition with EaseUS Partition Master
EaseUS partition manager offers a simple and convenient way to repartition hard drive partitions, and it runs well on Windows 10, Windows 8, Windows 7, Windows Vista and Windows XP. Say, it enables you to extend the system partition, create, delete, resize/move, copy, merge, split or format partition.
Step 1: Locate the drive/partition
Step 2: Resize the partition
You can either shrink the selected partition or extend it.
To shrink the partition, simply use your mouse to drag one of its ends into unallocated space. Expand the "Advanced Settings" list, where you can see the exact disk space for each partition. Once done, click "OK".
Fig. 1 Unallocated space before the drive.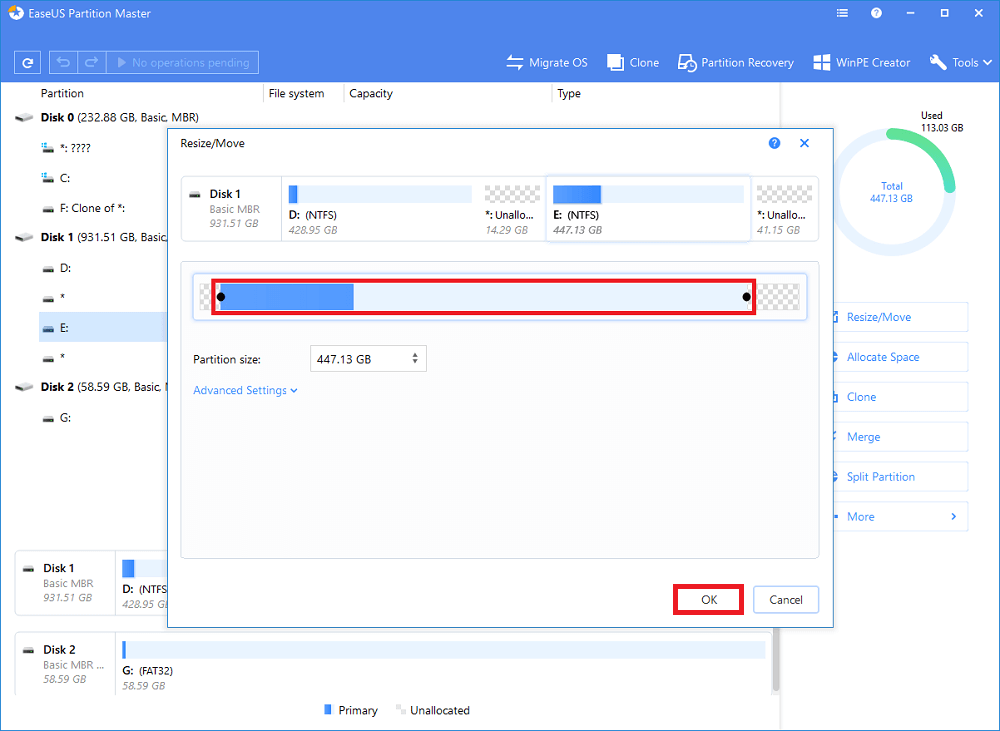 Fig. 2 Unallocated space after the drive.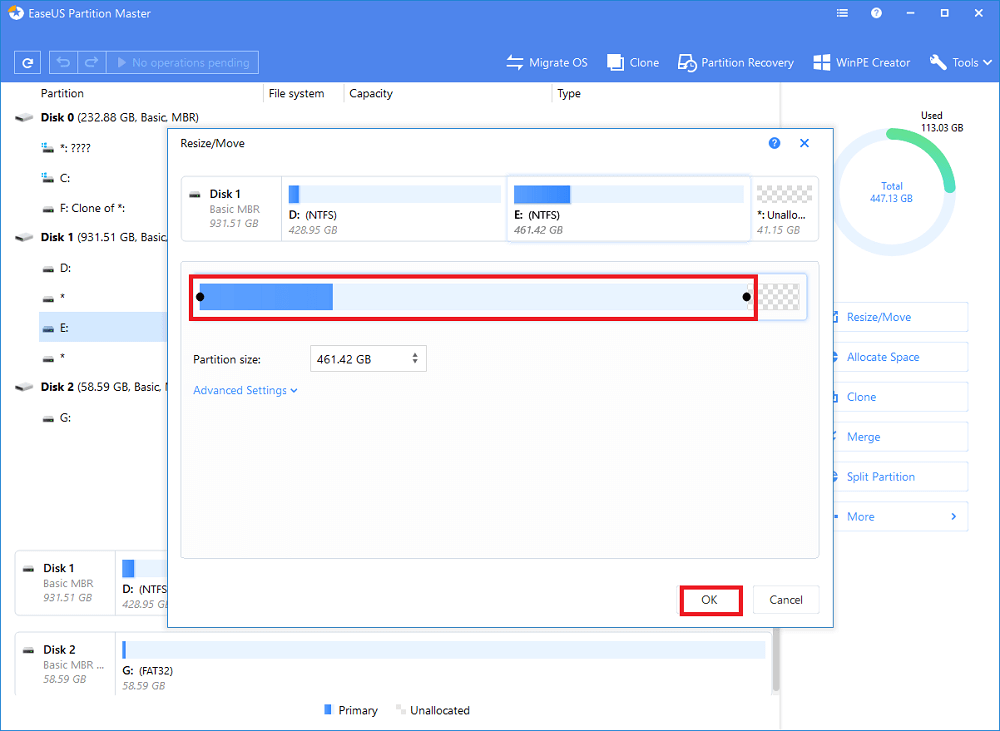 To extend the partition, make sure that there is unallocated space aside (if there isn't, follow the above steps to create some). In the same way, drag your mouse towards the unallocated space. Click "OK".
Fig. 3 Add unallocated space into the partition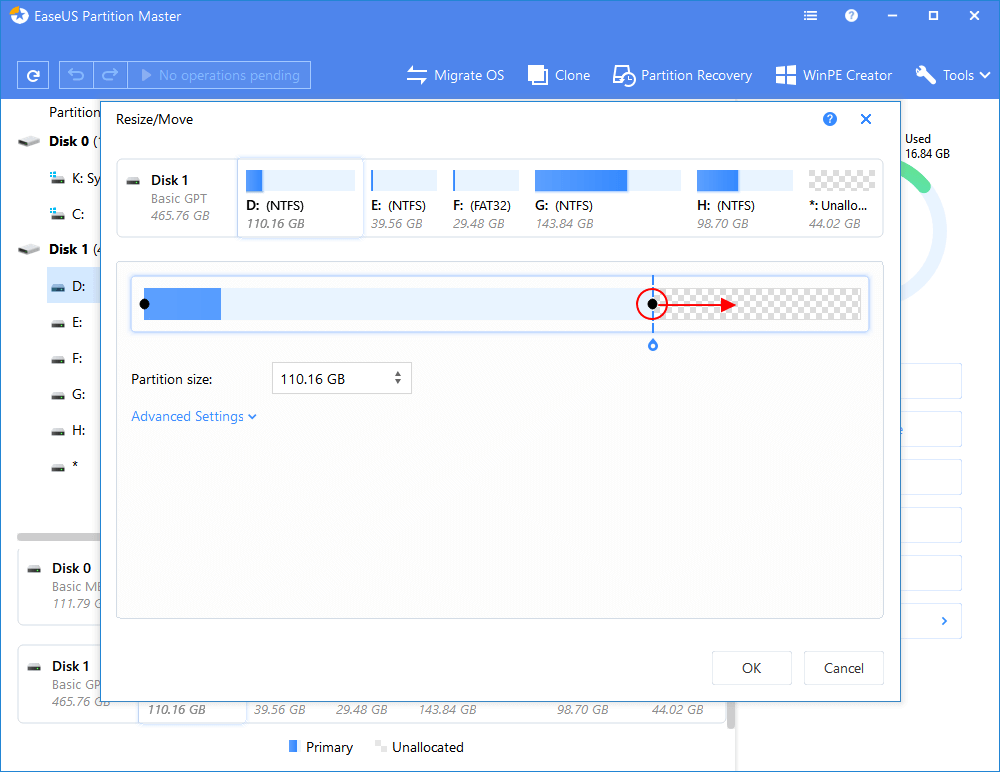 Step 3: Apply changes
EaseUS Partition Master VS Disk Management Built-in Windows 10
The following are the primary differences between the EaseUS Partition Master and Windows 10 Disk Management Tool.
| | | |
| --- | --- | --- |
| Features | EaseUS Partition Master | Windows 10 Disk Management |
| Merge partition | | |
| Move partition | | |
| Resize dynamic volume | | |
| Copy dynamic volume, copy disk/partition | | |
| Extend NTFS system partition without reboot | | |
| Create, delete, format, change the drive letter, set active | | |
| Extend/shrink FAT | | |
| Extend/shrink NTFS | | |
| Partition Recovery | | |
| Hide, label, check partitions | | |
| delete all partitions | | |
| Create WinPE bootable disk | | |
| Support GPT disk | | |
How to Shrink Volume Windows 10 with Command Prompt
Windows Comand Prompt is usually not seen by most of our users unless they know how to access it. If you're willing to challenge yourself and try to shrink partitions using this way, here's the full guide.
Step 1. Press Windows + R keys to bring up the Run box. Type diskpart and hit Enter.
Step 2. At the DiskPart prompt, type list volume. Note the number of the disk volume you want to shrink and hit Enter.
Step 3. Type select volume <volumenumber> ("x" refers to the number in step 2) and hit Enter.
Step 4. Type shrink desired=<desiredsize> and hit Enter.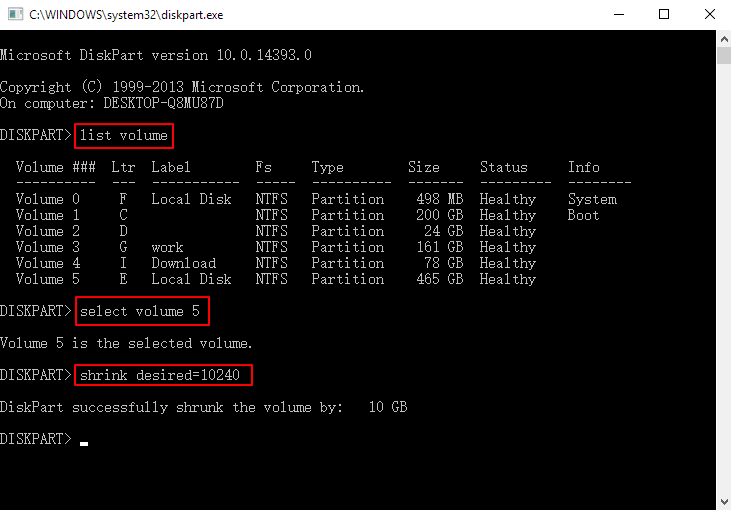 People Also Ask - Shrink Volume Windows 10 FAQs
1. Can Partition Magic resize Windows 10 partition?
Not anymore. Partition Magic runs on Microsoft Windows 98, Me, NT, 2000 and XP, but Windows Server 2003, Windows Vista, Windows 7, Windows Server 2008, Windows Server 2012, Windows 8 and Windows 10 are not supported by Norton Partition Magic.
2. What is shrinking a volume?
The shrink operation means the practice of trying to decrease the size of one hard drive partition to create unallocated space which you can use it for many purposes. You can add the unallocated space to the other partition which needs more space or simply create a new partition with a drive letter on the unallocated space.
3. Does shrinking a volume erase data?
As explained, shrinking the volume is to create unallocated space, but it won't affect the existing data. No matter you are using the Disk Management, EaseUS Partition Mater or DiskPart command, basically no data loss will occur.
4. Cannot shrink partition not enough space
If the disk volume you're trying to shrink contains unmovable files and those unmovable files are happen to be in the middle of the hard disk, you are likely to receive this error.
5. Cannot shrink a volume beyond the point
When you shrink a partition, certain files like the paging file or shadow copy storage area cannot be automatically relocated, so you cannot decrease the allocated space beyond the point where the unmovable files are located.
100% of people found this article helpful.
Frequently Asked Questions
Why Choose EaseUS Partition Master?

"I've used Partition Master Professional many times to create, delete, format, move, rename, and resize partitions." —PCWorld

"Partitioning tools have come a very long since the days of complicated command line utilities and EASEUS Partition Master is one of the most advanced programs available." —TECH ADVISOR

"I love that the changes you make with EaseUS Partition Master Free aren't immediately applied to the disks. It makes it way easier to play out what will happen after you've made all the changes." —Lifewire
Will the "Migrate OS" feature transfer the Windows system files only or the whole C drive?

To ensure that the migrated system will boot normally, the Migrate OS feature will transfer all the files in the system and the boot partitions. Generally, the boot partition is the C drive so the transfer will include all the files in C.
Does EaseUS Partition Master license apply to multiple computers?

The license of Partition Master Professional and Server editions can be used on 1 computer only, while that for for the Technician and Unlimited editions can be used on multiple machines.
What is the difference between EaseUS Partition Master Trial version and the Free version?

Free is for home users only, with most basic functions available such as partition resize and clone. While trial can help you understand how this product works and test what a full license can do on a business or server OS machine.
Will it cause any data loss after resizing the partition in EaseUS Partition Master?

Generally, it will not cause any data loss or boot issue by resizing a partition. However, in order to protect your data, we suggest that you backup the partition before resizing, in case of any unexpected situations such as power outages, computer hardware failures, etc. You can use EaseUS Todo Backup to backup the partition and its trial version is fully functioned for 30 days.
What should I prepare before resizing the partition?

On the partition that is going to be operated, there might be some files being occupied by other programs. To ensure a successful operation, we suggest that you close all the unnecessary software before resizing that partition. Otherwise, EaseUS Partition Master will detect the partition being locked by the other software and require a reboot to resize the partition under boot mode.
About EaseUS Partition Master
All-round disk & partition management software for personal and commercial use. Let it manage your storage drive: resize, format, delete, clone, convert, etc.