Windows 10 partition resize allows you to resize hard drive partitions under Windows 10 32 bit and 64 bit OS. This article will show you how to resize Windows 10 partition.
Can Partition Magic resize Windows 10 partition
No. Partition Magic runs on Microsoft Windows 98, Me, NT, 2000 and XP, but Windows Server 2003, Windows Vista, Windows 7, Windows Server 2008, Windows Server 2012, Windows 8 and Windows 10 are not supported by Norton Partition Magic.
Can Windows 10 built-in Disk Management resize Windows 10 partition
Yes. Windows 10 built-in Disk Management has the ability to shrink volume and extend volume. Just right click on "My Computer", choose "Manage", and you will get a popup window, choose "Disk Management" in the left navigation bar. And then, your hard disk condition will show as follow.
Then you need to right click on the partition which you want to shrink, and choose "Shrink Volume", then type a number how much disk space you want to free up.
When there is some unallocated space next to the partition that you want to extend and right-click the partition that you want to extend, choose "Extend Volume", and type the number of that unallocated space. Then Windows 10 partition resize is done.
Although there is some improvement of the Disk Management Tool in Windows 10, it still has many limitations in partition management. (Please refer to the comparison table below). Because some advanced partition management in Windows 10 is still unavailable when you find your system partition is out of space which will be in red as below:

In this condition, people have to seek the best partition manager software for Windows 10. EaseUS Partition Master, a comprehensive free hard disk partition manager, and system optimization software for Windows-based administration works well with Windows 10.
EaseUS Partition Master VS Disk Management Built-in Windows 10
| | | |
| --- | --- | --- |
| Features | EaseUS Partition Master | Windows 10 Disk Management |
| Merge partition | | |
| Move partition | | |
| Resize dynamic volume | | |
| Copy dynamic volume, copy disk/partition | | |
| Extend NTFS system partition without reboot | | |
| Create, delete, format, change the drive letter, set active | | |
| Extend/shrink FAT | | |
| Extend/shrink NTFS | | |
| Partition Recovery | | |
| Hide, label, check partitions | | |
| delete all partitions | | |
| Create WinPE bootable disk | | |
| Support GPT disk | | |
So that's the main differences between EaseUS Partition Master and Windows 10 Disk Management Tool.
How to resize Windows 10 partition with EaseUS Partition Master
EaseUS partition manager offers a simple and convenient way to repartition hard drive partitions, EaseUS Partition Master runs well on Windows 10, Windows 8, Windows 7, Windows Vista and Windows XP. Say, it enables you to extend the system partition, Create, Delete, Resize/Move, Copy, Merge, Split or Format partition.
Step 1: Locate the drive/partition
Step 2: Resize the partition
You can either shrink the selected partition or extend it.
To shrink the partition, simply use your mouse to drag one of its ends into unallocated space. Expand the "Advanced Settings" list, where you can see the exact disk space for each partition. Once done, click "OK".
Fig. 1 Unallocated space before the drive.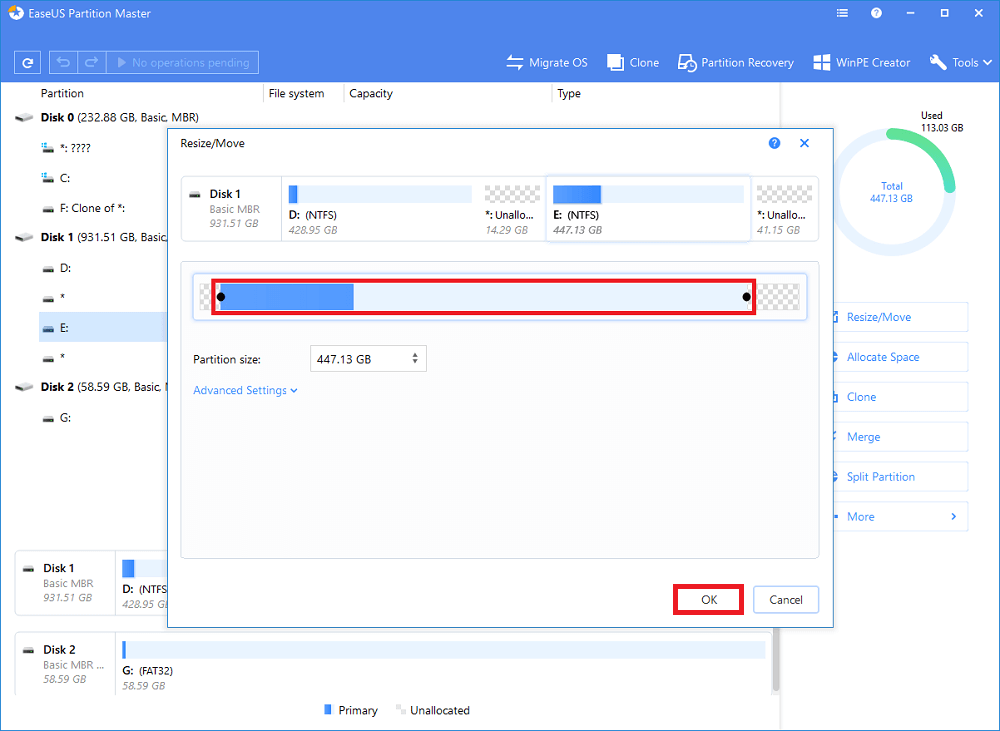 Fig. 2 Unallocated space after the drive.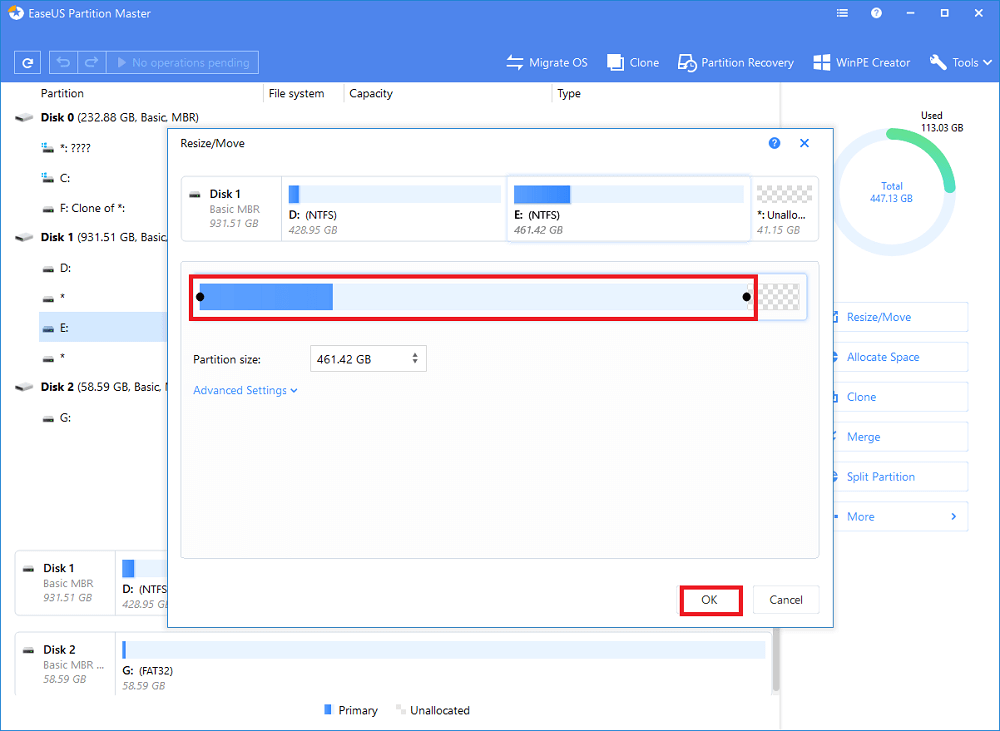 To extend the partition, make sure that there is unallocated space aside (if there isn't, follow the above steps to create some). In the same way, drag your mouse towards the unallocated space. Click "OK".
Fig. 3 Add unallocated space into the partition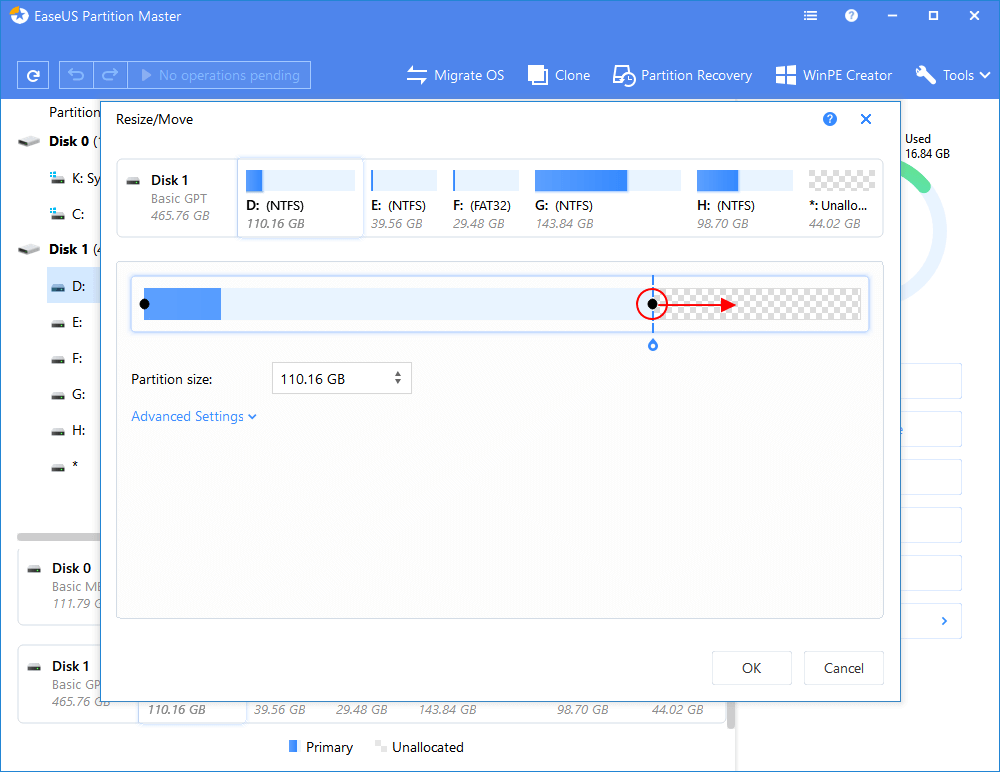 Step 3: Apply changes