This article focuses on a step-by-step tutorial on partitioning a hard drive on Windows 11 and 10. Also, we leave a bonus tip about partitioning hard drive mac at the end of the page. 
Workable Solutions
Step-by-step Troubleshooting
Is It A Good Idea to Partition Your Hard Drive? 

See the pros...Full steps

See the cons...Full steps

How to Partition Hard Drive Windows

Create and format hard drive with Disk Management...Full steps

Use all-in-one free disk manager...Full steps

How to Partition Hard Drive Mac
Run Disk Utility...Full steps
Is It a Good Idea to Partition Your Hard Drive?
When it comes to replacing a hard drive or purchasing a new computer, you may find that all existing data with OS installation is located on a single partition. Should you partition your hard drive? Or the disk has too few partitions that cause hassle to manage sensitive data. You can find a reliable solution on this page. Take it slow first. Let's started with the pros and cons of partitioning a hard drive.
Partitioning a hard drive can be a valuable way to organize your computer's files and resources, but it also has some potential drawbacks. 
The Advantages of Partitioning A Hard Disk:
One advantage of partitioning is that you can separate your operating system and files from other data, which can help protect your system from corruption or loss.
Partitioning a hard disk can also make it easier to back up your data since you can choose only to copy the partition that contains your important files. 
The Cons for Hard Disk Partition:
However, partitioning can also decrease the overall performance of your system since the hard drive has to work harder to access partitioned data. Additionally, if you partition your hard drive incorrectly, you could accidentally delete essential files or damage your operating system.
As a result, it's crucial to weigh the pros and cons of partitioning before deciding whether it's right for you. The next part is about some practical solutions to create a partition or make a partition on Windows 11 and 10.
How to Partition A Hard Drive in Windows 11/10?
Whether you are a novice or tech-savvy user, making a new volume is easy with two methods here without any data loss. 
 Notice:

If you decide to use disk management, it's better to back up all data on the targeted partition, even though creating or making partitions usually can not cause data loss. 
Method 1. Create Partition in Windows 11/10 with Disk Management
Step 1. Right-click the Windows icon and select disk management from the menu.
Shortcut to open disk management: Press Windows + R to open the Run box and type diskmgmt.msc to launch Disk Management.
If your partition doesn't have the unallocated space, please follow step 2 to shrink volume first. Otherwise, please go to step 3 and continue.
Step 2. Shrink Volume to Create Unallocated Space.
Right-click the disk volume and choose "Shrink Volume."

On the Setting up window, please enter the amount of space to shrink in MB. Then click the Shrink button.
Then you can check the unallocated space next to the hard disk partition.
Step 3. Right-click the unallocated space and select New Simple Volume. 
Follow the guide of New Simple Volume Wizard:
Enter simple volume size in MB > Click Next 
Check to Assign the following drive letter and select a drive letter > Click Next 
Check Format this volume with the following settings and set the file system, allocation unit size and volume label > Click Next > Click Finish
Advanced Option: Formatting Hard Drive with Disk Management
If the existing partitions have no room to make unallocated space, formatting partition is your second choice. Attention! Formatting is allowed to be used on the data partition without installed OS. The system partition is not allowed to be formatted.
How to Format A Hard Drive Partition:
Right-click the partition you want to format and select format.
Check the default settings of volume label, file system, and allocation unit size. Then click OK.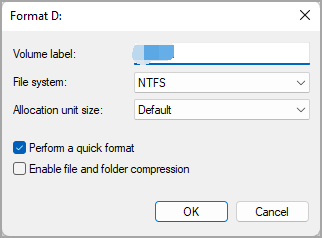 Method 2. Partition Hard Drive by EaseUS Partition Master
EaseUS Partition Master is a free partition manager that helps partition hard drives. It is an excellent software to partition hard drives for beginners because it is easy to use and has a user-friendly interface. The software also provides a step-by-step guide on how to partition hard drives. In addition, the software is compatible with all versions of the Windows operating system.
Step 1. Launch EaseUS Partition Master to check for free space at the Partition Manager section.
If your hard drive has unallocated space, jump to Step 3 to create partition.
If the hard drive has no unallocated space, continue with Step 2.
Step 2. Shrink a disk partition to create unallocated space.
Right-click on the target drive partition with a lot free space and select "Resize/Move".
Drag either end of the partition rightwards or leftwards to shrink the partition size so as to get ample unallocated space. You can visually know how much space you've decreased in the "Partition size" area. Click "OK".
Click "Execute xx Task" and then "Apply" to save all the changes.
Go back to Partition Manager, there should be unallocated space appearing on the same disk and you can continue with Step 3 tocreate new partition on your.
Step 3. Create a new partition with unallocated space on the target hard drive.
 Right-click on the unallocated space and choose "Create".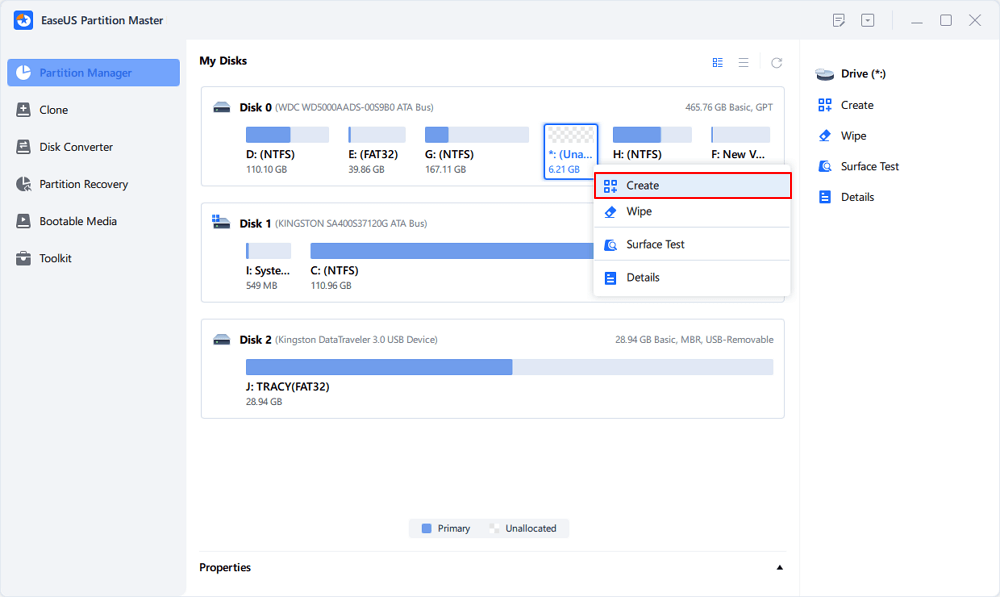 Customize the partiton size, partition drive letter, partition label, file system (NTFS, FAT32, EXT2/3/4, exFAT) and more in the Advanced Settings. Click "OK".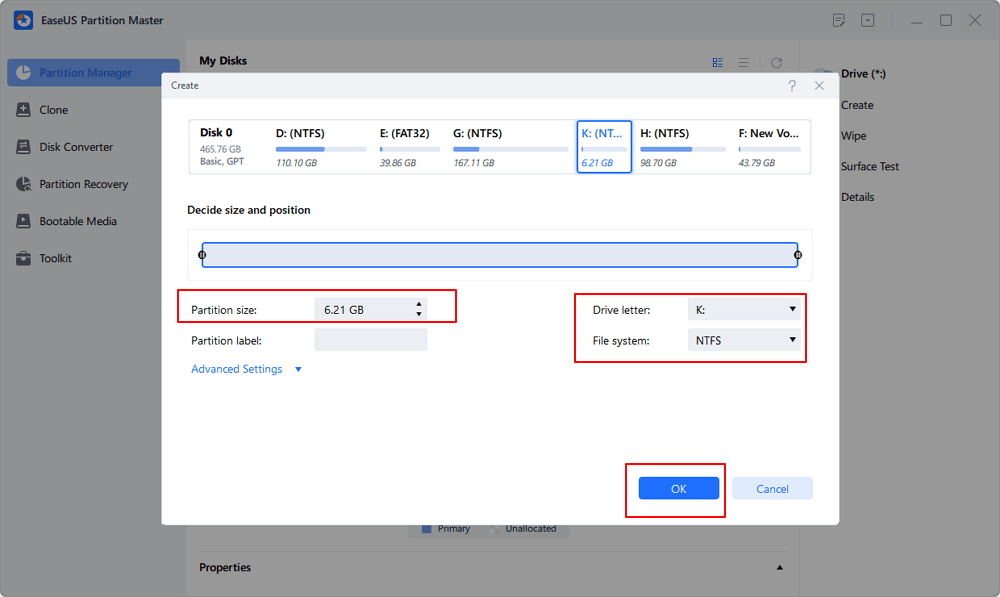 Finally, click "Execute * Task" and "Apply" to complete creating partition with the unallocated space on your disk. Repeat the steps to partition a hard drive and get many more partitions.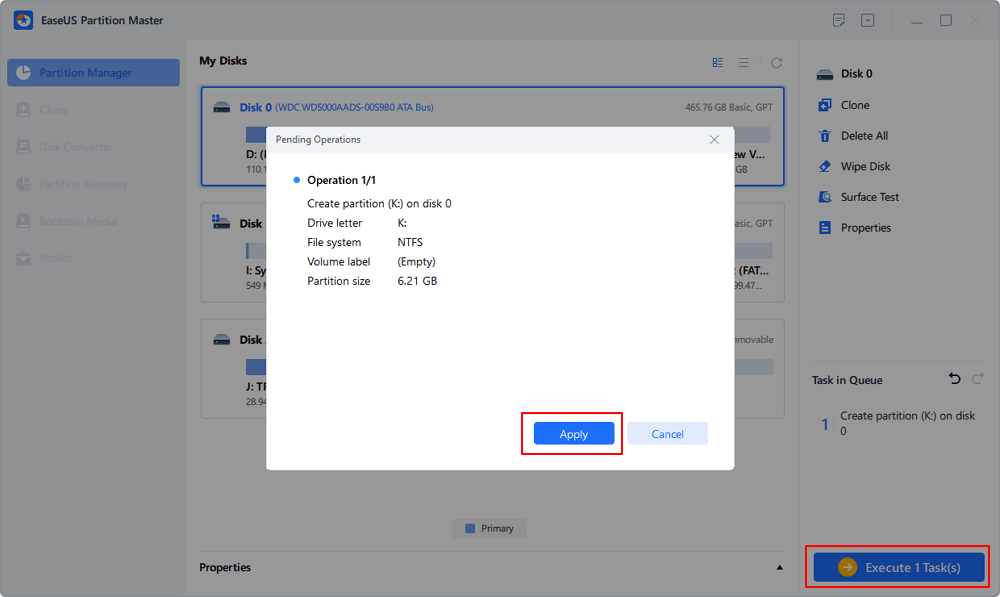 How to Partition A Hard Drive on Mac?
Partition hard drive Mac comes easy with Disk Utility. Follow the easy steps to create partition:
Step 1. Go to Finder > Choose to Go > Choose Utilities > Double-click to open the Disk Utility. 
Step 2. Click the Partition button from the top toolbar and click + icon.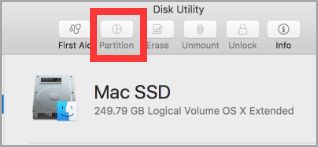 Step 3. Then you can see the Partition screen and set the partition information.
Step 4. When it's finished, click the Apply button.
Final Thoughts
Partitioning a hard drive is a great way to improve the performance of your computer. By dividing your hard drive into separate partitions, you can better organize your files and folders. Additionally, partitioning can also help to protect your data from corruption or accidental deletion. If you're not sure how to partition your hard drive, there are plenty of resources available online. With a little bit of research, you should be able to partition your hard drive in no time. 
Daisy is the Senior editor of the writing team for EaseUS. She has been working in EaseUS for over ten years, starting from a technical writer to a team leader of the content group. As a professional author for over 10 years, she writes a lot to help people overcome their tech troubles.

Roxanne is one of the main contributors to EaseUS and has created multiple posts on digital devices like PCs, Mobile phones, tablets, Mac, etc. She loves to share ideas with people of the same interest.