The Original way to perform hard drive partitioning before Windows XP came out
A long time ago, DOS had a feature named "Fdisk" to create, delete, set active, set primary, format partitions before you installed the system. "Fdisk" is extremely slow when you are partitioning a brand new hard drive. Usually, if you want to divide a 40G disk into four partitions, you need to use at least 20 minutes, the time of false operation is even not included.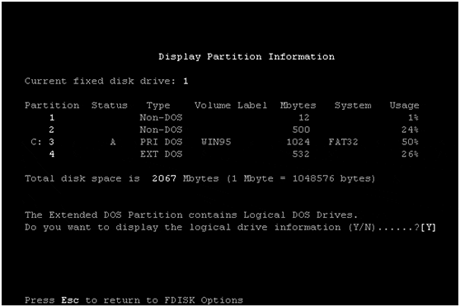 It was the only tool to partition my hard drive before installing Windows XP several years ago when I started to use a computer.
Use Disk Management utility for Windows XP hard drive partitioning
After installing Windows XP Operating System, I turned to its built-in Disk Management utility for Windows XP hard drive partitioning. This tool contains basic partitioning functions, like formatting, creating, deleting partitions, etc. This tool can make Windows XP hard drive faster and easier than Fdisk.
However, when you want to resize the partition under Windows XP, if there is no third party program, you need to delete two partitions and create two new partitions (or one), and then format the new partition(s). This work is especially complicated, and the most important point is you need to copy all the files from the source partition to another, for if you want to resize the partition, Windows XP will cause data loss.
In other words, if you want to maximize the performance of your Windows XP with more advanced functions, you need a third party partition program for Windows XP hard drive partitioning.
An easier and safer solution for Windows XP hard drive partitioning
I once looked for a reliable solution for Windows XP hard drive partitioning on both Google.com and Download.com and finally found EaseUS Partition Master.
EaseUS Partition Master Free Edition is 100% free. My elders always tell me that there is no good bargain. However, this saying doesn't work on this software. It does an excellent job when I need to repartition my windows XP.
Step 1: Locate the drive/partition
Step 2: Resize the partition
You can either shrink the selected partition or extend it.
To shrink the partition, simply use your mouse to drag one of its ends into unallocated space. Expand the "Advanced Settings" list, where you can see the exact disk space for each partition. Once done, click "OK".
Fig. 1 Unallocated space before the drive.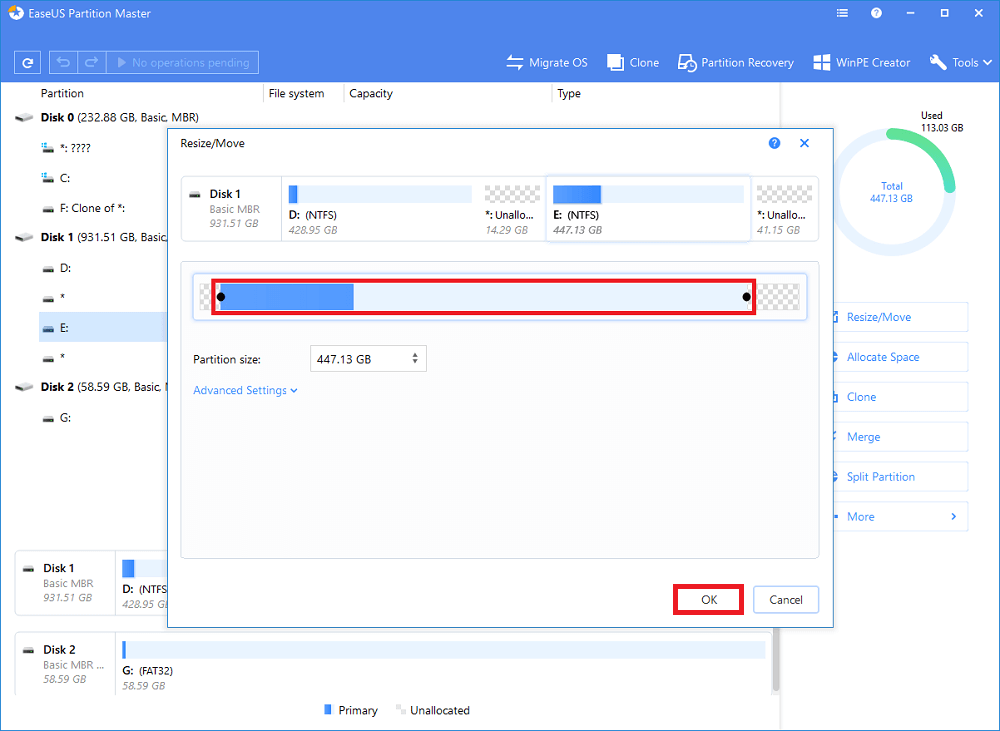 Fig. 2 Unallocated space after the drive.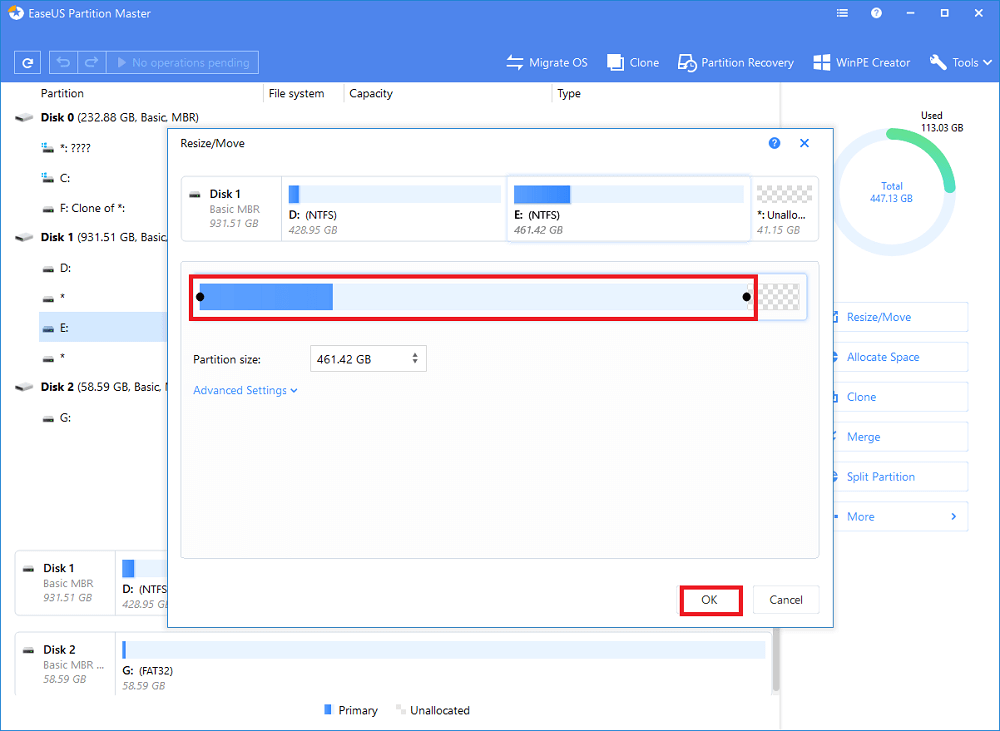 To extend the partition, make sure that there is unallocated space aside (if there isn't, follow the above steps to create some). In the same way, drag your mouse towards the unallocated space. Click "OK".
Fig. 3 Add unallocated space into the partition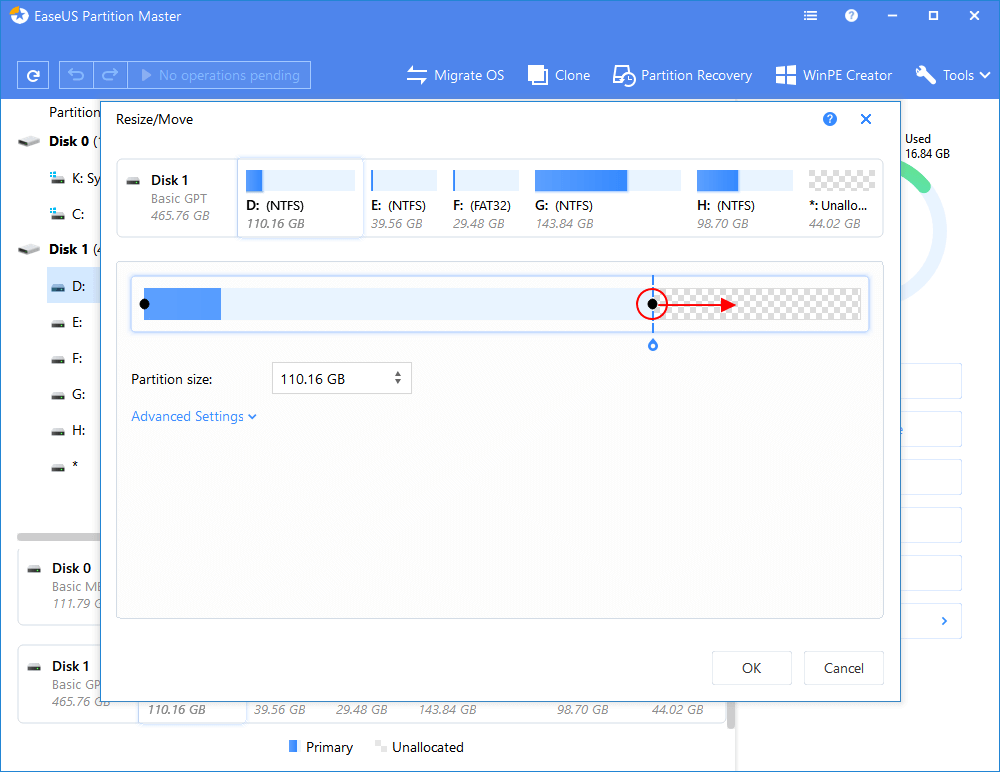 Step 3: Apply changes
This partition freeware works perfectly with hardware RAID and Windows 2000/XP/Vista/Windows 7 32/64 bit and Windows 8 Operating Systems. It not only provides convenient user-interface to simplify job but also enables to configure and manage partitions of hard drive.
Yes, I used some other Windows XP hard drive partitioning software. Some of them are too complicated to resize my drives; some of them even caused data/partition loss. EaseUS Partition Master has all advantages that other partition software has. It seems that there is no disadvantage for me except that the interface is not cool enough.
This Windows XP hard drive partitioning software is a can't-miss gadget. I hope you won't miss it.