Why We Need to Merge Windows 7 Partitions
If you have a partitioned hard disk and C drive is running out of space, you can choose to merge C with D for a larger system partition. And you can also choose to merge partitions for more free drive space. In this page we would like to introduce you two ways to merge partitions in Windows 7: merge partitions with Disk Management Tool and merge partitions with EaseUS partition manager.
Steps to Merge Partitions in Windows 7 with Disk Management Tool
1. Right-click "Computer" icon on the desktop, choose "Manage" and click "Disk Management" to get its main interface as follows.
2. Right-click partition D and then choose "Delete Volume" button to release unallocated space.
3. Right-click partition C and then choose "Extend Volume" button. Then, extend volume C by following Extend Volume Wizard.
Steps to Merge Partitions Under Windows 7 with EaseUS Partition Master
Windows 7 built-in Disk Managemen tool requires you to delete the partition when you merge partitions with it. So, this method is not recommended because it will lead to a data loss disaster. But is there any other solution that allows you to merge partitions in Windows 7 without data loss? Of course, yes. EaseUS partition software can help merge disk partitions without bringing any damage to original data. It provides copy wizard to backup the partitions you want to merge in a safe place to avoid any unexpected data loss.
Step 1: Install and launch EaseUS Partition Master on your PC
Right-click on the partition which you want to add space to and keep on the hard drive, and select "Merge".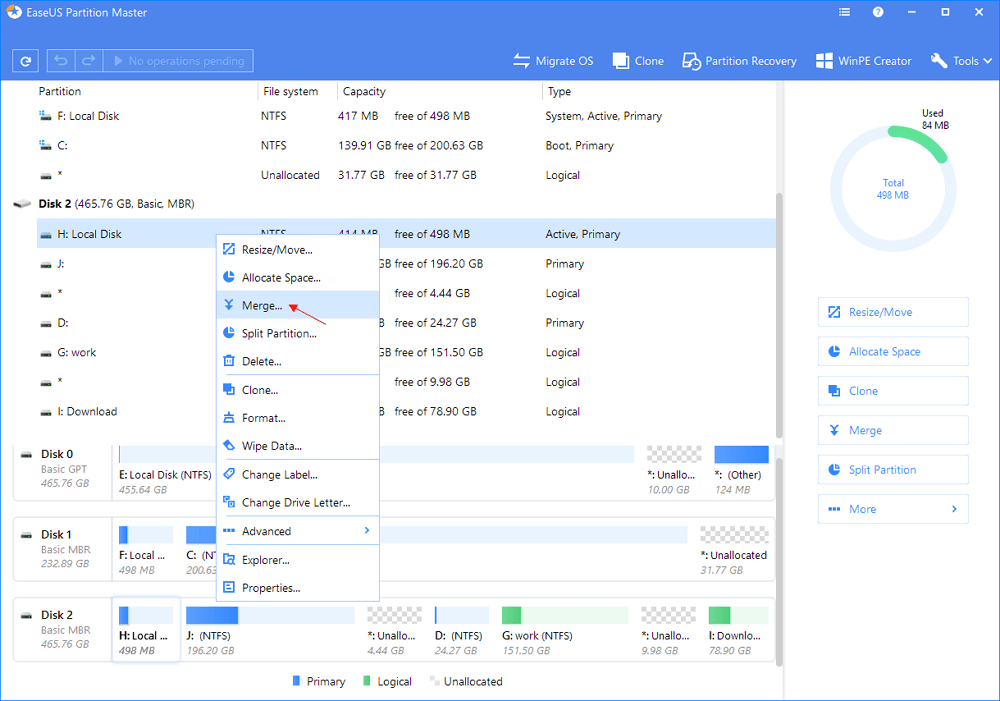 Step 2: Select partitions to merge
Step 3: Merge partitions
Tip: System partition and boot partition can only be set as the destination. The same to the partition installed EaseUS partition tool.
Here is a comparison table that tells you the main features of the Windows 7 Disk Management Tool and EaseUS partition software. You can read and decide which tool is your best choice.
| | | |
| --- | --- | --- |
| Features | EaseUS Partition Master | Windows 7 Disk Management |
| merge partition | | |
| copy dynamic volume, copy disk/partition | | |
| extend NTFS system partition without reboot | | |
| Create, delete, format, change the drive letter, set active | | |
| extend/shrink FAT | | |
| extend/shrink NTFS | | |
| Partition Recovery | | |
| Move, hide, label, check partitions | | |
| delete all partition | | |
| partition scheme | | |
| Create Bootable Disks | | |
| GPT disk | | |