Why Need to Merge Partitions
C drive is too small and getting full, need to merge C with D for a larger system partition.
There are too many drives causing it difficult to locate the partition and files.
Merge partitions for more free drive space.
In this page, we would like to introduce you two ways to merge partitions in Windows 7: combine partitions with Disk Management Tool and merge partitions with EaseUS Partition Master.
How to Merge Partitions in Windows 7 with Disk Management Tool
Windows 7 Disk Management doesn't provide the "Merge Volume" feature directly, but you can merge partitions by deleting and extending. Now, let's take merging C and D partitions as an example. If you want to combine other partitions, it works the same way.
Before you start merging partitions, read the following notes carefully.
 Tip

Drive C and Drive D should be adjacent.
Both partitions should be formatted with NTFS because Extend Volume does not support FAT32 partition. If one of them is with FAT32, convert FAT to NTFS at first.
Deleting the volume will erase all data on it. You should make sure you have backed up anything crucial on that volume in advance.
1. Right-click "Computer" on your Windows 7, choose "Manage" and click "Disk Management' to get its main interface.
2. Right-click partition D and then choose "Delete Volume" button to release unallocated space.
3. Right-click partition C and then choose "Extend Volume" button. Then, extend volume C by following the Extend Volume Wizard.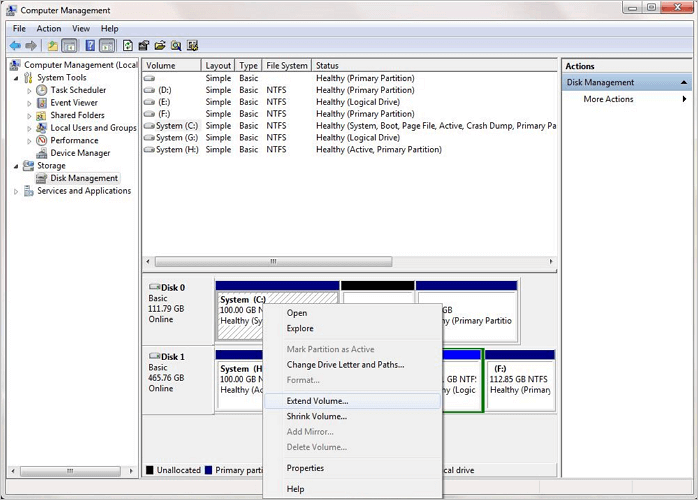 However, many restrictions cause you cannot merge partitions. If you meet the problem that cannot extend volume or Extend Volume greyed out in Windows 7, fix it with the online tutorials. After troubleshooting, If you still can't merge partitions, or if you don't want to risk any data loss caused by removing a partition, you can use a professional partition manager to merge partitions more easily and safely.
How to Merge Partitions in Windows 7 with EaseUS Partition Master
As mentioned above, Windows 7 built-in Disk Managemen tool requires you to delete the partition when you merge partitions with it. So, this method is not most recommended.
Here, EaseUS partition software comes to help you merge partitions in Windows 7 without data loss. With this tool, you can directly merge two adjacent partitions without removing. And it also provides clone wizard to back up the partitions you want to manage in a safe place to avoid any unexpected data loss.
Step 1: Install and launch EaseUS Partition Master on your PC
Right-click on the partition which you want to add space to and keep on the hard drive, and select "Merge".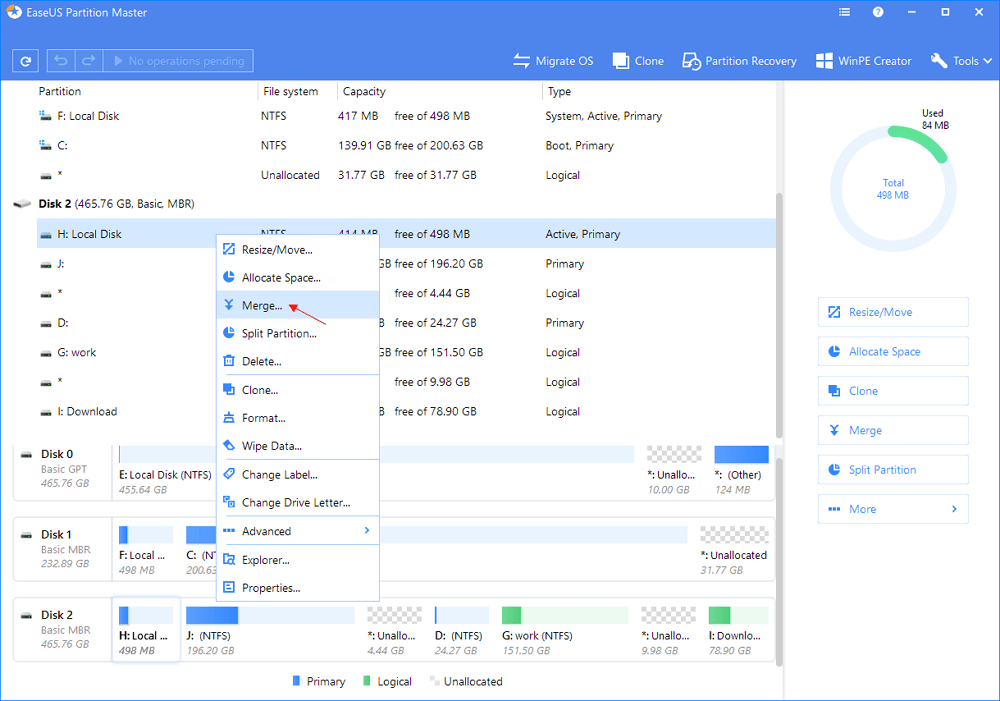 Step 2: Select partitions to merge
Step 3: Merge partitions
Extend C Drive by Resizing Partition Instead of Merging
System partition and boot partition can only be set as the destination. C drive is where the Operating System located; it cannot be deleted. When merging drive C and D, all files in drive D will be moved to drive C, and then drive D will be deleted.
However, different from other data volumes, programs are installed in drive D, so it is not a good idea to extend C drive by merging D. On this occasion, you can use EaseUS Partition Master to extend C drive by resizing D drive instead of merging. You can shrink drive D to release more free space and then add into C drive. In this way, you don't need to delete drive D, and everything keeps the same.
Step 1: Launch EaseUS Partition Master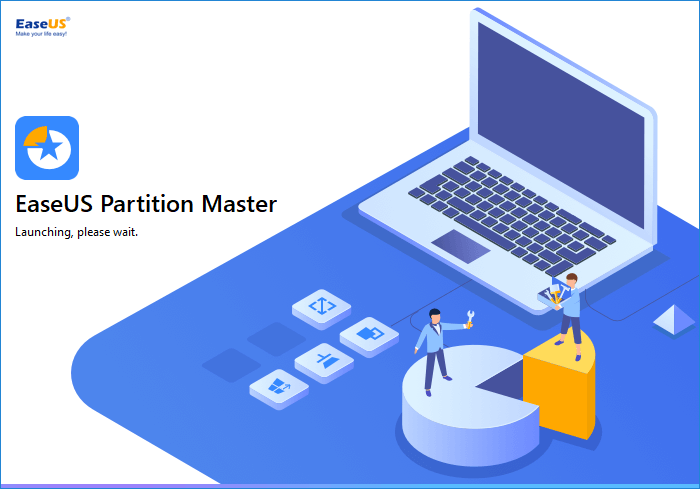 Step 2: Increase C drive space
1. Shrink partition to free up unallocated space:
Right-click on a partition next to the C: drive and select "Resize/Move".
Drag either end of the partition to shrink and leave unallocated space behind the system C: drive and click "OK".
2. Right-click on C: drive and select "Resize/Move".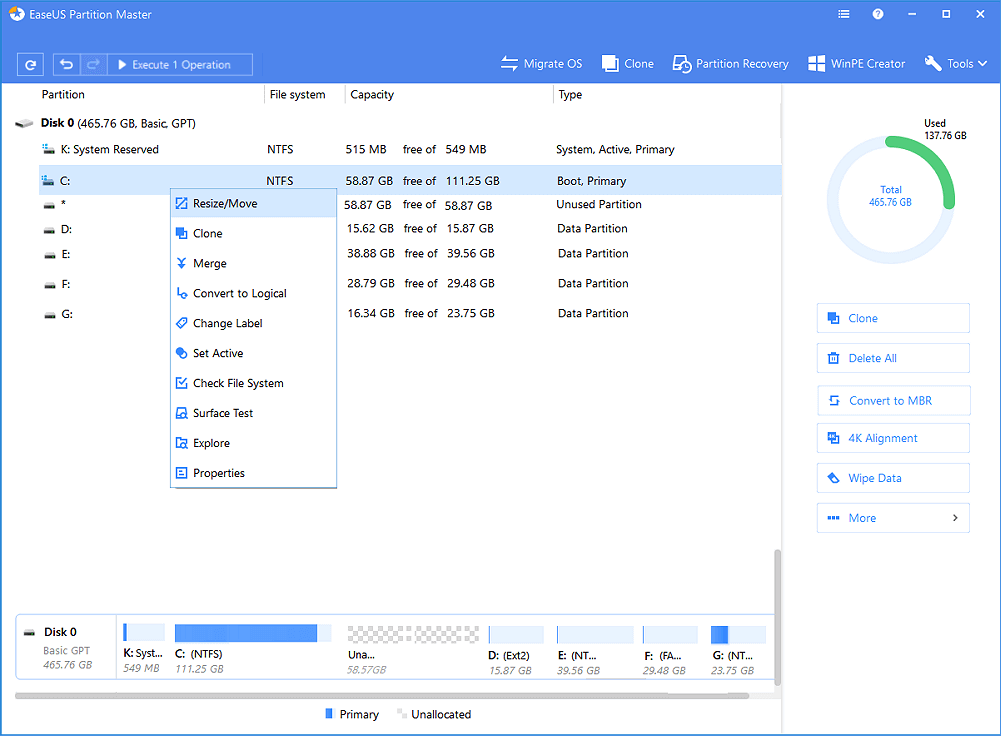 3. Drag the system partition end into unallocated space so to add space to C: drive.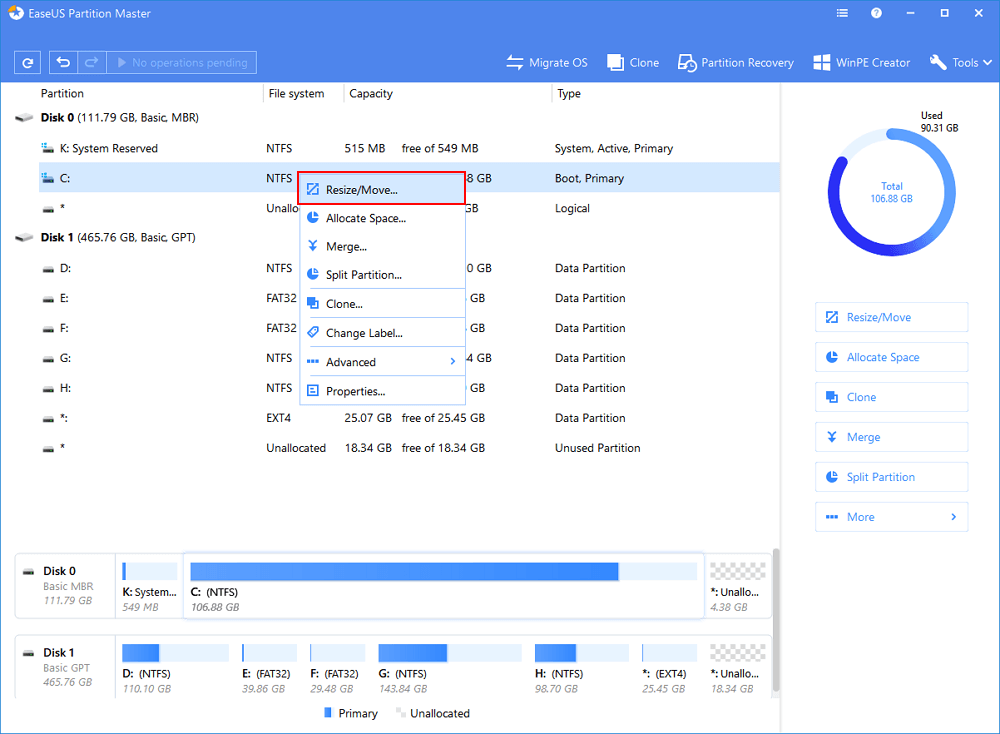 Step 3: Keep all changes to extend C: drive
Comparisons Between Disk Management and EaseUS Partition Master
Disk Management is a useful tool for you to partition a hard drive, format a hard drive, change a drive letter, or perform various other disk-related tasks. It has both advantages and disadvantages. Here is a detailed comparison table that tells you the main features of the Windows 7 Disk Management Tool and EaseUS partition software. Read it and choose the one that fits your needs best.
| Features | EaseUS Partition Master | Windows 7 Disk Management |
| --- | --- | --- |
| Merge, delete, move, hide, label, check partition | √ | × |
| Copy dynamic volume, copy disk/partition | √ | × |
| Extend NTFS system partition without reboot | √ | √ |
| Create, delete, format, change the drive letter, set active | √ | √ |
| Extend/shrink FAT | √ | × |
| Extend/shrink NTFS | √ | √ |
| Partition Recovery, partition scheme | √ | × |
| Create Bootable Disks | √ | × |
| GPT disk | √ | √ |