How to Merge Partitions in Windows 7 (32 and 64 bit)
Updated by
Gemma
on Mar 17, 2021
Why Merge Partitions Windows 7
Windows 7 users, actually more and more Windows 10 users are involved nowadays, once feel it necessary to extend a disk volume in order to hold more data, games, or programs. Some choose to directly resize a partition, while some choose to combine two partitions into a large one. Do you know in what circumstances people want to merge partitions? The following are some examples.
The system C drive is running out of space. As a result, the computer becomes extremely slow, or the system starts freezing a lot.
Too many hard drive partitions are scattered on a disk, making it difficult to locate files or make full use of every bit of hard drive space.
There is unallocated space on the disk. It's helpful to add unallocated space to some partitions.
The displayed examples all refer to one problem: improper disk space distribution. Therefore, to utilize disk space carefully and efficiently, it's a good idea to merge partitions in Windows 7, 8 or 10. By combining two hard drive partitions into one can help create a new volume with sufficient free space, to minimize the hard drive numbers, as well as to solve the problem of low disk space warnings.
In general, there are two typical ways to merge partitions in Windows 7. One is the built-in Windows Disk Management and the other is third-party partition manager software. 
How to Merge Partitions Windows 7 in Windows Disk Management
Windows 7 Disk Management doesn't provide the "Merge Volume" feature directly, but you can merge partitions by deleting a partition and then extending the other with unallocated space.
Requirements of Windows Disk Management for merging partitions:
The two partitions must be adjacent.
Both partitions should be formatted with NTFS 
You must delete a volume in order to extend the other
Combine two partitions in Disk Management:
Step 1. Right-click My Computer > Manage > Disk Management.
Step 2. Right-click drive D and select "Delete Volume". Drive C will be converted to unallocated space. 
Step 3. Right-click drive C and select "Extend Volume". Follow the Extend Volume Wizard to add unallocated space to drive C.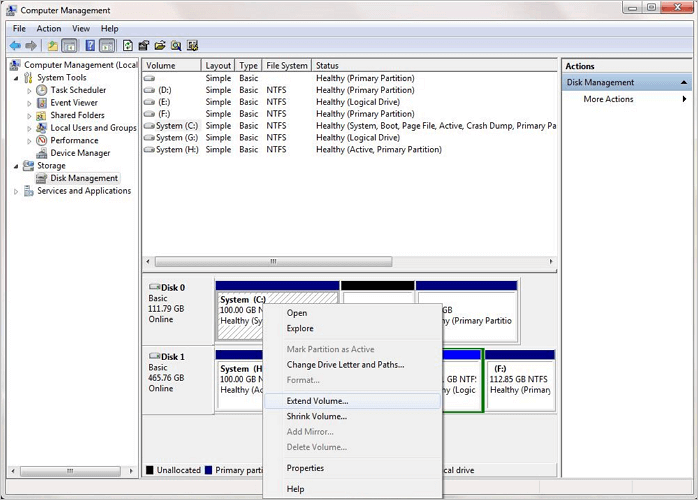 Step 4. Return to the Windows 7 Disk Management interface, you'll see drive C and D being a new bigger drive C. 
You've successfully merge drive C and D into one partition by following the above instruction. However, there are still many restrictions that may prevent you from merging partitions. If you meet the problem that cannot extend volume or Extend Volume greyed out in Windows 7, fix it with the online tutorials. After troubleshooting, If you still can't merge partitions, or if you don't want to risk any data loss caused by deleting all partitions, you can use a professional partition manager to merge partitions more easily and safely.
How to Merge Partitions in Windows 7 with EaseUS Partition Master
As mentioned above, Windows 7 built-in Disk Management tool requires you to delete the partition when you merge partitions with it. What's more, the two partitions have to locate next to each other. Instead of Disk Management, do you know how to merge two hard drive partitions without deleting partitions, formatting or losing data? Or can you combine non-adjacent partitions?
Here, EaseUS partition magic software comes to help you merge partitions in Windows 7 without data loss. With this tool, you can directly merge two adjacent partitions without removing other partitions. Meanwhile, it supports all Windows users to merge non-adjacent partitions in a pretty flexible way. Carefully follow the instructions below, and try to merge partitions as you want.
Merge partitions in Windows 7:
Step 1: Select the target partition
Right-click on the partition which you want to add space to and keep, and select "Merge".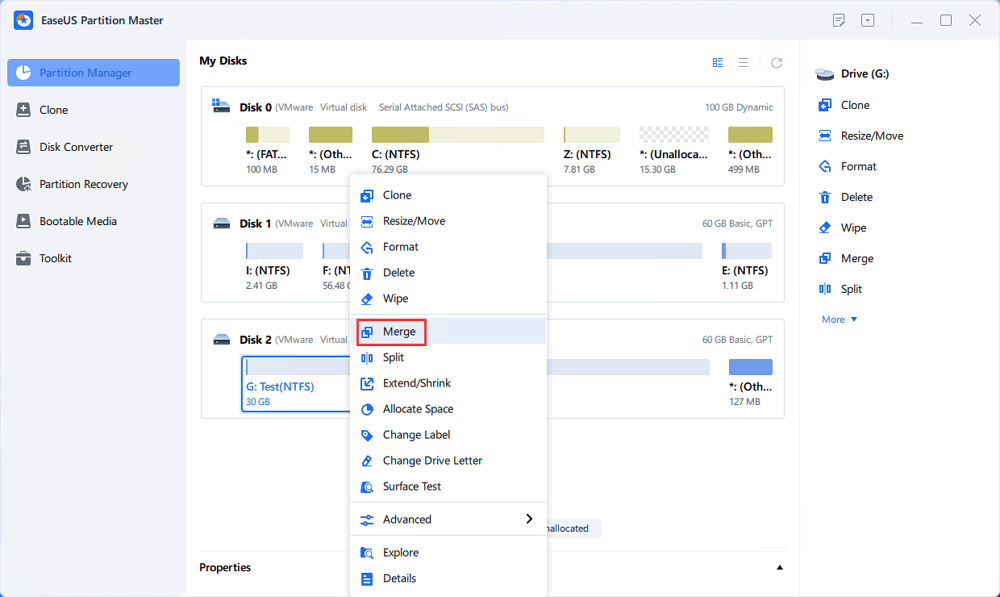 Step 2: Select a neighbor partition to merge
Select one partition next to the former selected partition and click "OK" to continue.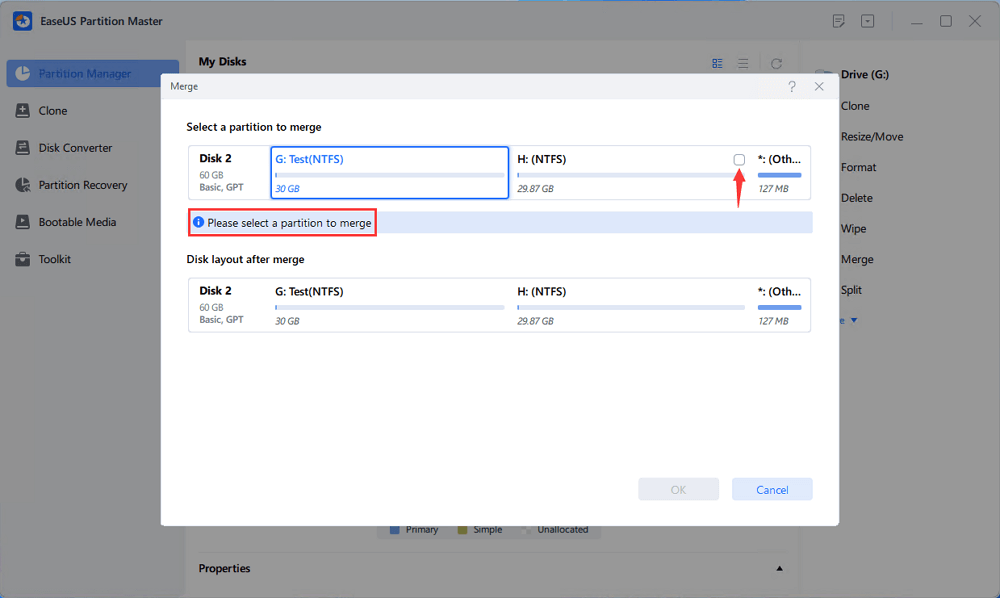 Step 3: Execute operation to merge partitions
1. Click the "Execute Operation" button at the top and then click "Apply".
2. The program will merge space and add files from the second partition to the first partition.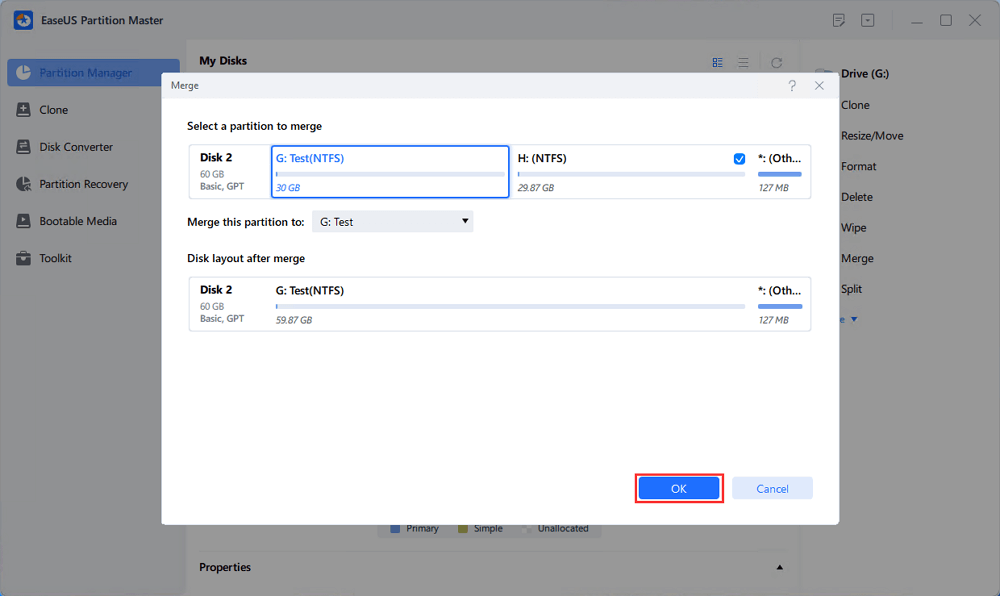 Merge non-adjacent partitions in Windows 7:
Though you'll need to delete one partition to extend the other, the process is relatively attainable and simple, and you can only use EaseUS Partition Master to merge two partitions that are not neighboring each other.
Step 1. Right-click one partition that you need to merge and select "Merge...".
Step 2. Select a non-adjacent partition to merge, click "OK". 
Step 3. Select to merge the non-adjacent partition into the target one, and click "OK".
Step 4. Click the "Execute Operation" button and click "Apply" to start merging partitions.
Disk Management vs. EaseUS Partition Master
Disk Management is a useful tool for you to partition a hard drive, format a hard drive, change a drive letter, or perform various other disk-related tasks. It has both advantages and disadvantages. Here is a detailed comparison table that tells you the main features of the Windows 7 Disk Management Tool and EaseUS partition software. Read it and choose the one that fits your needs. 
| Features | EaseUS Partition Master | Windows 7 Disk Management |
| --- | --- | --- |
| Merge, delete, move, hide, label, check partition | √ | × |
| Copy dynamic volume, copy disk/partition | √ | × |
| Extend NTFS system partition without reboot | √ | √ |
| Create, delete, format, change the drive letter, set active | √ | √ |
| Extend/shrink FAT | √ | × |
| Extend/shrink NTFS | √ | √ |
| Partition Recovery, partition scheme | √ | × |
| Create Bootable Disks | √ | × |
| GPT disk | √ | √ |
Gemma is member of EaseUS team and has been committed to creating valuable content in fields about file recovery, partition management, and data backup etc for many years. She loves to help users solve various types of computer related issues.

Author Jean has been writing tech articles since she was graduated from university. She has been part of the EaseUS team for over 5 years. Her special focuses are data recovery, disk partitioning, data space optimization, data backup and Mac OS. By the way, she's an aviation fan!
I love that the changes you make with EaseUS Partition Master Free aren't immediately applied to the disks. It makes it way easier to play out what will happen after you've made all the changes. I also think the overall look and feel of EaseUS Partition Master Free makes whatever you're doing with your computer's partitions easy.

 Read More

Partition Master Free can Resize, Move, Merge, Migrate, and Copy disks or partitions; convert to local, change label, defragment, check and explore partition; and much more. A premium upgrade adds free tech support and the ability to resize dynamic volumes.

 Read More

It won't hot image your drives or align them, but since it's coupled with a partition manager, it allows you do perform many tasks at once, instead of just cloning drives. You can move partitions around, resize them, defragment, and more, along with the other tools you'd expect from a cloning tool.

 Read More
About EaseUS Partition Master
All-round disk & partition management software for personal and commercial use. Let it manage your storage drive: resize, format, delete, clone, convert, etc.
Video Tutorial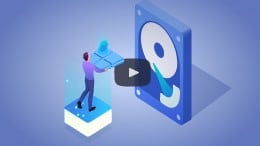 How to Partititon a Hard Drive on Windows 10/8/7
Was This Page Helpful
How Can We Help You
Find answers to common questions below.