In this article, you'll learn:
I. What Is A Partition? (Define Partition)
II. How To Partition A Hard Drive Windows 11/10/8.1/7
III. How To Partition A Hard Drive Mac
IV. How To Partition A Hard Drive Linux
V. Partition Hard Drive with Free Disk Partition Manager
How to Repair or Fix A Hard Disk Partition Error
Overview: What Disk Partition Meant for You?
Some disks are equipped with a single partition in default, but most come with an unallocated space without a partition. Unpartitioned drive can't work - Internal hard drive, external hard drive, and removable devices (USB drive, flash drive, memory card, memory stick, etc.) which contain storage space must be partitioned. So this article is written for those who want to partition but lack basic info. Read on to see what is disk partitioning, how to partition a hard drive, etc.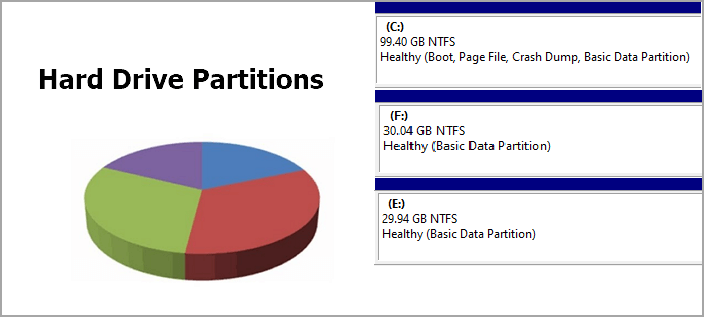 I. What Is A Partition? (Define Partition)
A hard disk partition is a division of a hard drive or other storage devices into multiple, independent compartments. Partitions are typically created to help keep programs and data organized, allowing different kinds of information or operating system to be stored in separate places. 
You can see what a partition looks like on Disk Management. Those tiny boxes behind the disk 0 or 1 are the ones.
Disk Partition Types - Primary Partition, Logical Partition and Extended Partition
Disk partition types can be generally classified into three types: primary partition, extended partition, and logical partition. A hard disk can have one to three primary and one extended partition, or it can have only primary but no extended partitions. However, you must create at least one primary partition and a maximum of one extended partition, and the total number of primary and extended partitions cannot exceed four. There can be several logical partitions.
Hard Disk Partitions and File System
After partitioning a hard drive, you need to format the partition with a file system and store data.
Windows drives - NTFS file system.
Removable devices - exFAT, FAT32 file system.
Linux Partition - ext2/3/4 file system.
Mac drives - APFS, HFS, HFS+ file system
Is Disk Partition Needed?
At least one partition is needed! You cannot store files or programs on a blank, unpartitioned drive. 
Controlling a drive is organizing your disk space and improving disk performance. When you partition a disk, you divide it into separate sections, each of which can be used for different purposes. 
See the Advantages of Partitioning A Hard Drive:
i. Separating OS and Personal File
ii. Good for Disk Performance
iii. Easy for Data Migration
Indeed, partitioning is a versatile tool that can be used in various ways to help improve disk performance and organization.
To install a dual system: If you want to install a Linux system on your Windows, you can put it on a dependent partition.
 Notice - Do You Need Multiple Partitions on All Hard Drive? 

For users who take a removable device - We don't mind internal storage having many partitions, but the opposite is true of a USB drive. Keep it straightforward with one partition. Otherwise, your desktop will be occupied by different drives when connecting a USB drive to a PC. To protect the computer from corruption, you can create more than 2 partitions on the hard disk.
II. How To Partition A Hard Drive Windows 11/10/8.1/7
Disk partitions are usually created during the installation of an operating system, but they can also be modified using disk management tools provided by most operating systems. Follow the instruction to develop partition Windows 10/11 first, then keep the formatting. 
How to Partition A New Hard Drive
Step 1. Initialize a new disk.
Right-click the Windows icon and select Disk Management from the list.
Once open it, right-click disk and choose "Initialize Disk". You can see a notice like "you must initialize a disk before logical disk manager can access it". 
Then choose partition style MBR or GPT (Choose MBR if disk drive is smaller than 2TB. Otherwise, choose GPT.)
Click OK.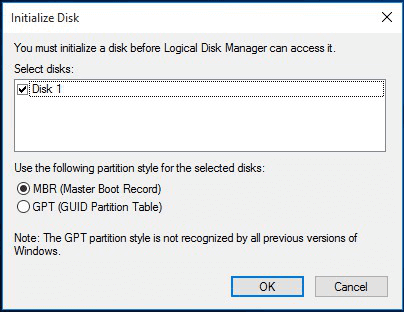 [Further Reading] Open Disk Management in Windows 11
Step 2. Create and Format A Hard Disk Partition
Right-click the unallocated space and select "New Simple Volume".
Then the New Simple Volume Wizard opens. Click "Next". Enter volume size and select "Next".
Select drive letter and select "Next". 
Go to the Format Partition dialog box, check default format settings, and select "Next".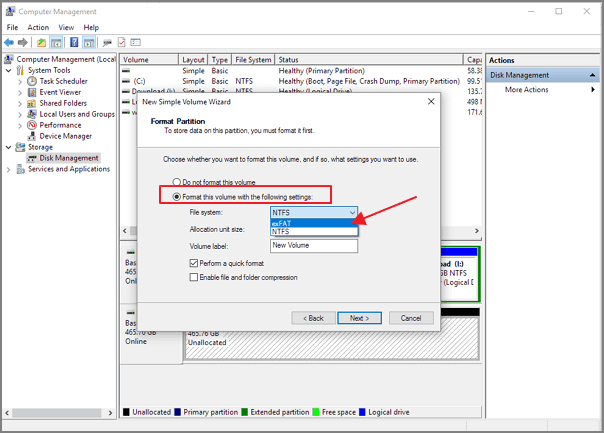 Other Tutorials to Partition An Existing (External) Hard Drive:
Extend C Drive Windows 10
Merge partition Windows 10
Resize partition Windows 10
Delete all partition Windows 10
Show hidden partition Windows 10
III. How to Partition A Hard Drive Mac
To add a hard drive partition on mac:
Run Disk Utility > Select your targeted drive > Click Partition from toolbar > Click a + (Plus) icon > Name partition and set size > Click Apply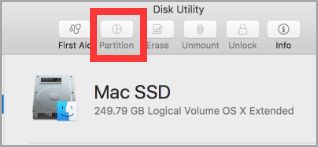 Note: You need to partition the hard drive for old macOS with an HFS+ file system. But for the higher version with the APFS file system, you can create a flexible volume on a single partition according to Apple's recommendation.
To create a volume: Open Disk Utility > Choose hard drive > Click + (plus) icon > Name volume and set format as APFS > Click Add.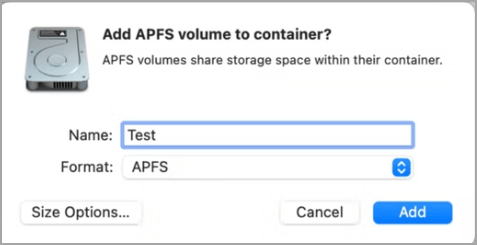 IV. How to Partition A Hard Drive Linux
Use fdisk Command to Create and Format a Disk:
Step 1. Type sudo fdisk -1 to list existing partitions.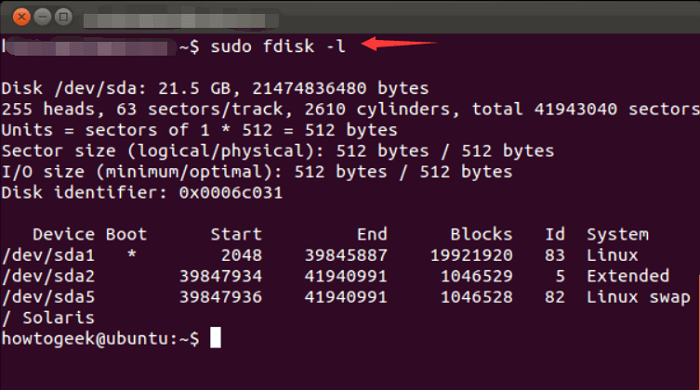 Step 2. Type sudo fdisk /dev/sdb to select disk.
Step 3. Enter command to create a new partition:

Step 4. Type Command to format partition.
sudo mkfs -t ext4 /dev/sdb1

V. Partition Hard Drive with Free Disk Partition Manager
Disk Management can quickly partition a drive without third-party software but can not make more adjustments freely. You can look for a disk partitioning tool if you need beyond essential creating and formatting. Disk partition software works to change partitions on your hard drive with simple clicks. 
EaseUS Partition Master Free is a disk partitioning tool that allows users to create, resize, format, and delete partitions on their hard drives. The software also provides support for dynamic disks and RAID arrays. In addition, EaseUS Partition Master includes various features designed to improve disk performance, such as clone disk. 
How to Partition A Hard Drive with EaseUS Partition Master
Query: What Is the Best Free Disk Partition Tool for Windows
1. EaseUS Partition Master
2. Paragon Partition Manager
3. Acronis Disk Director
4. Gparted
5. PartitionMagic
6. Disk Management
7. DiskPart
How to Repair or Fix A Hard Disk Partition Error
1. "We couldn't create a new partition" Error
This error could happen when you're about to install a second OS on a bootable device. To fix that, you can try to disconnect any peripherals with the computer, format your hard drive, or set your partition as active. 
To fix: We couldn't create a new partition
2. "Windows can't be install to disk partition" Error
Have you seen these two errors?
X Windows cannot be installed to this disk. the selected disk is of the GPT partition style.
X

 

Windows cannot be installed to this disk. the selected disk has an MBR partition style.
Windows can't be installed to disk partition is an error that typically appears when someone is trying to install Windows on their computer. Several things can cause this error, but the most common cause is that your hard drive partition style is not in line with the BIOS version.
Read two depth tutorials to solve the problem:
Hard Disk Partition FAQs
1. How many active partitions can a hard disk hold?
An active partition is a partition where the computer starts up. You can only have one partition set as "Active".
2. How many disk partitions should I have?
You can keep at least two partitions - one for the Windows operating system and the other one for the personal data.
3. Which device file below represents the first primary partition on the second PATA hard disk drive?
Four choices:
/dev/hdb1 
/dev/hdc2 
/dev/hdc1 
/dev/hda1
The /dev/hdb1 is the right option.
4. How to Fix "the startup disk cannot be partitioned or restored to a single partition"?
Apple recommend your startup disk should have 64GB for free. If your drive is out of space, you can go to free up storage space on Mac.

Roxanne is one of the main contributors to EaseUS and has created multiple posts on digital devices like PCs, Mobile phones, tablets, Mac, etc. She loves to share ideas with people of the same interest.