With the growth of Windows 11 and Windows 10 owners, the market share statistic of the Windows operating system has dramatically changed over the world. Windows 10 and Windows 11 have the biggest operating system users and the demand for making use of disk space, managing partitions are also increasing. So how do you effectively manage hard drive partitions on Windows 11/10/8.1/8 or even older Windows computers? 
Powerful partition magic software for Windows 11/10/7 is exactly what you need. And this is what we are about to discuss and recommend the best Windows partition magic tool to assist you in performing disk partitioning operations successfully.
All-in-one Free Partition Magic for Windows 11/10
To ensure that all Windows users could apply the partition magic software to execute all disk management tasks, it's essential that you learn what is an all-in-one partition magic software for Windows 11/10 users. And here is a list that you can check through and define if the current tool suits your need:
Support all Windows operating systems, including the latest Windows 11, and even old Windows XP.
Execute most basic partitioning tasks, like create, format, merge, split, convert disk partitions.
Risk-free, no virus or malware infection.
Instant customer service.
Professional tech support team
Powerful product development and search team.
Continuous product quality and security update.
As reliable free partition magic software, EaseUS partition magic software has helped millions of people manage their disks easily and quickly. You can now free download the professional partition magic full version for Windows to help you resize partition, extend system disk, update HDD, and migrate OS to SSD with ease.
Applies to: Windows 11/10/8.1/8/7/Vista/XP
Workable solutions: Create, resize, clone, move, merge, and format partitions
What Happened to Partition Magic, Which Is the Best Partition Magic Alternative
Partition Magic, the product of Symantec, is very famous for partition management under Windows 98, Windows 2000, and Windows XP. It was acquired by Symantec in 2003. Norton Partition Magic has not been upgraded since 2009. The Symantec website states "Sorry, we no longer offer Norton Partition Magic." The application is incompatible with Windows Vista and later versions.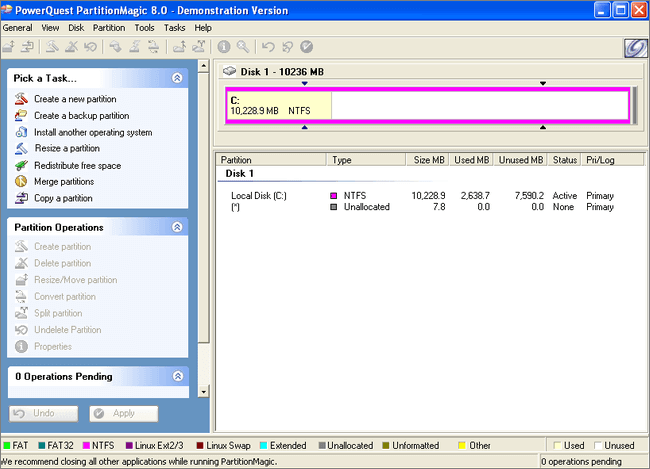 Which is your best alternative for Partition Magic? If search "Partition Magic Alternative" online, Google will present you with a full list of recommended partition manager software on the search result page.
It doesn't matter if you don't have time to test and try out all the top famed tools and pick one that suits you the most. Here we have a list of Top Partition Magic Freeware that you can pick anyone to start optimize your disk partition performance:
EaseUS Partition Master
Gparted
Acronis Disk Director
Paragon Partition Manager
[email protected] Manager
IM-Magic Partition Resizer
Use an all-inclusive EaseUS partition manager to organize disks and partitions to get the best HDD or SSD performance. 
Download Professional Partition Magic Software for Windows 11/10 Free
Though it's been a truth that computers are becoming smarter and quite a lot of jobs can be done by computers. However, unavoidable problems such as partitioning cases still need to be fixed by human beings. Partition magic software, which is known as a professional partition tool, is designed for helping users to resize partitions, extend system drives, merge or combine partitions, upgrade HDD or migrate OS to SDD. 
If you are facing partition problems in your computer, partition magic can help. How to get professional partition magic software? EaseUS software makes it simple and easy for you to free download professional partition magic software now. Yes, it is possible to free download professional partition magic full version software! How? Let's find the answer now. 
What can EaseUS partition magic software do for you?
EaseUS software provides the best partition magic software - EaseUS Partition Master for great Windows users to fix complex partitioning problems with ease. Don't ever think about trying cracked partition manager software or pirated partition magic software to manage your computer partitions. It is not a wise way to protect data and privacy. In order to protect your personal data, prevent unexpected troubles such as system crash or virus attack from happening to your PC, you are highly recommended to download copyrighted partition magic software - EaseUS Partition Master.
EaseUS Partition Magic Software - Partiton Master
Resize, clone, merge/split, format/delete/wipe, check, hide/unhide partitions.
Convert the disk to MBR/GPT, migrate OS to HDD/SSD, and NTFS to FAT32 conversion.
Extend C drive for Windows 11 update.
Steps to Free Download Partition Magic Full Version for Windows
Follow next steps to free download partition magic full version for Windows 10/8/7 or Vista/XP now:
Step 1. Free download partition magic full version
EaseUS software makes it free for all users to download its full version of partition magic software - EaseUS Partition Master. You can search EaseUS Partition Master and free download it online or directly click the below download button to get it right now.
After downloading it, you can install this partition magic software into your computer. In order to get the full version of EaseUS Partition Master, you need to do one more thing which is to activate it with serial key. If you need a free version of this software, feel free to download it by clicking the below download button. It's 100% risk-free and clean.
Step 2. Get a Serial Key to Activate EaseUS Partition Magic to Full Version
So how to get the EaseUS Partition Master serial key? You have two options: purchase the serial key from the EaseUS website or you can choose to get a 30% discount for EaseUS Partition Master serial key.
Don't worry about after-sale problems. You'll get all your rights protected by EaseUS software with a complete refund policy and 24*7 online services. How to get the 30% discount?
For Windows 10/8/7/Vista/XP users: 
Then you'll get the serial key and activate this partition magic software into full version to effortlessly manage partition problems on your PC.
How to Partition Hard Drive with EaseUS Partition Magic on Windows 11/10
You'll see how to use partition magic full version of EaseUS Partition Master to partition a hard drive in Windows 10 with this video.
If you prefer a step-by-step guide, follow the details below:
[1] "Resize/Move" enables you to adjust space of a selected disk partition as wish. Right-lick "Resize/Move", you can shrink a volume, extend the other one, or create unallocated space for special use.
[2] "Clone" aims to make two identical hard disks or partitions with the same layout and content. You can use the "Clone" feature to upgrade a hard disk, replace a failing one, backup the drive data and so on.
[3] "Delete" is a common method to remove an unwanted disk partition, turning it into unallocated space.
[4] "Format" is frequently used in many situations. By formatting a drive partition, you can alter the file system, fix some corruption issues, and sometimes remove viruses and malware.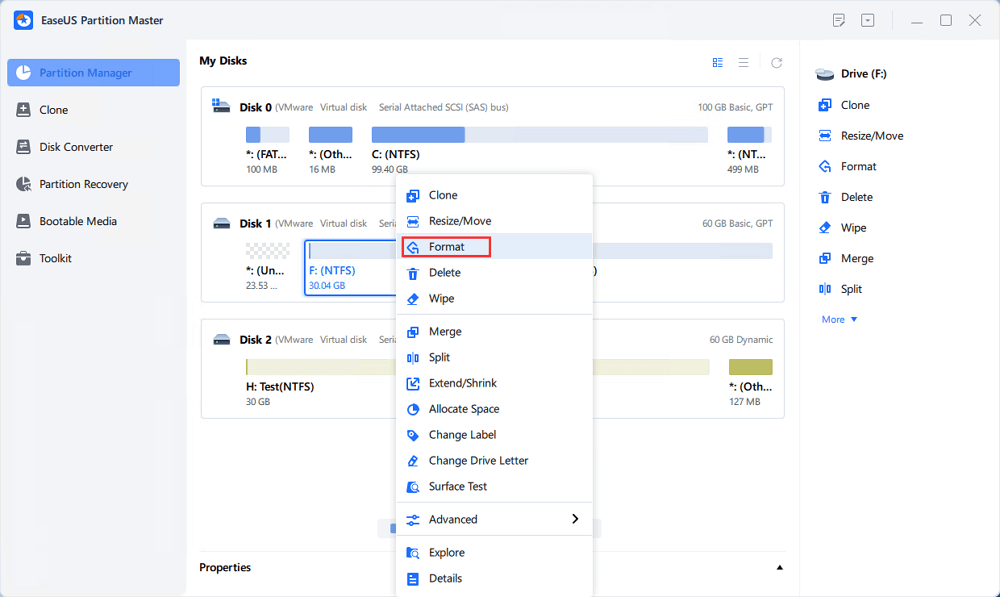 [5] "Allocate space" is very useful when one drive partition space is too much while the other is inadequate. 
[6] "Migrate OS" makes it easy to transfer a Windows installation drive to the other without reinstalling.
[7] Conversion between GPT and MBR, NTFS and FAT32, and Basic to Dynamic is getting more and more popular among EaseUS Partition Master customers. Besides all the listed benefits, there are so many functional yet practical features are waiting you to explore.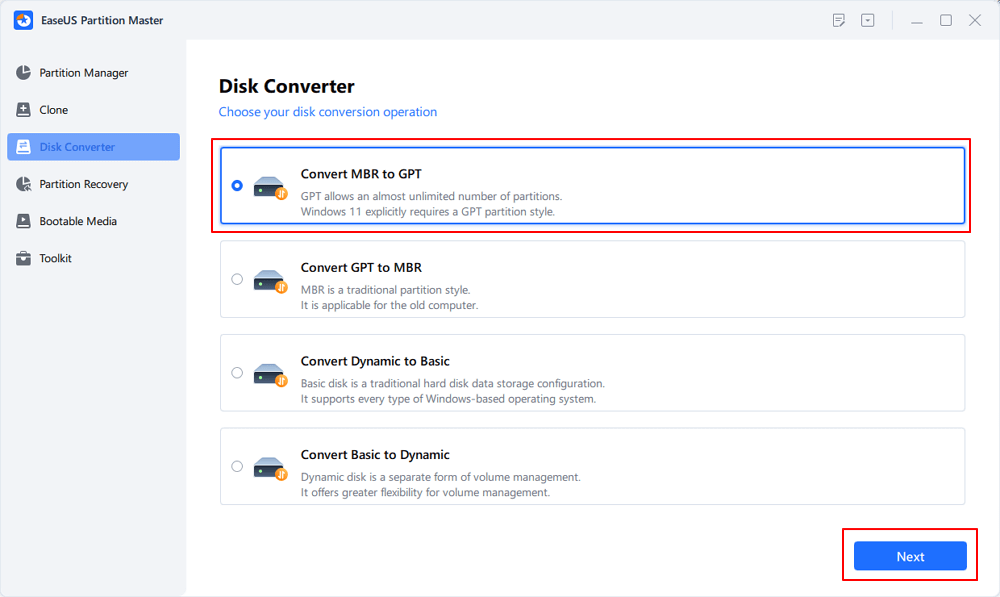 Hot Questions from Users (FAQ)
In addition to these questions above, there are some other hot topics:
What is the best free partition manager?
We have analyzed the tools from the versatility, data security and ease of use to help you find the best free Windows 10 disk management tool. Among them, EaseUS partition software ranks top. It can help you maximize disk performance with powerful features, for example, basic disk & partition management, effective partition and data recovery, disk cloning, comprehensive disk diagnostic, etc.
Is EaseUS Partition Master free?
EaseUS Partition Master Free is a free partition manager that contains all the basic partition management features. It allows you to resize, extend, format, clone partition, and migrate OS to SSD, etc.
How do I partition with EaseUS?
Step 1. Install and launch EaseUS partition magic software
Step 2. Partition Hard Drive
Step 3. Execute operations. Click the "Execute Operation" button at the top corner and keep all changes by clicking "Apply"
How do I partition my C drive in Windows 10?
To partition your C partition, you can use Windows Disk Management to shrink the drive and create a new partition. Additionally, you can use the EaseUS professional partition manager.
Step 1. Locate C drive
Step 2. Resize the C drive and select "Resize/Move"
Step 3. Create a new partition on the unallocated space
Step 4. Apply all the changes
Updated by Tracy King 
Tracy joined in EaseUS in 2013 and has been working with EaseUS content team for over 7 years. Being enthusiastic in computing and technology, she writes tech how-to articles and share technical solutions about Windows & Mac data recovery, file/system backup and recovery, partition management and iOS/Android data recovery.