
About the Author
Hot Topics in 2022
Logical vs Primary | What's the Difference and Which Is Better
Workable Solutions
Step-by-step Troubleshooting
What is the Primary Partition and the Logical Partition?

The primary Partition is the hard disk partition where both Windows OS and other data can be stored...Full steps

The logical partition is also called LPAR, it is a logical segmentation of a mainframe's memory and other resources...Full steps

Check the Difference between Primary and Logical Partition| Which is Better

Importance...Full steps

Number Limitation...Full steps

Logical vs Primary...Full steps

Check the Partition Type on the Computer
Step 1. Right-click "This PC" and choose "Manage"; Step 2. Go to "Disk Management"...Full steps
Interconvert Logical and Primary Partition- EaseUS Partition Master
Step 1. Download and run EaseUS Partition Master; Step 2. Right-click the partition you want to convert...Full steps
Hard disk partitioning refers to dividing the hard disk's overall storage space into multiple independent areas, which are used to install operating systems, install applications, and store data files. Logical partition and primary partition are two common partition types. Users usually get confused about the definition and the differences between these two items. Therefore, it is vital to clearly understand what is logical partition and primary partition before partitioning a new HDD or SSD.
 Notice:

Primary partition and logical partition are much related to MBR disk because GPT disk only contains primary partitions.
What is the Primary Partition?
Primary Partition is the hard disk partition where both Windows OS and other data can be stored, and it is the only partition that can be set active for BIOS to locate. In other words, you can only boot from a primary partition. Generally, a disk drive can contain a maximum of 4 primary partitions or 3 primary partitions and a single extended partition.
What is the Logical Partition?
The logical partition is also called LPAR, it is a logical segmentation of a mainframe's memory and other resources that allows it to run its own copy of the operating system and associated applications. The number of logical partitions in an MBR disk is limitless. 
A tree diagram shows the relationship between primary partition, extended partition, and logical partition in an MBR disk.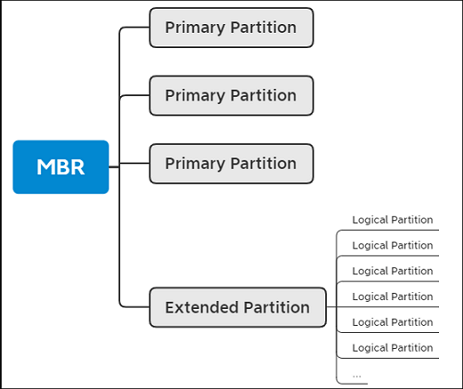 What's the difference between Primary and Logical Partition
As the hierarchy of logical partition and primary partition is different, the dissimilarity of these two partitions is reflected in two aspects.
You can see that the legacy MBR bootloader can only boot from a primary partition from the above introduction. So one of the main differences between logical and primary partition is that a primary partition is essential to an MBR disk. Without a primary partition, you can't boot your computer. 
In an MBR disk, you can have at most 4 primary partitions and no logical partition. Or you can have 3 primary partitions and one extended partition. The extended partition can be divided into several logical partitions. The number of partitions depends on your needs. If you need more than 4 partitions to store data separately, you can divide your MBR disk into 3 primary partitions and one extended partition to create as many logical partitions as you need.
In a GPT disk, there is no logical partition. You can create more than 4 primary partitions. Technically, you can create at most 138 primary partitions in one GPT disk.
Logical vs Primary Partition | Is Logical Partition Better than Primary?
You can't compare the logical and primary partition in a yes-or-no way. There is no better choice between logical and primary partition because you must create one primary partition on your disk. Otherwise, you will not be able to boot your computer. 
Logical vs Primary
1. There is no difference between the two kinds of partitions in the ability to store data.
2. When you need more than 4 partitions in the MBR disk, creating logical partitions on your disk is a better choice. 
How to Check the Partition Type on the Computer
Under Windows Disk Management, you can check how many primary partitions and logical partitions you have on the computer:
Step 1. Right-click "This PC" and choose "Manage".
Step 2. Go to "Disk Management".
Step 3. Here you can check the number of primary partitions and logical partitions. You can also check the disk type, file system, and partition status.
How to Interconvert Logical and Primary Partition
Convert from Primary Partition to Logical Partition or Vice Versa
Sometimes when you were creating partitions in Disk Management, you might see an error message saying, "You can not create a new volume in this unallocated space because the disk already contains the maximum number of partitions." You see this error message because the hard disk already contains 3 primary partitions and one extended partition. You can solve this problem by converting one of the primary partitions into a logical partition.

Here we recommend you to use a Windows partition manager - EaseUS Partition Master. This tool makes it effortless to convert partitions and take full advantage of your disk space. With EaseUS Partition Master, you can move system reserved partition to another drive, partition a new hard drive on the computer, resize partitions on the computer, etc.
Now you can download the software and follow the guide below to see how to convert the primary partition to a logical partition, or a logical partition to primary.
Step 1. Download and run EaseUS Partition Master and go to Partition Manager.
Step 2. Right-click the partition you want to convert and click "Advanced", choose the convert option:
1. Primary to Logical
2. Logical to Primary
Step 3. Click the "Execute 1 Task" button and then choose "Apply" to begin the conversion. 
0:00 - 0:30 Convert Primary to Logical; 0:31 - 0:50 Convert Logical to Primary.
Bonus Tip: MBR and GPT
In case some users have no idea of what is MBR, here we'd like to give a brief introduction to the definition of MBR and GPT. If you are interested in it, please keep reading and learn more about it.
MBR
MBR and GPT are two partition styles on Windows-based computers. MBR stands for Master Boot Record, is an older disk-type first introduced with IBM PC DOS 2.0 in 1983. It's named after the boot sector located at the beginning of a drive (the first sector) called MBR.
GPT
GPT stands for GUID Partition Table. It is the newer standard compared to MBR first introduced as part of the UEFI initiative. Compared with the MBR partitioning scheme, it's more flexible and has better compatibility with modern hardware.
If you want to check more information about MBR and GPT, you can refer to this article MBR vs GPT.
The Bottom Line
Now you should have a comprehensive understanding of logical partition and primary partition. With the introduced information, you could make the right choice when you need to partition a new disk.
About the Author

Roxanne is one of the main contributors to EaseUS and has created multiple posts on digital devices like PCs, Mobile phones, tablets, Mac, etc. She loves to share ideas with people of the same interest.
Written by Gemma
Gemma is member of EaseUS team and has been committed to creating valuable content in fields about file recovery, partition management, and data backup etc for many years. She loves to help users solve various types of computer related issues.
Product Reviews
I love that the changes you make with EaseUS Partition Master Free aren't immediately applied to the disks. It makes it way easier to play out what will happen after you've made all the changes. I also think the overall look and feel of EaseUS Partition Master Free makes whatever you're doing with your computer's partitions easy.

 Read More

Partition Master Free can Resize, Move, Merge, Migrate, and Copy disks or partitions; convert to local, change label, defragment, check and explore partition; and much more. A premium upgrade adds free tech support and the ability to resize dynamic volumes.

 Read More

It won't hot image your drives or align them, but since it's coupled with a partition manager, it allows you do perform many tasks at once, instead of just cloning drives. You can move partitions around, resize them, defragment, and more, along with the other tools you'd expect from a cloning tool.

 Read More