Deciding whether to encrypt the backup disk or not is quite complicated. As we have grown fast with technology, the stories related to data breaching and cyber attacks have become quite common. It's not only the newer ones. Even the more prominent companies available today in the marketplace have faced different data breaching issues that somewhere put our privacy at stake. The primary reason why data breaches or cyber-attacks have become quite popular is the unawareness of the tools and data protection. 
Encrypting backup is one of the easiest and perfect ways to enable the absolute security of your privacy anytime. It is the way that keeps you safe on the world wide web. But what do you mean by Encrypting Backup Disk? It means to secure your backup so no one can steal your data even if they et their hands on the backup. It ensures only you can restore data from the backup disk.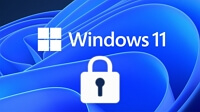 How to Encrypt Backup Disks in Different Ways?
Encrypting backup disks makes it difficult for strangers to snoop through your secure data or private files perfectly. It is the perfect way to protect your data from cybercrime. One can easily encrypt a backup disk by using software and Windows built-in tools. The guide will provide complete information about how to do this perfectly.
Method 1. Encrypt Backup Disk with Windows Built-in Tool
Windows features built-in tools for encrypting backup disks perfectly. The entire process is relatively smoother and requires a very few steps that you have to follow.
Step 1. Press "Win" + "S" to open the Start menu search bar. Type BitLocker here and click on the Manage BitLocker option when it appears. It will open the BitLocker Drive Encryption Windows.
Step 2. Locate the backup drive to protect your data, and tap on it to get the different options. Tap on the Turn on Bitlocker button for a backup drive. Next, select how you want to unlock this drive, and use a password for unlocking the same.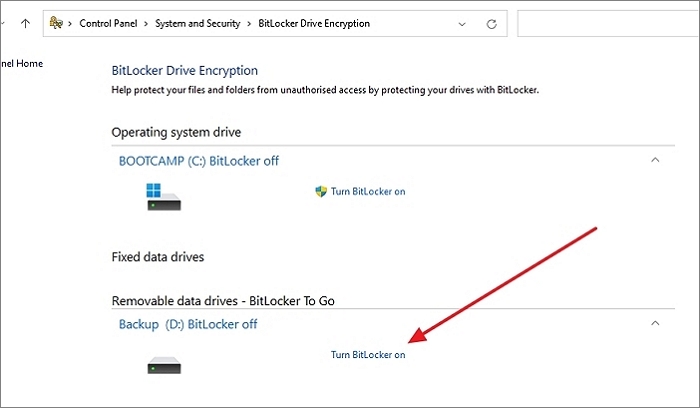 Step 3. To enable the same, you must enter a secure password and reconfirm it. Type the password in the provided field and then tap on the Next button to go further with the process.  Make sure to keep a note of the passcode.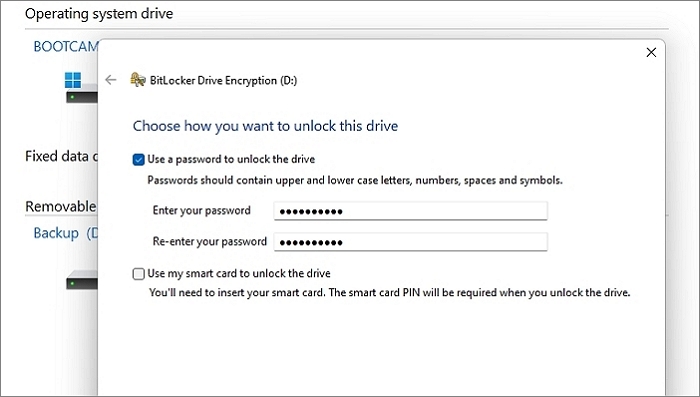 Step 4. Next, select a location to backup your recovery key. Just tap on your preferred option and then press Next to proceed further; carefully make an informed choice. 
Step 5. Select how much of your drive you want to encrypt. You can choose to encrypt whatever is available on the disk instead of comparing the whole drive, which will take longer. New data will be automatically encrypted.
Step 6. Tap on the Next button and select the encryption mode best for fixed drives on the device. If you connect more, then choose the compatible mode.
Lastly, you have to tap on the Start Encrypting button and tap on the Close button to close the process. It is going to take a good amount of time, so it's best to be patient. Once done, it will look like the below image:

Method 2. Encrypt Backup Disk With Efficient Software
The Windows built-in backup encryption tool brings up many opportunities for the users. Despite having a lot of features, the tool still includes a lot of issues that somewhere make the encryption process fail, and these are:
It encrypts the data being stored in the BitLocker drive only. Whenever one opts for sending the file in an email, the encryption thus made gets lost completely.
The tool sometimes causes different performance issues.
Managing the encryption key is a bit complicated here.
All encrypted data will be lost if you lose the hardware key or the file or access to your account.
If you are currently willing to encrypt your backup disk, the best option you could believe in is EaseUS Todo Backup. It is one of the most recommended options among all present there in the marketplace that relieves you from the headache of saving your precious data at any moment.
Encrypt the backup disk using a password (AES256 algorithm), which should be less than 15 characters.
It is a one-click backup and instant recovery solution with higher efficiency and compression
Easy to use interface for all kinds of users.
Users can now efficiently perform one-click backup and instant recovery without issues.
The tool offers absolute disk imaging and saves backups in a safe condition on your device.
Provides about 250GB of cloud storage for free
Additional Guide: Make Your Backup Disk More Secure 
Securing your backup disk is one of the foremost things advised to do. There are different methods of securing the data on the backup disk successfully. We have already provided the two above for you. Along with those two solutions, you can keep your data backup safe by keeping it in different locations. Moreover, limiting access rights to your data backup eventually boosts your backup disk's security.
EaseUS Todo Backup is one of this section's most reliable and trustworthy names. It is a perfect solution that backs up your data by creating a Security Zone. The security zone thus created is designed so that hackers or other threats cannot recognize it. The best thing about this tool is that it keeps your data safe even if viruses have attacked your PC. 
Here is the detailed process for enabling the same successfully with EaseUS Todo Backup.
Step 1. Select Backup Contents
On the main window, click the big question mark button to select backup contents. You can choose to back up individual files, entire disk or partition, operating system and mails.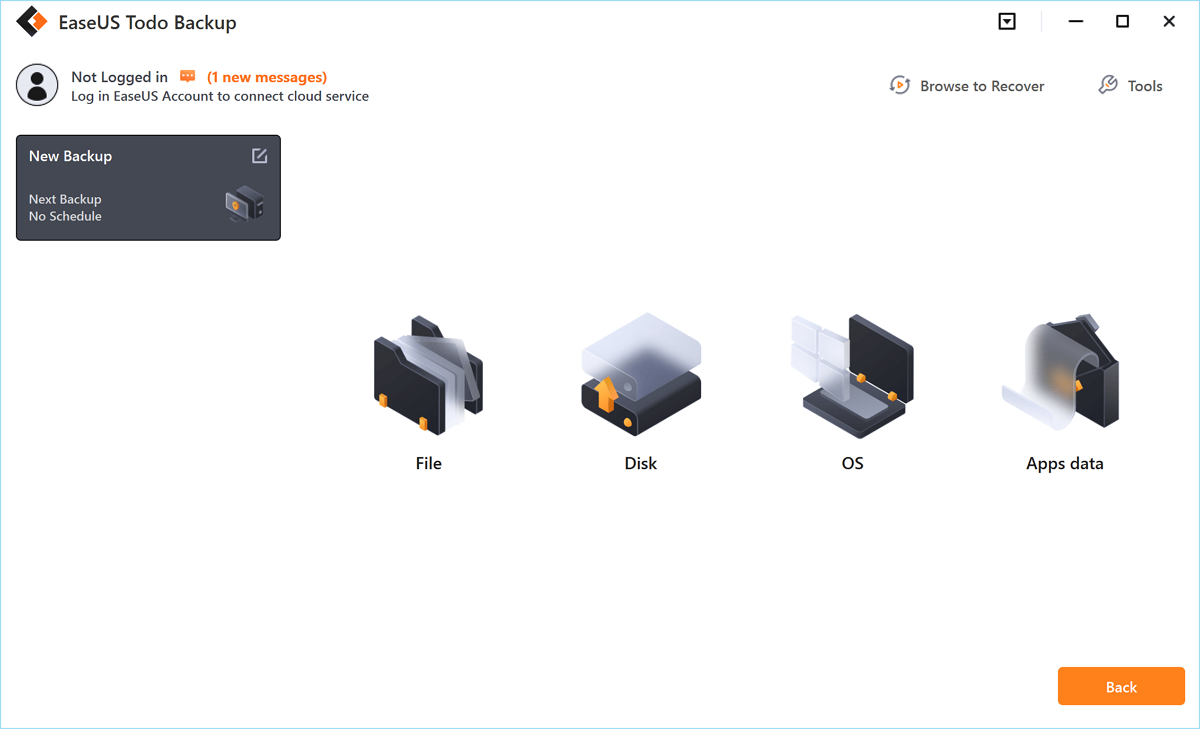 Step 2. Select Security Zone as Backup Destination
While selecting backup destination, you can see the Security Zone option. Click Security Zone and use it as a backup destination.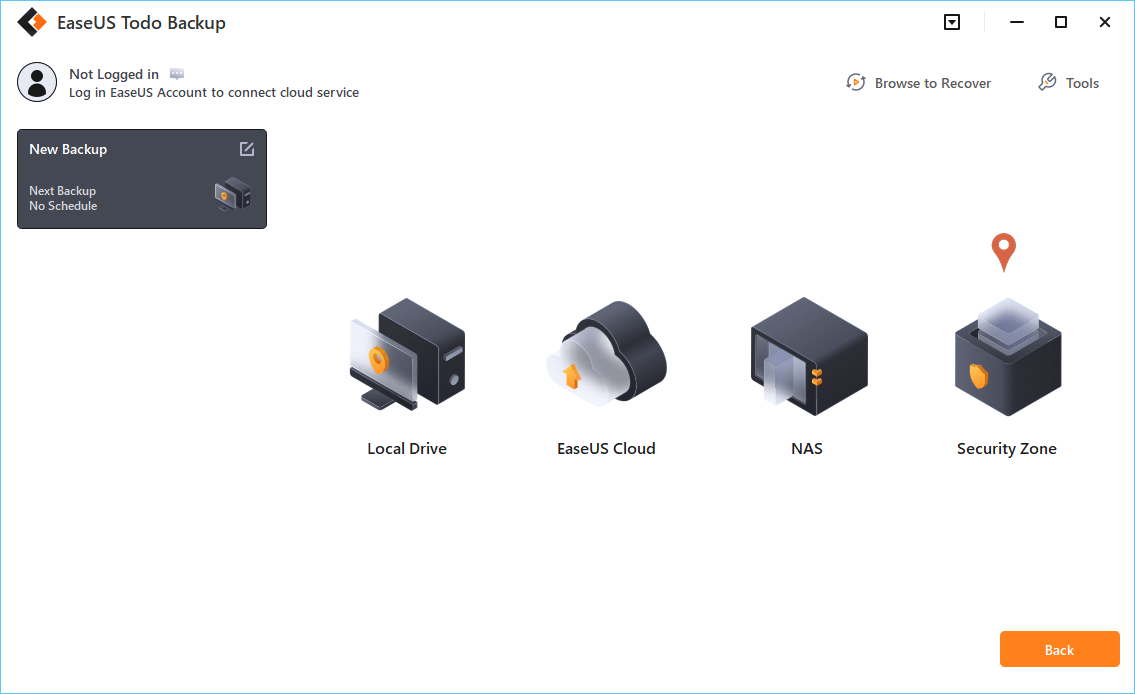 However, if you're first to use the Security Zone function, EaseUS Todo Backup will guide you to create one. Click "Create Security Zone".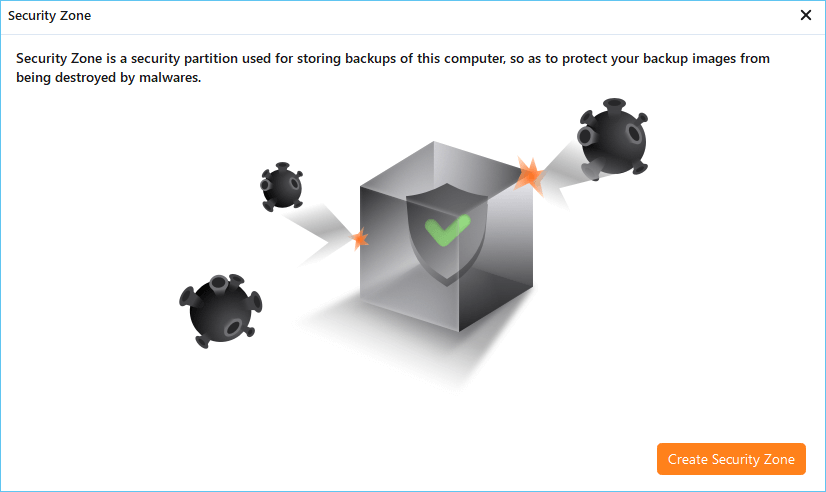 Choose a partition with enough free space for your backups and then click "Continue".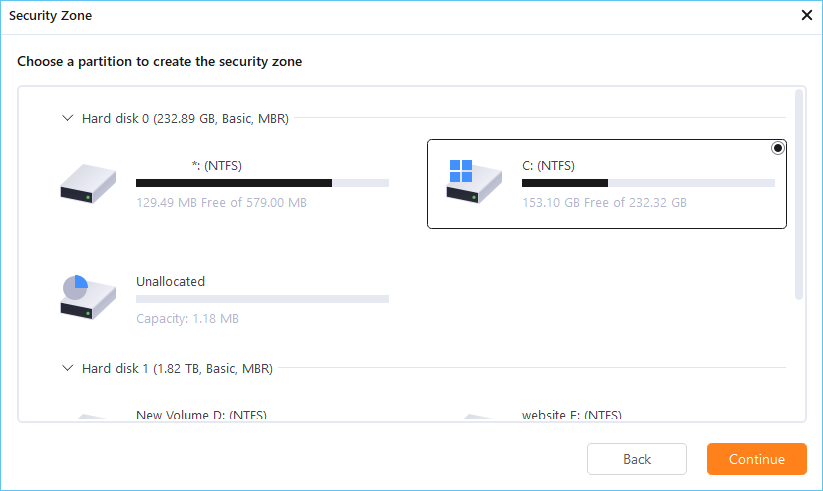 You can adjust the partition size for the security zone. Click "Create" to get it done.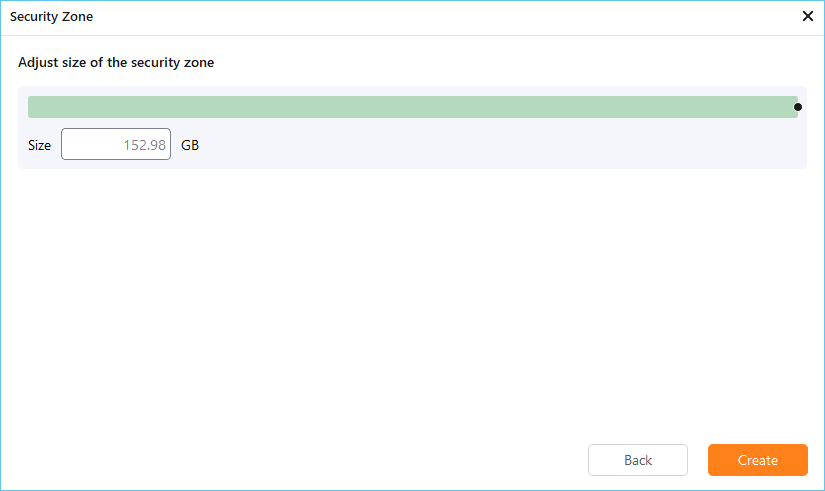 Step 3. Execute the backup task
Click "Backup Now" to start the backup process. Your backups of OS, files, drives and mails in the security zone will be fully protected from being seen or destroyed by virus, ransomeware and trojan. 
Common Q&As About Encrypting Backup Disk
Being a Windows 11 user, you might be well aware of the different aspects, but indeed not all. We are with some of the most asked FAQs here, which will help you know more about it. 
Is it OK to back up an encrypted disk to an unencrypted disk?
Backing up an encrypted disk to an unencrypted disk can put your data at risk. It gives the other person possession of that disk and that they can easily read any data backup. 
What is the difference between encrypted and unencrypted backup?
The significant difference here is that the encrypted backups can easily include the information the other backup options are not providing. Everything can be accessed conveniently at encrypted backup, whether it is about passwords, personalized settings, or web history.
Should my Mac backup be encrypted?
Yes, it is always advised to encrypt the mac backup to add an extra layer of protection to your data.
How to encrypt backups on Mac?
One can easily encrypt the backups on Mac through different sources such as: using time machine backup, a clone backup, encrypting online backups locally, etc. 

Jean has been writing tech articles since she was graduated from university. She has been part of the EaseUS team for over 5 years. Her special focuses are data recovery, disk partitioning, data space optimization, data backup and Mac OS. By the way, she's an aviation fan!
Taking everything into consideration, we can say that EaseUS Todo Backup Home can offer you a little extra sense of security with a set of advanced tools. The interface provides quick adaptation, every process guiding you all the way through so you don't get stuck or further damage your system rather than keeping it safe.

 Read More

EaseUS Todo Backup Free lets you create backups of your important files or your entire computer through its streamlined interface. Just choose the backup type you'd like to get started, and let the program do the reset.

 Read More

EaseUS includes all the features I expect from backup software like versioning, incremental backups, and scheduling. For more advanced users, EaseUS allows you to install a pre-boot environment onto your hard drive so you can use it to restore files without burning a CD or putting it on an external USB drive.

 Read More

EaseUS Todo Backup
Smart backup tool for your files and entire computer in Windows 10/8/7.
Install Windows on Multiple Computers at Once? No Problem!
Learn how to install Windows 11/10/7 and special programs/software on a batch of computers. Use 10 minutes to do the 10 hours work without making a single mistake!
Get Free Solution!