For Samsung computer or laptop users, if your hardware is outdated or your HDD or SSD is too small, you need to move the data from the old small one to a new one. Samsung Data Migration may be helpful in this condition. Please read this guide if you don't know how to download and use it. 
A Brief Introduction to Samsung Data Migration Software
Clonix Co., Ltd. creates and offers Samsung Data Migration software to owners of Samsung Solid State Drives. Users can use it to quickly, conveniently, and safely migrate all of the data from their existing storage device (such as an HDD) to the new Samsung SSD. The 470 Series, 750 Series, 830 Series, 840 Series, 850 Series, 950 Series, and 960 Series Samsung SSDs are now fairly well-liked.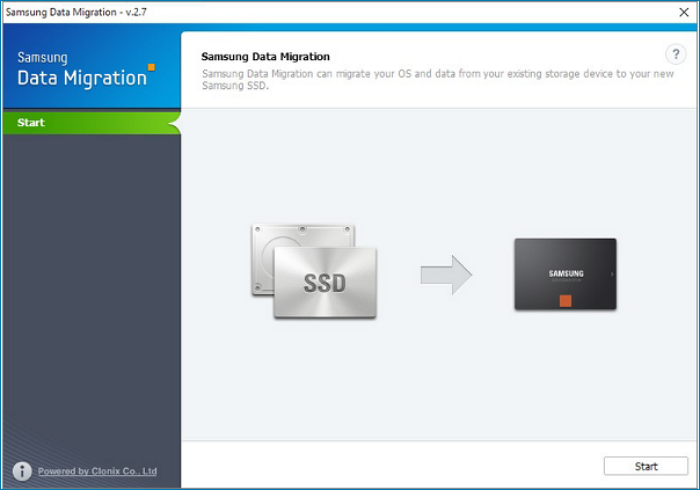 Samsung Data Migration is a reliable and free software. Let's see what it can do for you.
1. Transfer data from a storage device to a new Samsung SSD.
2. Migrate three kinds of data: operating system, application software, and user data.
3. Simple Interface to use smoothly
4. Short transferring time of PC
5. Use less space to transfer the operating system to a smaller SSD.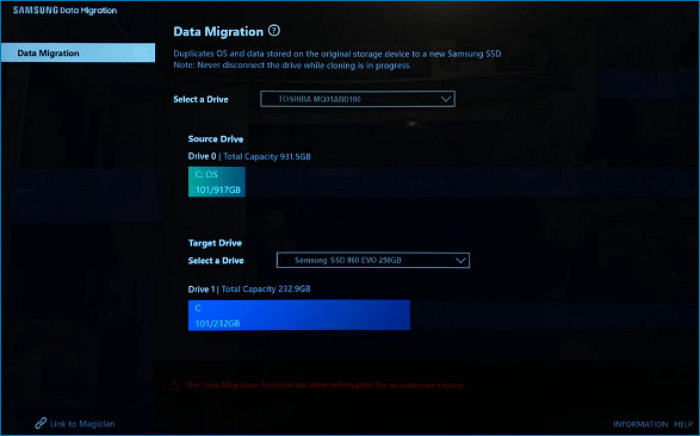 Samsung Data Migration Download and Limitations
After getting a basic overview of what is Samsung data migration and its functions of it. You can download it from the Samsung Official Website or search for it in your application store. Next, we will introduce why it is popular and does it have any shortages.
1. Save your personal and essential information. 
2. Don't need to reinstall over again.
3. Support all kinds of Samsung SSD
4. Support Windows 7/8/8.1/10 (32/64 bit)
5. Free to use
1. It can only copy a Source Drive with an operating system installed. Without an operating system, It can't copy a disk.
2. Cannot clone encrypted drives.
3. It is not compatible with recovery software.
4. Only for OEM storage devices and some Samsung SSDs listed in the below table.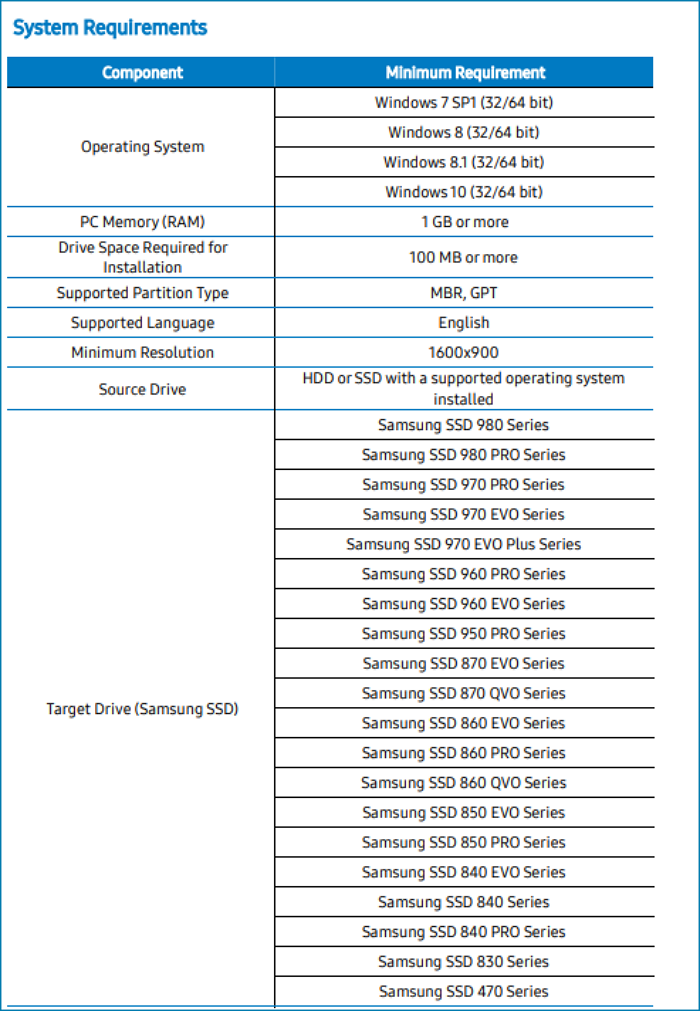 How to Use Samsung Data Migration
If your device meets the above requirements, you can download Samsung Data Migration software for Windows 7/8/8.1/10/11 and transfer your HDD or SSD to a new Samsung SSD.
After installation, you will see a straightforward primary interface. The steps are as follows to utilize this data migration program which is pretty simple. 
Step 1. Start the app
Step 2. Connect and select the Target Drive you want to transfer
Step 3. Select the volume(s) that you wish to clone.
Step 4. Start cloning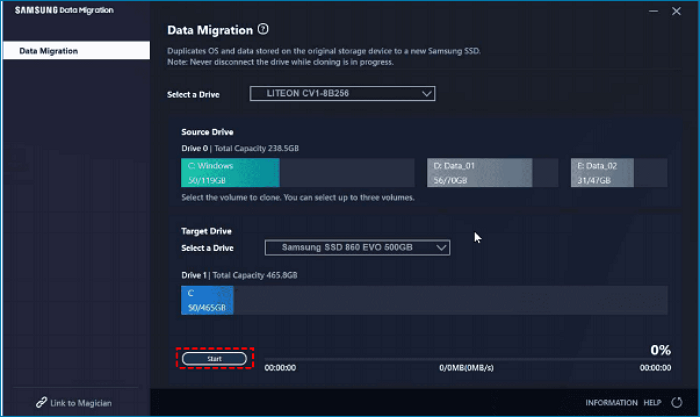 Or you can watch the video below to see how to use it.
Notes:
1. All data on the Target Drive (Samsung SSD) will be erased and rendered unrecoverable when the content of the Source Drive (for example, an HDD) is copied using Samsung Data Migration. Therefore, if you have any data on the Target Drive that you would like to save, please make a backup of it first.
2. Install the Samsung NVMe Driver first if you're using this windows clone software to clone the Source Drive to the Target Drive (a Samsung NVMe SSD).
An Alternative to Offset Samsung Data Migration Limitations
If the device you will back up is not a Samsung brand or the SSD card version is unavailable, you can choose another free software called EaseUS Todo Backup to migrate windows 10 to SSD The expert data migration tool supports various sources and target devices
The reasons to choose EaseUS Todo Backup
1. Various cloning options: Including FAT32, NTFS, and other file types.
2. Unlimited destination device: Suit for PC, laptop, HDD, SDD, external hard drive, USB flash drive.
3. Data rescue: Can restore files and programs from an unbootable computer
4. Suitable both for MBR and GPT
5. Multiple System Transfer: Can transfer data to EaseUS Cloud, Local Drive or LAN, NAS Device, and Security
Here is the essential step to use EaseUS Todo Backup to create a portable USB.
USB requirements:
1. Check how much disk space is used for the system C drive. Let's assume 40GB. Then prepare a qualified USB drive, of which the disk capacity must be larger than 40GB.
2. Do you use an empty new USB drive or an old one? Make sure that all the important data has been safely transferred because the system clone will overwrite data on it completely.
3. Correctly connect the USB drive to your machine and make sure that Windows has detected it and assigned a drive letter to it.
Follow the overall process to create a portable Windows USB drive and boot from it:
Step 1. Launch EaseUS Todo Backup. Expand the Tools menu and click "System Clone".
Step 2. On the "System clone" window, the software will choose the system partition and boot partition by default. Just Choose the USB drive as the destination disk. Click on "Advanced options" and then "Create a portable windows USB Drive". Click "OK" and then "Next".
Step 3. You can preview or adjust the disk layout on the destination drive. If there is no problem, click "Proceed" and the software will start immediately cloning the default system partitions of your desktop/laptop to the USB drive. After the cloning process is over, you can safely plug the USB drive out.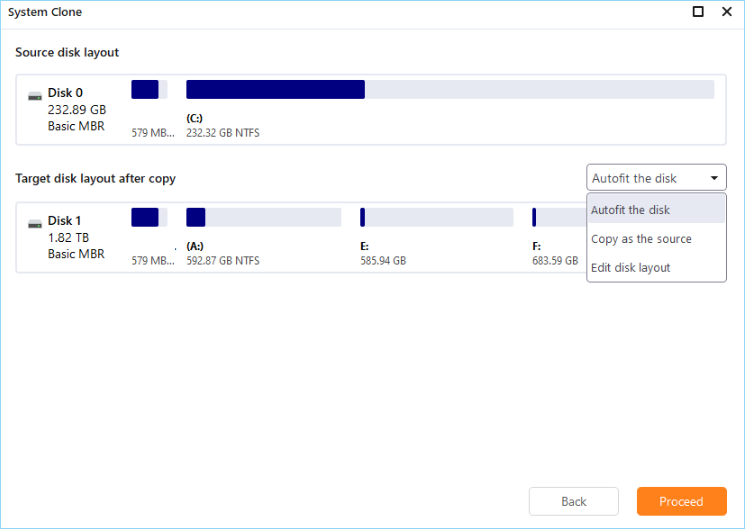 Step 4. Boot from the USB drive.
Connect your portable USB to the computer
Restart the computer and press "Del" to enter BIOS
Set the PC to boot from the portable USB by changing the boot order in BIOS under the "Boot" tab
Save changes and you'll see your system booting up from the USB drive
The Bottom Line
If Samsung Data Migration doesn't work for you, utilizing EaseUS Todo Backup to clone HDD to SSD is an excellent alternative. You can use it to correct issues that would prevent Samsung Data Migration cloning from succeeding. It is an excellent system backup and recovery organizer that enables you to manage hard drive partitions better. You can try EaseUS Todo Backup Home, Free, Enterprise to clone Samsung SSD in Windows 7/8/10/11 Server.
FAQ
1. How long does Samsung data migration take?
Once it has started, Samsung claims that the completion time will often be under an hour.
2. Is Samsung data migration free?
YES. You can move files and folders from your PC to a Samsung SSD using the program Samsung Data Migration (SDM). It has straightforward controls and is free to use.

Jean has been writing tech articles since she was graduated from university. She has been part of the EaseUS team for over 5 years. Her special focuses are data recovery, disk partitioning, data space optimization, data backup and Mac OS. By the way, she's an aviation fan!
Taking everything into consideration, we can say that EaseUS Todo Backup Home can offer you a little extra sense of security with a set of advanced tools. The interface provides quick adaptation, every process guiding you all the way through so you don't get stuck or further damage your system rather than keeping it safe.

 Read More

EaseUS Todo Backup Free lets you create backups of your important files or your entire computer through its streamlined interface. Just choose the backup type you'd like to get started, and let the program do the reset.

 Read More

EaseUS includes all the features I expect from backup software like versioning, incremental backups, and scheduling. For more advanced users, EaseUS allows you to install a pre-boot environment onto your hard drive so you can use it to restore files without burning a CD or putting it on an external USB drive.

 Read More

EaseUS Todo Backup
Smart backup tool for your files and entire computer in Windows 10/8/7.
Install Windows on Multiple Computers at Once? No Problem!
Learn how to install Windows 11/10/7 and special programs/software on a batch of computers. Use 10 minutes to do the 10 hours work without making a single mistake!
Get Free Solution!