Quick Steps: How to Use Windows 10 Clone Software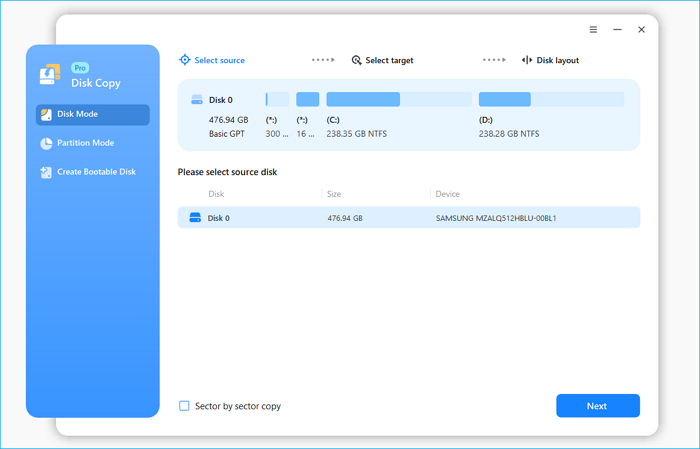 Step 1. Launch EaseUS disk cloning software and click Clone. And then select the source hard disk you want to clone.
Step 2. Select the destination disk.
Step 3. Preview the disk layout after cloning. Finally, you can click Proceed to clone one hard drive to another with one click.
Why Do Windows Users Clone Hard Disk Drive
Are you planning to upgrade the old hard drive to a new one? Is it possible to migrate OS to SSD? How to make an identical copy of the hard drive? How can you safely upgrade your operating system without a bootable failure problem? Is there any safe and convenient way available to transfer data and upgrade to a newer, larger hard drive? Or is there Windows 10 clone software to clone system disk Windows 10? 
Compared with reinstalling Windows and loading all applications all over again, cloning your operating system hard drive or the other non-system disk exactly to the new one would be much safer and more convenient. That's why you need to know how to clone a hard drive in Windows 10. If you know how to clone, you can do the following things:
Upgrade to a new or bigger HDD or SSD 
Create an exact copy of your disks or partitions
Transfer data to other storage devices
To make clone Windows 10 to a new hard drive or clone a hard drive, you need an application that is reliable and trustworthy. Here are the best we could find in disk cloning software Windows 10.
 We have tested and reviewed 10+ hard drive cloning software for Windows 10 in the aspect of their whole performance, cloning speed, compatible hard drive types, etc., and here are the specific statistics of the testing.
| | |
| --- | --- |
| 🔣Tested Products | 15 |
| ⏳Time Duration | 4 weeks |
| 💻Devices | Computer & Laptop |
| 🚗Cloning Speed | from 5min - 1 hour |
| ⚒️Hard drive types | HDD, SSD, M.2 SSD, NVMe SSD |
| 💰The Minimum Cost | Free |
| 🏆Best recommendation | EaseUS Disk Copy |
Top 1. Disk Cloning Software for Windows 10/11 - EaseUS Disk Copy (Paid)
Tag: Suitable for beginners and experts, with an easy-to-use interface, simple operation
EaseUS Disk Copy is a reliable tool that is perfect for cloning a hard drive. The software is neat, clean, and very straightforward to download as well. Using this tool, you can freely clone disk under Windows 10/8/7 and even Windows Servers with the following features:
Support Disk/Partition Clone
Support Operating System Clone
Support Cloning OS to a Portable External USB
Make Cloned OS, HDD/SSD Bootable after Cloning
Unlike the simple copy and paste, the clone feature allows you to start your computer as well as program normally without reinstalling the system and other applications. Cloning is just an extra feature of EaseUS Disk Copy, and you can use this tool to perform Windows 10 backup and restore operations.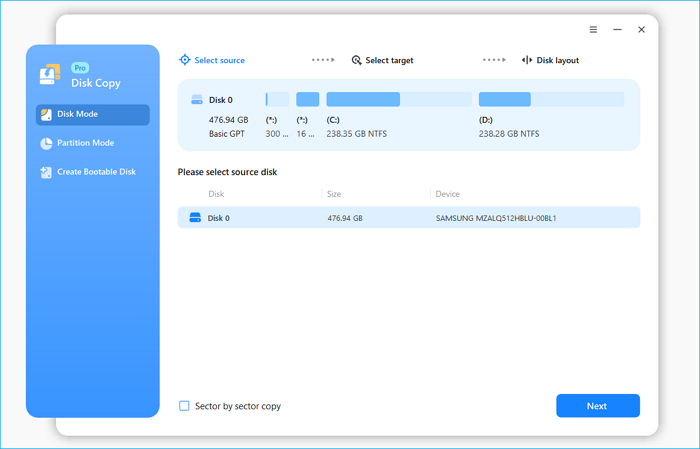 🎗️Highlights:
Let's see how to clone a hard drive in Windows 10.
How to Use Windows 10/11 Clone Software to Clone Hard Drive
To clone an old hard drive to a new and bigger one, EaseUS Disk Copy is one of the best choices because of its easy-to-use features and powerful functions. 
Prior Notice:
The "Sector by sector copy" asks the size of your destination disk to be at least equal to or larger than that of the source disk. Leave this feature unchecked if you wish to clone a larger hard disk to a smaller hard disk.
All data on the destination disk will be completely erased, so take care.
Step 1. To start copying/cloning an entire disk to another, choose this disk as the source disk under "Disk Mode" and click "Next".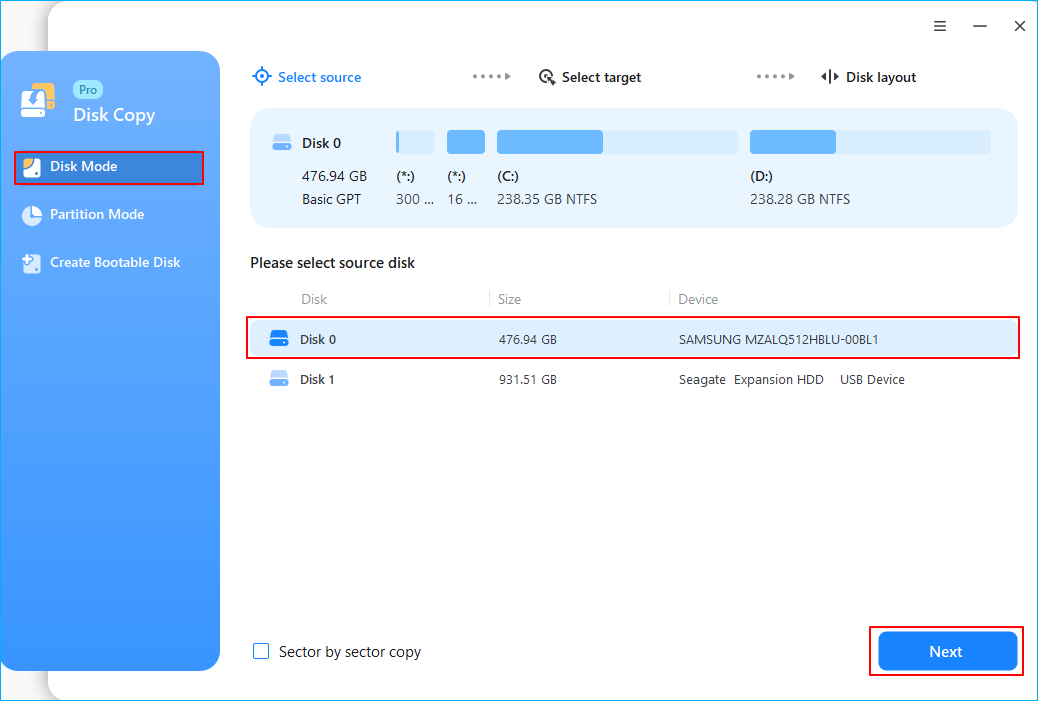 Step 2. Choose the other disk as the destination disk.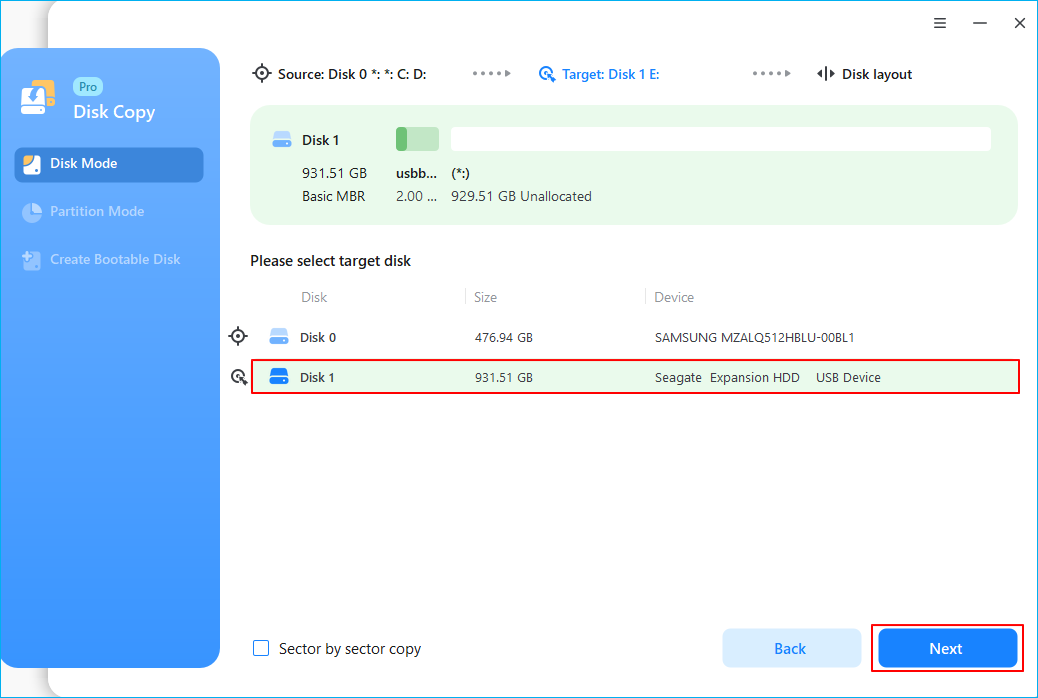 Step 3. Check the disk layout of the two disks. You can manage the disk layout of the destination disk by selecting "Autofit the disk", "Copy as the source" or "Edit disk layout".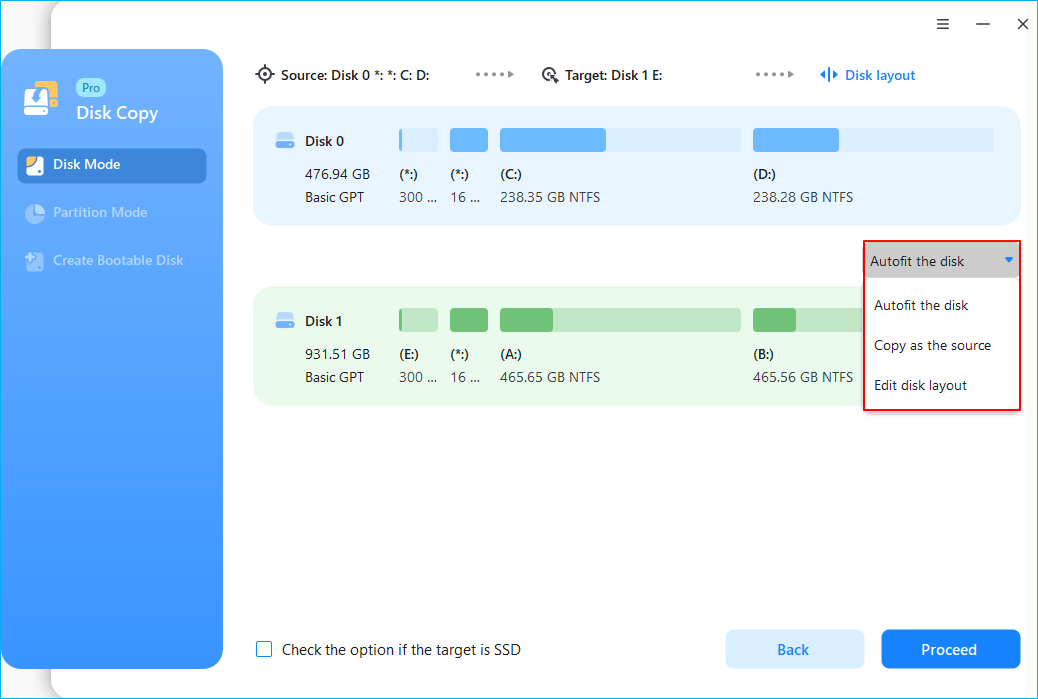 "Autofit the disk" makes some changes by default on the destination disk layout so that it can work at its best status.
"Copy as the source"does not change anything on destination disk and the layout is the same as source disk.
"Edit disk layout" allows you to manually resize/move partition layout on this destination disk.
Tick the "Check the option if the target is SSD" option to put your SSD in its best performance.
A message now appears, warning you that data will be lost. Please confirm this message by clicking "OK" and then click "Next".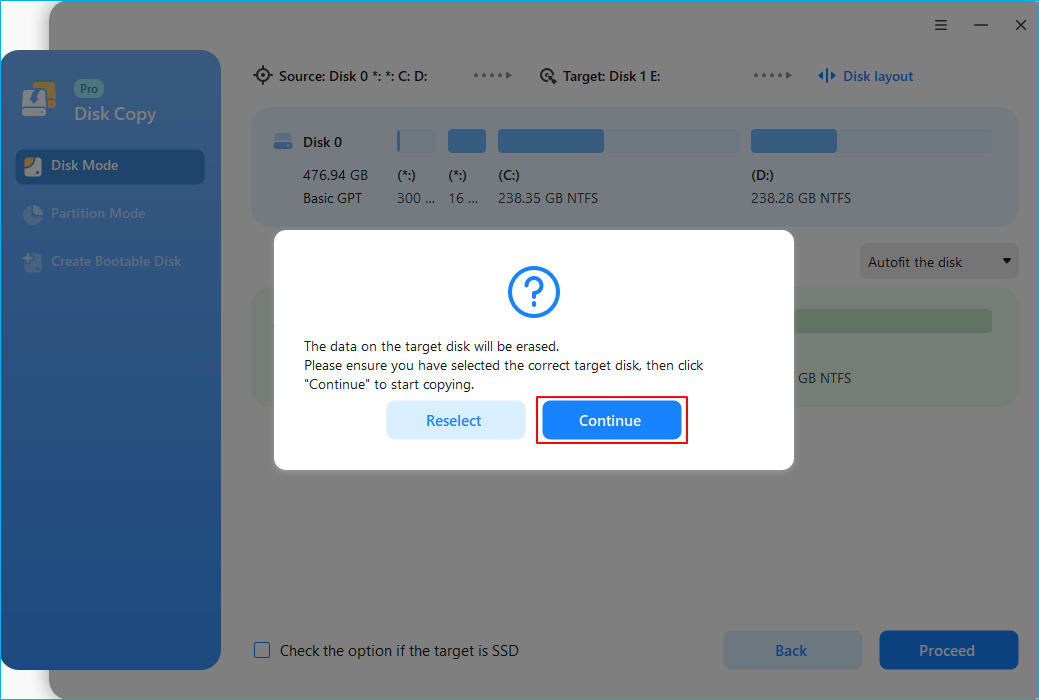 Step 4. Click "Proceed" to officially execute the task.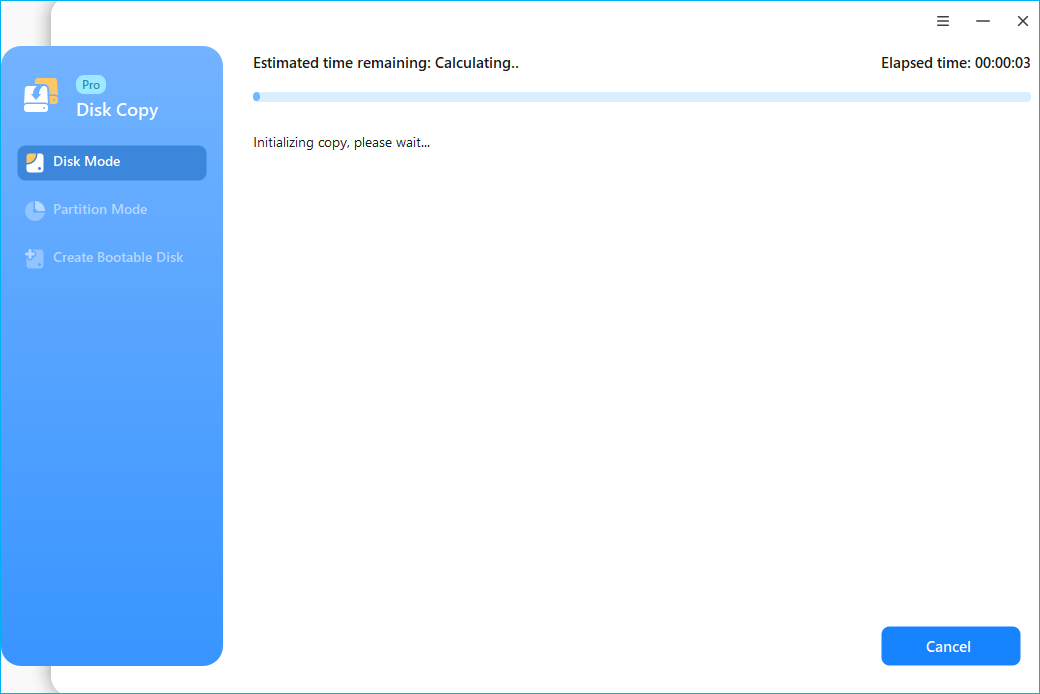 Video Guide: How to Clone and Replace A Hard Drive
How to Migrate OS to SSD with Cloning Software
You can migrate your Windows 11/10/8/7 to another drive with ease. Follow the steps below in the video:
User's Feedback:
Backup your important data with EaseUS Todo Backup for free! Join the @EaseUS Giveaway at @MalwareTipscom and get a chance to win a license key! Don't wait, enter now: https://t.co/pZW5DKWoJG

— hakah (@hakahw) March 19, 2023
Top 2. Acronis Disk Director for Windows 10 Disk Cloning (Paid)
📑Tag: Robust disk cloning and management, more suitable for home users
Acronis Disk Director delivers a set of powerful tools that work together to optimize your disk usage and protect your data. With it, you can migrate your data, operating system, and applications from an old basic MBR disk to a replacement disk. In addition to cloning a Windows 10 hard drive, this cloning software also has a range of supported services.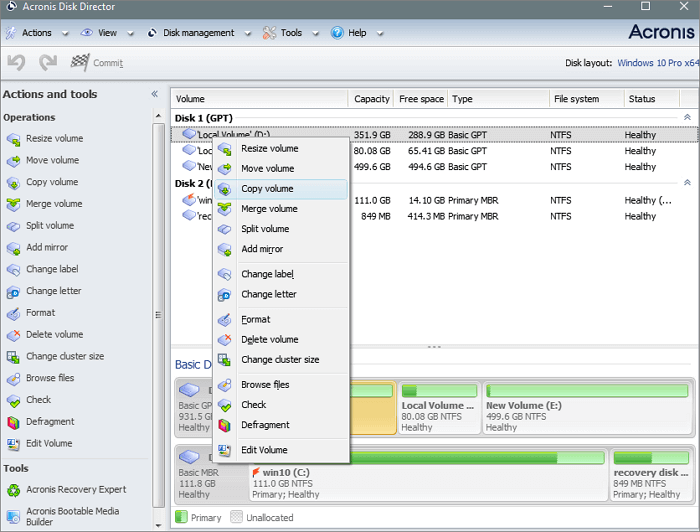 🎗️Highlights:
Offer disk cloning duties in Windows 10
Manage disk with formating, resizing, and merging partitions
Recover lost or deleted data partitions
There is a demo available, but it is limited in that it only works with a disk volume size under 100MB, which is hobbled enough to prevent any serious use. Besides, the installation process takes up a long time.
Top 3. Paragon Drive Copy to Clone a Hard Drive (Paid)
📑Tag: For Windows users, not so appealing compared with Paragon Disk Managemnt
Another useful cloning software for Windows 10 users is Paragon Drive Copy. It helps migrate your data or home OS from any source to any target. This software covers the full range of disk duties, including disk cloning of the entire drive, and advanced activities.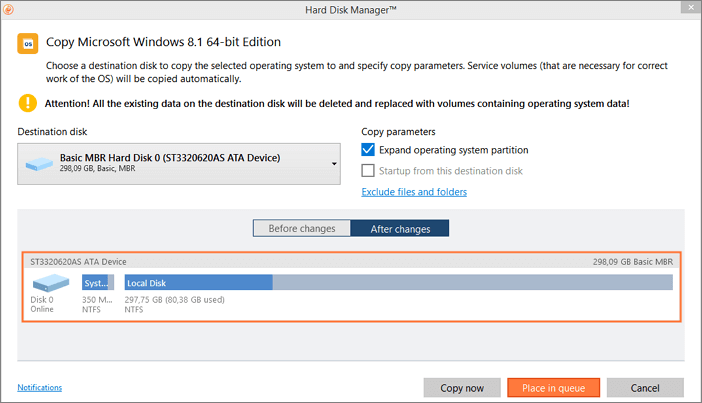 🎗️Highlights:
Create backups, manage partitions, migrate data
Migrate the OS to a new PC, start working right away
Clone your OS to a USB flash drive and use it anywhere
You can keep your disk properly organized, create backups, and migrate data with the help of this paid software.
Top 4. Macrium Reflect (Paid): 30-Day Free Cloning Software Windows 10 
📑Tag: Ransomware protection, direct disk cloning, reliable
Macrium Reflect is a free backup, disk imaging, and cloning solution. It protects your data, upgrades your hard disk, or tries new operating systems that are safe in the knowledge that everything is securely saved in a quickly recovered backup file.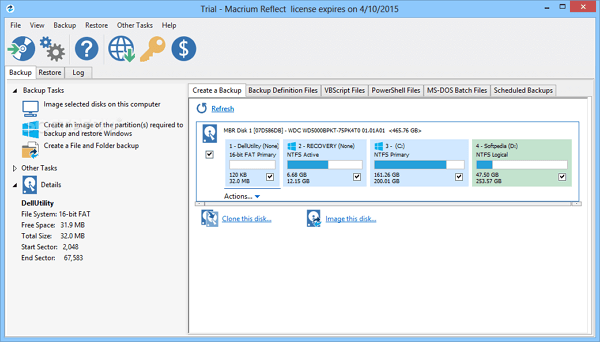 🎗️Highlights:
Clone HDD or SSD to another HDD or SSD
Back up files and folders to secure data
Support for restoration of non-booting systems
Rapid Delta Cloning increases cloning speed by copying file system deltas
You can use this software to clone partitions on a hard disk to upgrade your hard drive easily.
📖You may be interested: Top Free Disk Cloning Software to Clone Disk
Top 5. Clonezilla - Totally Free Hard Drive Cloning Software
📑Tag: Suitable for system deployment on multiple systems
As an open-source, free disk cloning software for Windows 10, Clonezilla helps you with disk copy or clone, bare metal backup and recovery, and more. Clonezilla saves and restores only used blocks in the hard disk, which increases the clone efficiency. But the destination partition must be equal or larger than the source one. You cannot clone a bigger drive to a smaller one.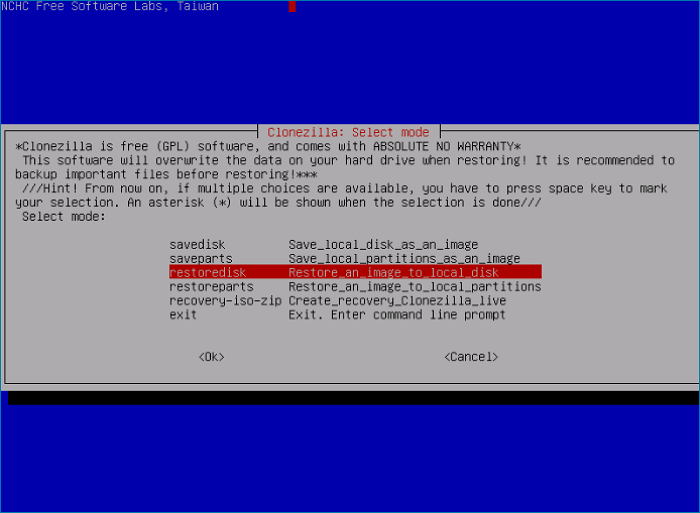 🎗️Highlights:
You can get it without any cost
It can run from USB or CD
It allows you to clone, image, or partition
Conclusion
The list above shows the best free and reliable disk cloning software that you can use to clone Windows 10/11. Cloning your Windows 10/11 or creating a system backup is the best way to ensure you have a backup solution. Choose one cloning tool to ensure smooth disk cloning. EaseUS Disk Copy is an excellent tool you should never miss.
FAQs - About Creating Windows 10 Hard Drive Clone 
Is cloning faster than copying?
The fastest method depends on the number of files and the percentage of the disk that is used. Cloning simply reads and writes bits. If you want to copy huge files, cloning is a better choice. Nothing will slow it down other than disk usage. 
If you only have several files, it has always been faster to copy all the files from one drive to another than to clone the drive.
Does cloning a hard drive copy the OS?
Yes, it does. Cloning a hard drive means copying all the data on that hard drive (HDD/SSD) to another location, these data include Windows 7/8/10 operating system, installed programs, settings, personal files, etc.
What is the best cloning software?
5 Best Hard Drive Cloning Software [2022 RANKINGS]
EaseUS Disk Copy
Acronis Disk Director
Paragon Drive Copy
Macrium Reflect
Clonezilla
How do I clone a disk in Windows 10?
To clone disk in Windows 10
Step 1. Launch and run EaseUS Disk Copy on your PC and select "Clone" on the left pane.
Step 2. Select the disk or partition that you want to clone.
Step 3. Click "Proceed" to start cloning your disk or partition now.
What is OS cloning?
In simple terms, cloning an OS is the same as creating a backup, so the software used is pretty much the same.
Was this page helpful? Your supoport is truly important to us!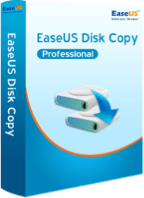 EaseUS Disk Copy
EaseUS Disk Copy is a well designed and very easy-to-use HDD/SSD cloning and migration tool, a tool which should be ideal for anyone wanting to quickly and easily migrate an existing system disk to a new disk (or newly installed SSD drive) with the minimal of configuration required.
Updated by

"I hope my articles can help solve your technical problems. If you are interested in other articles, you can check the articles at the bottom of this page, and you can also check my Facebook to get additional help."…

Read full bio

Written by

Jean is recognized as one of the most professional writers in EaseUS. She has kept improving her writing skills over the past 10 years and helped millions of her readers solve their tech problems on PC, Mac, and iOS devices. …

Read full bio