EaseUS Todo Backup for Windows 11 - Key Takeaways
Having a backup of all your important files is imperative. No one wants to lose their data. Your data contains valuable information that needs to have a record. Backing up your data is the best way to keep it safe. As Windows 11 is here, everyone is looking for Windows 11 system and data security solutions. EaseUS Todo Backup (website) comes with multiple features catering to the needs of a variety of Windows 11 users, including:
Disk/partition/OS clone
Windows 11 migration to HDD/SSD
Windows 11 transfer to a different computer
Disk/partition/file/OS/email backup and recovery
Transfer Windows 11 OS and programs to a portable USB drive
Quick Steps: How to Use Windows 10 Clone Software
Step 1. Launch EaseUS disk cloning software and click Clone. And then select the source hard disk you want to clone.
Step 2. Select the destination disk.
Step 3. Preview the disk layout after cloning. Finally, you can click Proceed to clone one hard drive to another with one click.
Why Do Windows Users Clone Hard Disk Drive
Are you planning to upgrade the old hard drive to a new one? Is it possible to migrate OS to SSD? How to make an identical copy of the hard drive? How can you safely upgrade your operating system without a bootable failure problem? Is there any safe and convenient way available to transfer data and upgrade to a newer, larger hard drive? Or is there Windows 10 clone software to clone system disk Windows 10? 
Compared with reinstalling Windows and loading all applications all over again, cloning your operating system hard drive or the other non-system disk exactly to the new one would be much safer and more convenient. That's why you need to know how to clone a hard drive in windows 10. If you know how to clone, you can do the following things:
Upgrade to a new or bigger HDD or SSD 
Create an exact copy of your disks or partitions
Transfer data to other storage devices
To make clone windows 10 to a new hard drive or clone a hard drive, you need an application that is reliable and trustworthy. Here are the best we could find in disk cloning software Windows 10.
Top 1. Disk Cloning Software for Windows 10/11 - EaseUS Todo Backup (Paid)
EaseUS Todo Backup is a reliable tool that is perfect for cloning a hard drive. The software is neat, clean, and very straightforward to download as well. Using this tool, you can freely clone disk under Windows 10/8/7 and even Windows Servers with the following features:
Support Disk/Partition Clone
Support Operating System Clone
Support Cloning OS to a Portable External USB
Make Cloned OS, HDD/SSD Bootable after Cloning
Unlike the simple copy and paste, the clone feature allows you to start your computer as well as program normally without reinstalling the system and other applications. Cloning is just an extra feature of EaseUS Todo Backup, and you can use this tool to perform Windows 10 backup and restore operations.
Highlights:
Make full copies, securely upgrade and replace the old disk
Run backup automatically while data is increasing daily
Recover your whole system or delete data from your backup
Clone your system drive to migrate OS in Windows 10/8.1/8/7
Let's see how to clone a hard drive in Windows 10.
How to Use Windows 10/11 Clone Software to Clone Hard Drive
To clone an old hard drive to a new and bigger one, EaseUS Todo Backup is one of the best choices because of its easy-to-use features and powerful functions. 
Video Guide: How to Clone and Replace A Hard Drive
How to Migrate OS to SSD with Cloning software
You can migrate your Windows 11/10/8/7 to another drive with ease. Follow the steps below in the video:
Top 2. Acronis Disk Director for Windows 10 Disk Cloning (Paid)
Acronis Disk Director delivers a set of powerful tools that work together to optimize your disk usage and protect your data. With it, you can migrate your data, operating system, and applications from an old basic MBR disk to a replacement disk. In addition to cloning a Windows 10 hard drive, this cloning software also has a range of supported services.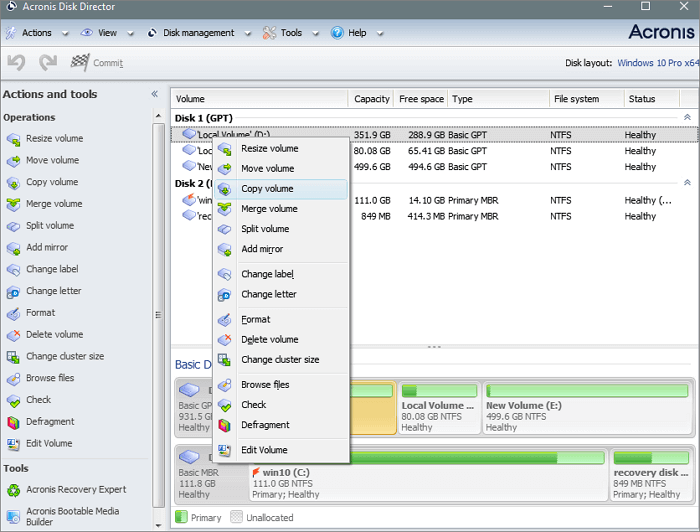 Highlights:
Offer disk cloning duties in Windows 10
Manage disk with formating, resizing, and merging partitions
Recover lost or deleted data partitions
There is a demo available, but it is limited in that it only works with a disk volume size under 100MB, which is hobbled enough to prevent any serious use. Besides, the installation process takes up a long time.
Top 3. Paragon Drive Copy to Clone a Hard Drive (Paid)
Another useful cloning software for Windows 10 users is Paragon Drive Copy. It helps migrate your data or home OS from any source to any target. This software covers the full range of disk duties, including disk cloning of the entire drive, and advanced activities.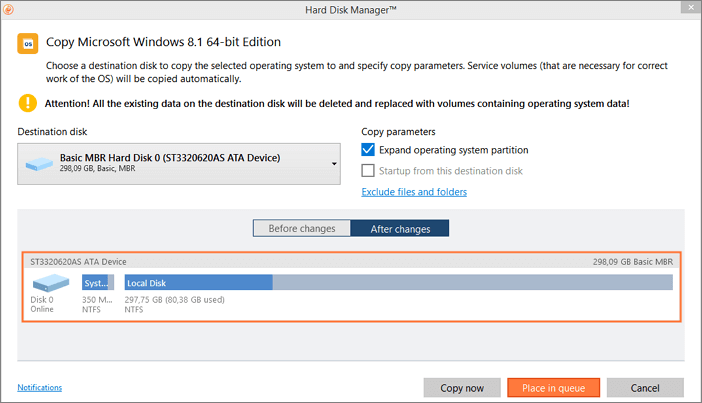 Highlights:
Create backups, manage partitions, migrate data
Migrate the OS to a new PC, start working right away
Clone your OS to a USB flash drive and use it anywhere
You can keep your disk properly organized, create backups, and migrate data with the help of this paid software.
Top 4. Macrium Reflect (Paid): 30-Day Free Cloning Software Windows 10 
Macrium Reflect is a free backup, disk imaging, and cloning solution. It protects your data, upgrades your hard disk, or tries new operating systems that are safe in the knowledge that everything is securely saved in a quickly recovered backup file.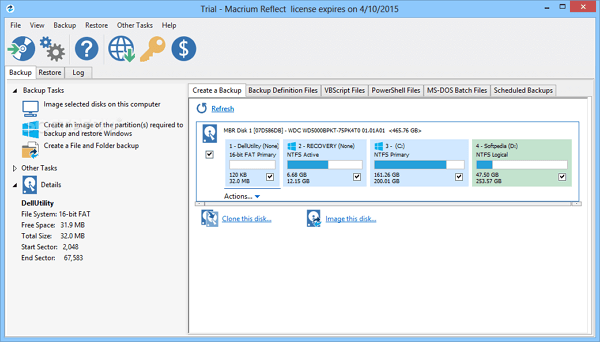 Highlights:
Clone HDD or SSD to another HDD or SSD
Back up files and folders to secure data
Support for restoration of non-booting systems
Rapid Delta Cloning increases cloning speed by copying file system deltas
You can use this software to clone partitions on a hard disk to upgrade your hard drive easily.
Top 5. Clonezilla - Totally Free Hard Drive Cloning Software
As a partition and disk imaging/cloning program, Clonezilla helps you with disk copy or clone, bare metal backup and recovery, and more. Clonezilla saves and restores only used blocks in the hard disk, which increases the clone efficiency. But the destination partition must be equal or larger than the source one. You cannot clone a bigger drive to a smaller one.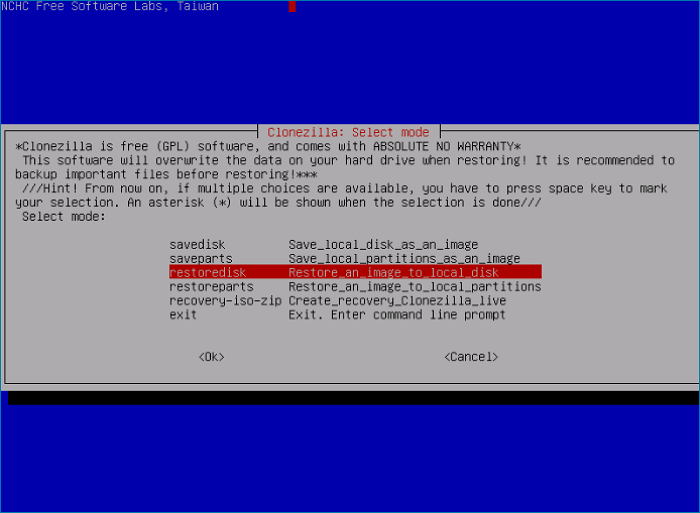 Highlights:
You can get it without any cost
It can run from USB or CD
It allows you to clone, image, or partition
Conclusion
The list above shows the best tools that you can use to clone Windows 10. Cloning your Windows 10 or creating a system backup is the best way to ensure you have a backup solution.
FAQs - About Creating Windows 10 Hard Drive Clone 
Is cloning faster than copying?
The fastest method depends on the number of files and the percentage of the disk that is used. Cloning simply reads and writes bits. If you want to copy huge files, cloning is a better choice. Nothing will slow it down other than disk usage. 
If you only have several files, it has always been faster to copy all the files from one drive to another than to clone the drive.
Does cloning a hard drive copy the OS?
Yes, it does. Cloning a hard drive means copying all the data on that hard drive (HDD/SSD) to another location, these data include Windows 7/8/10 operating system, installed programs, settings, personal files, etc.
What is the best cloning software?
5 Best Hard Drive Cloning Software [2022 RANKINGS]
EaseUS Todo Backup
Acronis Disk Director
Paragon Drive Copy
Macrium Reflect
Clonezilla
How do I clone a disk in Windows 10?
To clone disk in Windows 10
Step 1. Launch and run EaseUS Todo Backup on your PC and select "Clone" on the left pane.
Step 2. Select the disk or partition that you want to clone.
Step 3. Click "Proceed" to start cloning your disk or partition now.
What is OS cloning?
In simple terms, cloning an OS is the same as creating a backup, so the software used is pretty much the same.

Updated by Larissa
Larissa has rich experience in writing technical articles. After joining EaseUS, she frantically learned about data recovery, disk partitioning, data backup, and other related knowledge. Now she is able to master the relevant content proficiently and write effective step-by-step guides on computer issues.

Jean has been writing tech articles since she was graduated from university. She has been part of the EaseUS team for over 5 years. Her special focuses are data recovery, disk partitioning, data space optimization, data backup and Mac OS. By the way, she's an aviation fan!
Taking everything into consideration, we can say that EaseUS Todo Backup Home can offer you a little extra sense of security with a set of advanced tools. The interface provides quick adaptation, every process guiding you all the way through so you don't get stuck or further damage your system rather than keeping it safe.

 Read More

EaseUS Todo Backup Free lets you create backups of your important files or your entire computer through its streamlined interface. Just choose the backup type you'd like to get started, and let the program do the reset.

 Read More

EaseUS includes all the features I expect from backup software like versioning, incremental backups, and scheduling. For more advanced users, EaseUS allows you to install a pre-boot environment onto your hard drive so you can use it to restore files without burning a CD or putting it on an external USB drive.

 Read More

EaseUS Todo Backup
Smart backup tool for your files and entire computer in Windows 10/8/7.
Install Windows on Multiple Computers at Once? No Problem!
Learn how to install Windows 11/10/7 and special programs/software on a batch of computers. Use 10 minutes to do the 10 hours work without making a single mistake!
Get Free Solution!