Recovery Drive ≠ Boot Drive
Are you getting confused at the terms like recovery drive and boot drive? Is the recovery drive the same as the boot drive? Both things are hugely different from each other.
A recovery drive is an external storage device that stores information about your Windows 10 operating system on a DVD or USB drive. If you store a copy of your window 10 in another external source such as DVD and USB, you will be able to reinstall your window 10 without much damage to your data. A recovery drive can act as a safe haven for your window 10 in case of an abrupt hardware failure or some other malfunction.
While the boot drive is an internal hard drive or SSD of your computer from which the computer can boot or startup. It is a physical hard drive in your computer in which the necessary files are located. Files in the boot drive comprise the operating system, which is also known as DOS, UNIX, or Linux. It is not a good idea to rely on the boot drive in case of hardware failure or window breakdown.
So, both of them serve a different purpose. Therefore, the boot drive and recovery drive aren't the same things.
How to Create a Recovery Drive?
Step 1. In order to create a recovery drive of your current operating system, click on the search box and type recovery drive.
Notify: Ensure the USB or DVD you'll be using is formatted as NTFS before continuing. Although Windows will format the disc as FAT32 throughout the processing, the formation tool needs the drive to be formatted as NTFS to start.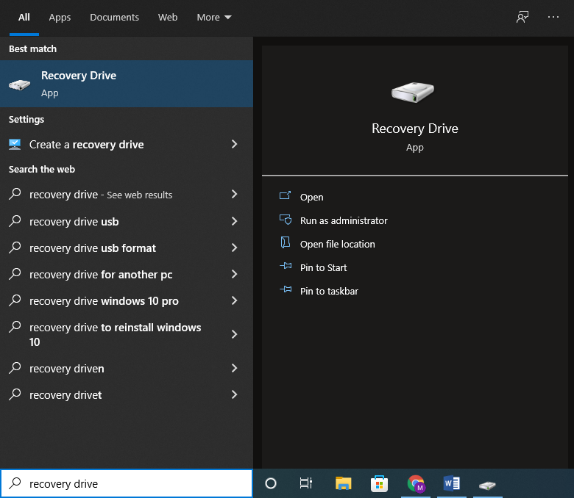 Step 2. You have an option to make it straight away in the "Recovery Drive" window. If you choose "Back up system files to the recovery drive," the recovery drive will take a little while to create—up to an hour in certain instances. But, you'll have a disc you could use to install the windows in any emergency again. We believe this is a good choice, but make your selection and then click the "Next" button.
Worth noting: Rather than backing up system files, Windows 11 has the option to "Copy the recovery partition drive to the recovery disc." This option transfers the hidden recovery drive generated during Windows installation and provides you with the choice to remove it after the operation is complete.
Step 3. Select the USB or DVD you want to use as a recovery drive. Ensure that the drive does not contain any useful or important data because everything will be erased. When you have chosen the drive, click on the Next button.
Step 4. When you're finished, click "Create" to have Windows format your USB drive and copy the data you need. This procedure can take a long time, particularly if backing up system files.
Step 5. You can exit the "Recovery Drive" window after the recovery. If you're using Windows 11 or any updated version of Windows, it will ask you whether you have to erase the recovery partition as well. You'll want the recovery disc to Restart and Reset your PC later if you erase the recovery partition.
This process might take a bit long, but it will help you a lot in the long run if your windows are corrupted or face any issues.
Using A Recovery Drive
Almost in all situations, a recovery drive isn't necessary. If the Windows doesn't start properly twice in a row, it immediately boots from your recovery sector and runs the advanced starting settings on the third restart.
You'll have access to the same resources as using a recovery disc.
If Windows can't run all these utilities automatically, you need the recovery drive or a Windows 8 or 10 installation CD. Start your computer by inserting the recovery disc. Your laptop should immediately boot from the recovery disc.
You may need to rearrange your drives' boot sequence from the DOS settings if it doesn't.
Better Alternative to Back up a System Boot Drive
Although, creating a recovery drive will be enough to reinstall the windows. However, what about your personal data? It will surely be lost and not recovered by the recovery drive. A system backup comes in handy in such situations.
A recovery drive will restore your windows like a new one. But, a system backup will restore your windows as it was before. It will keep all your data and settings, so you won't have to set it up again.
A system backup contains all the system files as well as the user files. A System backup will return the system to the condition it was in when it was created in the event of a major failure.
You might think that creating a system backup will be a big hassle. But, some free online backup softwares can take some burden off you. One of the best free backup tools is EaseUS Todo backup.
Step 1. Launch EaseUS Todo Backup and choose "Create Backup" on the home page, click "Select backup contents".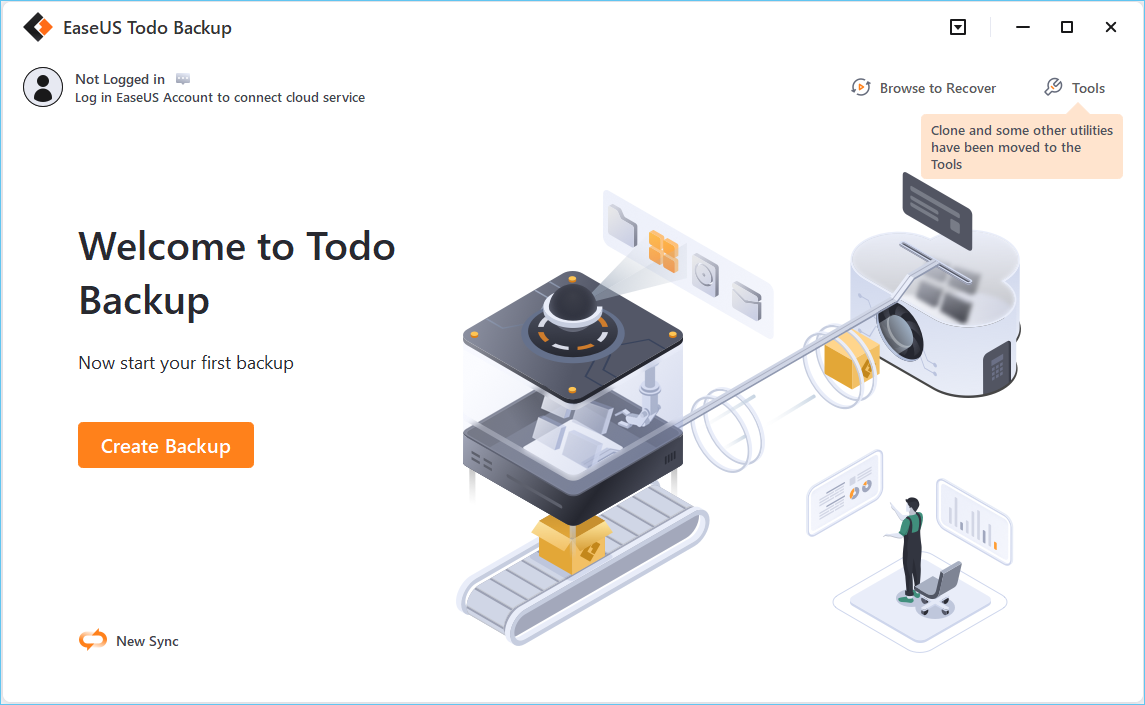 Step 2. Among the four available categories, click "OS" to start back up.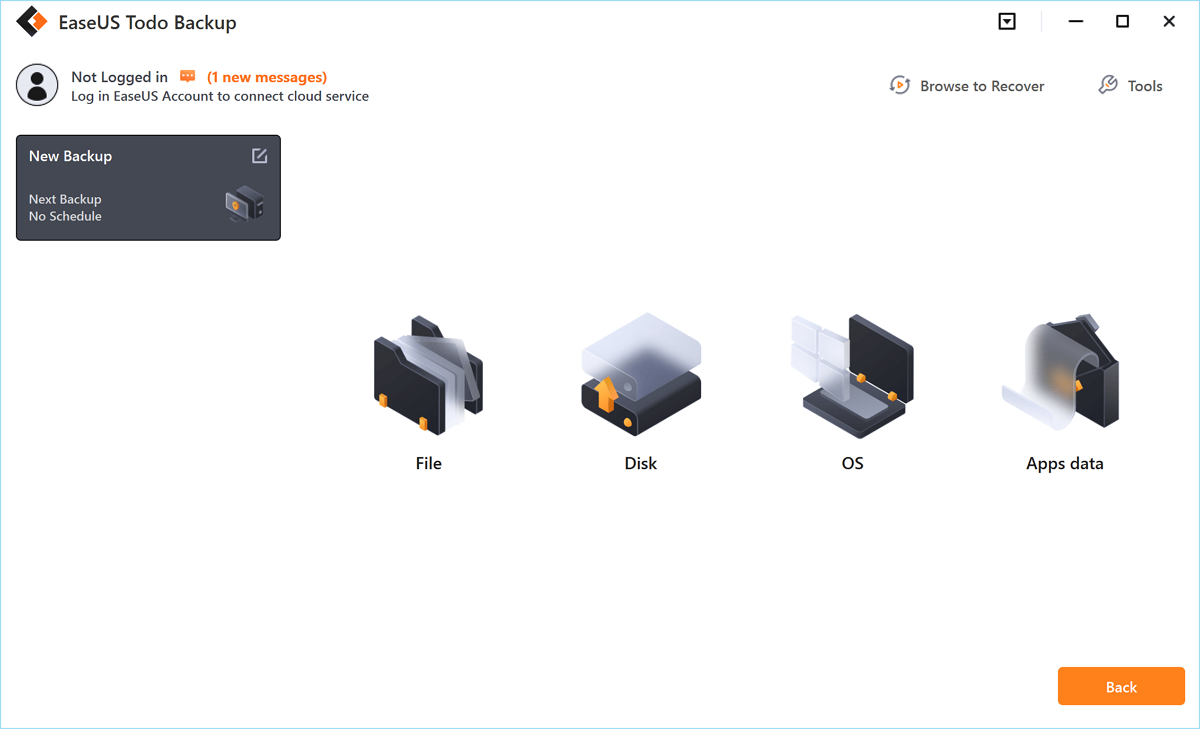 Step 3. The system partition will be automatically selected, you only need to select the location.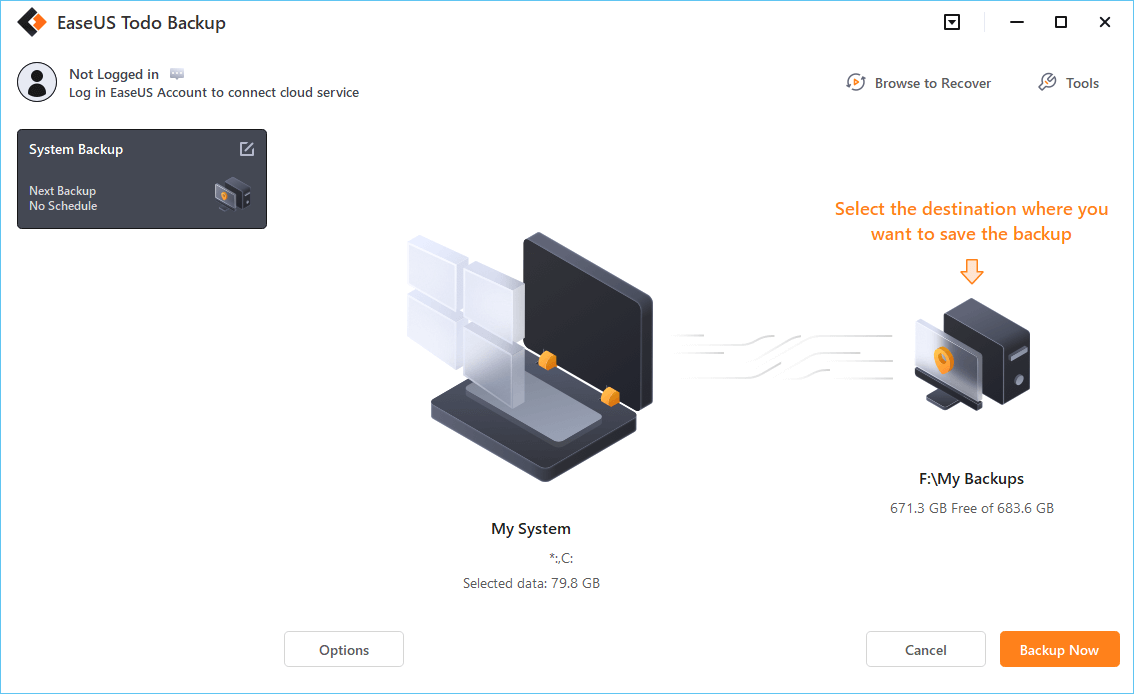 Step 4. Local Drive, Cloud, and NAS are available for you to save the backup file. You can also connect an external hard drive to preserve the system backup files.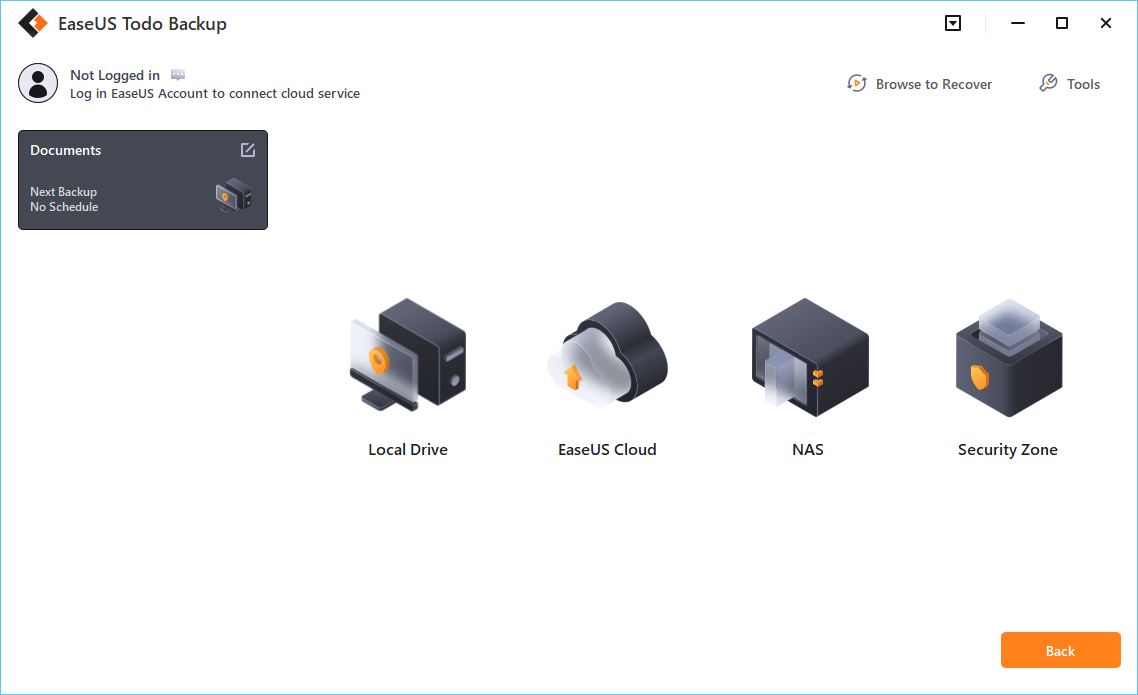 Step 5. You can customize the settings in "Options" at the left bottom. After that, click "Backup Now", and the process will begin.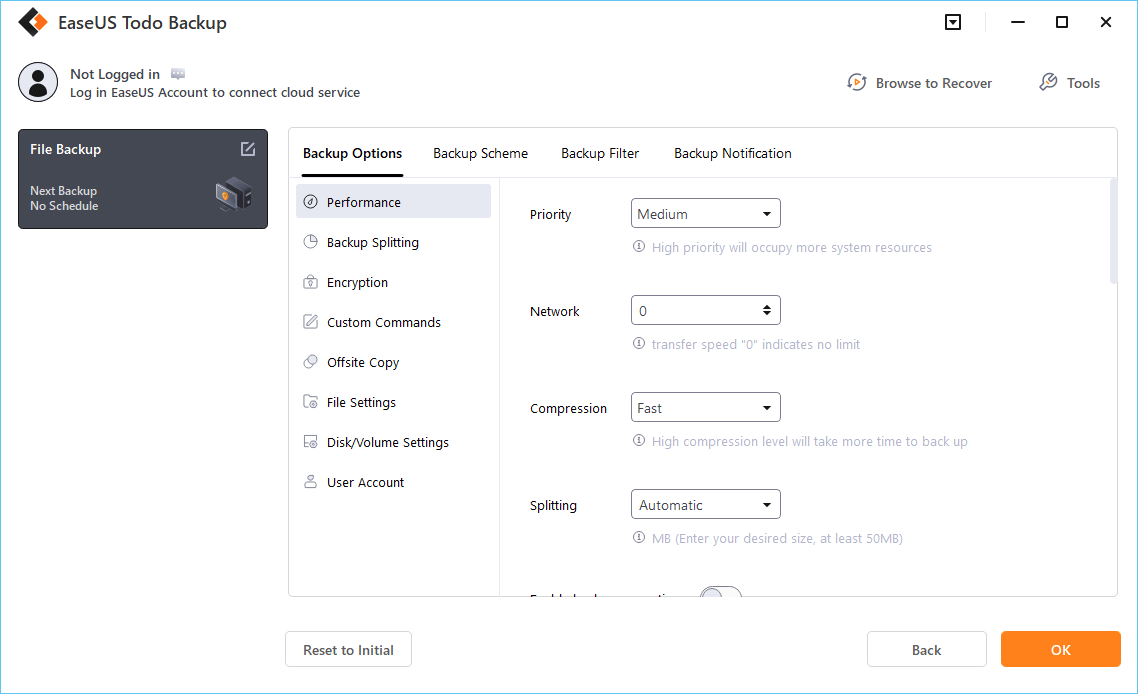 *After finishing the backup process, you can check the backup status, recover, open, or delete the backup by right-clicking the backup task on the left.
With EaseUS, you can enjoy 250GB of cloud storage for free. Moreover, it works best with Windows 11. Even if you have some older versions of windows, it can backup all the system and personal files like a pro.
Conclusion
In today's world, with cut-throat competition, you can't afford to lose your data at any cost. Losing your data might cause you damage in the long run. Therefore, system data backup is a great option to safeguard yourself.
Recovery drive and boot drive are two different terms. A recovery drive is a copy of the operating system, while a boot drive is an operating system itself. We provided in-depth information to make you understand both of them well.
Daisy is the Senior editor of the writing team for EaseUS. She has been working in EaseUS for over ten years, starting from a technical writer to a team leader of the content group. As a professional author for over 10 years, she writes a lot to help people overcome their tech troubles.

Jean has been writing tech articles since she was graduated from university. She has been part of the EaseUS team for over 5 years. Her special focuses are data recovery, disk partitioning, data space optimization, data backup and Mac OS. By the way, she's an aviation fan!
Taking everything into consideration, we can say that EaseUS Todo Backup Home can offer you a little extra sense of security with a set of advanced tools. The interface provides quick adaptation, every process guiding you all the way through so you don't get stuck or further damage your system rather than keeping it safe.

 Read More

EaseUS Todo Backup Free lets you create backups of your important files or your entire computer through its streamlined interface. Just choose the backup type you'd like to get started, and let the program do the reset.

 Read More

EaseUS includes all the features I expect from backup software like versioning, incremental backups, and scheduling. For more advanced users, EaseUS allows you to install a pre-boot environment onto your hard drive so you can use it to restore files without burning a CD or putting it on an external USB drive.

 Read More

EaseUS Todo Backup
Smart backup tool for your files and entire computer in Windows 10/8/7.
Install Windows on Multiple Computers at Once? No Problem!
Learn how to install Windows 11/10/7 and special programs/software on a batch of computers. Use 10 minutes to do the 10 hours work without making a single mistake!
Get Free Solution!