PAGE CONTENT:
Method 1. Convert USB Drive to NTFS with EaseUS Partition Software
Method 2. Format the File System to NTFS with Command Line
Method 3. Format USB Drive to NTFS with Disk Management
Whenever you're formatting an external hard drive, USB flash drive, or SD card, Windows gives you the choice of using three different file systems: NTFS, FAT32, and exFAT. The Format dialog in Windows doesn't explain the difference, we will. File systems are ways in which your partition will organize data. They specify how data is stored on the drive and what types of information can be attached to files—filenames, permissions, and other attributes. For better performance, people need to choose a certain file system in different situations.
Main Differences Between NTFS, FAT32, and exFAT
Windows uses NTFS for its system drive and, by default, for most non-removable drives.
FAT32 is an older file system that's not as efficient as NTFS and doesn't support as big a feature set, but does offer greater compatibility with other operating systems.
exFAT is a modern replacement for FAT32—and more devices and operating systems support it than NTFS—but it's not nearly as widespread as FAT32.

NTFS is ideal for internal drives, while exFAT is generally ideal for flash drives. However, you may sometimes need to format an external drive with FAT32 if exFAT isn't supported on a device you need to use it with. Here are the details about them.
| Comparison | NTFS | FAT32 | exFAT |
| --- | --- | --- | --- |
| Compatibility | Works with all versions of Windows, but read-only with Mac and Linux distributions. | Works with all versions of Windows, Mac, Linux, game consoles, and practically anything with a USB port. | Works with all versions of Windows and modern versions of Mac OS X, but requires additional software on Linux. |
| Limits | No realistic file-size or partition size limits. | 4 GB maximum file size, 8 TB maximum partition size. | No realistic file-size or partition-size limits. |
| Ideal Use | Use it for your Windows system drive and other internal drives that will just be used with Windows. | Use it on removable drives where you need maximum compatibility with the widest range of devices, assuming you don't have any files > 4 GB. | Use it when you need bigger file size and partition limits than FAT32 offers and when you need more compatibility than NTFS offers. |
Some users may try to format or change USB flash drive to NTFS for different reasons. For example, change the file system to copy large files to FAT32, fix RAW USB drive, restore USB drive back to full capacity, etc. But how to perform these tasks without losing data is really a bit challenging if you know little about computer and hard drive. Here are three simple ways to format or reformat USB flash drive to NTFS. Some of them allow you to keep your data. So, you can try the one that works best for your case. In addition, these solutions can be also applied to format SD card, external hard drive, pen drive or other removable storage devices to NTFS.
Method 1. Convert USB Drive to NTFS with EaseUS Partition Software (No Data Loss)
Here we recommend you try EaseUS partition magic software. The program is a powerful and easy-to-use disk management tool. It can help you format or convert USB drive to NTFS in Windows 10/8/7 or other previous versions successfully with just several simple clicks. What's more, this method won't cause data loss problem.
Step 1: Install and launch EaseUS Partition Master on your computer.
Step 2: Select a FAT32 partition, right-click on it and select "Convert to NTFS". If you need to convert a storage device such as SD card or USB flash drive to NTFS, insert it into your PC first and repeat the previous operation.
Step 3: Click "OK" on the pop-up dialog box to continue.
Step 4: Go to the upper left corner, click the "Execute 1 Operation" button and you will see the operation details. Click "Apply" and "Finish" when the process completes.
Also read: How to Convert USB to FAT32.
Method 2. Format the File System to NTFS with Command Line
If you are familiar with the command lines, you can follow this method. CMD works perfectly in creating a partition, deleting partition, and formatting partition, etc. Converting FAT32 to NTFS Windows 10 with CMD is easy to handle, but once you execute the command line, you can't cancel it.
Step 1. Type cmd in Windows 10 search bar. Right-click on "Command Prompt" and select "Run as Administrator".
Step 2. In the command line interface type the following commands.
X is the number of the USB drive, execute each of them with the "Enter" key.
After these steps, you can type assign to create a drive letter to the flash drive.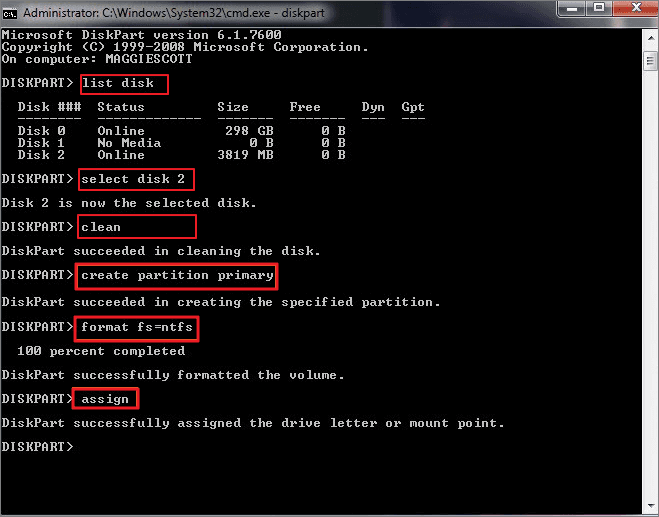 Method 3. Format USB Drive to NTFS in Windows 10/8/7 with Disk Management
Another way to format USB is to use Disk Management. Windows provides the option to format a USB flash drive easily and quickly. But if you are faced with "Can't Format USB Flash Drive" error, it could be troublesome.
Step 1. Right-click "My Computer" and select "Manage".
Step 2. Open the "Device Manager "and find your USB drive under the Disk Drives heading.
Step 3. Right-click the drive and select "Format...".
Step 4. You can name your partition, and then select NTFS in the File System field and press "OK".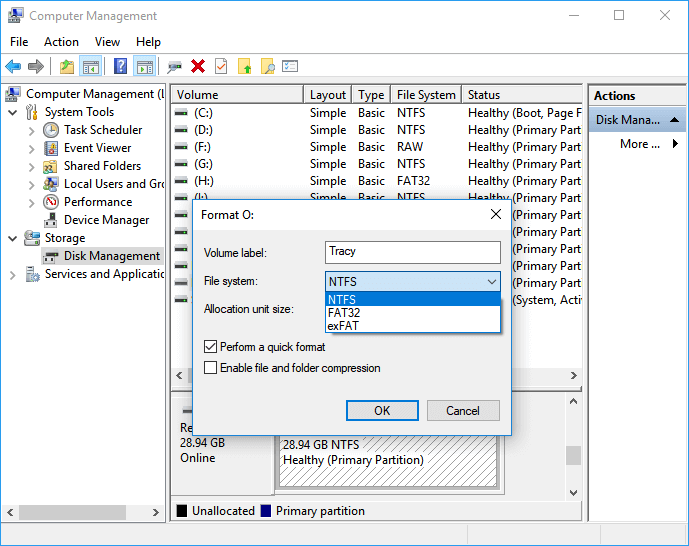 Extra Tips: How to Recover Formatted USB Data
The format operation itself would cause data loss, especially Method 2 and Method 3. If you regret formatting the USB, SD card or other devices, you can recover files after formatting. EaseUS Data Recovery Wizard will help you recover files from a formatted USB/pen drive cost-effectively. This professional data recovery software can restore all lost data due to deletion, formatting or even system crash or a virus attack with ease.
Follow the details to retrieve lost USB data:
Step 1. Launch EaseUS Data Recovery Wizard. See if the USB drive appears in the drive list. Select the USB and click "Scan".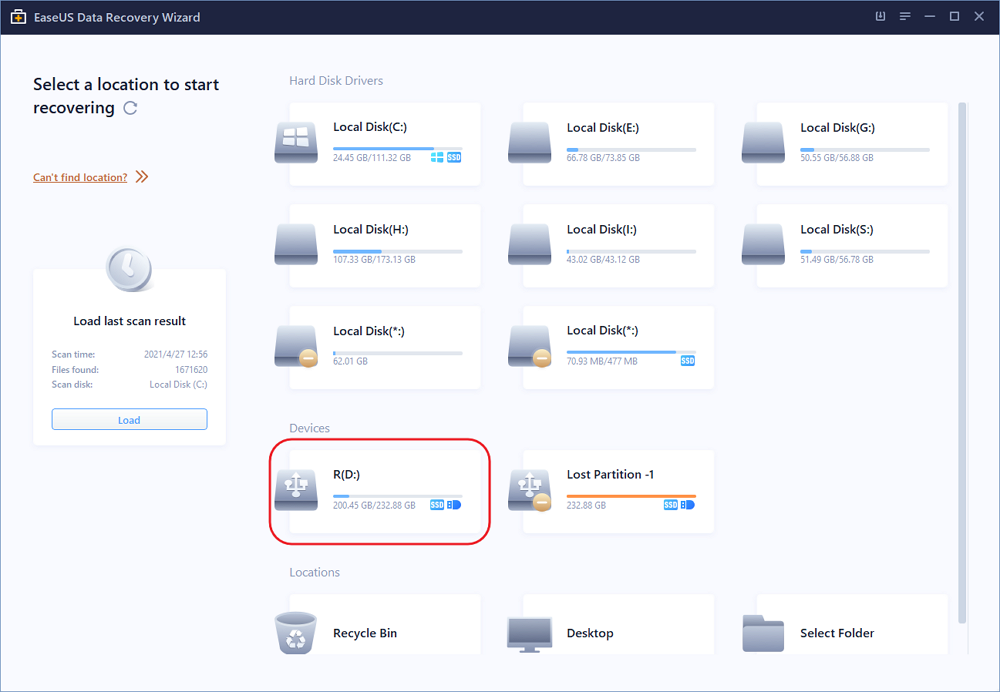 Step 2. During the scan process, more and more data will appear in the scan results. When the scan is over, you can click "Filter" to quickly filter a specific type of file.
Step 3. Preview the files by double-clicking them one by one. Select the wanted files and click "Recover".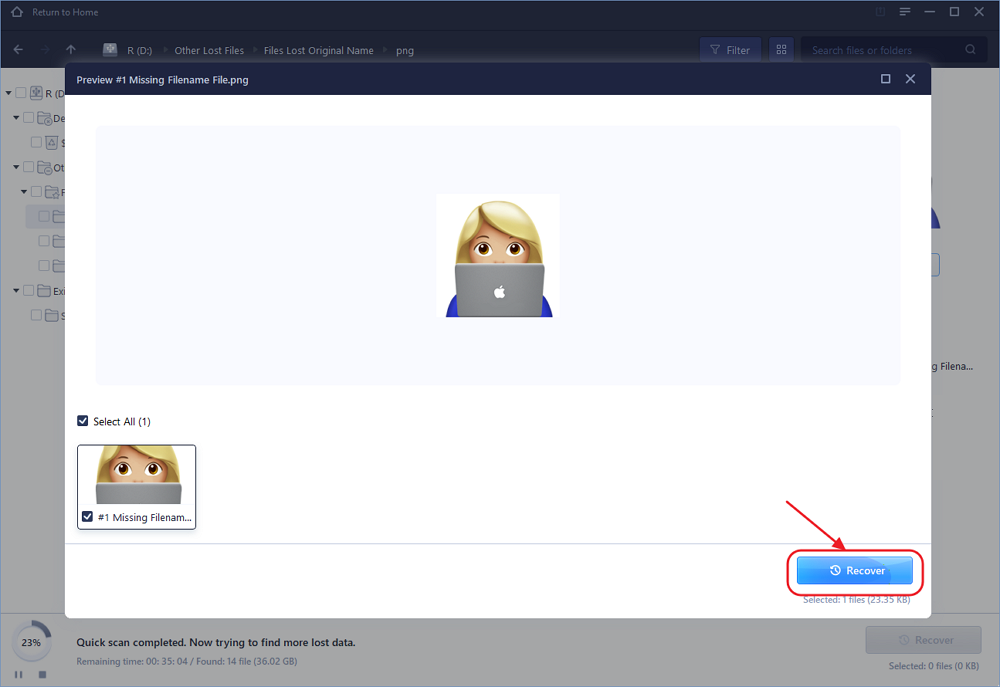 To Sum Up
According to the methods above, you have three ways to format your USB to NTFS in Windows 10/8/7. It requires little time and effort. You can choose according to your own preferences. Since formatting USB to NTFS (Method 2 and Method 3) brings data loss, you should take data recovery and creating a backup into account.
100% of people found this article helpful.
Frequently Asked Questions
Why Choose EaseUS Partition Master?

"I've used Partition Master Professional many times to create, delete, format, move, rename, and resize partitions." —PCWorld

"Partitioning tools have come a very long since the days of complicated command line utilities and EASEUS Partition Master is one of the most advanced programs available." —TECH ADVISOR

"I love that the changes you make with EaseUS Partition Master Free aren't immediately applied to the disks. It makes it way easier to play out what will happen after you've made all the changes." —Lifewire
Will the "Migrate OS" feature transfer the Windows system files only or the whole C drive?

To ensure that the migrated system will boot normally, the Migrate OS feature will transfer all the files in the system and the boot partitions. Generally, the boot partition is the C drive so the transfer will include all the files in C.
Does EaseUS Partition Master license apply to multiple computers?

The license of Partition Master Professional and Server editions can be used on 1 computer only, while that for for the Technician and Unlimited editions can be used on multiple machines.
What is the difference between EaseUS Partition Master Trial version and the Free version?

Free is for home users only, with most basic functions available such as partition resize and clone. While trial can help you understand how this product works and test what a full license can do on a business or server OS machine.
Will it cause any data loss after resizing the partition in EaseUS Partition Master?

Generally, it will not cause any data loss or boot issue by resizing a partition. However, in order to protect your data, we suggest that you backup the partition before resizing, in case of any unexpected situations such as power outages, computer hardware failures, etc. You can use EaseUS Todo Backup to backup the partition and its trial version is fully functioned for 30 days.
What should I prepare before resizing the partition?

On the partition that is going to be operated, there might be some files being occupied by other programs. To ensure a successful operation, we suggest that you close all the unnecessary software before resizing that partition. Otherwise, EaseUS Partition Master will detect the partition being locked by the other software and require a reboot to resize the partition under boot mode.
About EaseUS Partition Master
All-round disk & partition management software for personal and commercial use. Let it manage your storage drive: resize, format, delete, clone, convert, etc.