File Too Large for Destination: How to Copy/Transfer Files Larger than 4GB to FAT32
Cannot transfer files larger than 4GB to FAT32 USB flash drive or SD card because the file is too large for the destination file system? To be able to transfer, copy or move files bigger than 4GB, you must learn the four ways of how to change FAT32 to the other supported files system, which is either exFAT or NTFS, with or without formatting.
How to Transfer Files Larger Than 4GB to FAT32: 
Why Can't Copy, Move or Transfer File Over 4GB to FAT32
"Recently I encountered a strange problem. I plugged my new 32 GB USB flash drive into my computer, trying to transfer some files. Files like MP3s and documents were all transferred quickly except some larger DVD ISO files and video files. I got the error 'The file is too large for the destination file system'. Then the transfer failed. The biggest file is about 5GB and the file system of my USB is FAT32. Does anyone know how to copy large files over 4GB to a USB flash drive?"
To figure out the reason why some large files transfer between the USB drive and computer failed, it's necessary to know the FAT32 file system as well as the FAT32 file size limit in Windows 11/10/8/7.
File systems are ways of organizing storage on devices such as hard drives, SSDs, USB sticks, microSD cards, and so on. For FAT32, it is one of the most popular file systems ever used on smartphones, tablets, digital cameras, game consoles, surveillance cameras, and so on. Moreover, it's also cross-compatible with almost all operating systems from Windows to macOS and Linux.
Also read: FAT32 vs NTFS
What's the maximum file size for FAT32?
4GB. Individual files on a FAT32 drive can't be over 4 GB in size—that's the maximum. A FAT32 partition must also be less than 8 TB, which admittedly is less of a limitation unless you're using super-high-capacity drives.
Hence, due to the FAT32 file size limit, it's not possible to manage (copy, move, save or transfer) a 4GB file on any drive formatted with the FAT32 file system. The error message "The file is too large for the destination file system" also suggests that you're trying to copy a more than 4GB file to a FAT32 storage drive and that's not going to happen.
How to Transfer Files Larger than 4GB to FAT32 with or Without Formatting
You must try to break the FAT32 file size limit to be able to save some extremely large files. The only solution is to change the file system to the other Windows-compatible file systems, usually NTFS. The conversion is easy, and there are four methods in total.
* The way of formatting a disk in Windows Explorer and Windows Disk Management will erase data completely, you must back up all important files in advance. If you are reluctant to make backups, pick the other two methods of using commands and third-party EaseUS partition manager software, which are not about formatting but a simple conversion with no data loss.
Method 1. Reformat FAT32 in Windows File Explorer
Disk formatting allows you to make changes to the file system on a device. So when you want to change the file system from FAT32 to NTFS to be able to transfer a more than 4GB file on a USB flash drive or a memory card, Windows File Explorer in Windows 10/8/7 is a convenient option because it's built-in the operating system and you don't have to download it.
Note: Back up data before formatting FAT32 to NTFS
Step 1. Press Windows + E keys to bring up the Windows Explorer.
Step 2. Right-click on the connected USB drive or SD card and choose Format.
Step 3. From the File system drop-down list, choose NTFS, and click Start.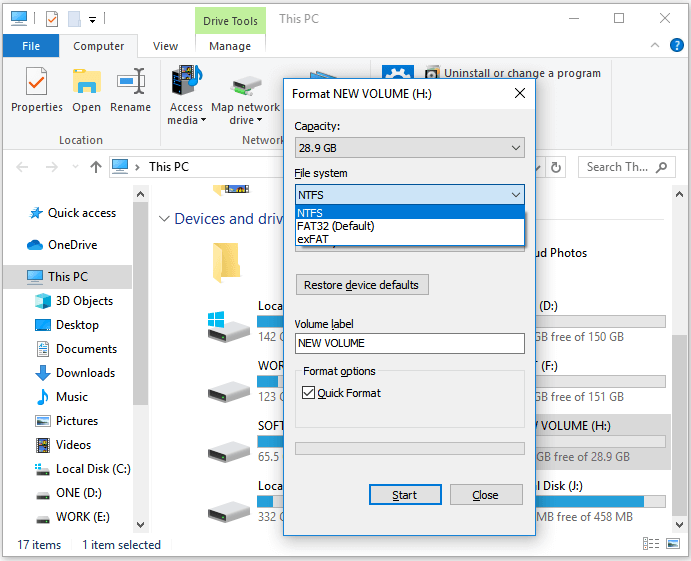 Method 2. Reformat FAT32 in Windows Disk Management
Windows Disk management is the other default Windows disk formatting program that enables you to format a FAT32 USB drive or SD card to NTFS. You can not only use the Disk Management to solve the problem of being unable to copy files bigger than 4GB to FAT32 but also format a RAW drive to a recognized file system by Windows.
Note: Back up data before formatting FAT32 to NTFS
Step 1. Navigate to This PC/My Computer > Manage > Disk Management.
Step 2. Right-click on the connected USB drive or SD card and choose Format.
Step 3. Choose NTFS as the target file system and click OK.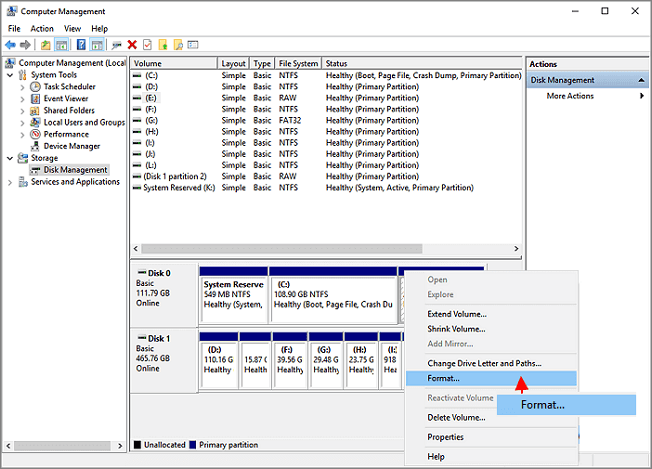 Method 3. Change FAT32 to NTFS in Windows Command Prompt Without Formatting
Though it's not going to format the drive and cause data loss, the Windows command prompt way of fixing the file too large for USB problem is kind of tricky and not so recommended to computer novices. If you're not familiar with the basic command lines, or perhaps you cannot run the cmd with the administrator privilege, turn to the third-party easy solution.
Step 1. Press Windows + R keys to bring up the Run box, type cmd and hit Enter.
Step 2. On the Windows Command Prompt windows, type the command convert [drive letter]: /fs: [file system] and hit Enter.
For Example: convert G: /fs: ntfs. 
Method 4. Convert FAT32 to NTFS in EaseUS Partition Master Without Formatting
Normally, users can use Windows Disk Management or Windows File Explorer to format USB drive or SD card from FAT32 to NTFS, but it will delete all the data on the drive. Nevertheless, the convert X: /fs: ntfs command can protect the data, it's not friendly to average computer users. 
To make up for the shortcomings of the former three methods of changing the FAT32 file system to NTFS, which is either erasing data or too risky to run the commands, here comes the almighty free partition software - EaseUS Partition Master. On the one hand, it's able to convert a FAT32 drive to NTFS without formatting. On the other hand, the conversion process is so simple and it's only a matter of a few clicks.
Step 1. Install and launch EaseUS Partition Master on your computer.
Step 2. Select a FAT32 partition, right-click on it and select "Convert to NTFS". If you need to convert a storage device such as SD card or USB flash drive to NTFS, insert it into your PC first and repeat the previous operation.
Step 3. Click "OK" on the pop-up dialog box to continue.
Step 4. Now the converting process will start automatically. Wait until the operation process is finished.

Roxanne is one of the main contributors to EaseUS and has created multiple posts on digital devices like PCs, Mobile phones, tablets, Mac, etc. She loves to share ideas with people of the same interest.

Brithny is a technology enthusiast, aiming to make readers' tech life easy and enjoyable. She loves exploring new technologies and writing technical how-to tips. On her spare time, she loves sharing things about her favorite singer - Taylor Swift on her Facebook or Twitter.
I love that the changes you make with EaseUS Partition Master Free aren't immediately applied to the disks. It makes it way easier to play out what will happen after you've made all the changes. I also think the overall look and feel of EaseUS Partition Master Free makes whatever you're doing with your computer's partitions easy.

 Read More

Partition Master Free can Resize, Move, Merge, Migrate, and Copy disks or partitions; convert to local, change label, defragment, check and explore partition; and much more. A premium upgrade adds free tech support and the ability to resize dynamic volumes.

 Read More

It won't hot image your drives or align them, but since it's coupled with a partition manager, it allows you do perform many tasks at once, instead of just cloning drives. You can move partitions around, resize them, defragment, and more, along with the other tools you'd expect from a cloning tool.

 Read More
About EaseUS Partition Master
All-round disk & partition management software for personal and commercial use. Let it manage your storage drive: resize, format, delete, clone, convert, etc.
Video Tutorial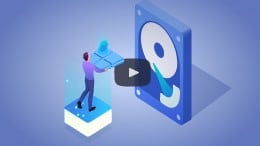 How to Partititon a Hard Drive on Windows 10/8/7
Was This Page Helpful
How Can We Help You
Find answers to common questions below.