Summary: In some cases, people need to format USB flash drive to fat32, one of the most compatible file systems for USB drives. But it is not an easy job for average users. You might only see an option for formatting the drive using the NTFS file format or encounter some other problems. When encountering such a frustrating situation, please don't worry! Here we will introduce you how to format USB flash drive to fat32 using Windows disk management tool or third-party partition manager with simple steps.
WARNING: Formatting the USB flash drive will delete all content on the device. Please make sure that you have backed up everything on the drive you want to save.
Format USB flash drive to fat32 with Windows disk management tool
Disk management tool is a free Windows built-in utility which is designed to help users deal with common disk partition related jobs. It is your first choice whenever you want to reformat USB to FAT32. Here is the detailed guide.
1. Click Start, right-click Computer
2. Click Manage
3. Expand Storage > click Disk Management
4. Select the thumb drive in the Volume list
5. Right-click it and click Format
6. Click on the File system: list box and select FAT32
7. Click OK
Format USB flash drive to fat32 with EaseUS partition software
If Windows disk management tool does not work, you can try a third-party partition software to do the USB drive formatting job. Here we recommend you to try EaseUS partition tool, a professional tool that can help you format hard drive and USB devices, resize, create, delete, merge, split, copy partitions, convert MBR to GPT drive and vice versa, and do many other things. Now you can download the program and follow these steps to format USB flash drive to fat 32 with it. By the way, this tool is also available to format USB flash drive to NTFS.
Step 1. Launch EaseUS partition tool. Select and right-click the partition or drive you want to format and choose "Format partition".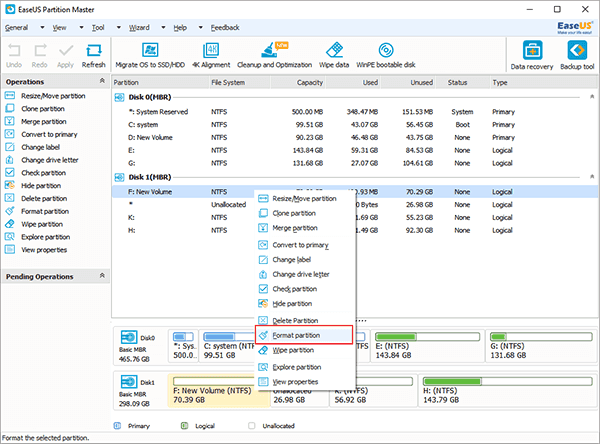 Step 2. Configure the label you want in the Partition Label box. And in the "File System" drop-down list, choose FAT32.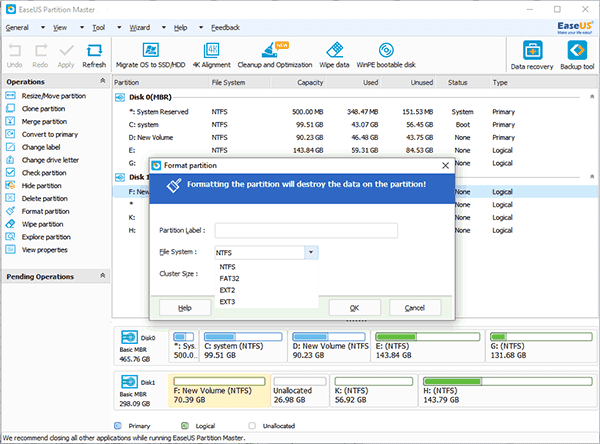 Step 3. Choose the Cluster Size (512 bytes, 1, 2, 4...64KB) from drop-down list and click "OK" to apply the format operation.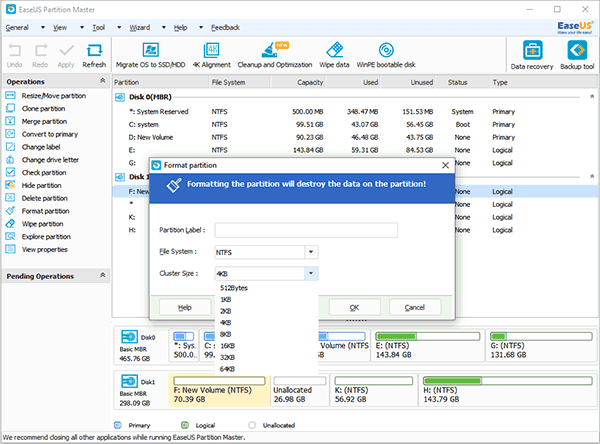 Note: Smaller cluster size makes less wasting of disk space. The smaller cluster size is, the bigger file allocation table (FAT) will be. The bigger the FAT is, the slower the operating system works with the disk.
Step 4. Click "Apply" to confirm to format USB flash drive with FAT32.