
About the Author
Hot Topics in 2022
Partition Manager for Windows 11 Free Download in 2022
Partition Manager for Windows 11
A partition manager is any software that helps manage partitions. Partition managers partition your hard disk for you. Partitioning software serves the purpose of grouping your data and it enables you to maximize the working of your system. Partitioner Windows 11 can create, extend, shrink, and delete partition volumes. Let us state some of the benefits of partitioning for you.
Disk partitioning is always a good idea. It allows you to optimize the space on your disk. Think of disk partitioning as having drawers or compartments in your system that enable you to separate data and operate it independently.
Partitioning will allow you to create subsystems that are autonomous from each other. By doing so, you can keep alike data in the same folder separated from other data. Staying organized always is a good idea. The task of partitioning can be tricky but we are here to make it as simple as possible.
Benefits of partitioning
You can compartmentalize your data
You can limit the risk of corruption by separating important files
It will help you stay organized
It will improve the overall performance of your system
Partitioning allows you to run more than one OS on your system 
EaseUS Partition Manager for Windows 11 (32/64 bit) Free Download
You may find many partition managers online but few are reliable. EaseUS Partition Master is our personal favorite. Other partitions manager Windows 11 like the Paragon partition manager also work fine. Another way of partitioning is using disk management. The reason why we recommend EaseUS Partition Master as the first partition manager for windows 11 is that it's super easy to use. You can easily manage partitioning Windows 11 through this tool. 
Basic features
Even the most basic features of the EaseUS partition manager are incredible. Let us list them all for you.
Operate primary and advanced partition functions and maximize disk capacity usage.
Reallocate disk space for better-organized business data and simplify IT disk management using this efficient tool.
Compatible with Windows 10/11/8.1/8/7/Vista/XP, Server 2019/2016/2012/2008/2003
Advanced Features
EaseUS partitioner Windows 11 offers advanced features to enable you to make the best use of this tool. It optimizes your system and creates an exemplary disk layout. These features offer what no other partitions manager Windows 11 offers:
It works as the OS Migration software. Users can move/migrate/transfer OS to SSD without reinstalling Windows 11/10/8/7.
Convert MBR to GPT during Windows installation without losing data. 
Increase C drive space: extend the local C drive or add free space to local disk C.
Partition your hard drive in Windows 11. 
How to Partition Hard Drives with EaseUS Partition Manager in Windows 11
Step 1. Launch EaseUS Partition Master to check for free space at the Partition Manager section.
If your hard drive has unallocated space, jump to Step 3 to create partition.
If the hard drive has no unallocated space, continue with Step 2.
Step 2. Shrink a disk partition to create unallocated space.
Right-click on the target drive partition with a lot free space and select "Resize/Move".
Drag either end of the partition rightwards or leftwards to shrink the partition size so as to get ample unallocated space. You can visually know how much space you've decreased in the "Partition size" area. Click "OK".
Click "Execute xx Task" and then "Apply" to save all the changes.
Go back to Partition Manager, there should be unallocated space appearing on the same disk and you can continue with Step 3 tocreate new partition on your.
Step 3. Create a new partition with unallocated space on the target hard drive.
 Right-click on the unallocated space and choose "Create".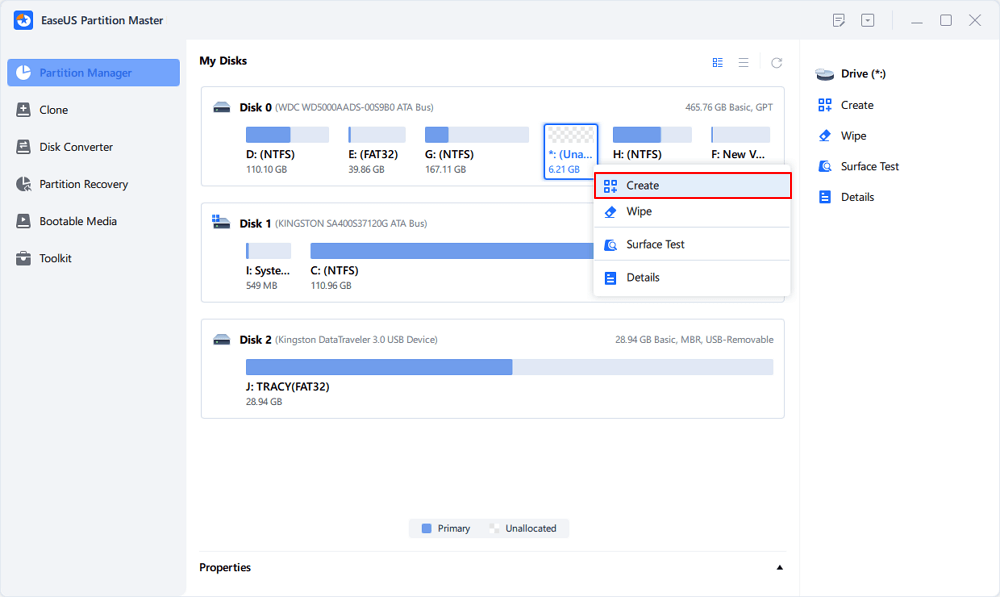 Customize the partiton size, partition drive letter, partition label, file system (NTFS, FAT32, EXT2/3/4, exFAT) and more in the Advanced Settings. Click "OK".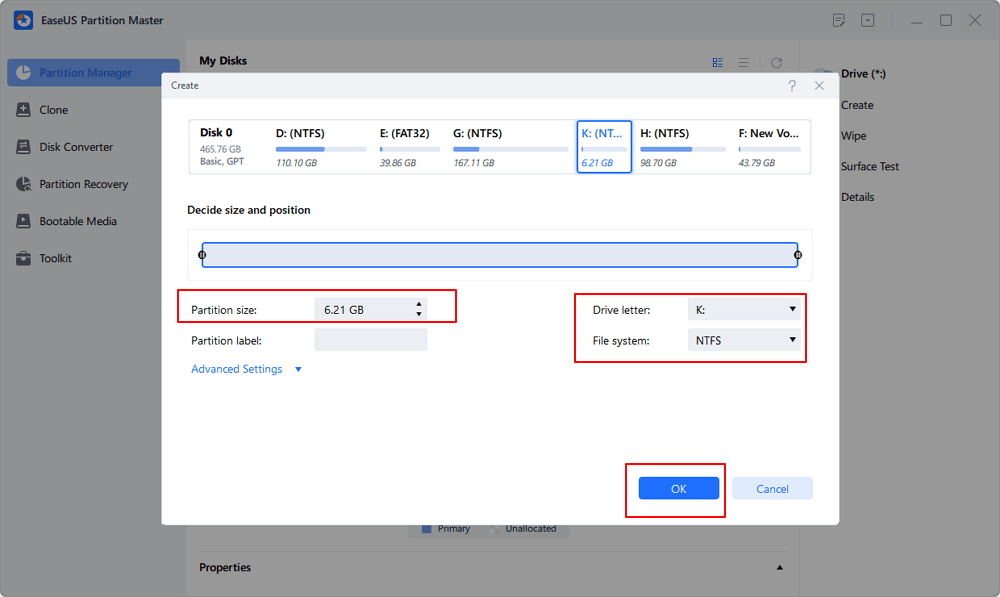 Finally, click "Execute * Task" and "Apply" to complete creating partition with the unallocated space on your disk. Repeat the steps to partition a hard drive and get many more partitions.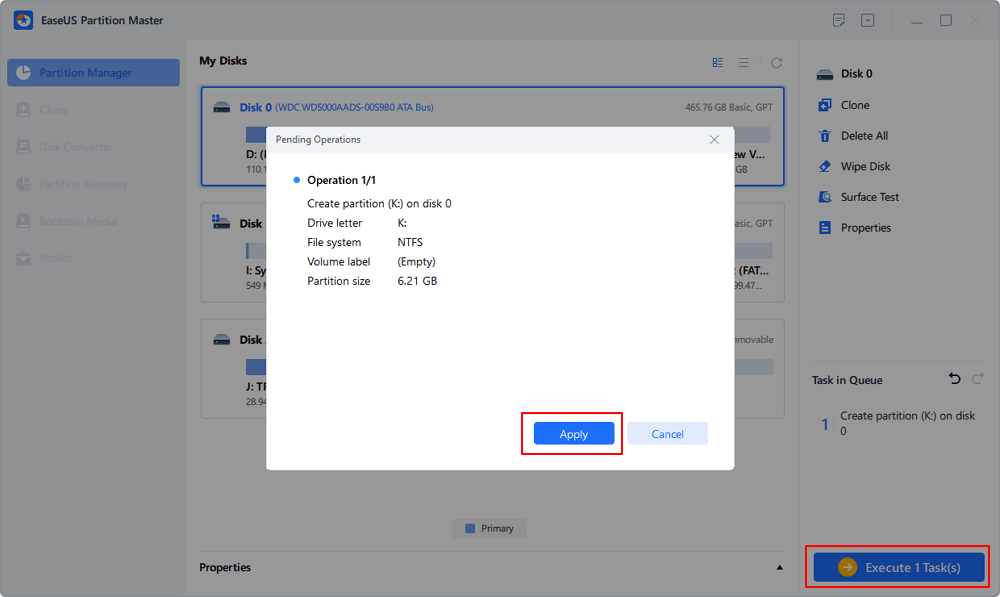 You can conveniently perform tasks as Partition Hard Drive/SSD in Windows 11, Merge Partitions in Windows 11 without Deleting Volumes, and Extend Partition in Windows 11 using the above-listed features.
Manage Partitions in Windows 11 without Download Third-Party Software
If you do not want to download third-party software, you can manage partitions through 'Disk Management'. Disk Management is a utility that comes with Windows. Let's go through the process of partitioning through 'disk management' step by step.
Step 1
To begin the process, open your start menu and type 'Create and format hard disk partitions'.
It will show you the option Create and format hard disk partitions. By selecting this option, you will be directed to the Disk Management tool in Windows 11.
Step 2
The tool ' Disk Management' offers the option to create, shrink, delete partitions in Windows 11. 
Step 3
You can create a new partition by shrinking an already existing volume or by using unassigned space if you have any. You can create a new volume by right-clicking on the free space and hitting the option 'New Simple Volume'. Make sure you create the new volume according to your disk size. 
Step 4
If you do not have unallocated space, you can free up space by the 'shrinking volume' option. Just right-click on the existing partition which has free space and select shrink volume. It will ask you the space you want to shrink. Enter the MBs you want to free and press 'shrink'. Once the space is free, follow Step 3 to create a new partition. 
Step 5
Disk management partitioner windows 11 allows you to extend the volume as well. You can extend the volume of a partition only if free space is available. Right-click on the disk you want to extend and click on the 'extend volume' option. 
EaseUS Partition Master and Disk Management, Which Is Better?
Well, what do we say? We have given you a detailed analysis of both tools. You can read our guide and decide for yourself.
If you want our verdict on this matter, we say EaseUS Partition Master. We have no doubts that this tool is way better than disk management. Using it as your partition manager is a breath of fresh air.
'Disk Management' is not as easy to use as the EaseUS Master Partition tool is. It also offers an extensive list of amazing features.
We have tested both the tools for you and we have found EaseUS Partition Master the greatest of all partitions manager windows 11. It is hassle-free and saves time.
It is a one-click solution to all your partitioning needs. We bet you are going to love this tool. 
About the Author
Updated by Tracy King 
Tracy joined in EaseUS in 2013 and has been working with EaseUS content team for over 7 years. Being enthusiastic in computing and technology, she writes tech how-to articles and share technical solutions about Windows & Mac data recovery, file/system backup and recovery, partition management and iOS/Android data recovery.
Product Reviews
I love that the changes you make with EaseUS Partition Master Free aren't immediately applied to the disks. It makes it way easier to play out what will happen after you've made all the changes. I also think the overall look and feel of EaseUS Partition Master Free makes whatever you're doing with your computer's partitions easy.

 Read More

Partition Master Free can Resize, Move, Merge, Migrate, and Copy disks or partitions; convert to local, change label, defragment, check and explore partition; and much more. A premium upgrade adds free tech support and the ability to resize dynamic volumes.

 Read More

It won't hot image your drives or align them, but since it's coupled with a partition manager, it allows you do perform many tasks at once, instead of just cloning drives. You can move partitions around, resize them, defragment, and more, along with the other tools you'd expect from a cloning tool.

 Read More