Do you know how to back up your folders automatically? You could create a backup plan by using third-party software or using the Windows built-in tool. And then you can automatically backup a folder to a network drive. So, you can restore these folders in time when something unexpected happens to your computer. And this article will introduce three ways to back up a folder to a network drive automatically.
What Is Network Drive?
A network drive or mapped drive is a drive, NAS, or share on another computer or server on the same network (e.g., LAN)  - by
Computer Hope
So it means a network drive is also a kind of storage device. And it can be connected to other computers in a local area network. So many businesses or homes will use it to share files with others.
The following section will describe many other benefits of automatically backing up folders to a network drive.
Why Automatically Backup a Folder to A Network Drive?
An automatic backup to the network drive can prevent us from forgetting backup tasks and reduce backup maintenance work. And automatically backing up a folder to a network drive can also bring many benefits. A network drive is chosen mainly for the following reasons:
Large capacity: network storage generally provides free memory.
Shareability: It allows users to access other computers.
Convenience: Files can be accessed anytime and anywhere.
Security: Store files on network drives can avoid the problems caused by system crashes.
In a word, it makes sense to set up an automatic backup folder to the network drive. It is easy to operate and won't waste much time. Next, I will introduce three quick ways to automatically back up a folder to a network drive on Windows 10.
How to Automatically Backup a Folder to A Network Drive
It is necessary to set up automatic backup folders to network drives. In Windows 10, there are at least three ways to help you automate this task:
All three methods allow you to set up a backup schedule and backup your folders to a network drive. However, they have some other differences:
| Comparison | | | |
| --- | --- | --- | --- |
| Content | Folder, disks, and system image | Files, folders, and system image | Files and folders |
| Security | Encrypt backup images | No protection | No protection |
| Backup method | Full, incremental, and differential backup | Full backup | Full and incremental |
Next are the specific steps for the three automatic backup methods.It is clear that all three methods above can meet the basic requirements for automatic backup. But EaseUS Todo Backup is able to meet more needs and is the best choice. It can back up more content, and it is also the best incremental backup software on Windows 10, which can help us save space and increase efficiency.
Method 1: Use EaseUS Todo Backup to Automatically Backup a Folder to A Network Drive
EaseUS Todo Backup is professional backup software. It can meet all your demand for backup. You can easily backup files and folders or backup hard drive. And it allows you to store your backups locally, on a NAS, or clone PC to new PC. There are more functions:
It supports the system and partition backup.
It allows you to back up safely. The files can be encrypted.
It has a backup filter to exclude useless content and save more space.
It supports rapid system image recovery when the system crashes.
Besides, it is powerful to support all kinds of Windows, such as Windows 11/10/8 and windows vista/XP. And EaseUS Todo Backup is easy to operate, and everyone who downloads it can automatically back up their folder easily. Here are the steps:
Step 1. To start backup, click the Select backup contents.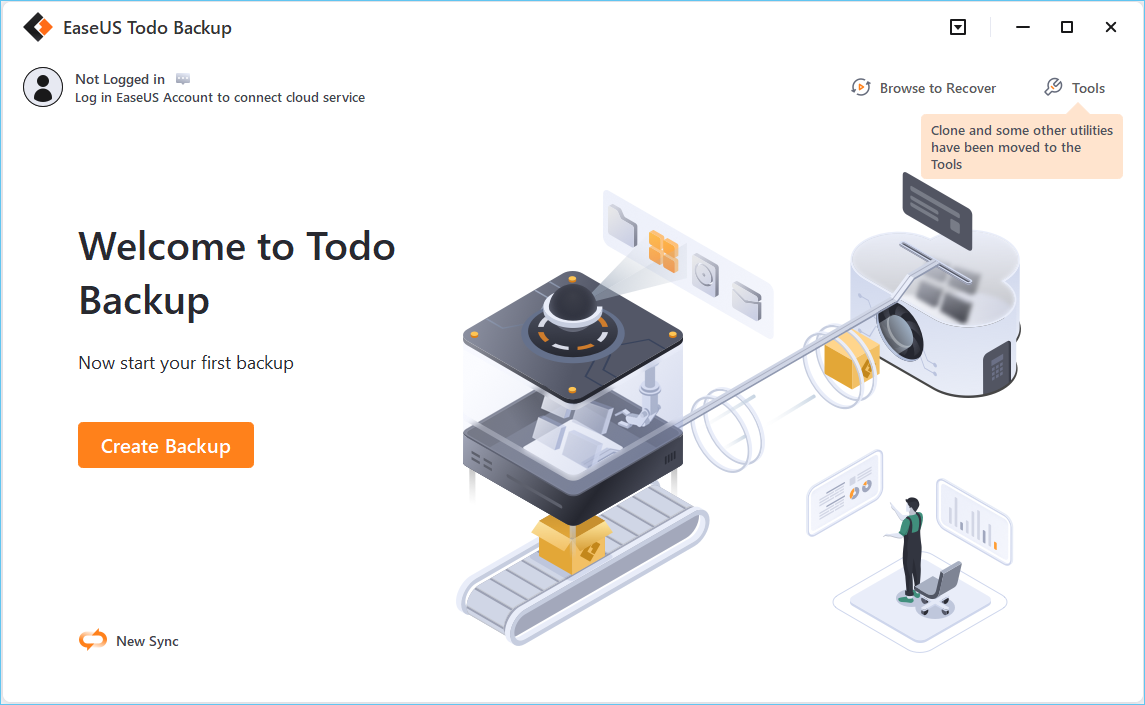 Step 2. There are four data backup categories: File, Disk, OS, and Mail.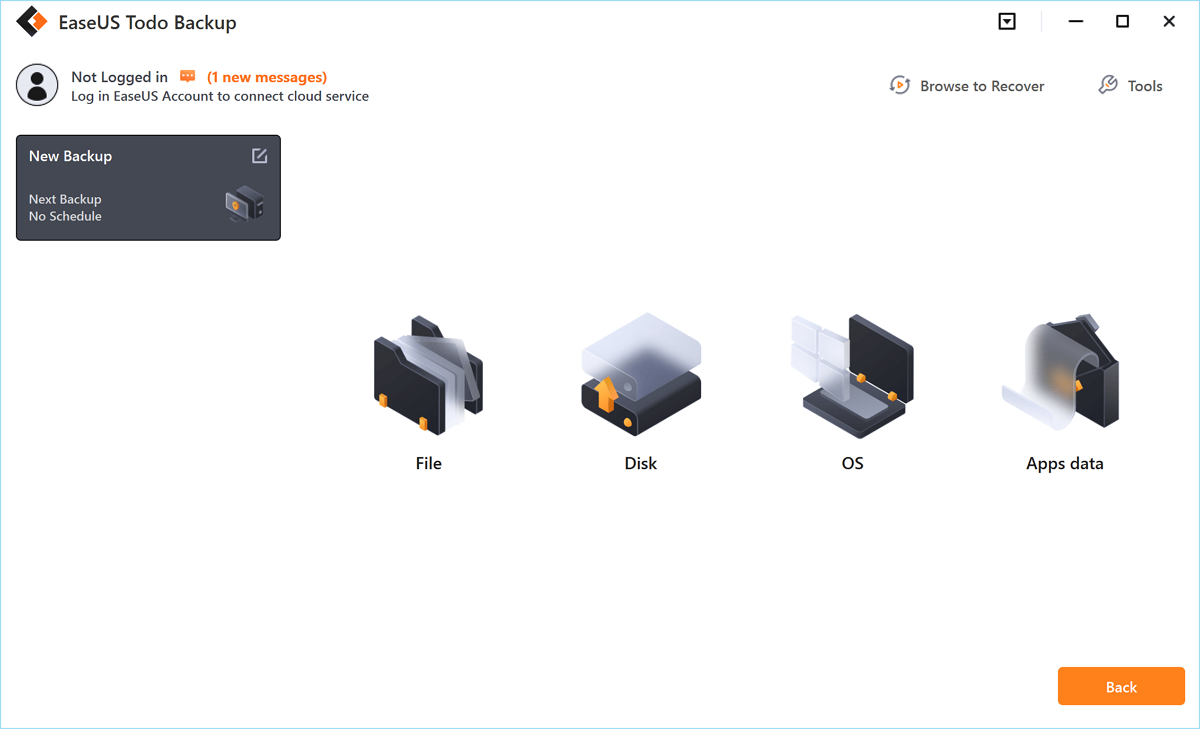 Step 3. On the left-hand side, you'll see a list of local and network files. Selecting the files to be backed up by expanding the directory.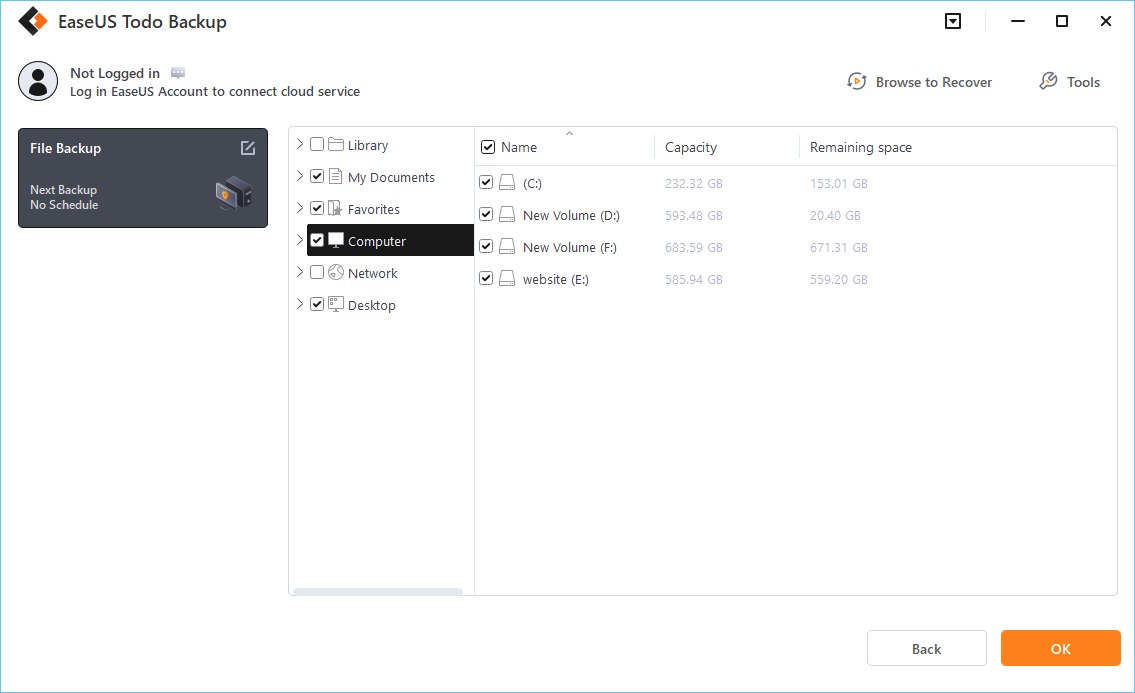 Step 4. Follow the instructions on the screen and pick the location where you wish to store the backup.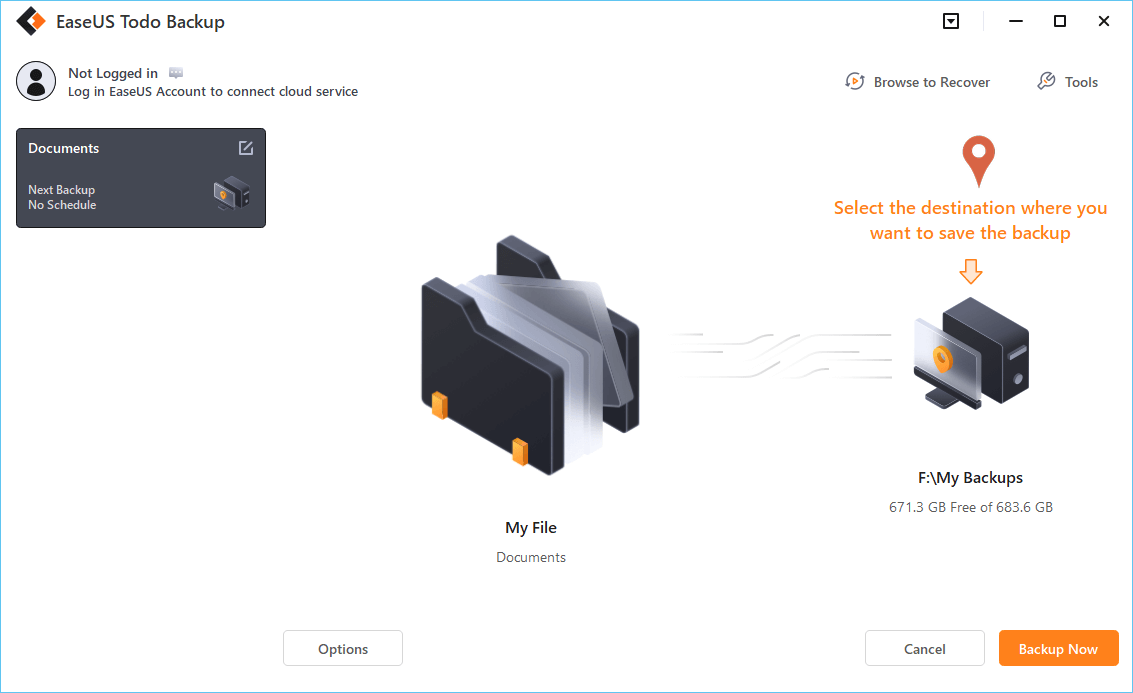 In Backup Options, click Options to encrypt the backup with a password, specify the backup schedule, and choose whether or not to start the backup at a certain event in Backup Scheme. There are a variety of customizable features available for you to explore, and you may tailor the backup operation to meet your specific requirements.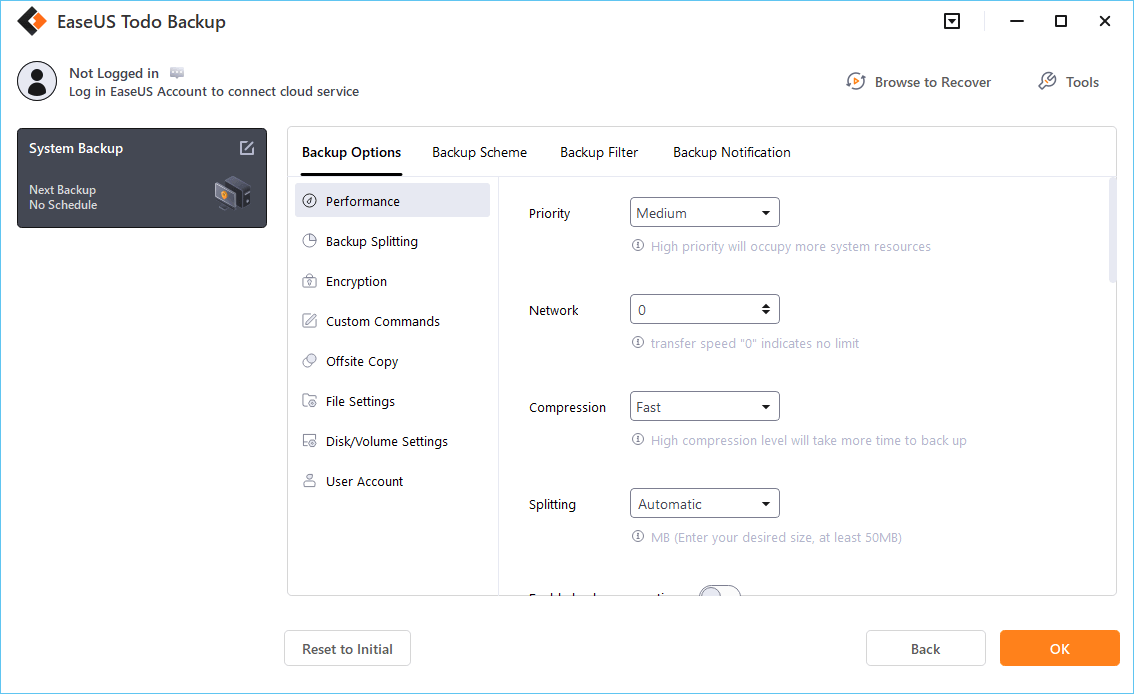 Step 5. Backups can be stored on a local disk, in EaseUS's cloud service, or on a network attached storage device (NAS).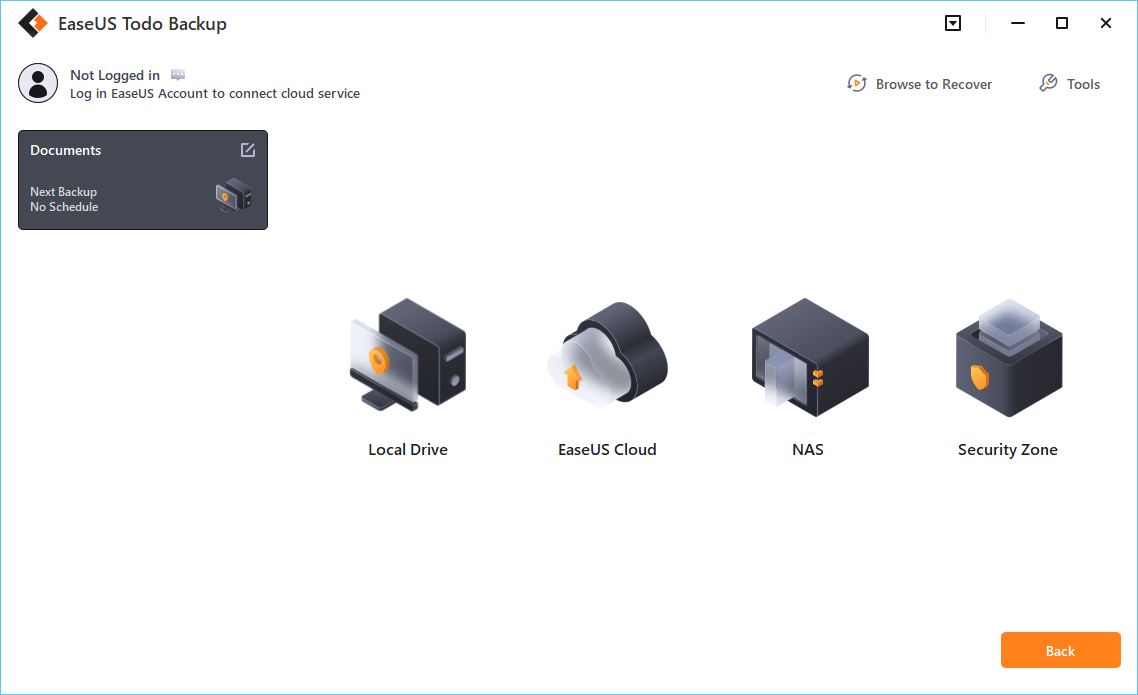 Step 6. EaseUS Todo Backup allows customers to back up data to a third-party cloud drive or the company's own cloud storage.
If you wish to back up your data to a third-party cloud drive, select Local Drive, scroll down to add Cloud Device and enter your account information.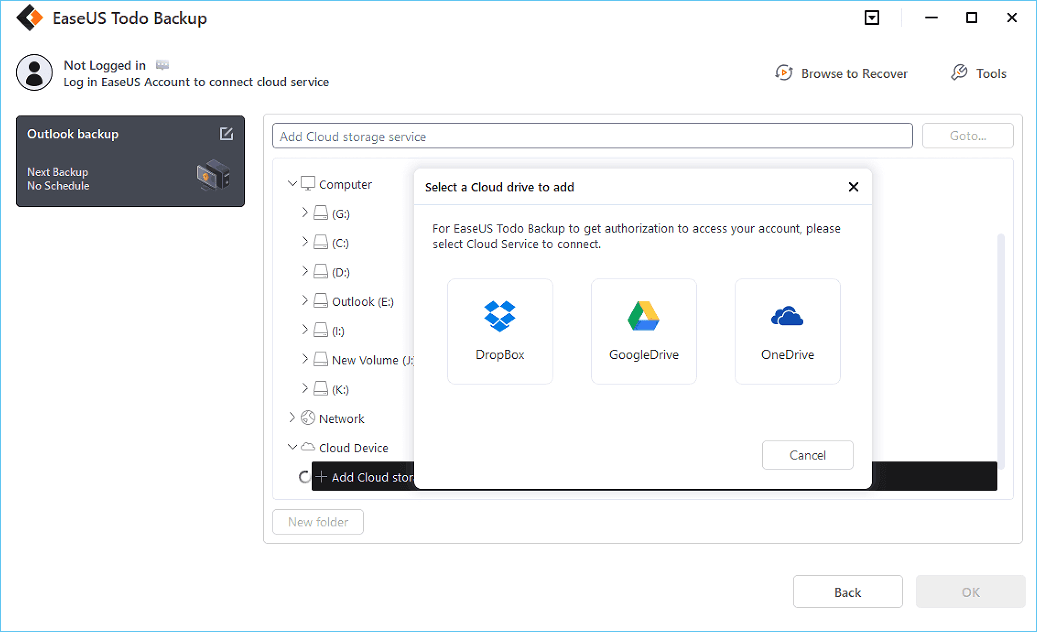 You may also use EaseUS's own cloud storage service. Click EaseUS Cloud, create an account using your EaseUS Account, then log in to your account.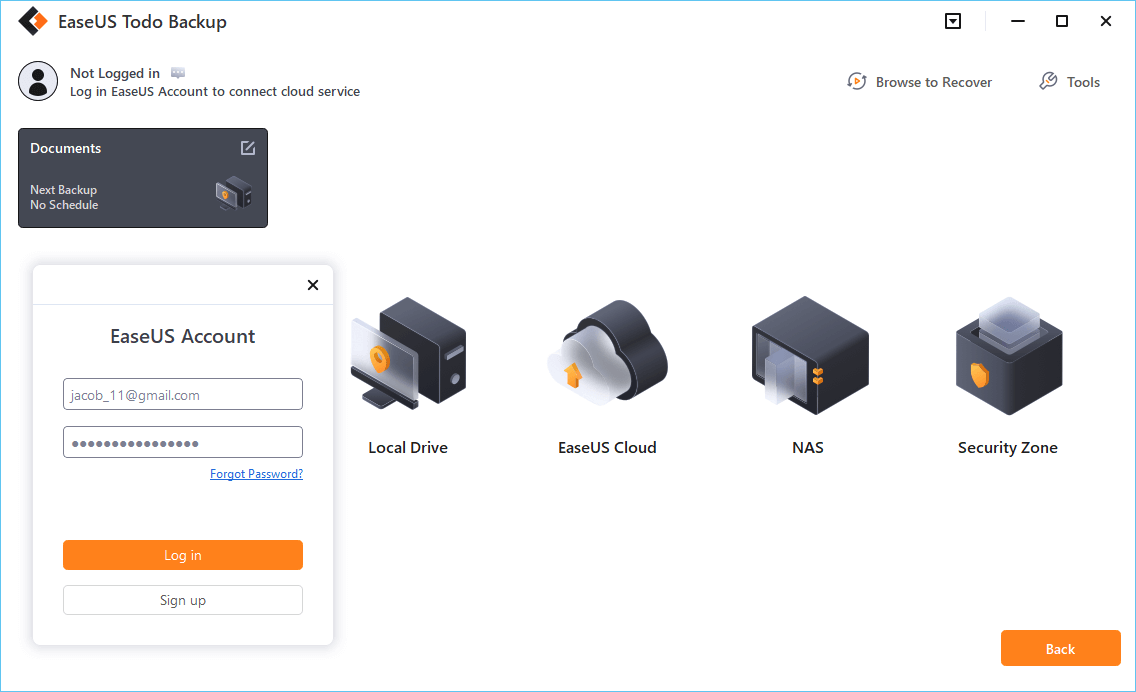 Step 7. To begin a backup, choose Backup Now. It will appear in the shape of a card on the left-hand panel when the backup process has been successfully finished. To handle the backup job in more detail, right-click on it.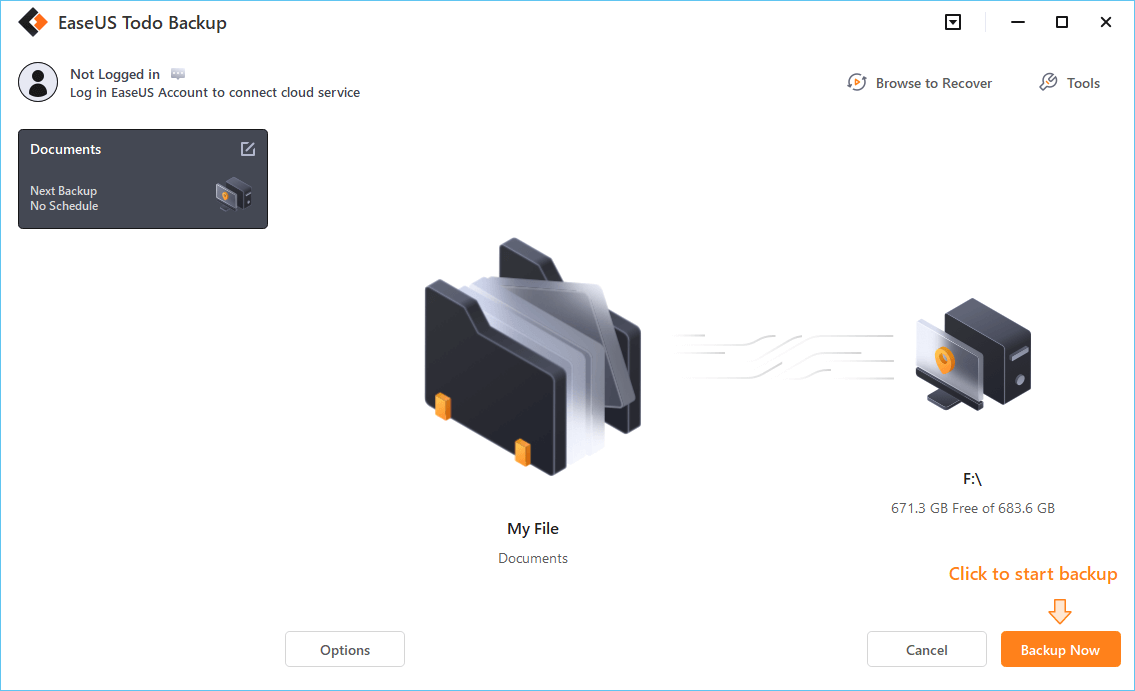 Method 2: Use File History to Automatically Backup a Folder to A Network Drive
File History is a tool that comes with Windows. By default, File History backs up all the files in your user folder, including the desktop, documents, downloads, and pictures folders. Also, all changed files will be automatically stored on the network drive.
Step 1: Open Open "Settings" from the Start menu.
Step 2: Go to Update & security and choose "Backup."
Step 3: Click the "Add a network location" option to add a network drive.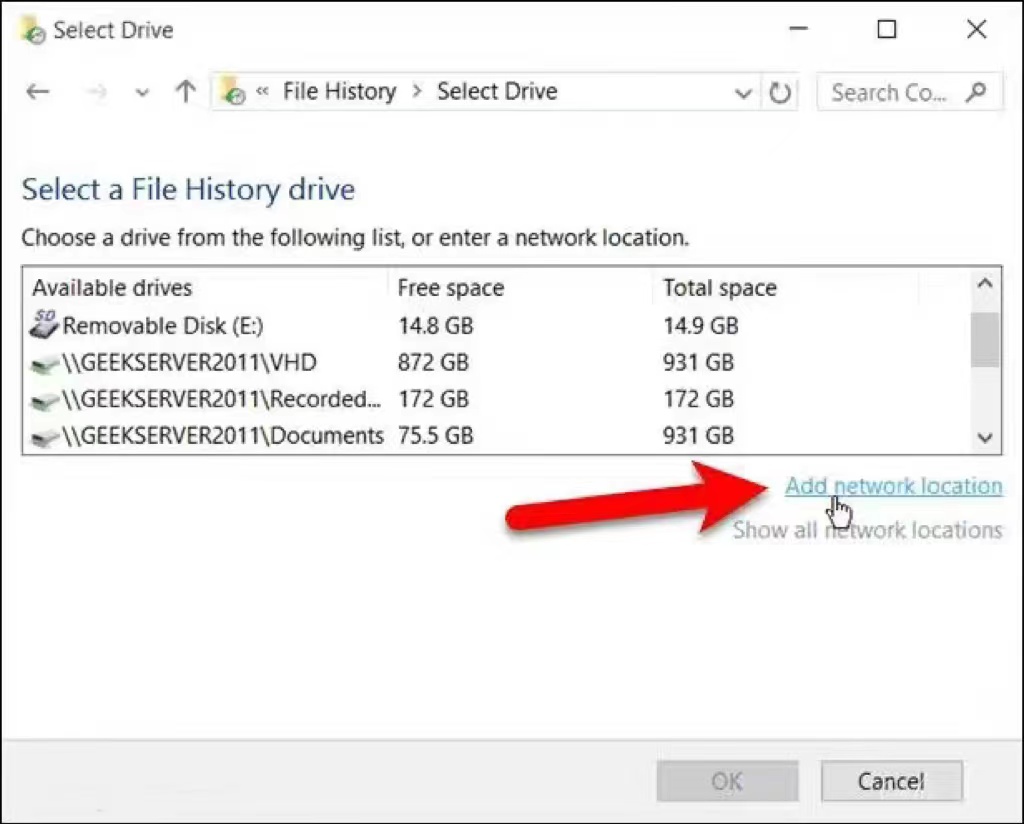 Step 4: Turn on the "Automatically back up my files" button. And click "More options".
Step 5: Set the backup time and click "Back up now" to start the automatic backup.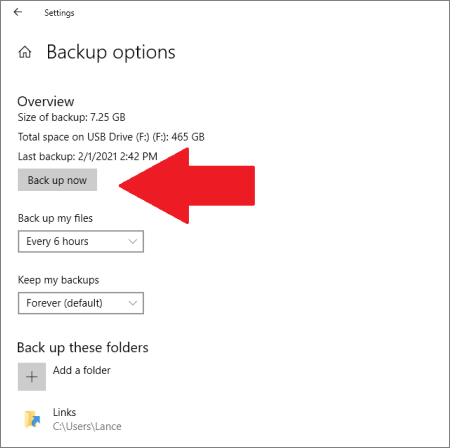 Method 3: Use Backup and Restore to Automatically Backup a Folder to A Network Drive
Backup and Restore(Windows 7) follow the design of Windows 7, but it can also be used for the automatic backup of folders in Windows 10. It allows backing up folders to a NAS server or other network drives. In contrast to file history, it also provides the ability to restore files. Here are the steps:
Step 1: Open the control panel and click "System and Security."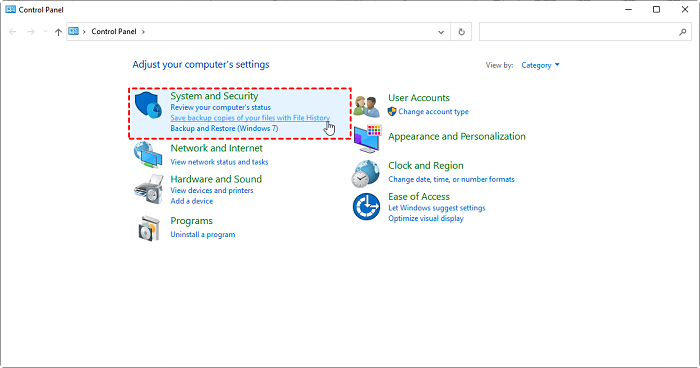 Step 2: Find "Backup and Restore."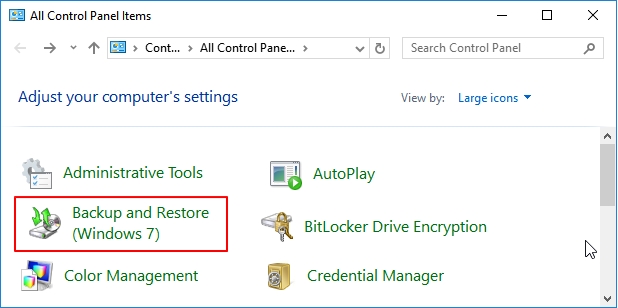 Step 3: Click " Set up backup" on the right side.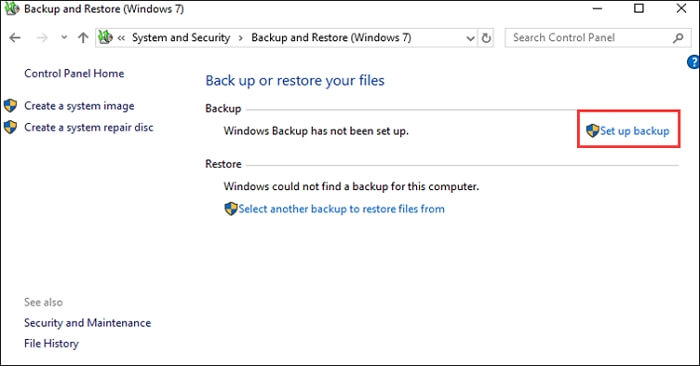 Step 4: Choose "Save on a network" on the right corner.
Step 5: Click "Browse" to add a network drive or simply type the network location. Then enter the username and password, and click "OK."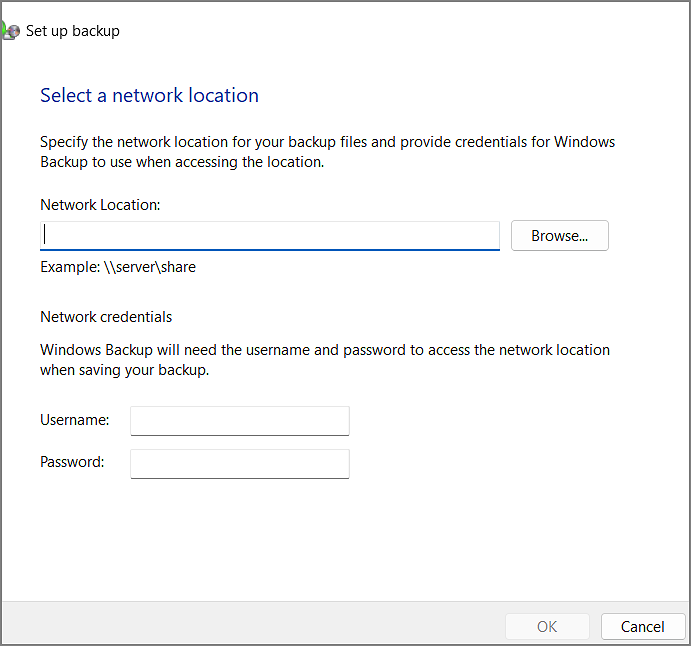 Step 6: Click "Next." And then select "Let Windows choose" or create a custom backup.
Step 7: Click "Change schedule" to set an automatic backup time. And then click "Save settings and run backup."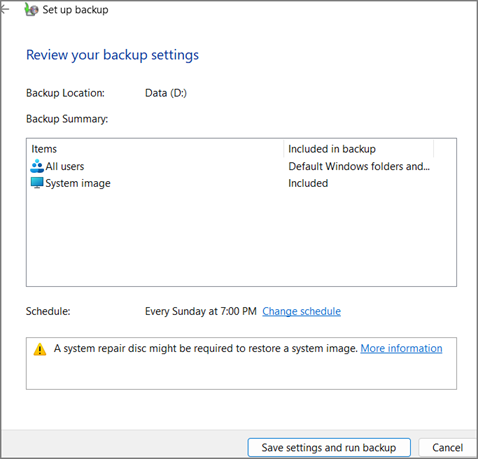 Conclusion
This article covers three ways to automatically back up folders to a network drive. You can choose one depending on your habits. But EaseUS Todo Backup is a more comprehensive backup option that can help you with a lot less hassle. As the best backup software, it's worth a try!
FAQs about Automatically Backup a Folder to A Network Drive
The above introduces the three most comprehensive ways to automatically back up your folders. And here are some frequently asked questions.
1. Does Windows 10 automatically backup files?
Windows 10 can automatically backup files via "File History" and "Backup and Restore." In addition, you can set the backup plan on Windows 10.
2. How do I automatically backup files to my NAS?
You can automatically backup files to NAS using professional backup software, such as EaseUS Todo Backup. Or you can use Windows Backup and Restore tool.
Step 1: Open "Control panel" and choose "System and Security."
Step 2: Select " Backup and Restore."
Step 3: Set a backup or create a system image.
3. Does Windows 10 have a file backup program?
Yes. In Windows 10, you can find "File History" and "Backup and Restore" in the control panel. Both tools can backup files.

Updated by Larissa
Larissa has rich experience in writing technical articles. After joining EaseUS, she frantically learned about data recovery, disk partitioning, data backup, and other related knowledge. Now she is able to master the relevant content proficiently and write effective step-by-step guides on computer issues.

Written by Cici
Cici has accepted the systematic training on computers at EaseUS. Now she has a detailed understanding of common computer issues, as well as computer backups and disk formatting management solutions.
Taking everything into consideration, we can say that EaseUS Todo Backup Home can offer you a little extra sense of security with a set of advanced tools. The interface provides quick adaptation, every process guiding you all the way through so you don't get stuck or further damage your system rather than keeping it safe.

 Read More

EaseUS Todo Backup Free lets you create backups of your important files or your entire computer through its streamlined interface. Just choose the backup type you'd like to get started, and let the program do the reset.

 Read More

EaseUS includes all the features I expect from backup software like versioning, incremental backups, and scheduling. For more advanced users, EaseUS allows you to install a pre-boot environment onto your hard drive so you can use it to restore files without burning a CD or putting it on an external USB drive.

 Read More

EaseUS Todo Backup
Smart backup tool for your files and entire computer in Windows 10/8/7.
Install Windows on Multiple Computers at Once? No Problem!
Learn how to install Windows 11/10/7 and special programs/software on a batch of computers. Use 10 minutes to do the 10 hours work without making a single mistake!
Get Free Solution!