Easiest Disk Cloning Software for HDD/SSD Clone & System Clone 
Cloning software allows you to create an identical copy of a hard drive, partition, or file. Windows system does not have its own cloning software, which increases the risk of human error or a drive failure, so it is necessary to install disk cloning software. This can effectively ensure data security and save users more time and energy.
Reasons for Cloning Your Disk? 
Cloning software can offer many functions, both to individuals and businesses. 
1. Create copies of entire hard drives, which can be useful for troubleshooting purposes or for creating exact replicas of systems 
2. Create backups of important files or migrate data to a new computer
1. Manage large deployments of computers
2. Create master images of systems that can be quickly deployed to multiple computers
3. Create testing and development environments that are exact replicas of production
Top 5 Easiest Cloning Software in 2022 
There are many cloning software on the market that can be used to make an identical copy of a hard drive, including both the operating system and all data files. When shopping for cloning software, it's important to choose a program that is compatible with your operating system and offers the features you need. Next, we will introduce you some of the best and easiest cloning software.
1. EaseUS Disk Copy
EaseUS Disk Copy is a reliable and easy-to-use disk cloning software that allows you to create an exact copy of your hard drive or partition. It also supports disk upgrading, allowing you to upgrade your old hard drive to a new one without reinstalling Windows or losing any data.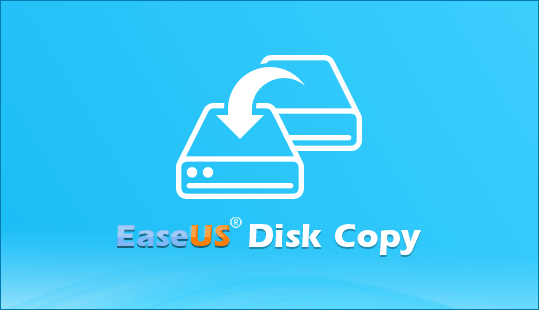 Tips: 
Designed for copying disks, not individual files
Only supports Windows
A paid software but not expensive  ($19.9/month; $29.2/year; $59.9/lifetime)
Simple and clear interface
[email protected] Disk Image is a software package that allows users to create and restore disk images. It can be used to back up data on a hard drive or SSD, providing a convenient way to protect important files in the event of a system failure. It is also useful for creating images of entire drives, which can be stored on external media for later restoration. [email protected] Disk Image is an essential tool for anyone who wants to safeguard their data against loss.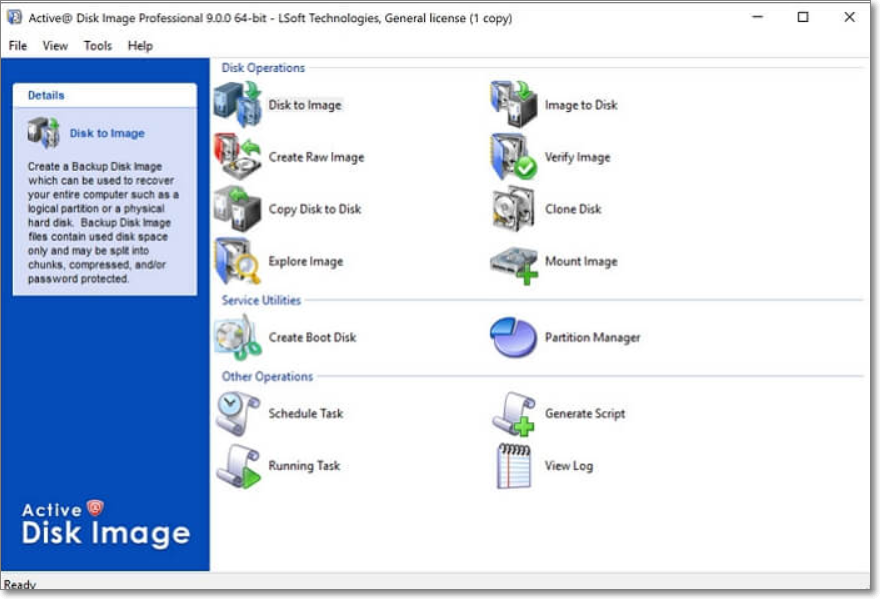 Tips: 
Include a number of features that make it easy to use (schedule backups)
Require a significant amount of storage space in order to create a backup
3. Acronis Disk Director
Acronis Disk Director is a disk partitioning and Cloning software. Acronis Disk Director enables you to: Perform basic and advanced operations with your hard disk partitions such as create, resize, format, split, copy and paste. It provides an intuitive graphical user interface that makes it easy to perform even the most complex disk partitioning tasks.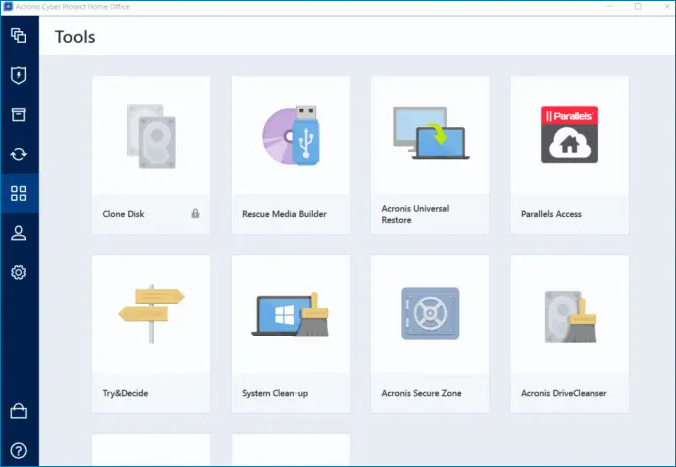 Tips: 
Support Windows 7/8/10, Vista, and XP 
Offer a free trial 
The paid version is expensive  (US $49.99 for Home/ US $79.99 for Business)
Related reading: How to Fix Acronis Clone Disk Failed Error
4. Macrium Reflect
Macrium Reflect is a powerful backup and imaging software for Mac and PC. It allows you to make exact copies of your entire computer, including the operating system, applications, settings, and files. It also offers a wide range of options for customizing your backups. Overall, Macrium Reflect is an excellent choice for anyone who wants a reliable way to backup and restore their computer.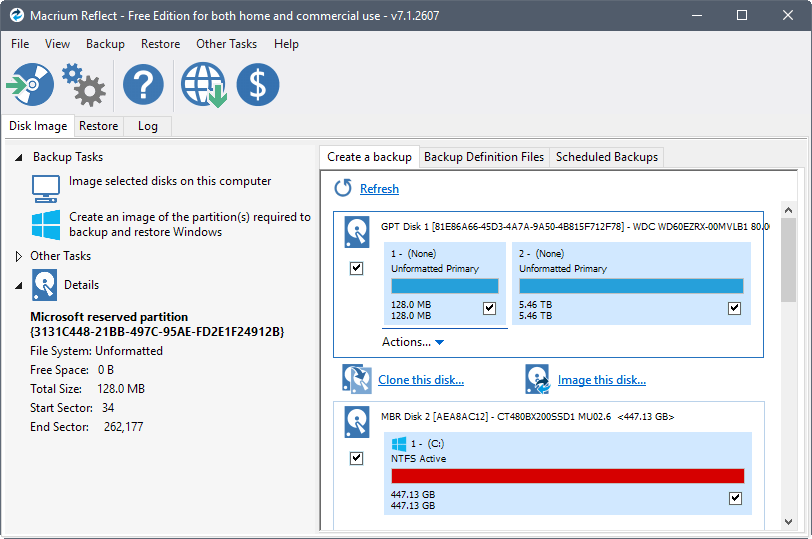 Tips: 
Do not support dynamic disks
Do not support USB 3.0 drives 
Do not support RAID arrays
The free version is also relatively slow and has limited features
Related reading: How to fix Macrium Reflect clone failed
5. Paragon Hard Disk Manager
 Paragon Hard Disk Manager is a comprehensive hard disk management solution for both home and business users. It offers a wide range of features for managing your hard disk drives, including partitioning, backup and restore, encryption, and more. It also includes a boot manager and tools for recovering lost data and repairing damaged hard drives.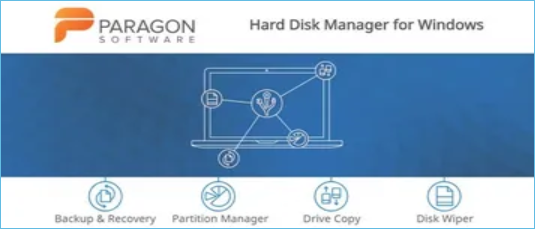 Tips: 
Only support Windows-based computers
Requires administrative privileges in order to run 
Only be used to manage hard disks and partitions that are connected to the computer
How to Use Cloning Software
EaseUS Disk Copy can be a very useful tool for backing up data or migrating to a new hard drive. The process is relatively simple if you follow the steps below:
Prior Notice:
The "Sector by sector copy" asks the size of your destination disk to be at least equal to or larger than that of the source disk. Leave this feature unchecked if you wish to clone a larger hard disk to a smaller hard disk.
All data on the destination disk will be completely erased, so take care.
Step 1. To start copying/cloning an entire disk to another, choose this disk as the source disk under "Disk Mode" and click "Next".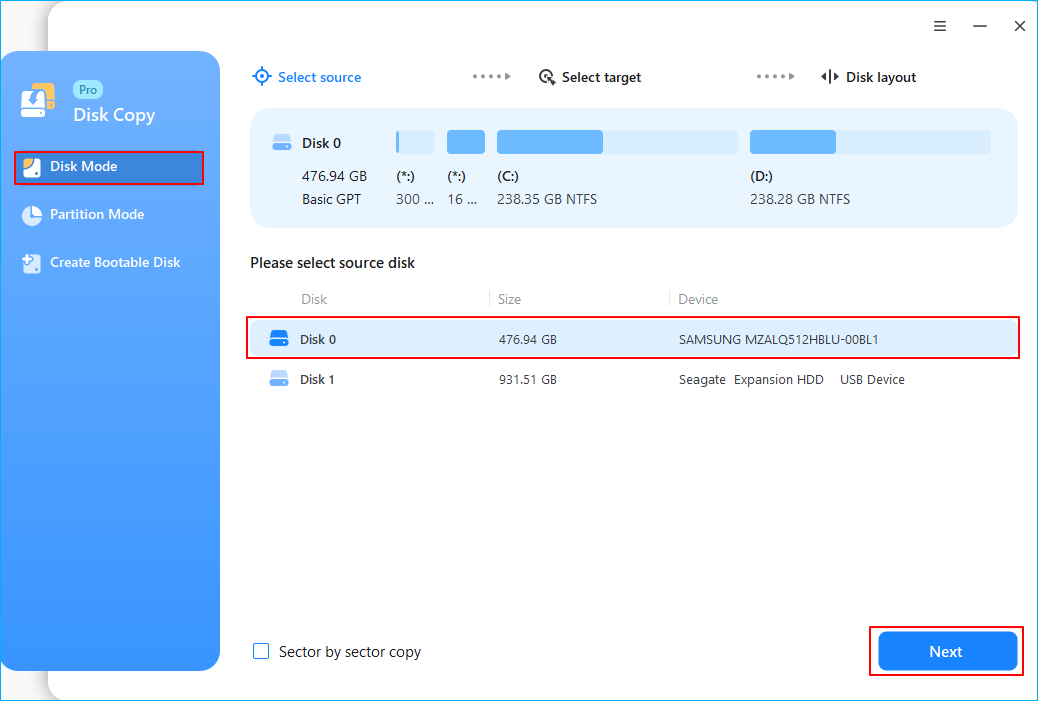 Step 2. Choose the other disk as the destination disk.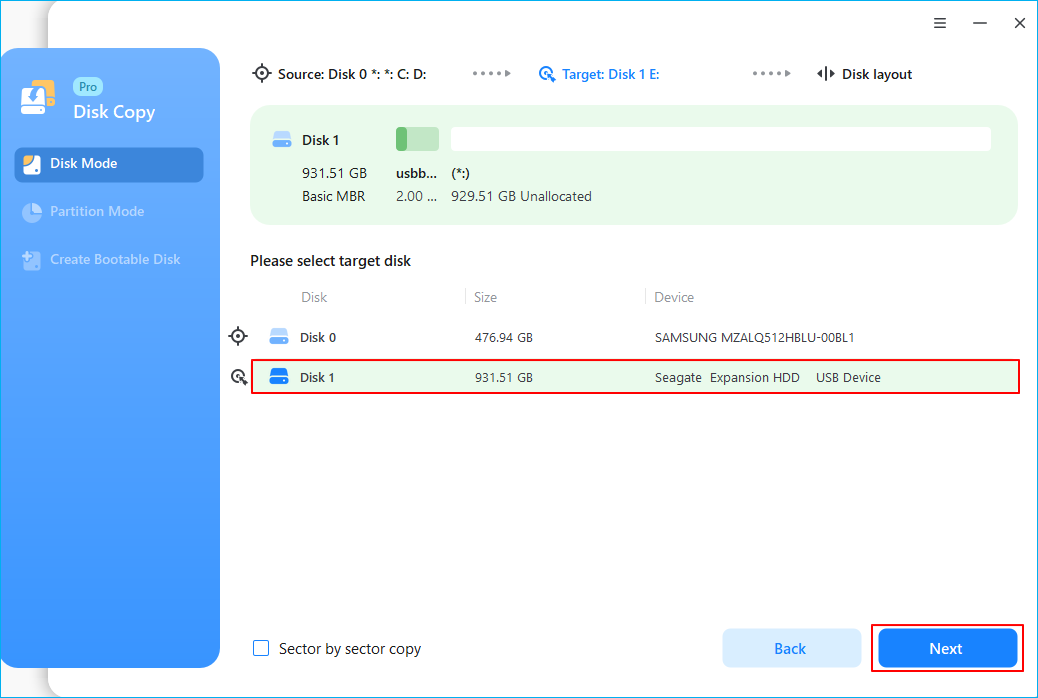 A message now appears, warning you that data will be lost. Please confirm this message by clicking "OK" and then click "Next".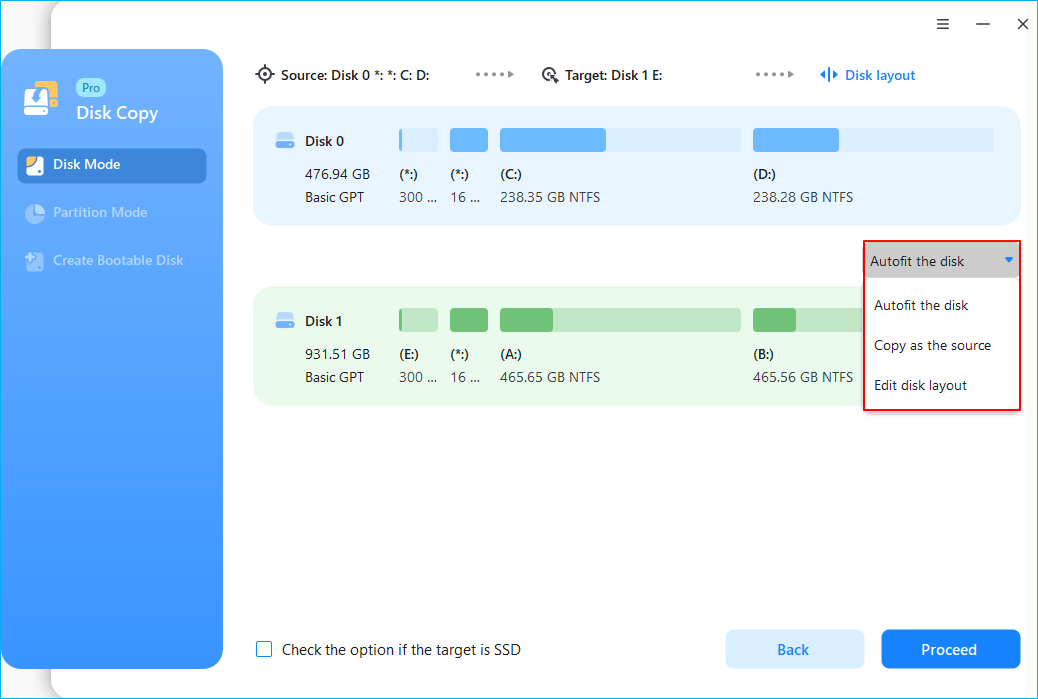 Step 3. Check the disk layout of the two disks. You can manage the disk layout of the destination disk by selecting "Autofit the disk", "Copy as the source" or "Edit disk layout".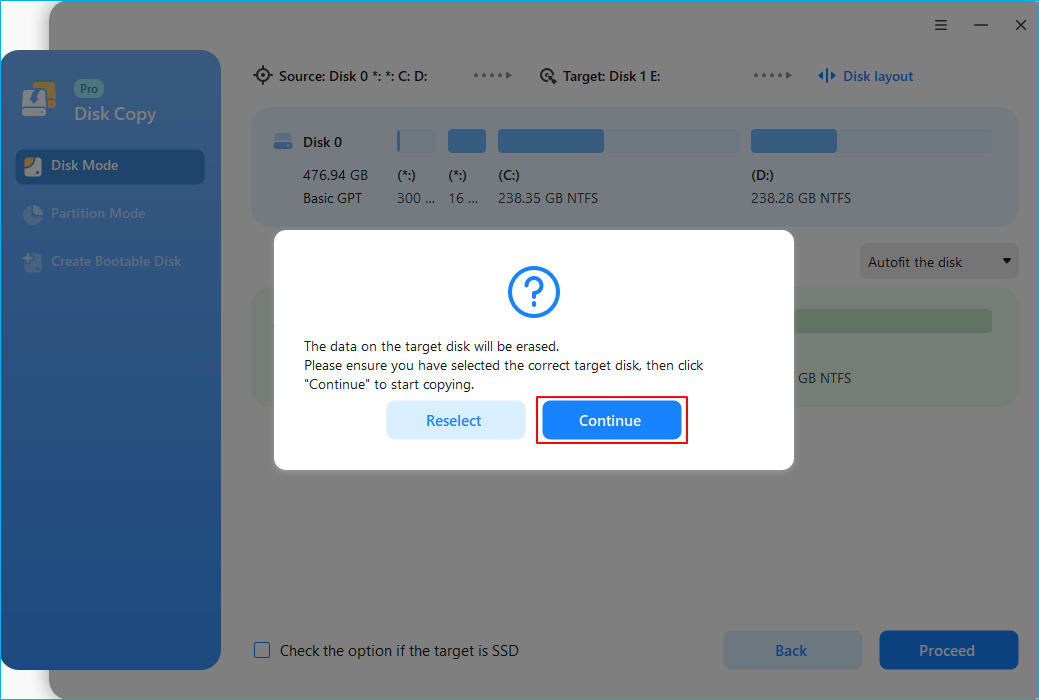 "Autofit the disk" makes some changes by default on the destination disk layout so that it can work at its best status.
"Copy as the source"does not change anything on destination disk and the layout is the same as source disk.
"Edit disk layout" allows you to manually resize/move partition layout on this destination disk.
Tick the "Check the option if the target is SSD" option to put your SSD in its best performance.
Step 4. Click "Proceed" to officially execute the task.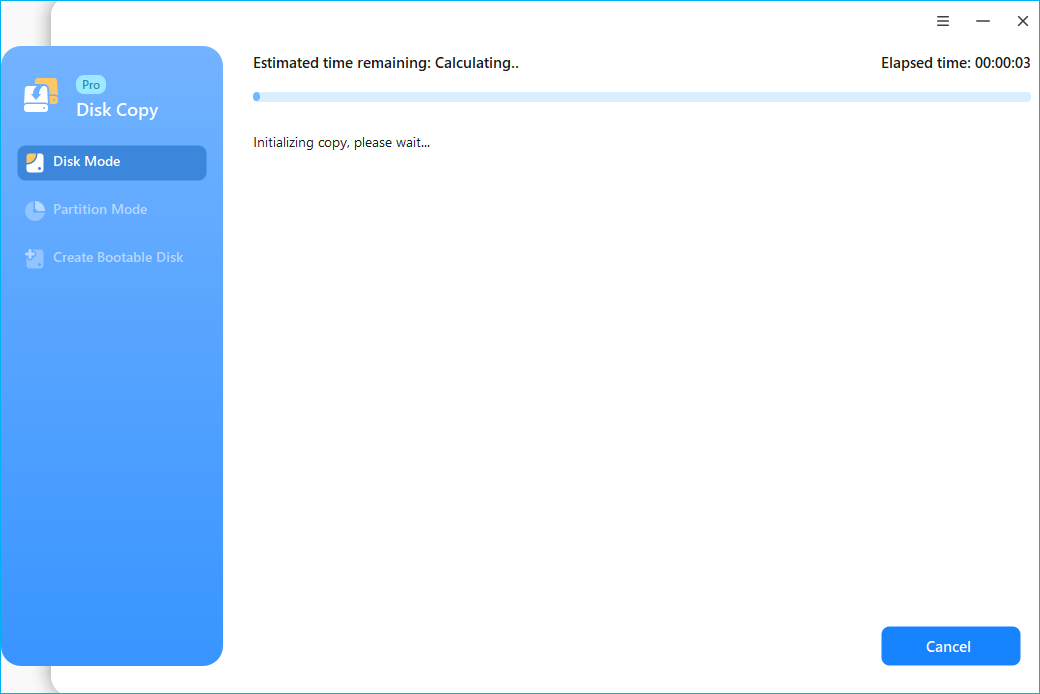 Conclusion
After recommending several cloning software, we've come to the conclusion that EaseUS Disk Copy is the easiest to use. It has a simple, straightforward interface that makes it easy to select the source and destination drives, and it also provides clear instructions for creating a bootable clone. Overall, we were very impressed with EaseUS Disk Copy and recommend it to anyone looking for easy-to-use cloning software.
EaseUS Disk Copy
Clone an old disk to a new one
Clone a small disk to a large one
Clone HDD to SSD
TRY IT NOW
Video Tutorial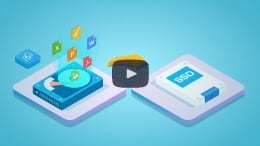 How to Clone HDD to SSD on Windows 10/8/7