Backing up files to secure them from data failures or malicious threats is common among professionals. However, household computers face the most risk of losing personal or important data. That's when one of EaseUS Todo Backup's remarkable features comes in handy – Security Zone.
So, what exactly is this feature? How does it work, and how exactly will it secure your data? Moreover, is it more accessible than some of the default options available? These are all viable questions, so let's find their possible answers.
Introduction
Backups are an important essential for any user today. Without backups, your files are at risk of being corrupted or rendered useless by virus attacks, but you also risk losing your data in case of device failure. Backups are necessary whether you have an internal hard disk drive or an external one. It can keep your files secured and avoid corruption from malicious threats. But backups are not always safe.
However, not a lot of people are attentive to this factor. While it's good to create encrypted backups, nothing beats a proper backup available for you to access without the internet. So, that's when a program like Security Zone in EaseUS Todo Backup comes into play.
Without having to spend another penny on a physical drive or online storage, a feature like this can help you safeguard your file. However, it's suggested that you only secure the necessary files. For instance, you don't need to back up a downloadable program, only its key or activation code.
Is Your Backup Absolutely Safe?
While backups are generally safe, they are not absolutely invulnerable. It's mainly because there are different types of backups. Your backup might just be the same copy of another file in a separate drive. Let's say you have a pen drive or an external hard drive with your backup files.
Now, your computer is attacked by a virus that corrupts a few of your important files. Without ridding your computer of the virus, if you connect the backup drive back to your computer, there will be a risk of losing your backup as well. This includes:
Losing data in case of external hard drive failure
Losing data if pen drive or USB is lost
Data lost in cloud storage because of a forgotten password or blocked account
Data mismanagement causing data loss
Data lost because of attacks from viruses, ransomware, and malware
These are some of the common woes of creating a backup without proper assistance or tools.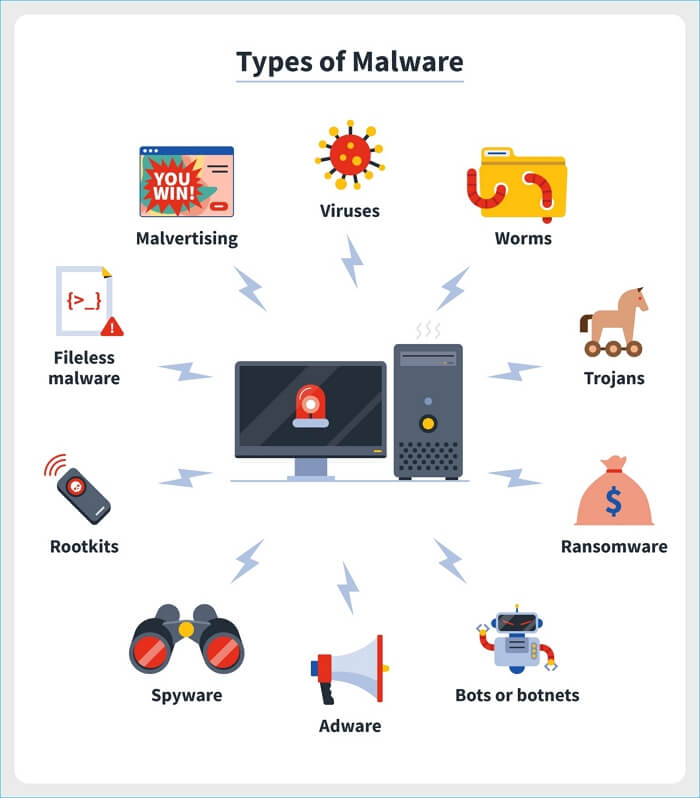 How to Keep Data Backup Safe?
The best way to keep your data is by creating a viable backup. However, backups are not absolutely safe, even backups in Cloud are not safe. A comprehensible gridlock of your important files ensures swift recovery in case of any data-related calamity. So, what exactly are your options? There are two:
1. Make Comprehensive Backups
Comprehensive ways of creating backup include creating a different partition or buying another hard drive to keep data secure, keeping your data in dependable and extensive cloud storage, or keeping pen drives or separate partitions for smaller but necessary files.
This can ensure keeping your files safe, but a lot of it requires you to spend extra money.
Pros:
Keep files secure in a separate location
Ensured availability
Cons:
Still at risk once you connect disks back to your computer in case of a virus attack
Not easy to update backup files regularly
Cost you double
2. Encrypt Backups
Encrypted backups are the most secure, and they entail encrypted hard drives, encrypted files to safeguard backups from any sort of ransomware, virus, or malware, password-protected access, and separate and encrypted partition.
Pros:
Easy to make
Easy to recover
Password-protected and much safer
Better protection against virus or malware attacks
Cons:
Mismanagement of passwords might cause data loss
As you can see, one of these options has lesser cons than the other. This implies how Encrypted Backups are much safer and easy to create.
Best Choice for You - EaseUS Todo Backup
The best choice for you is the feature in EaseUS Todo Backup called Security Zone. It's a tool that creates a secret partition on your computer that cannot be explored or changed by the user or third-party apps or the Windows itself.
But a user can change it once they provide a password for it or remove the backup entirely. What makes Security Zone such an effective and best choice for you?  A separate partition ensures that your backed-up data is secured from malware or any other sort of faulty operation on your Windows. While encryption ensures that no other program reads it except EaseUS Backup Todo itself—once you provide the password.
However, you must remember that only one partition can be created on one computer. And the partition can be modified, removed, changed, extended, etc. This entirely depends on your preference and the amount of data that you wish to secure using this remarkable feature. There are also some wonderful features:
Creating EaseUS Todo Backup Security Zone
Creating the Security Zone on EaseUS Todo Backup is as easy as you like. All you need to do is download EaseUS Todo Backup and follow the steps below.
Step 1. Launch EaseUS Todo Backup, click "Tools" on the top right menu and choose "Security Zone".
Step 2. On the welcome window, click "Create Security Zone".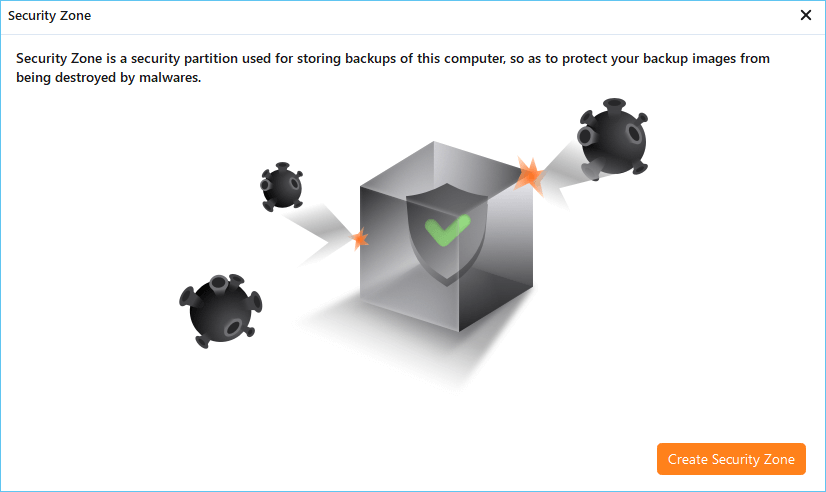 Step 3. Choose a partition and use it as a security zone partition. Click "Continue".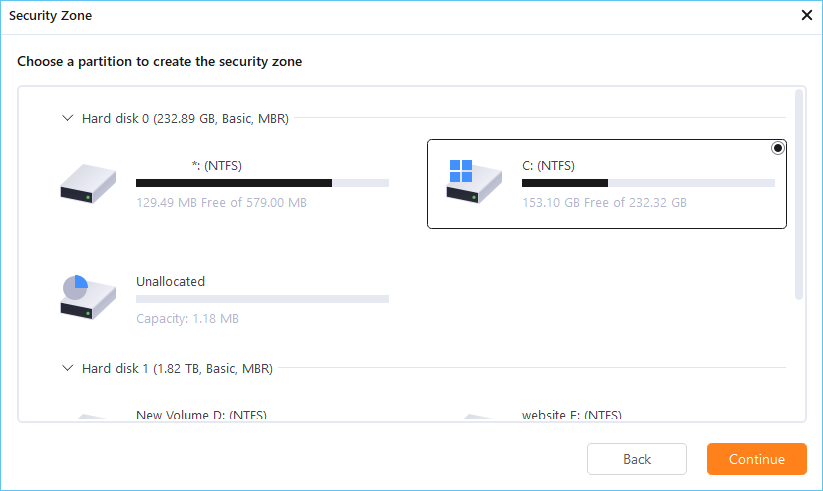 Step 4. Adjust the partition size of the security zone and click "Create".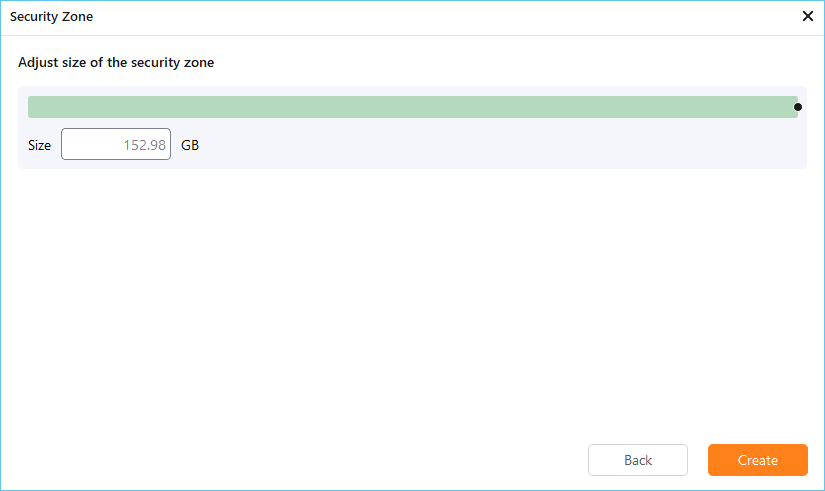 Step 5. After creation, you can continue clicking "Set Password" to add one more layer of security over the protected zone, and the password is only required when you need to restore the backup from the security zone.
That's how easy it is to create a backup using this remarkable tool. All you have to do is ensure that you're following the steps and creating a partition that is adequate for your files.
Conclusion
Creating a backup is necessary to protect your files, and you have a few options for doing so. However, nothing stands out as secure and easy-to-do as EaseUS Todo Backup's Security Zone. Therefore, make sure you keep your files secure using this outstanding feature.
Updated by Gemma
Gemma is member of EaseUS team and has been committed to creating valuable content in fields about file recovery, partition management, and data backup etc for many years. She loves to help users solve various types of computer related issues.
Taking everything into consideration, we can say that EaseUS Todo Backup Home can offer you a little extra sense of security with a set of advanced tools. The interface provides quick adaptation, every process guiding you all the way through so you don't get stuck or further damage your system rather than keeping it safe.

 Read More

EaseUS Todo Backup Free lets you create backups of your important files or your entire computer through its streamlined interface. Just choose the backup type you'd like to get started, and let the program do the reset.

 Read More

EaseUS includes all the features I expect from backup software like versioning, incremental backups, and scheduling. For more advanced users, EaseUS allows you to install a pre-boot environment onto your hard drive so you can use it to restore files without burning a CD or putting it on an external USB drive.

 Read More

EaseUS Todo Backup
Smart backup tool for your files and entire computer in Windows 10/8/7.
Install Windows on Multiple Computers at Once? No Problem!
Learn how to install Windows 11/10/7 and special programs/software on a batch of computers. Use 10 minutes to do the 10 hours work without making a single mistake!
Get Free Solution!