PAGE CONTENT:
What Is Open Source Imaging Software?
Open source imaging software is a kind of computer software that can be used to back up data without a license. It's an outstanding example of open collaboration. Everyone can make full use of the source code because the copyright holders pass the right to users. With the source code, users can adapt the software to their personal needs. Eventually, they can publish and share the modification with more Internet users with similar requirements. 
Open Source Imaging Software VS Windows Imaging Software
When it comes to open source imaging software, people will think of Windows imaging software unconsciously. Nowadays, Windows imaging software has become more and more popular than open source software with the development of technology. And Windows imaging software is designed to create, edit and manipulate disk image for the Windows system. In view of users' needs, there are a lot of free versions. This part will state the differences between the two kinds of software so you have a clear review.
For open source imaging software, we have mentioned it's a collaboration mode. It can be applied in these ways:
Collaborations among remote and geographically distributed organizations
Create communities around common interests and common problems
Creating a more open and collaborative culture inside a company
Although open source imaging software is available for everyone, it has some inevitable deficiencies:
Difficult operation: Some of them may be tricky to set up for users who lack professional technic. This leads to low productivity and impatience.
Compatibility issues: Some open source software needs specialized drivers to run, which are often available from the equipment manufacturer.
Lack of warranties: It contains a limited warranty and no liability or indemnity protection.
In light of these disadvantages, you can prepare an extra choice for choosing a reliable and professional Windows 11 imaging software. The most remarkable is EaseUS Todo Backup among all the free image software.
EaseUS Todo Backup
EaseUS Todo Backup is an all-in-one backup software, with 13 years of experience to backup and restore your imporatant data. On one hand, it has powerful abilities to create partition backup,  disk backup, and system image backup. On the other hand, advanced backup options are open to free users, such as windows incremental backup, differential backup, and encrypted backup. Moreover, as free backup software, it secures your data to avoid some system crashes. 
With user-friendly interfaces and features, you don't need to worry about operations. It provides specific guides on how to backup imaging as well as backup onedrive to external drive.
Chat with Our Experts!
Click here to contact our experts for a free evaluation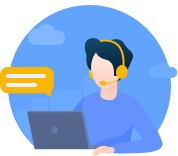 Start a live chat with an EaseUS Expert to tailor an enterprise backup solution specific to your requirements. We are here to assist you with the following as well:
Commence a free trial
Obtain a quotation
Arrange a free demonstration
Top 6 Recommended Open Source Imaging Software
However, this article is aimed at different types of users. Top 6 open source software has been carefully selected to meet your needs and demands.
Top1. Cloezilla
Clonezilla is one of the open source solutions is used for disk partition and imaging. It also supports cloning tasks as well as bare metal backup and restore. To run the software, users need to use several open source and free platforms such as minimal GNU/Linux OS, Linux kennel, and others.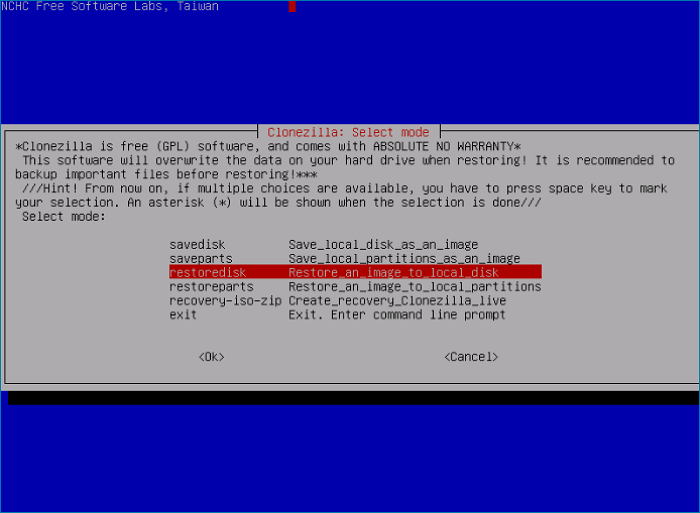 Pros:  
Easy download and Installation: It can be accessed from many online repositories and websites. Users just need to download the source code and install. 
Community support: Provide communities for users and developers for sharing insights and experiences. 
AES-256 encryption: Secures data access, storage, and transfer.
Support multiple file systems: like FAT12, FAT16, FAT32, exFAT, and NTFS of MS Windows
Cons: 
The UI is slow to navigate
The cloning process is slow
Top2. doClone
DoClone is free software developed in C++ for creating GNU/Linux system images. It also can transfer data within computers. This tool apply to offices or schools, including machines with different hardware.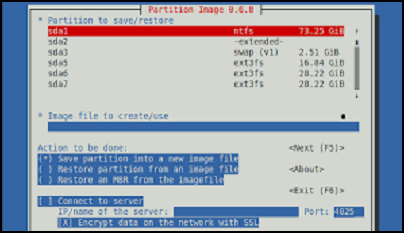 Pros: 
Incremental backup
Committee management
Compressing and disk cloning
Cons:
Only support 12 filesystems and 9 disk labels
Unfriendly to casual users
Top3. Partclone
Partclone is a free imaging software similar to the well-known backup utility "Partition Image". It helps you to save and restore used blocks on a partition. Now, it supports ext2, ext3, ext4, hfs+, reiserfs, reiser4, btrfs, vmfs3, vmfs5, xfs, jfs, ufs, ntfs, fat(12/16/32), exfat, f2fs, nilfs.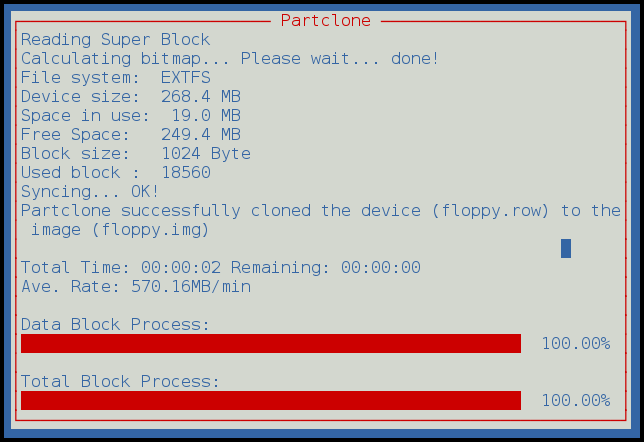 Pros:
Higher compatibility: Use existing libraries to backup files.
Supports advanced administrators
Save bad disk
Cons:
Can not clone disk, only focus on cloning filesystems
Its rescue mode skips bad blocks and images
 
Top4. FOG
FOG is a kind of free disk imaging solution for Windows which is based on Linux. It combines open source tools with a PHP-based web interface. It provides various versions of Windows (XP, Vista, 7, 8/8.1, 10), Linux and Mac OS X.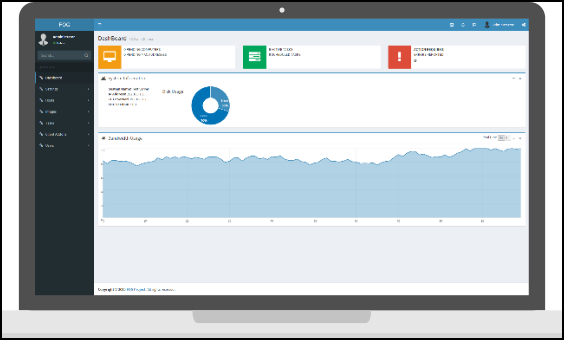 Pros: 
Track user access on computers, and automatic log off.
Change hostname and join a domain 
Support bad blocks scan and anti-virus.
Cons:
Need sufficient hard drive space 
Implement on a dedicated server 
Top5. Mondo Rescue
Mondo Rescue is a backup software licensed under GNU/Linux server. It supports Linux (i386, x86_64, ia64) and FreeBSD (i386). It can be used to back up disks, tapes, and filesystems.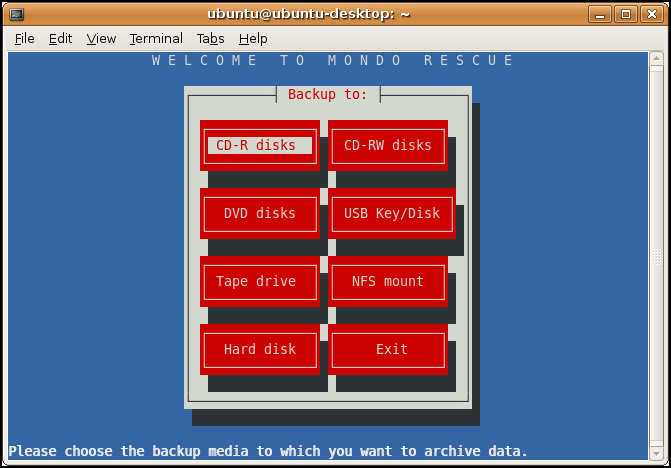 Pros: 
Support BIOS and UEFI boot modes
Back-up non-Linux partitions
Robust disaster recovery software
Easy to back up Windows partitions to removable media.
Cons:
Inability to handle system and hidden attributes when archiving files
Limited 20 CDs per set
The regular expression needs to be used to select a group of files.
Top6. Partimage
Partimage is an open-source software backup. It backs up partitions having a supported filesystem on a sector basis to an image file. It supports Linux, Windows and most Linux filesystems.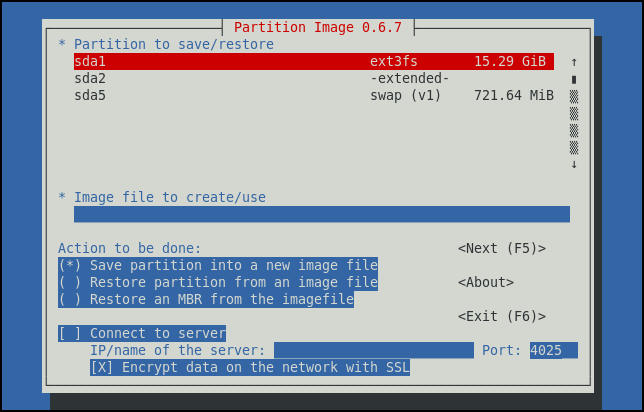 Pros:
Destination flexibility: Backup media can be filed on disk or local.
Multi-file synchronization: As for a fileSet, no file will be out of sync.
Fast: The file fragments can be read and saved quickly.
Cons:
It does not support ext4 or btrfs filesystems
Can not resort to single files or directories 
The operating system is down when you back up the system.
Conclusion:
For the most part, causal users are unable to adapt to complex open source software as developers do. Therefore, free and flexible Window imaging software like EaseUS Todo Backup. As the best disk cloning software alternative for these users. And it will benefit you a lot after downloading and operating by yourself.
FAQs
1. What is cloning in open source software?
It means you can create an extra copy of another object with an open source software. It also can be used to copy directory files or disks.
2. What is the difference between cloning and imaging a hard drive?
Cloning copies the complete contents of one drive to another drive; imaging makes more sense for backup. If your main drive crash, you can recover operating status immediately with cloning. 
Was this page helpful? Your supoport is truly important to us!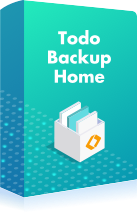 EaseUS Todo Backup
EaseUS Todo Backup is a dependable and professional data backup solution capable of backing up files, folders, drives, APP data and creating a system image. It also makes it easy to clone HDD/SSD, transfer the system to different hardware, and create bootable WinPE bootable disks.
Updated by

Larissa has rich experience in writing technical articles. After joining EaseUS, she frantically learned about data recovery, disk partitioning, data backup, and other related knowledge. Now she is able to master the relevant content proficiently and write effective step-by-step guides on computer issues.…

Read full bio

Written by

Jean is recognized as one of the most professional writers in EaseUS. She has kept improving her writing skills over the past 10 years and helped millions of her readers solve their tech problems on PC, Mac, and iOS devices. …

Read full bio