Do you want to protect your Windows 11 system against malicious virus attacks or software/hardware glitches? 
Yes, you simply need to get disk imaging software for Windows 11 to safeguard your system. If you are wondering what disk imaging software is and how to use it to protect your disk, just scroll down, and you will find all your answers below. 
What is Disk Imaging Software?
Disk imaging is the process of creating an exact replica of a computer's hard disk drive and transferring it to another or the same device. In disk imaging, all the programs, setup settings, and data files are compressed to use at the time of need, like when the system crashes or fails. 
Here disk imaging software is a program that allows users to quickly and easily backup computer software and data stored on a hard disk. This software can not only backup programs but also system settings and configurations on your Windows 11 computer. 
The software captures the image of your computer system, including structure, software settings, and registry programs. This way, users can refer to images and restore their computer files or settings after a virus attack or system glitches.
Disk Imaging vs. Disk Cloning vs. Disk Backup
Many Windows users believe that disk imaging, cloning, and backup are the same thing. But that's not true. All these three hard disk operations aren't the same. They might have the same goal to protect the hard disk data, but they are different in every other way.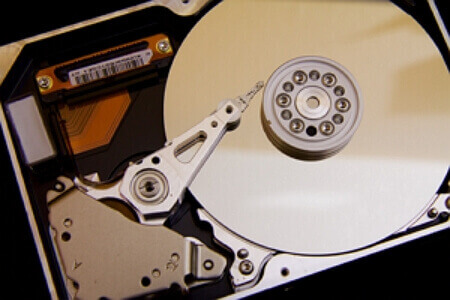 Disk Imaging
Imaging simply creates a large compressed image file of your drive. It helps you to restore your drive back to life. Since disk image is compressed to a small file, you can save it on your computer, external drives, or the cloud. 
Disk Cloning
Cloning creates an exact and uncompressed duplicate copy of your drive. If your Windows 11 hard drive ever fails, you can remove the corrupted disk from your system and replace it with the cloned disk. Disk cloning allows you to revive your system quickly, but it won't offer flexibility like disk imaging.
Disk Backup
Disk backup is a data backup and recovery method that stores your entire hard disk on a backup device or server. This is a great disaster recovery method that prevents you from losing data in case of crash or disk failure. Disk backup deploys duplication and compression methods to maximize disk storage capacity and provide protection against data loss.
Also read: Differential Backup vs Incremental Backup
How to Find a Good Disk Imaging Software 
Today, if you search for disk imaging software online, you will find numerous great options. But to select the best disk imaging software, you have to consider the following things:
Compatibility: The software should be compatible with all the leading Windows versions and operating systems for smooth management. 
Affordability: The software price range must fall under your budget. Also, make sure that the software vendor should offer a free trial to test the software. 
Customer Support: Always ensure that the software developers are available for fast assistance in case of a problem. 
Advanced Features: Look for additional features in the Windows 11 disk imaging software rather than the mere imaging feature. Select the software that can allow you to back and partition the disk in every manner, including backup, clone, and image. 
Recommended: The Best Disk Imaging Software — EaseUS Disk Imaging Software
Based on the disk imaging software selection criteria, the highly recommended and suitable software is EaseUS Disk Imaging Software. 
EaseUS Todo Backup is an award-winning disk imaging software for Windows 11 that can take an image of your entire hard drive. It can also clone and backup your whole hard disk within a few clicks. Besides this the software offers many great features: 
Highly compatible with Windows 11, including the older Windows versions like Windows 7, Vista, or even Windows Server 2003. 
The backup and restore feature is totally free with the software. 
EaseUS team is 24*7 to provide remote assistance. 
The software is extremely easy and intuitive to use, even for novice users.
Supports migrating system to HDD/SSD.
Steps to Capture Disk Image with EaseUS Disk Imaging Software
Are you ready to use EaseUS disk imaging software to take a picture of your entire hard disk? Now follow the step-by-step guide to see how to create a disk image for your computer.
Step 1. Launch EaseUS Todo Backup and choose "Create Backup" on the home page, click "Select backup contents".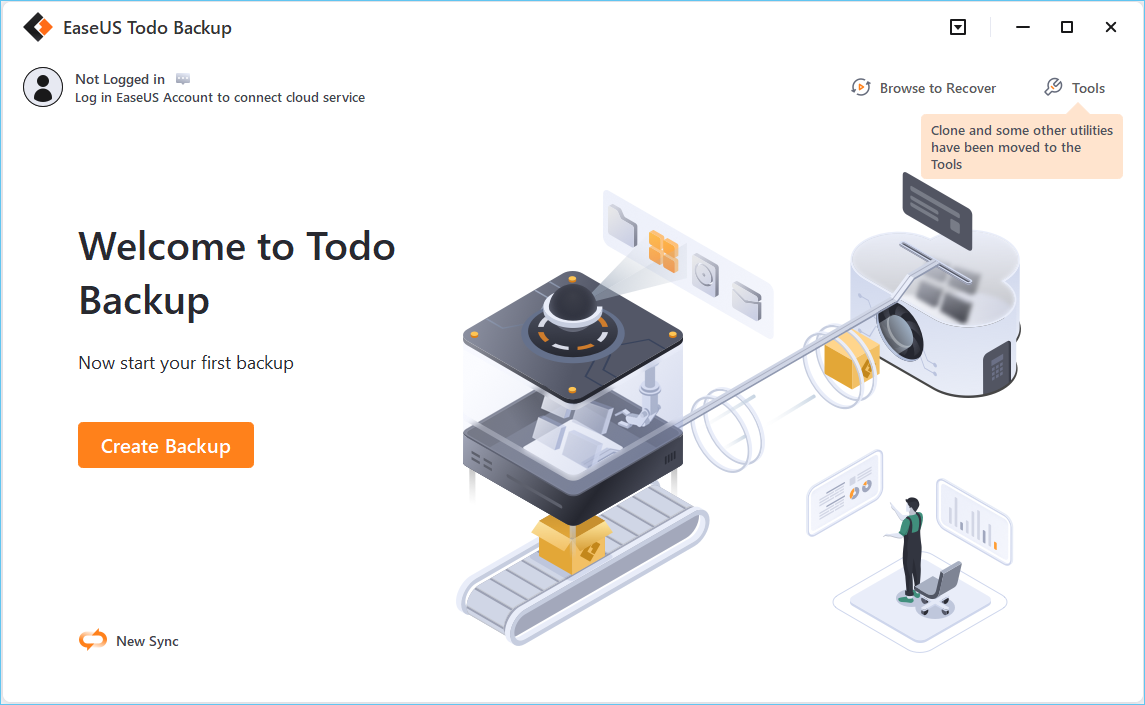 Step 2. Among the four available categories, click "OS" to start back up.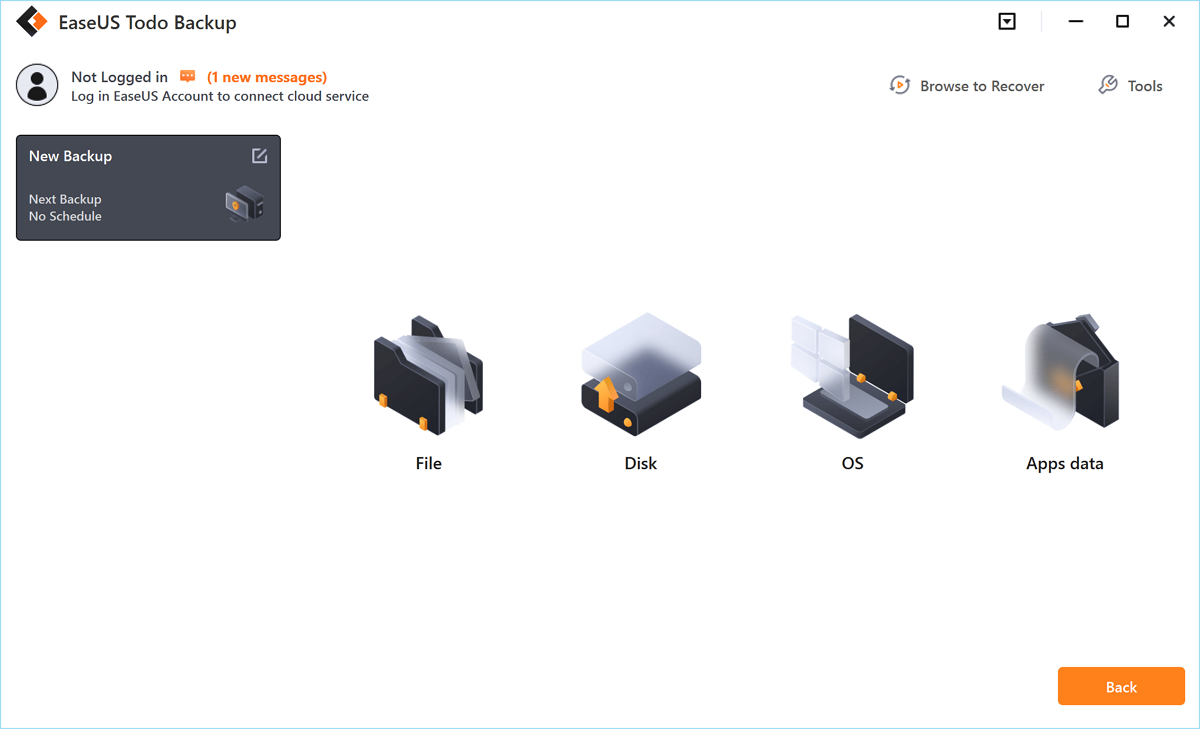 Step 3. The system partition will be automatically selected, you only need to select the location.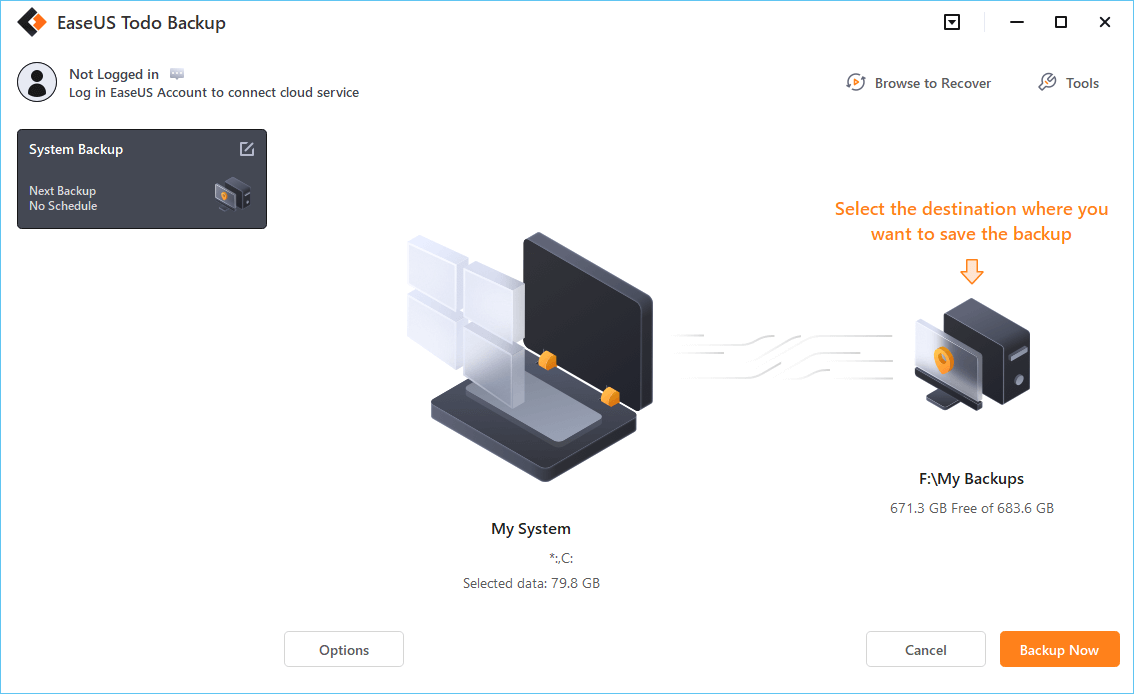 Step 4. Local Drive, Cloud, and NAS are available for you to save the backup file. You can also connect an external hard drive to preserve the system backup files.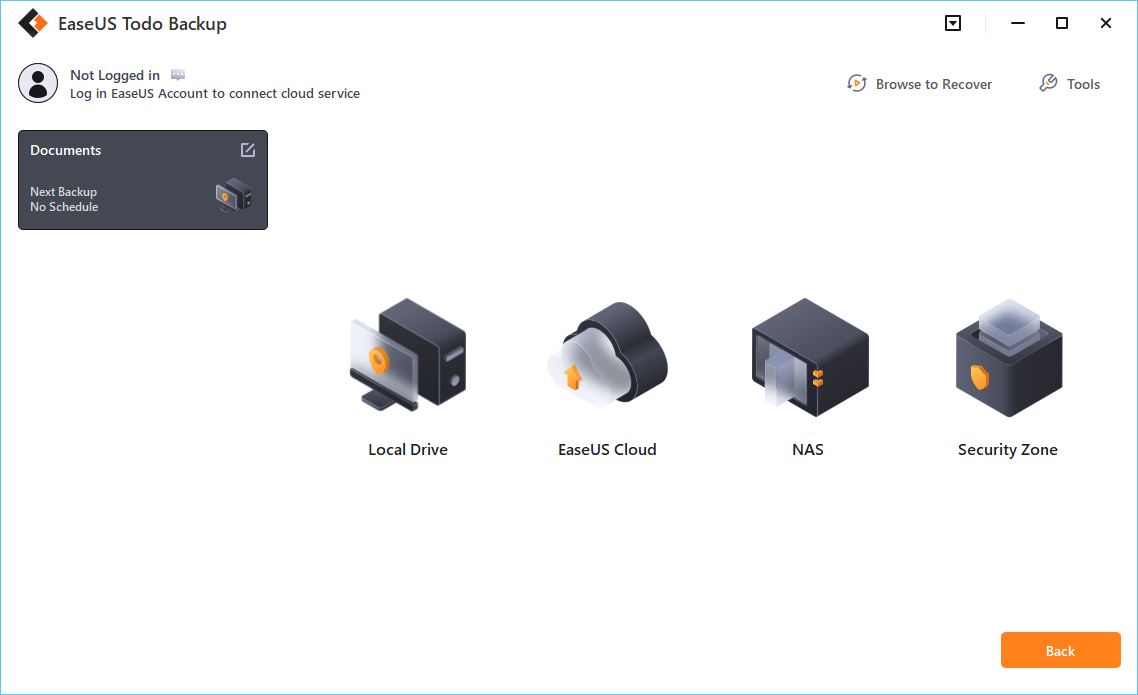 Step 5. You can customize the settings in "Options" at the left bottom. After that, click "Backup Now", and the process will begin.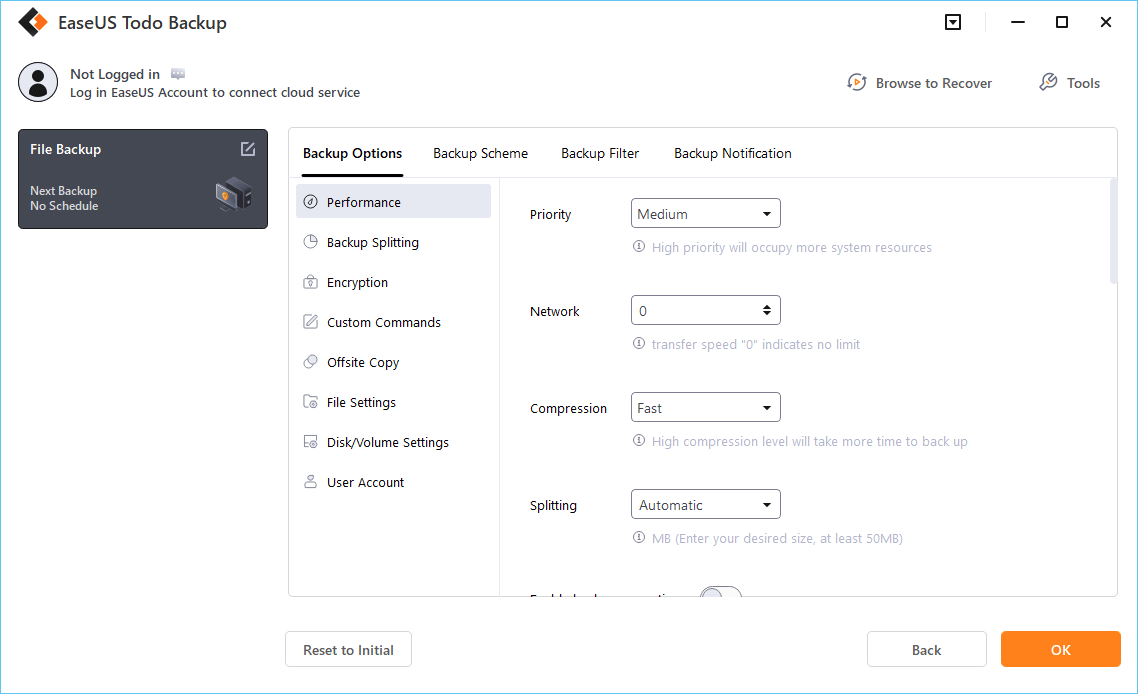 *After finishing the backup process, you can check the backup status, recover, open, or delete the backup by right-clicking the backup task on the left.
If you still can't decide whether to try EaseUS Todo Backup, look at some of the auxiliary features of the program before making the decision, such as:
Multiple backup options: This allows you to backup your system in multiple formats, including external storage devices, cloud storage, network drive, NAS, etc. 
Compress image size: The software first captures your disk image and then compresses image size so backup won't take much space on your drive or storage devices. 
Automated backup: You can schedule backups with the tool and keep your system fully backed without any extra effort. 
Recover data: If your Windows 11 computer meets with any disaster, the software will easily restore your system and get your device back to working condition. 
Various backup modes: It offers four interactive modes to backup your hard disk, including full, incremental, differential, and scheduled backups. 
Real-time reporting: You can receive real-time backup reports to stay aware of any unexpected changes during the backup process. 
Password protection: The software also facilitates you to password protect your system image so that no one without your permission can access your backup files. 
Parting Thoughts 
Disk imaging is a disk rescuing process that can always protect your data and system settings from uncertainties. Using the disk imaging software for Windows 11, you can effortlessly revive your system in case of system failure or crash. 
Additionally, EaseUS disk imaging software is a highly compatible, free, and robust backup tool. Since you have such a great option to backup your whole disk, you shouldn't miss this opportunity and immediately take an image of your disk.
Daisy is the Senior editor of the writing team for EaseUS. She has been working in EaseUS for over ten years, starting from a technical writer to a team leader of the content group. As a professional author for over 10 years, she writes a lot to help people overcome their tech troubles.
Written by Gemma
Gemma is member of EaseUS team and has been committed to creating valuable content in fields about file recovery, partition management, and data backup etc for many years. She loves to help users solve various types of computer related issues.
Taking everything into consideration, we can say that EaseUS Todo Backup Home can offer you a little extra sense of security with a set of advanced tools. The interface provides quick adaptation, every process guiding you all the way through so you don't get stuck or further damage your system rather than keeping it safe.

 Read More

EaseUS Todo Backup Free lets you create backups of your important files or your entire computer through its streamlined interface. Just choose the backup type you'd like to get started, and let the program do the reset.

 Read More

EaseUS includes all the features I expect from backup software like versioning, incremental backups, and scheduling. For more advanced users, EaseUS allows you to install a pre-boot environment onto your hard drive so you can use it to restore files without burning a CD or putting it on an external USB drive.

 Read More

EaseUS Todo Backup
Smart backup tool for your files and entire computer in Windows 10/8/7.
Install Windows on Multiple Computers at Once? No Problem!
Learn how to install Windows 11/10/7 and special programs/software on a batch of computers. Use 10 minutes to do the 10 hours work without making a single mistake!
Get Free Solution!