The cloud storage service that has the most users anywhere is Google Drive. These days, many individuals regularly use cloud storage and internet sharing platforms. Sometimes it may cause various problems, such as becoming stuck while the file is being uploaded.
There is a wide variety of factors that could contribute to this problem. This article will cover how to fix the Google Drive Upload Stuck problem. Let's begin with a simple overview…
Overview of Google Drive Upload Stuck Problem
Many individuals now consider Google Drive the most effective method for preserving vital information. However, many users have reported issues with Google Drive freezing and experiencing upload difficulties.
For example, the Google Drive app on an Android smartphone may get stuck on "Waiting to upload," while the Google Drive app on a PC may get stopped on "Starting upload."
The upload speed might be affected by a variety of factors. You need to consider several parameters, including the size of the file, the available bandwidth, the browser or application cache, any interruptions caused by the server, and the program version.
The question is how to fix the Google Drive upload problem, whether it occurs on a PC or an Android device. Continue reading to find out the answers.
How to Fix Google Drive Upload Stuck?
There are two types of upload failures: "waiting to upload" and "beginning upload," both of which result in an error message. You'll be tasked with coming up with answers to these two problems in this section.
Stuck on Waiting to Upload.
To solve this problem first, we will take a look at three methods that will help you:
Fix 1. Clear Cache
Android and other mobile devices may have problems with Google Drive uploads when the software has too much cache or data. To see if you can solve it, try the methods listed below.
Step 1: The menu symbol in the top left corner of Google Drive on an Android smartphone may be accessed by clicking on it.
Step 2: Press OK after selecting Settings > Clear Cache.
Step 3: Connect to Google Drive after restarting your device.
Fix 2. Force Stop Google Drive
Here, try and force stop Google Drive using the following methods:
Step 1: Navigate to the device's Settings menu, pick the Apps & notifications submenu, and launch the Google Drive app.
Step 2: To determine whether or not Google Drive is stuck on completing an upload, you must click the "Force Stop" button and restart the application.
Fix 3. Turn Off Wi-Fi
Here, try and turn off the Wi-Fi settings in Google Drive:
Step 1: Launch Google Drive, then go to Settings from the menu.
Step 2: On this screen, use the toggle button to turn off the option to transfer files over Wi-Fi exclusively. The files should then be uploaded once again.
Stuck on Beginning Upload
To solve this problem first, we will take a look at three methods that will help you:
Fix 1. Check the Internet
Suppose the solutions above cannot solve the problem of Google Drive becoming stuck on beginning the upload. In that case, you may examine the network connection to see whether or not it is functioning properly.
Step 1: Proceed to your computer's Settings menu.
Step 2: Select Internet & Network from the menu. The Status window will then appear, allowing you to determine whether or not your computer has a stable connection to the network.
Fix 2. Turn off Any Browser Extensions
The second method entails the user turning off any browser extensions that are running in the background:
Step 1: Launch the Chrome browser, then go to the following address: chrome:/extensions/. You may also go to More tools > Extensions by clicking the More button in the top right corner.
Step 2: By using the right mouse button, you can pick the extension, and then using the switch to enable or disable the extension or clicking the Remove button, you can remove the extension.
Fix 3. Clear Cache And Data of Browser
Cookies, browsing history, and other data are saved in the browser we use, enabling us to view websites more quickly. Having excessive data may, on the other hand, result in issues such as the "Google Drive upload stalled" problem.
After that, if the uploading process on Google Drive is stalled, you may try clearing the data and cache that the browser has stored.
Step 1: Launch the web browser you normally use (taking Google Chrome as an example, and the steps to clear data and cache on other browsers are similar to Chrome).
Step 2: You may access the Settings menu by clicking the button with the three dots in the upper right corner of the screen.
Step 3: On the Settings screen, go to the Privacy and Security section and select Clear browsing data.
Step 4: Tap Clear data after selecting the date range to use.
Note: If you often upload files to Google Drive using your phone, you may want to try clearing the cache and data on your phone before attempting to upload files to Google Drive again.
Tip for Android: Follow these steps to clear the cache on your Android device: go to Android Settings > Apps and Notification > Drive > Storage & cache > CLEAR CACHE.
Tip for IOS: To delete an application from your iPhone, go to Settings > General > iPhone Storage > Drive > Delete App. After that, reinstall the Google Drive program on your computer.
Fix 4. Upload Files with Incognito Mode
If the clearing caches and browsing data don't work out, try and upload files using the incognito mode as shown here:
Step 1: Launch Google Chrome, click the More button in the browser's top right corner, and then pick the New incognito window.
Step 2: Go to drive.google.com and sign in with your Google account when you get there.
Step 3: Try uploading the file once again to see if it will work this time.
Fix 5. Switch to Other Free Cloud Storage
When Google Drive takes an excessively long time to upload files or even crashes, you are forced to spend additional time troubleshooting the issue, decreasing the time you can spend productively working or studying.
You may save your data just as easily on one of the many fantastic cloud drives available today instead of Google Drive.
OneDrive is an online storage service offered by Microsoft that users of Windows can access. Not only is it capable of storing any file, but it also works well with Microsoft Office 365.
In addition, Dropbox is an excellent option as well. It is one of the first cloud storage services, and as such, it performs well and has features that are simple to sync.
Fix 6. Turn to A Professional Google Drive Alternative
Users often use Google Drive as a storage spot for essential data and images and as a backup location. EaseUS Todo Backup, being one of the most robust data backup and disk cloning tools on the market, is equipped with a slew of high-end capabilities. You may build a basic backup and save it on the same system or an external storage device since it supports all of the typical disk and file copying functions.
In addition, more complex cloning operations are available. One of the most notable features of SQL Server and Exchange backup and recovery solutions is their ability to produce a safe copy of any sensitive data.
If you have essential data saved in Google Drive, the data will be easily lost or destroyed when this sort of problem happens again. You must back up your Google Drive to other cloud storage locations. The good news is that you can easily automate backing up your Google Drive data to another cloud drive by utilizing a professional and free cloud backup service, such as EaseUS Todo Backup.
Main Features of EaseUS Todo Backup
Set up a daily, weekly, or monthly backup schedule.
Replace the old hard drive with a new one that is similar to the old one.
An encrypted backup file provides an additional layer of security.
System backup images may be transferred across computers that have different hardware installed.
Follow these steps to do backup work with this intelligent tool:
Step 1. To start backup, click the Select backup contents.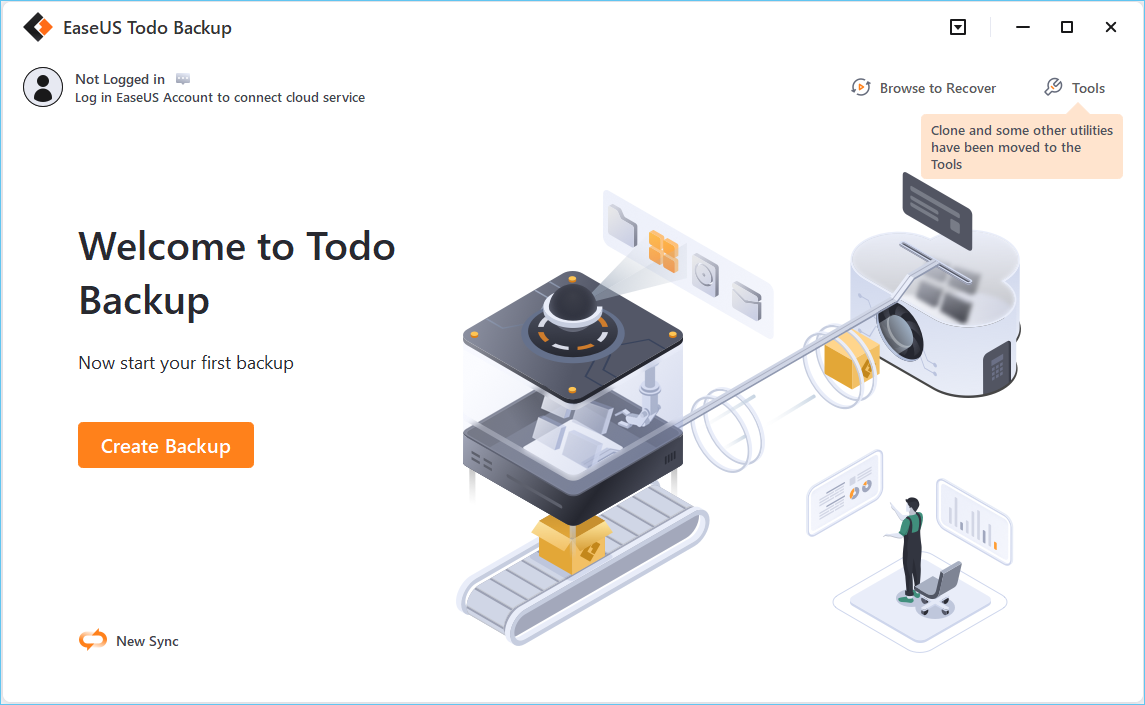 Step 2. There are four data backup categories: File, Disk, OS, and Mail.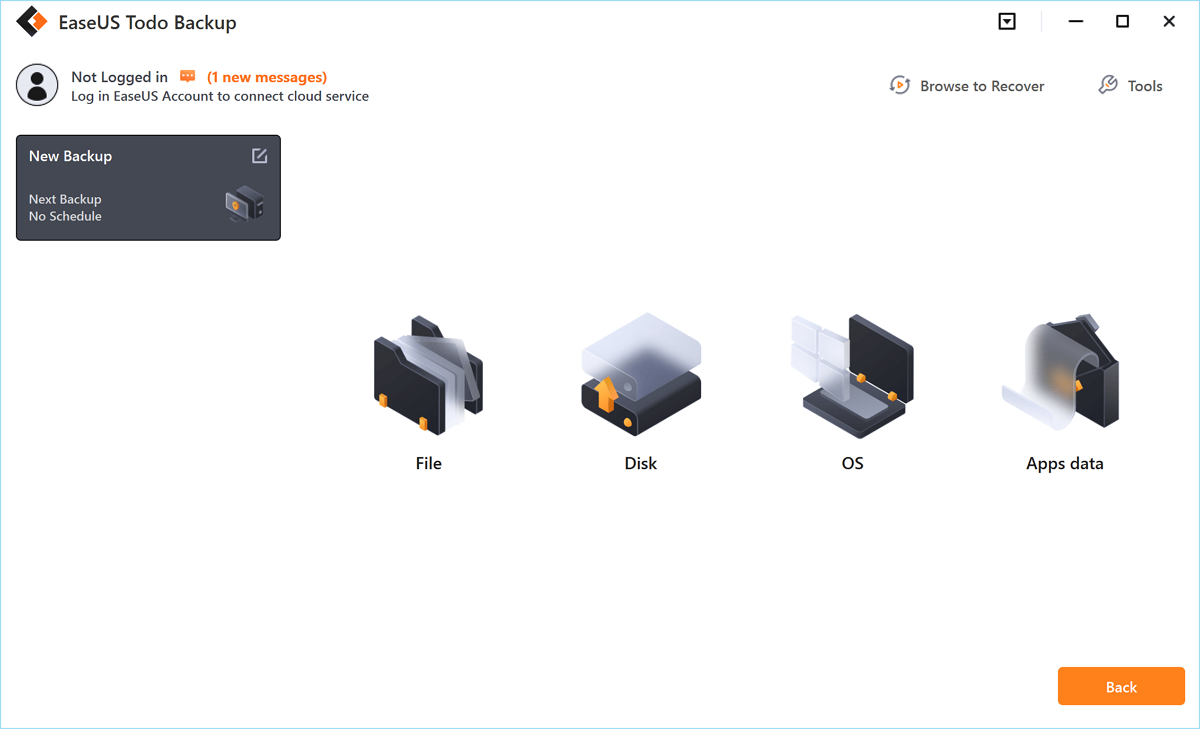 Step 3. On the left-hand side, you'll see a list of local and network files. Selecting the files to be backed up by expanding the directory.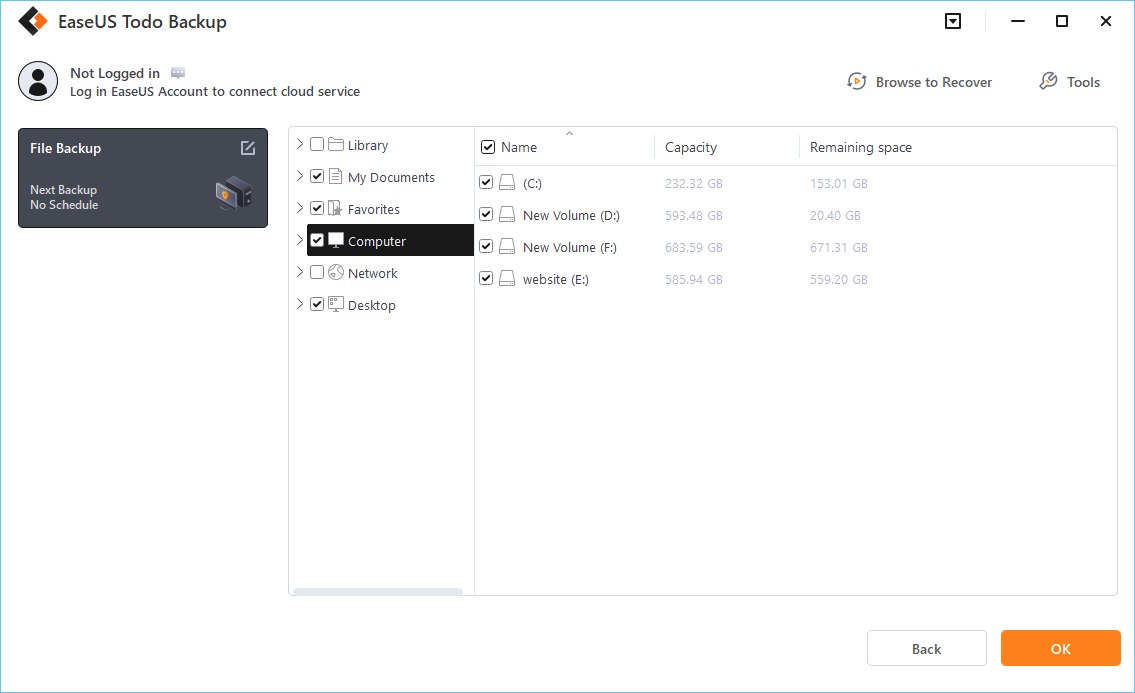 Step 4. Follow the instructions on the screen and pick the location where you wish to store the backup.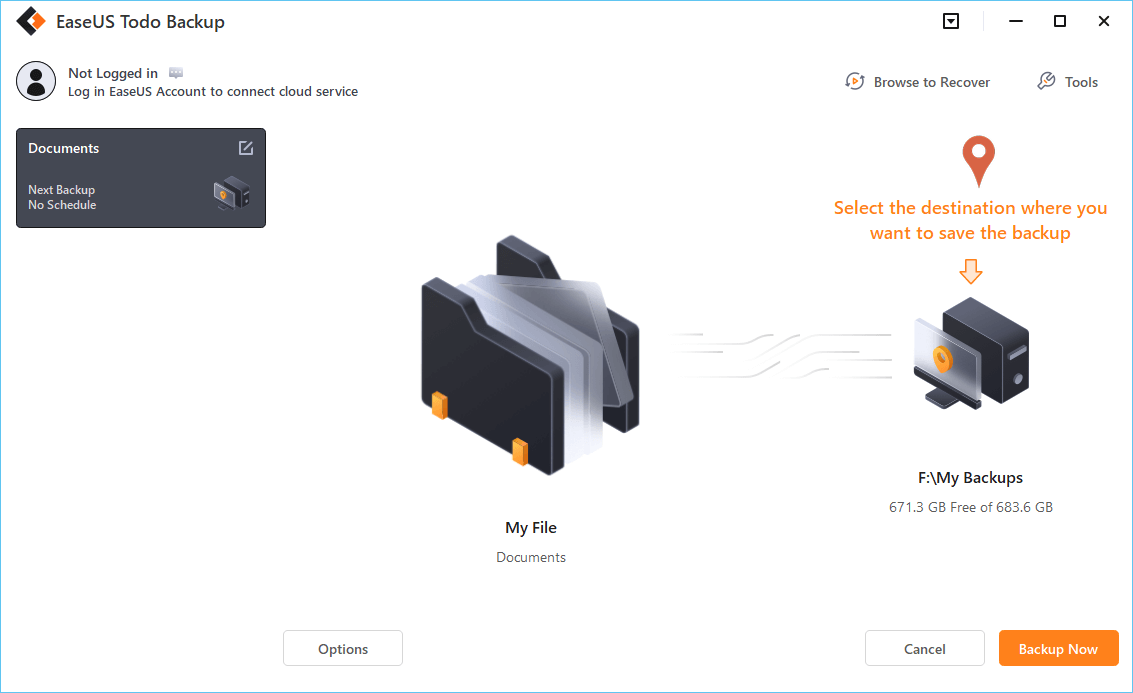 In Backup Options, click Options to encrypt the backup with a password, specify the backup schedule, and choose whether or not to start the backup at a certain event in Backup Scheme. There are a variety of customizable features available for you to explore, and you may tailor the backup operation to meet your specific requirements.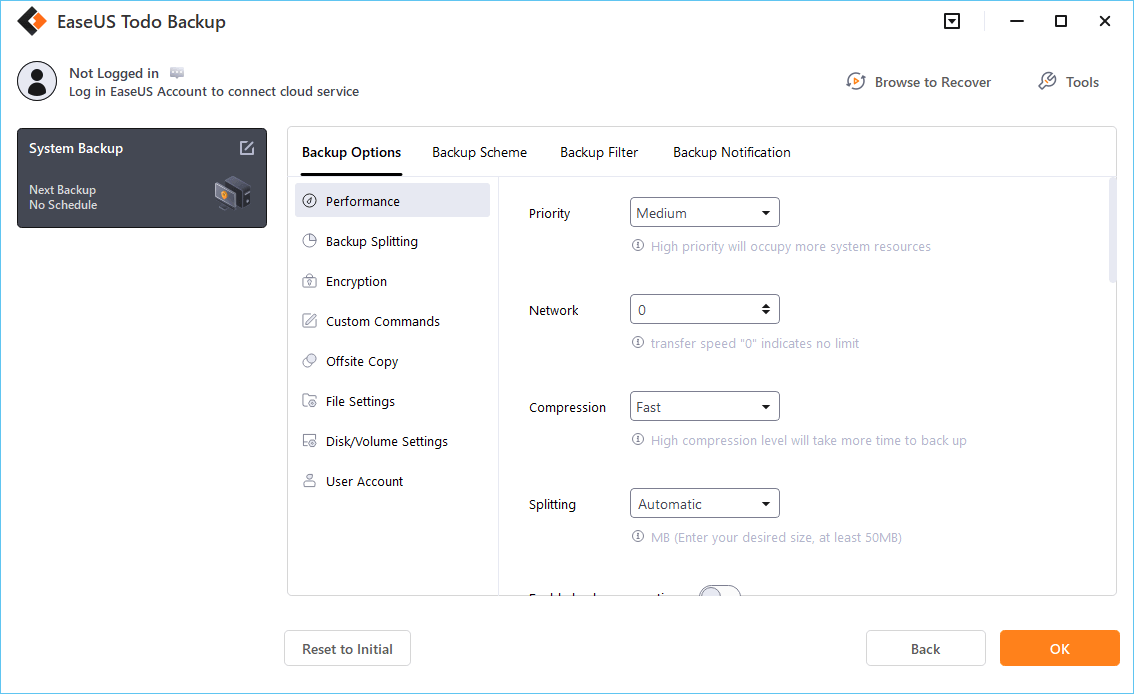 Step 5. Backups can be stored on a local disk, in EaseUS's cloud service, or on a network attached storage device (NAS).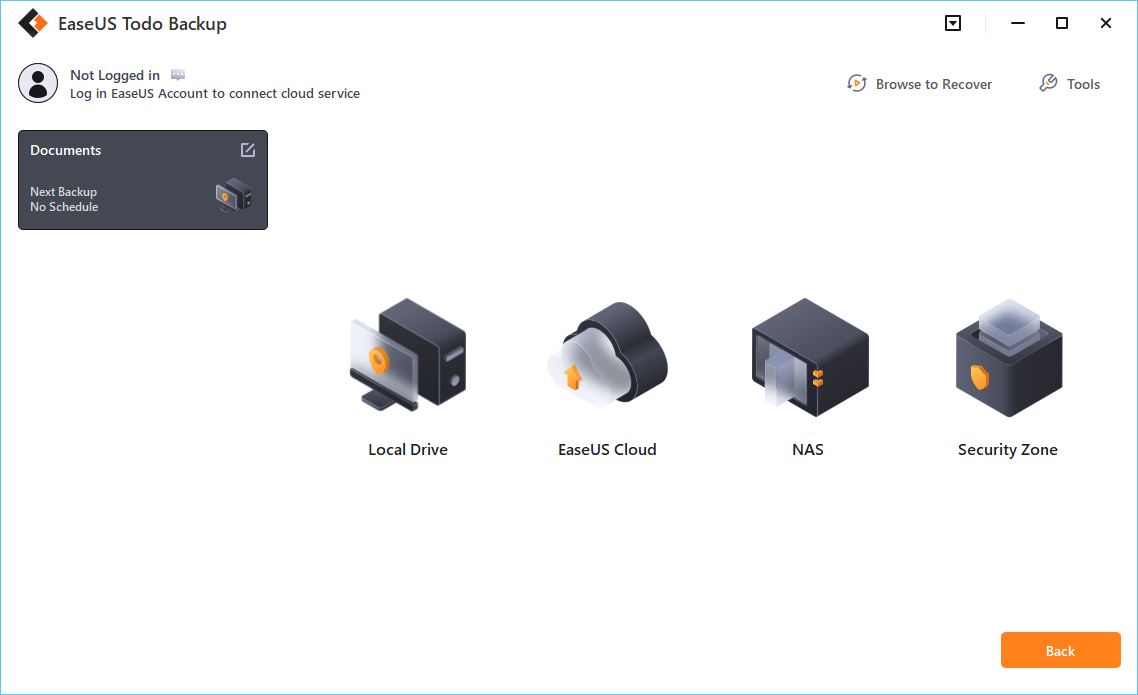 Step 6. EaseUS Todo Backup allows customers to back up data to a third-party cloud drive or the company's own cloud storage.
If you wish to back up your data to a third-party cloud drive, select Local Drive, scroll down to add Cloud Device and enter your account information.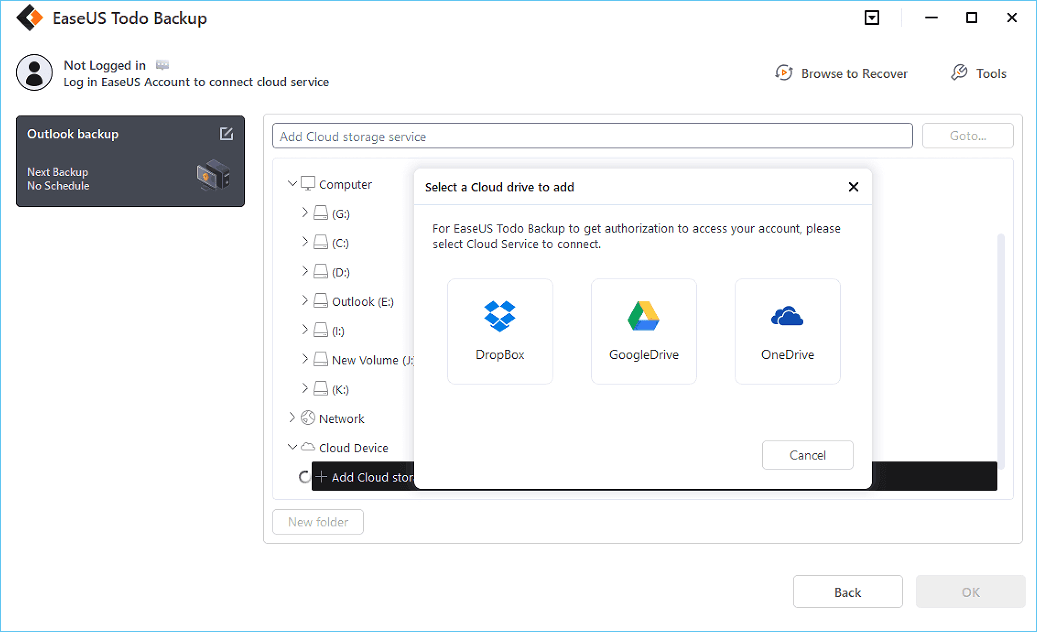 You may also use EaseUS's own cloud storage service. Click EaseUS Cloud, create an account using your EaseUS Account, then log in to your account.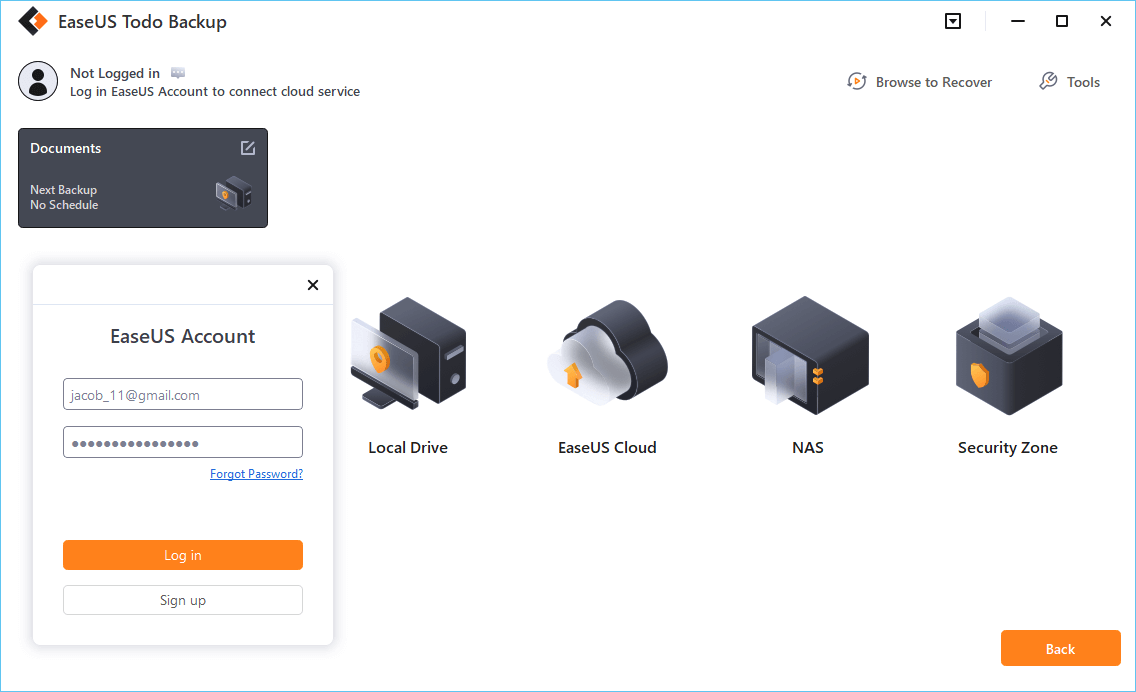 Step 7. To begin a backup, choose Backup Now. It will appear in the shape of a card on the left-hand panel when the backup process has been successfully finished. To handle the backup job in more detail, right-click on it.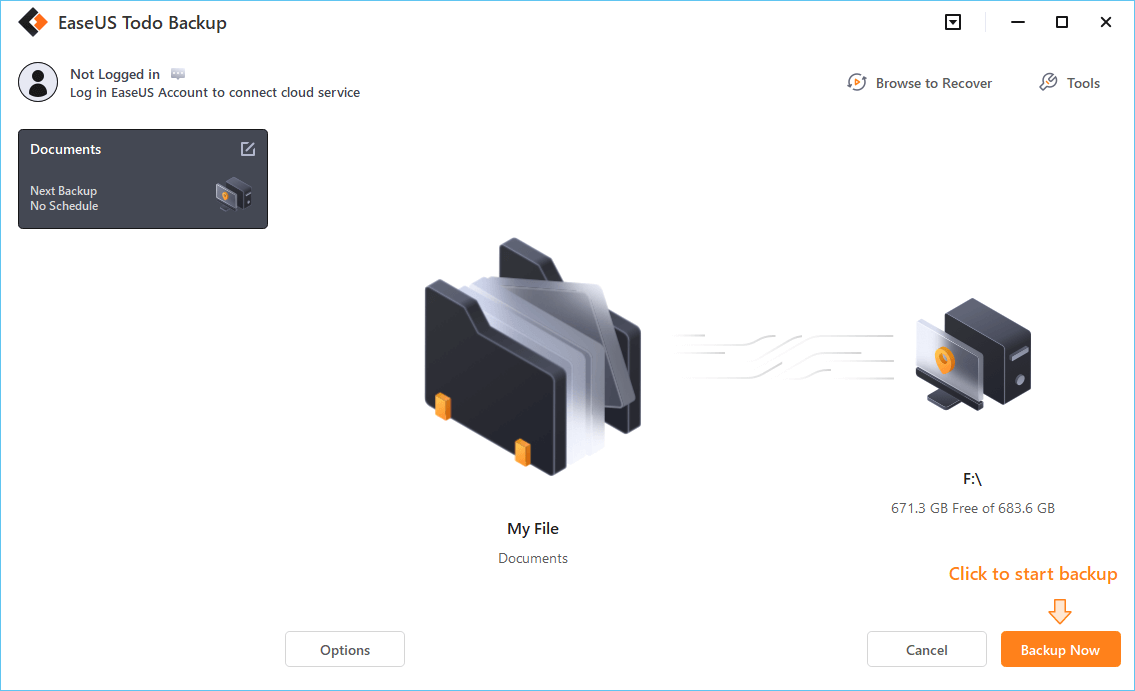 Conclusion
Hopefully, one of these solutions will resolve the issue; nevertheless, if you find yourself in an impossible situation where the issue continues to exist, and you continue to question yourself, "Google Drive is stuck on commencing upload?"
How can we correct this mistake? Regarding backing up all of your crucial data, we strongly suggest you use Ease Todo Backup. Its excellent features will keep you hooked!

Updated by Larissa
Larissa has rich experience in writing technical articles. After joining EaseUS, she frantically learned about data recovery, disk partitioning, data backup, and other related knowledge. Now she is able to master the relevant content proficiently and write effective step-by-step guides on computer issues.
Written by Gemma
Gemma is member of EaseUS team and has been committed to creating valuable content in fields about file recovery, partition management, and data backup etc for many years. She loves to help users solve various types of computer related issues.
Taking everything into consideration, we can say that EaseUS Todo Backup Home can offer you a little extra sense of security with a set of advanced tools. The interface provides quick adaptation, every process guiding you all the way through so you don't get stuck or further damage your system rather than keeping it safe.

 Read More

EaseUS Todo Backup Free lets you create backups of your important files or your entire computer through its streamlined interface. Just choose the backup type you'd like to get started, and let the program do the reset.

 Read More

EaseUS includes all the features I expect from backup software like versioning, incremental backups, and scheduling. For more advanced users, EaseUS allows you to install a pre-boot environment onto your hard drive so you can use it to restore files without burning a CD or putting it on an external USB drive.

 Read More

EaseUS Todo Backup
Smart backup tool for your files and entire computer in Windows 10/8/7.
Install Windows on Multiple Computers at Once? No Problem!
Learn how to install Windows 11/10/7 and special programs/software on a batch of computers. Use 10 minutes to do the 10 hours work without making a single mistake!
Get Free Solution!