You will agree with me if I say: It is terrible if you lost data without any backup.
Well, your data is only as valuable as your current backup. If you have precautions - a backup or image, it's a piece of cake to protect your data.
Why Do You Need a Windows 10 Disk Imaging Software
In general, disk imaging is just a piece of storage equipment that includes the complete contents and structure on behalf of a data storage media, such as a hard drive. Usually, it can be created by some disk imaging software through the way of backing up the source media sector by sector.
With the increasing development of computer technology, computer users face many disk troubles, such as a system crash, which may cause a serious data loss or do great harm to the computer. The disaster happens to Windows 10 users frequently. To avoid the damage of data and the reinstallation of the operating system and some other application, the disk imaging software for Windows 10 can aid the users to clone system disk Windows 10 and do Windows 10 backup restore job with little effort is needed.
Not all disk imaging solutions are created equal. Some imaging software for Windows 10 only backs up specific files or files with limited platforms. Thus, I have listed the seven best free imaging software according to the price, platform, interface, and functions. Here is the list of the seven best disk imaging software:
Top 1. EaseUS Todo Backup Free
Here we recommend you EaseUS Todo Backup Free, an award-winning and free disk imaging software for Windows, for its robust, safe, and easy-to-use feature. With its detailed instruction wizards, it allows you to quickly backup your system state, files, folders, partition, and disk in minutes without the help of an IT specialist. This way can help you save a lot of time to reinstall Windows OS & applications to recover lost data from an unexpected disaster.
Platform: Windows 11/10/8.1/8/7/Vista/XP
Interface: New and user-friendly
Highlighted Features:
One-click backup and restore functions
Support system backup, file backup, disk/partition backup
Scheduled backup is allowed
Provide 250GB of free cloud space (AWS-based cloud service)
How to Back Up Data with the Best Free Imaging Software
Step 1. Open EaseUS Todo Backup and choose "Create Backup" on the home page, click "Select backup contents".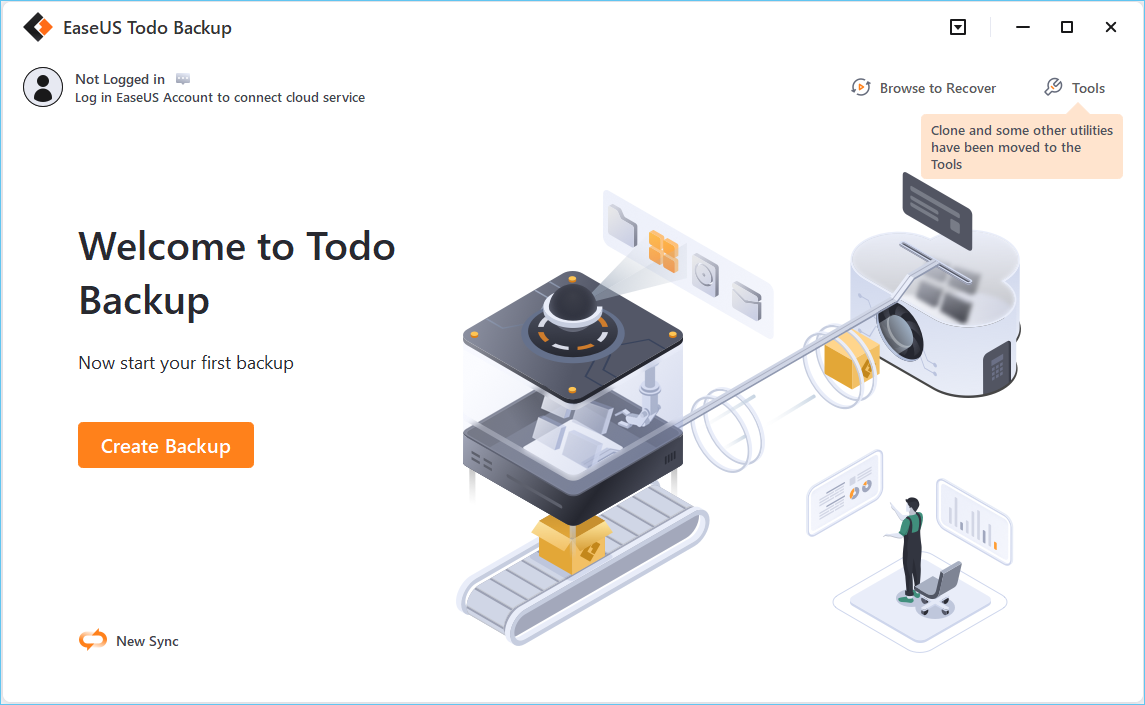 Step 2. As you want to back up your Disk, just click "Disk" to start back up.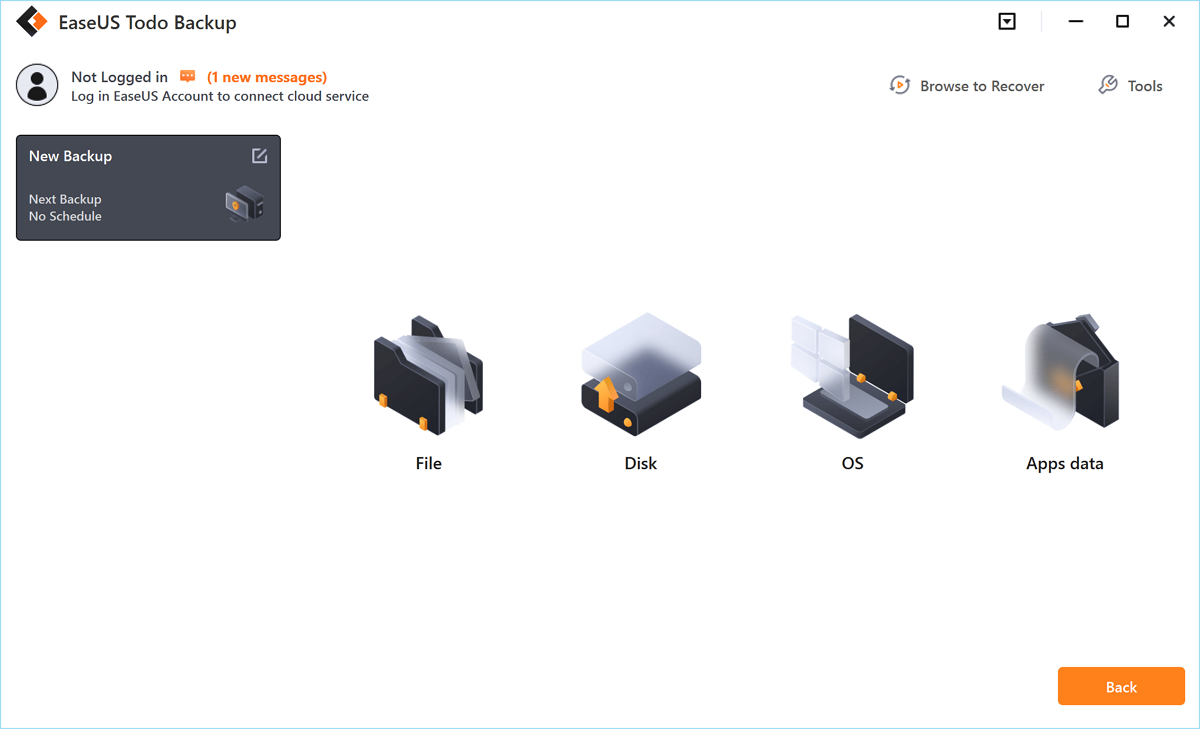 Step 3. EaseUS Todo Backup offers you options. You can choose to back up a whole disk or a certain partition as you need. And then click "OK".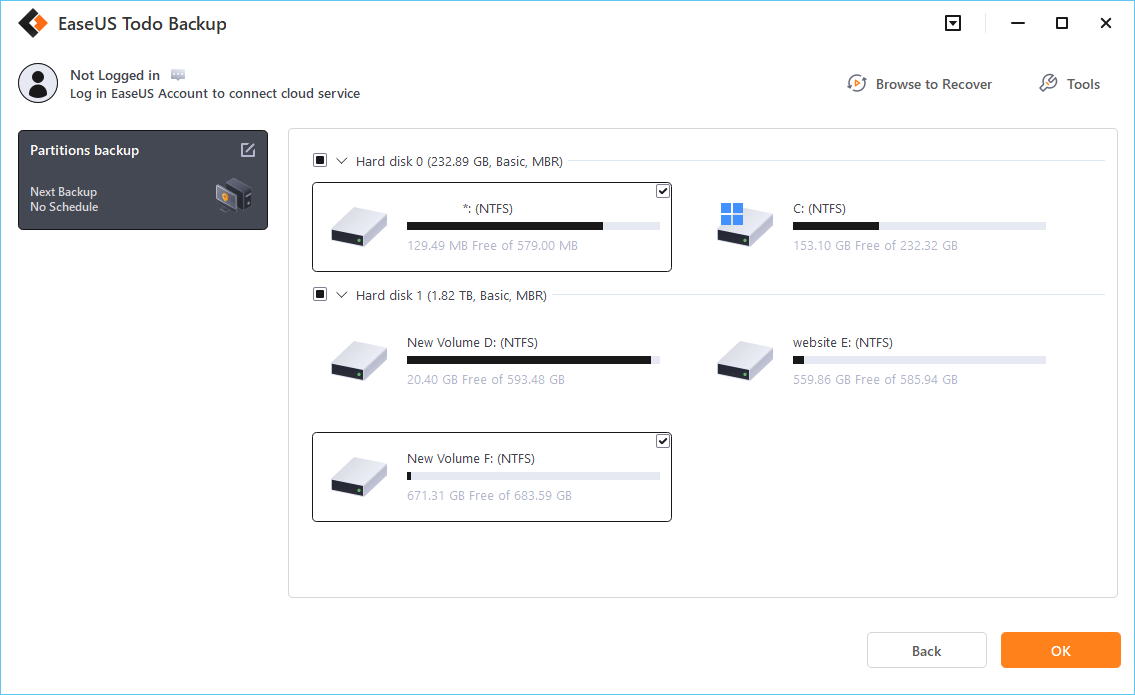 Step 4.  Select the destination where you want to save the backup. You can choose to save the disk to a local drive or to NAS.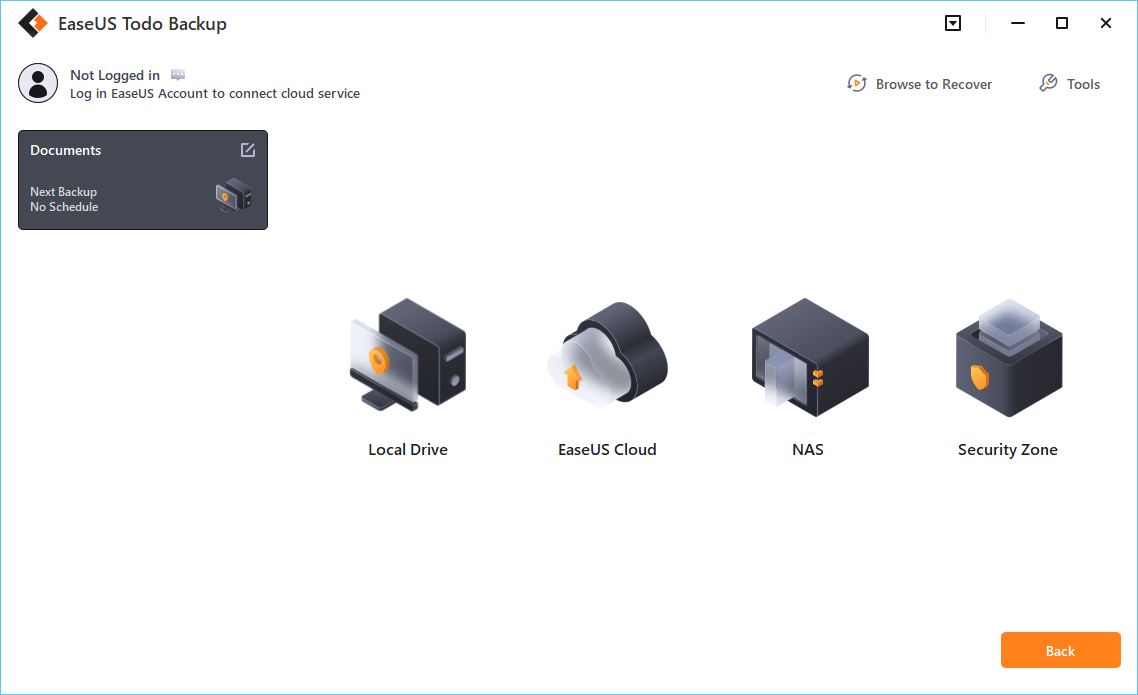 Step 5. Click "Backup Now", after the backup process is completed, you can right-click any one of the tasks to further manage your backup such as recover it, create an incremental backup, etc.
Top 2. Acronis True Image
Acronis True Image (now called Acronis Cyber Protect) offers full disk image and incremental backups, notifications, and more. It is one of the top disk imaging solutions on the market for users who need to protect their data. Acronis outperforms other competitors in the field of cloud backup. It not only has its own cloud server but also has mobile and PC apps that enable users to access backup content anywhere and anytime.
Platform: Windows 10/8.1/8/7
Interface: New and less user-friendly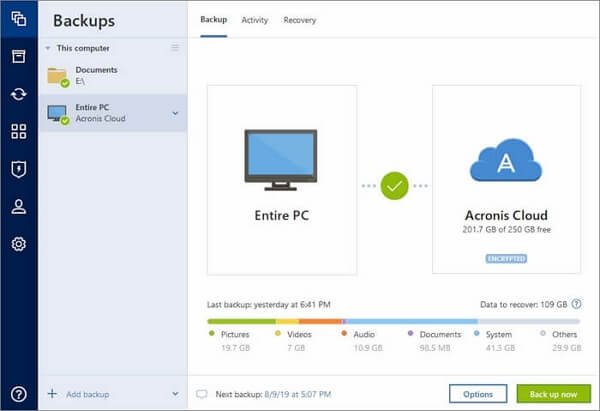 Highlighted Features:
Schedule automatic backup
Open an image at any time
Backup full disk images and individual files
Top 3. Macrium Reflect
This disk imaging software allows you to perform an incremental and differential backup. Besides, you can run a scheduled backup to protect files automatically. It is a free backup, disk imaging, and cloning solution that meets both commercial and personal users' needs. But there are also complaints from users that Macrium Reflect's user interface is a bit complicated and it takes more time to learn how to use it.
Platform: Windows 11/10/8/7/Vista/XP
Interface: Old and less user-friendly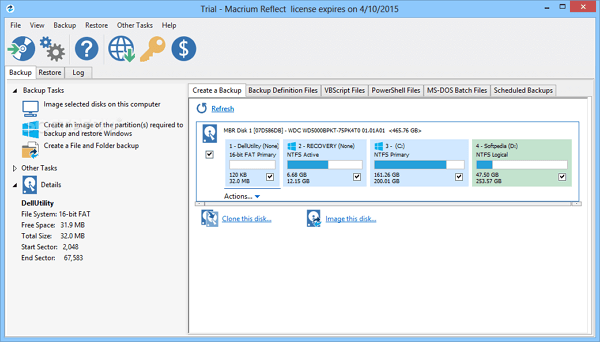 Highlighted Features:
Pre-defined backup plan templates
Protect your backups from ransomware
File and folder backup
Top 4. Iperius Backup 
Iperius Backup provides you with full system backup and disaster recovery. With this software, you can drive the image and backup to NAS, Dropbox, OneDrive, and Google Drive. It is excellent for organizations that require a user-friendly disk imaging solution.
Platform: Windows 10, 7, 8 - Server 2008
Interface: Old and less user-friendly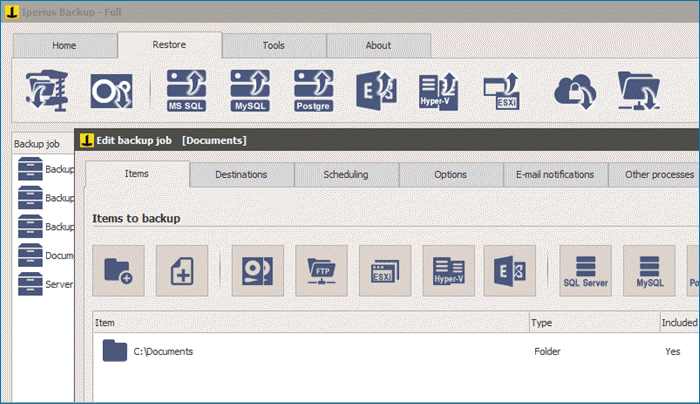 Highlighted Features:
Disk cloning and P2V conversion
Instant restore by starting the cloned system in Hyper-V
Standard format for backup files (VHD/VHDX)
Complete BitLocker support (backup and restore)
Top 5. Clonezilla
This is free imaging software for Windows 10. It helps you to do system deployment, bare metal backup, and recovery. There are three versions of Clonezilla available to download: Clonezilla Live, Clonezilla Lite Server, and Clonezilla SE.
Price: free
Platform: Windows/Mac/Linux
Interface: Old and hard for beginners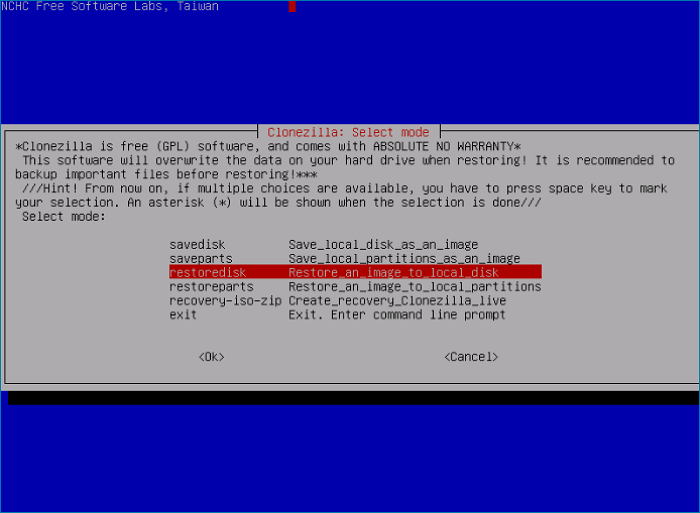 Highlighted Features:
Clone disk/partition to a separate hard drive
Support multiple file system: FAT 12/16/32, ext2/3/4, NTFS, HFS+, UFS
Provide a number of encryption options to encrypt disk images
Top 6. Zinstall FullBack
Zinstall FullBack covers everything you need. It can create a backup of your programs, software settings, accounts, and emails. You can save the backup on cloud storage or a USB drive or Dropbox, OneDrive, or Amazon.
Price: $199 one-time payment; 30-day free trial
Platform: Windows 10/8.1/8/7
Interface: New and simple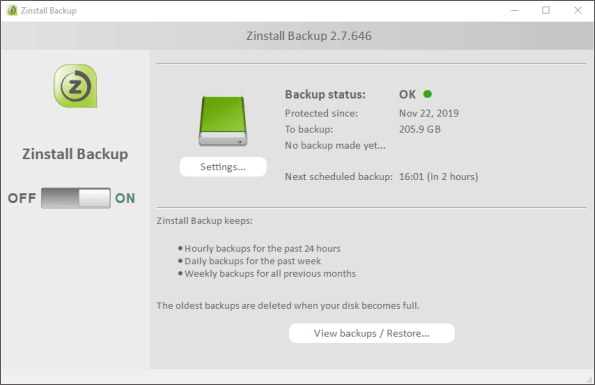 Highlighted Features:
Easy on CPU
Full and Partial Restore is possible
Single One-time payment
Top 7. Active Disk Image
The last Windows 10 free imaging software is - Active Disk Image. With it, you can back up to a range of disks, including HDD, SSD, CD, DVD, USB flash drive, memory cards, USB, and more. Scheduled backups enable you to update your storage regularly.
Price: $39 for the standard version
Platform: Windows 10/8.1/8/7/XP
Interface: Old and complex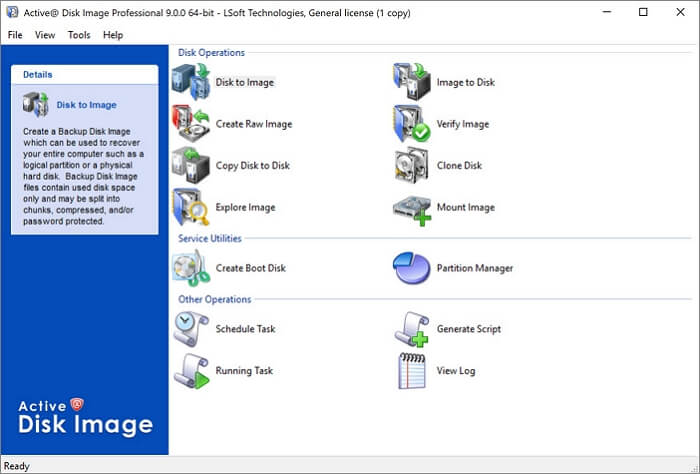 Highlighted Features:
Clone disk images and partitions
Scheduled backup
Incremental and differential images
AES-128, AES-192, and AES-256 encryption
The Best Free Windows 10 Disk Imaging Software
According to the top imaging software list for Windows 10, EaseUS backup and recovery software stands out among them. EaseUS Todo Backup provides one-click system backup and restore so that you can quickly back the system up and running in the event of a system crash or hardware failure. Besides, it allows you to back up and restores Windows 10 disk, partition, files, or folders after viruses attack, unstable software download, hard drive failure, etc.
Besides, to provide continuous protection for the system, you can back up the Windows 10 system with incremental backup later after the first backup. Differential backup and incremental backup only backs up the changed files.
Meanwhile, EaseUS Todo Backup is useful if you want to upgrade the older smaller hard disk without reinstalling the operating system and applications once again in Windows 10.
Conclusion
The disk-imaging product with advanced functions, user-friendly interface, and lower price, is the best one. EaseUS Todo Backup is the best disk imaging software on the market today. Download it and protect your data at any time.
Daisy is the Senior editor of the writing team for EaseUS. She has been working in EaseUS for over ten years, starting from a technical writer to a team leader of the content group. As a professional author for over 10 years, she writes a lot to help people overcome their tech troubles.

Author Jean has been writing tech articles since she was graduated from university. She has been part of the EaseUS team for over 5 years. Her special focuses are data recovery, disk partitioning, data space optimization, data backup and Mac OS. By the way, she's an aviation fan!