Updated by
Jean
on Jan 16, 2023
Are you looking forward to some best auto backup software for PC? If yes, this guide will help you in getting a fundamental idea of how to use automatic software to backup PC data and what the best options are enlisted at this moment. 
Whether personal or professional, data backup is one of the most important things for everyone. The majority of the time, we fail to get access to the preferable data due to specific hardware issues. To avoid such incidents, cloud storage solutions were being landed up in the marketplace that have eased up the data handling tasks much more conveniently for the users. The best thing about these resources is that one can quickly access their preferred data anywhere they want. 
We will introduce you to the best commercial and free backup software solutions for PC that will ease up the different tasks conveniently for you.
Why Do You Need To Backup PC Data?
Backing up computer data helps users to restore the preferable data from an earlier point in time. The same is quite helpful in recovering the business from an unplanned event. Storing a copy of the preferable data on any separate medium helps people get critical protection against direct data loss or corruption issues.
Best Auto Backup Software For PC [FREE DOWNLOAD] 
Different reasons can lead to data loss, from hardware failures to ransomware attacks. Data losses hold the capability of causing considerable damage to a person or organization. It doesn't matter whether you have faced such an incident or not yet. Perfect backup software for PCs helps users restore valuable data without any hassle. 
Data backup stores your data in a different place, usually the cloud, and keeps it secure throughout. It is the best thing one could opt for to prevent your hard work from being crushed.
Being featured with a lot of advanced features, EaseUS Todo Backup Free is one of the perfect options for all those who are currently looking forward to a more intelligent data backup solution.
The tool comes up with a one-click backup solution and ensures users have instant recovery while providing higher efficiency. Whether it's about performing disk imaging tasks or you have to save backups in a safe condition, it is an excellent backup solution that will perform all of the things conveniently for you.
It is one of the widely used tools available in the list that provides users with about 250GB of free cloud storage without hassle.
Features:
One-click backup solution
Ensured instant recovery
Higher efficiency
Provides 250GB of free cloud storage
Saves backups perfectly
Performs disk imaging effortlessly
Here is an article to show you the power of EaseUS Todo Backup Free. Just click the link below and see what the software brings to you.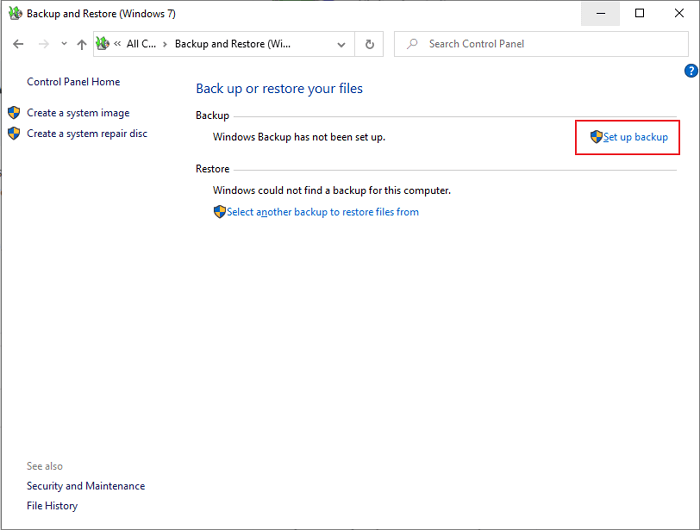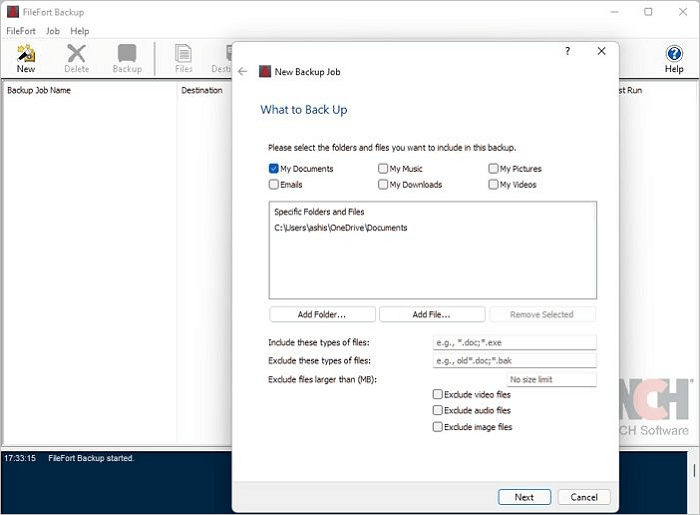 Adding up another leading name in the list of auto backup software for PP is a fantastic option that helps you in keeping your data safe and secure throughout. The platform comes up with a straightforward and easy-to-go setup wizard and provides easy backup manually or automatically.
The best thing about this beautiful backup solution is that it supports a wide range of storage media solutions for users. Users here can easily store their account login to backup Google Drive.
Moreover, it can also conveniently save file backups to Amazon S3 and Dropbox accounts. It is a wonderful backup software solution that can run efficiently on 64-bit Windows. 
Features:
Powerful backup solution
Easy setup wizard
Supports a wide range of storage media
Save backup files on Amazon S3 and Dropbox
Run on 64-bit Windows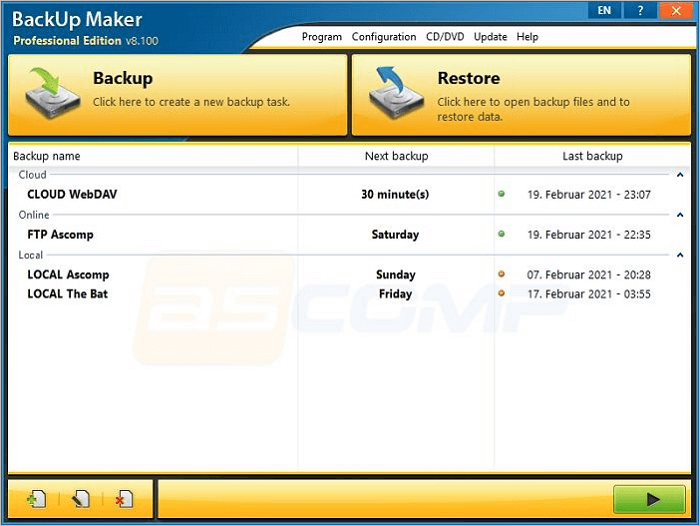 Backup Maker is a complete solution for all those who are willing to secure their computer systems from viruses, user errors, and computer crash situations. It is a great platform that perfectly stores your files and offers intuitive functionality that makes your task even more convenient.
The user can easily select their data and set optimization for the scheduled backups without hassle. It can quickly transfer the data stored on the hardware to the cloud. A backup Maker is an absolute option for keeping your sensitive data secure all of the time.
The tool comes up with highly secured encryption of about 256 bits, making it easier for users to transfer protected backups to the web server through FTP or FTPS upload.
Features:
Automatic stores files and folders
Offers intuitive functionality
Users can set automatization for the scheduled backups
Provides highly secured encryption of about 256 bits
Generate multiple backups without any hassle.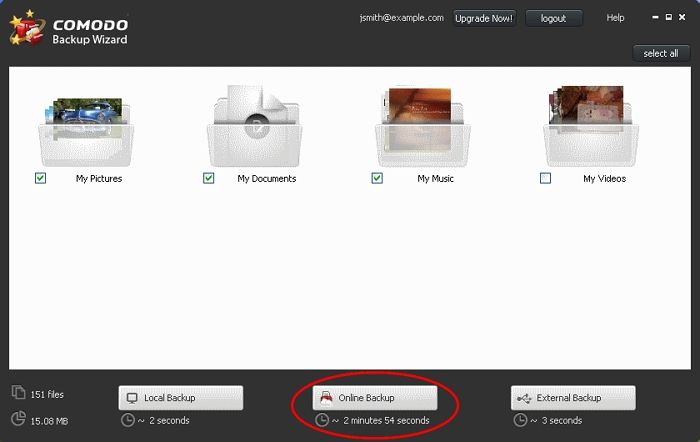 COMODO Backup is another excellent backup solution that can be easily configured to automatically backup critical data. It is a free backup software that can quickly isolate things and restore the preferable data anytime you want. The tool offers absolute compression and encryption support and effortlessly backups to different sources. It offers a wide range of backup methods and supports different backup sources. The tool utilizes a volume shadow copy feature, making the file copying process much more convenient. The tool goes great with 64-bit Windows solutions. 
Features:
Easy setup 
Works well with 64-bit Windows
Easy file restoration
Absolute support for different resources and methods
Easy customization of the backup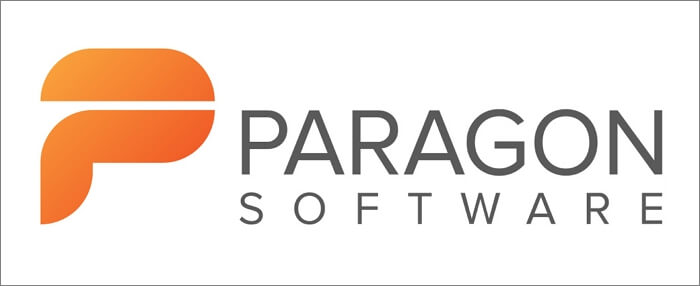 It is an all-in-one centralized software solution that assists you in backing up the virtual and physical IT infrastructures effortlessly. The tool is designed to work well with different servers such as VMware, vSphere, Microsoft Hyper-V, and much more. The tool is designed to be quick and flexible and also provides easy replication to virtual machines. It is an excellent option to run a business in continuity. The backup solution ensures users have disaster recovery without any issues. It keeps all your business and critical applications and data safe and ensures their availability per the preferences.
Features:
Easy backup solution for different applications
Ensured data safety across physical, virtual, and hybrid environments
Perfect managed data retention
Granule recovery and easy restoration

Cobian Backup 11 is another excellent file backup solution that makes it easier for users to enjoy automatic backups from different directories and files. The tool can be efficiently run as a service and regular application. It offers complete backup to your data from the same computer and on the FTP server network. The best thing about this tool is that it offers unlimited support for compression and encryption. It is a new backup solution in the market that ensures users have smooth SFTP transfers. The tool is designed to be independent of the DPI and features different vector graphics and Windows Presentation Foundation to take your user experience to the next level.
Features:
Ensured automatic backup for directories and files
Backup of different computers, networks, and FTP servers
Supports compression and encryption
Support SFTP transfers
Doesn't features DPI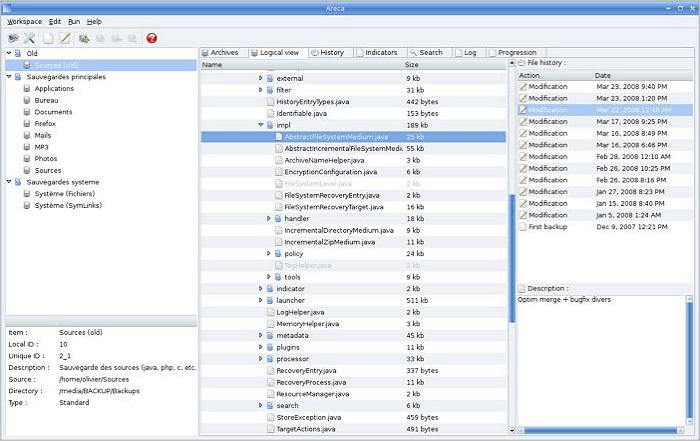 It is an open-source personal backup solution that allows users to back up the files and directories per their own choice. The tool works well on many file formats and can conveniently enable storage and configuration of post backup actions. It is a simple and easy-to-go solution that doesn't feature any complex configuration files to edit.
It is a versatile option in the list that ensures users have advanced backup modes that conveniently simplify the essential product and source files. The tool offers you the freedom to interact with your archives conveniently. You can easily track and receive a specific version of a file and can merge a set of archives into it as well.
Features:
Open-source personal backup solution
Comes up with easy setup and access
Features advanced backup modes
Versatile backup software
Works well on different file formats
Which Is the Best Auto Backup Software for Windows 10/11
Not all backup applications are created equal. It all depends on the requirement of a specific consumer group.  Some are simple and easy to set up, but they can't do anything which has too many rules. On the other hand, you have a complex setup, but they are perfect for scenarios where consumers need to take backup in different ways and situations.
As you can see, there is no one perfect backup software. It all depends on your need. Some will need setup and forget, while others would need more control over the backup methods.
How to Backup PC Data with Auto Backup Software?
Backing up PC data is the best possible thing one can do to enable secure access to it in the future. Physical damages and virus or malware attacks can ruin one's experience. Backup is an absolute assurance that helps you recover data in case of any damage.
When it comes to backup data solutions, EaseUS Todo Backup is one of the preferable names that comes to one's mind. It is one of the finest backup solutions that not only offer you about 250 GB of data storage for free but also makes it convenient for the users to get unlimited access to it without any issues. The tool is designed to be quite simple and easy to navigate. It is a tool that is currently tested and trusted by millions globally.
Features:
One-click backup
Ensured instant recovery
Perform disk imaging tasks efficiently
Provides high efficiency without any failure
Keeps your backup safe throughout
Steps of how to backup PC data with EaseUS Todo Backup Free are listed below:
Step 1. For the first time you use EaseUS Todo Backup to back up files, click Create backup on the home screen and then mouse click the big question mark to select backup contents.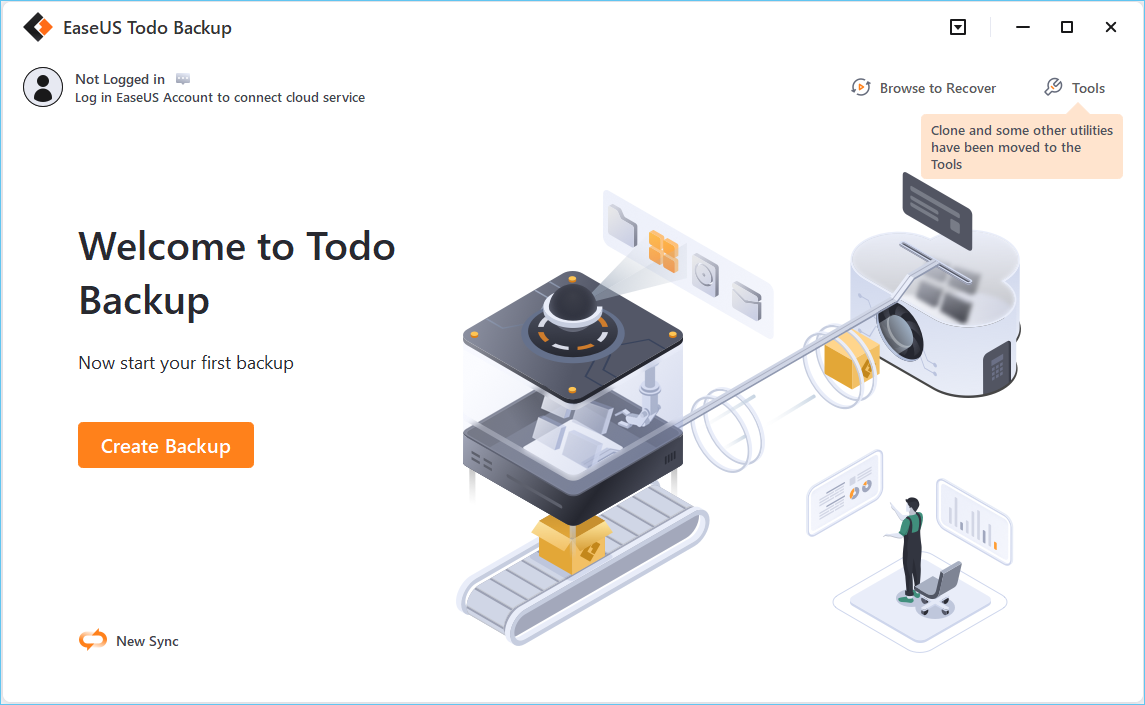 Step 2. Since you're going to back up files and folders on your computer, go on with the "File" backup mode, where you can select pictures, videos, documents and all other types of files to back up.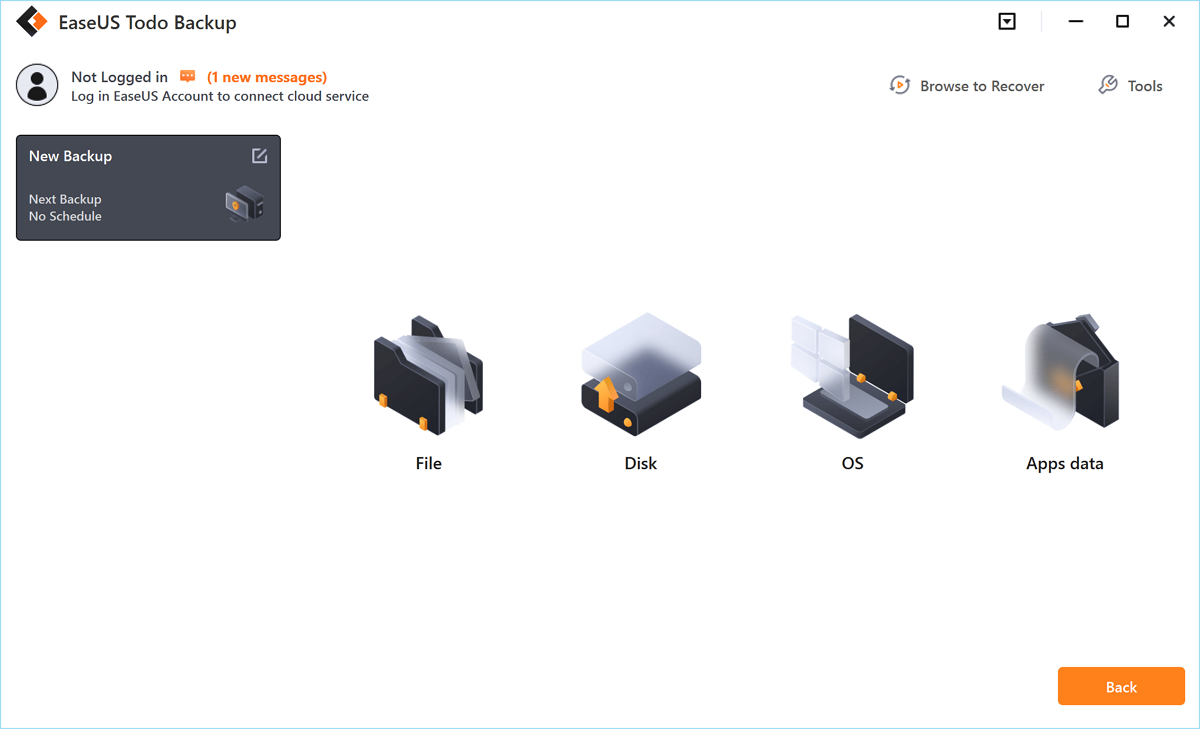 Step 3. Follow the paths to locate the files, folders or directories you want to back up, select them all and click "OK".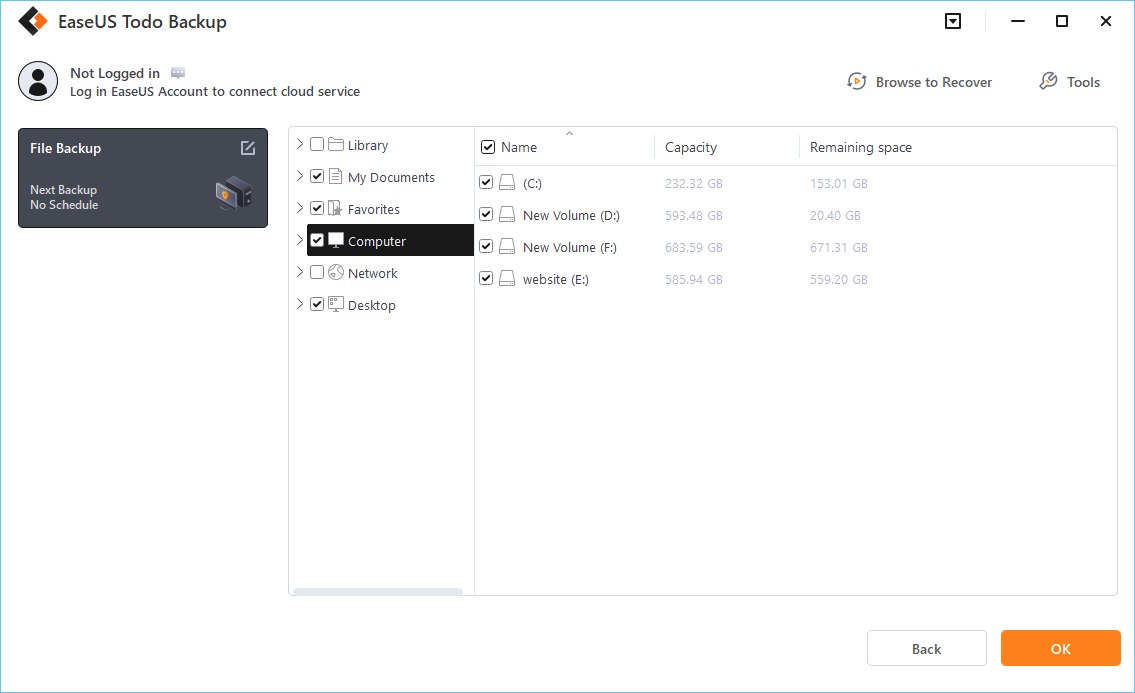 Step 4. Now you need to select a backup location to save and retain the backup.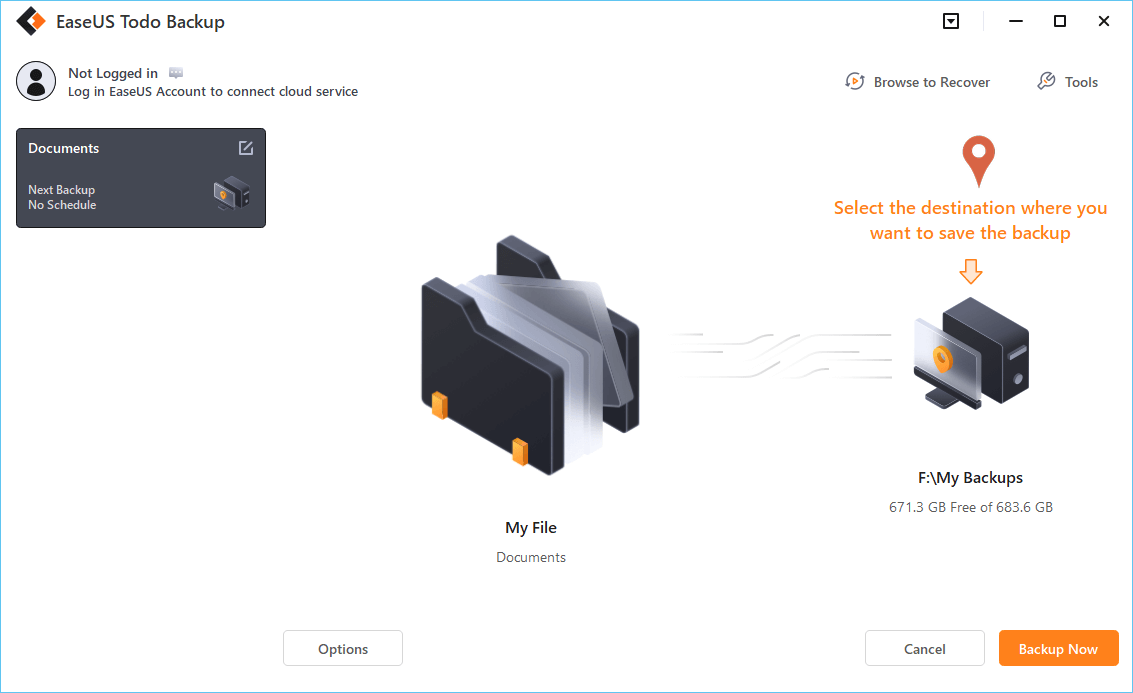 Step 5. EaseUS Todo Backup allows users to save the backup files to every device that is handy for you, like a local hard drive, external USB drive, SD card, network drive, or a NAS drive, plus a cloud drive of the EaseUS brand. We personally recommend users to choose the cloud drive prior to a physical drive to save important backups due to the greater accessibility, flexibility and safety.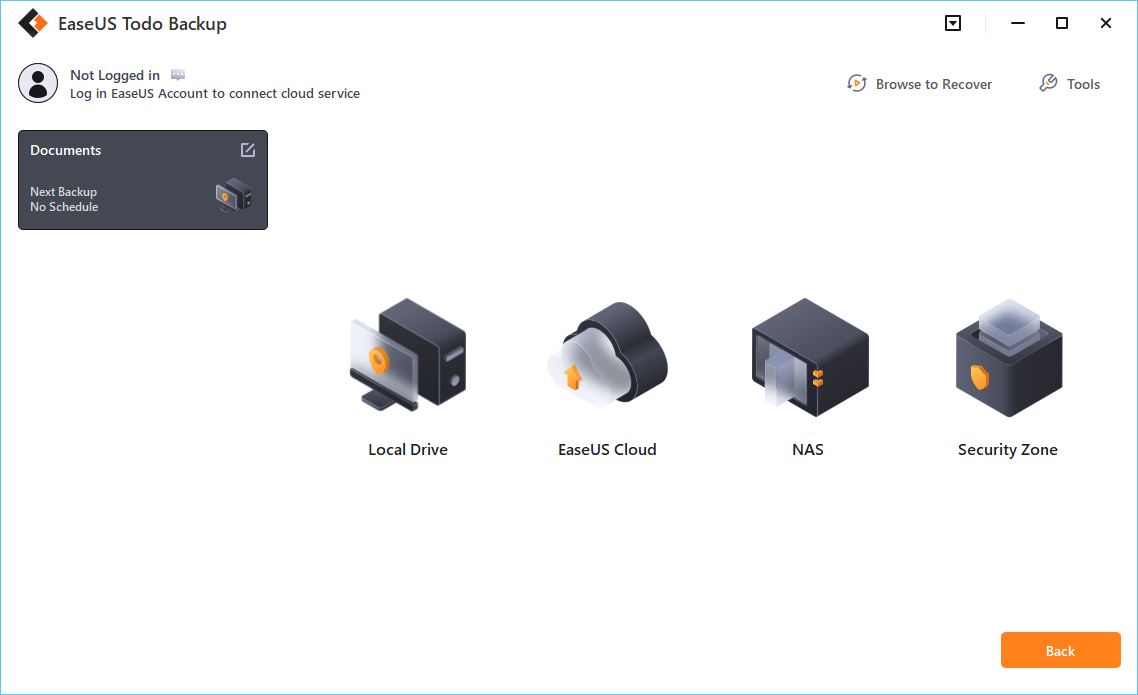 To be able to access to EaseUS cloud, all you need is an email registration and login.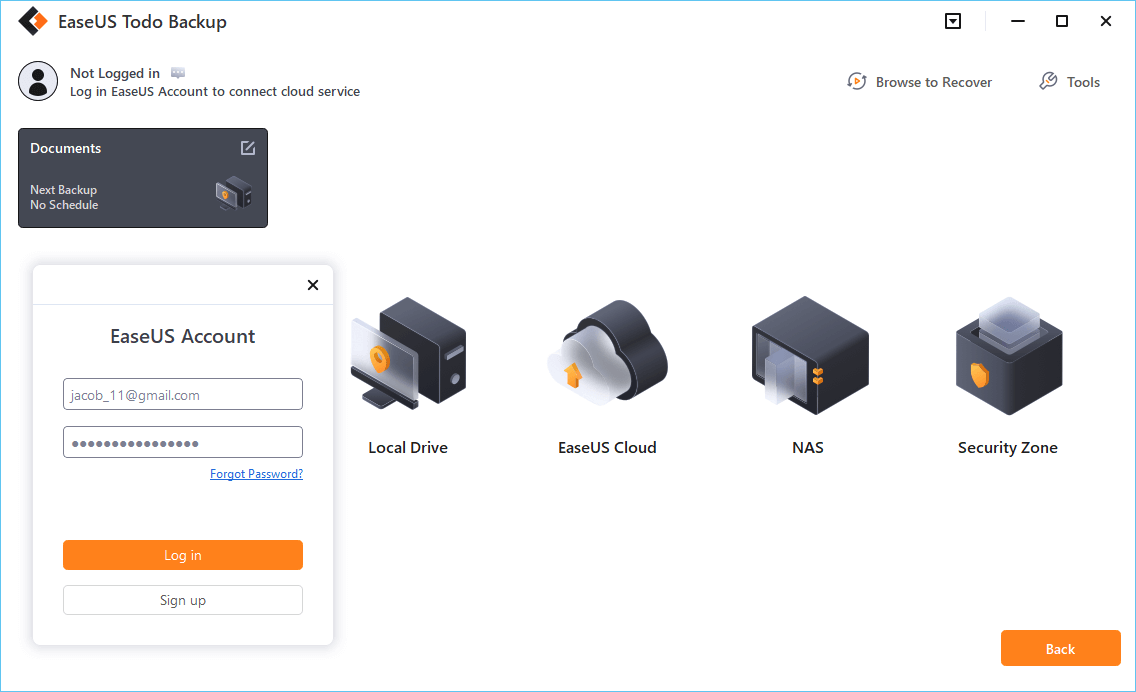 Step 6. If you're interested in an automatic and intelligent backup schedule for the next file backup task, go on with the "Options" setting. There you can encrypt a confidential file backup, compress the backup image size, or customize a backup scheme to tell the software in what time to start the next backup. 
Customize an advanced and automatic backup task here: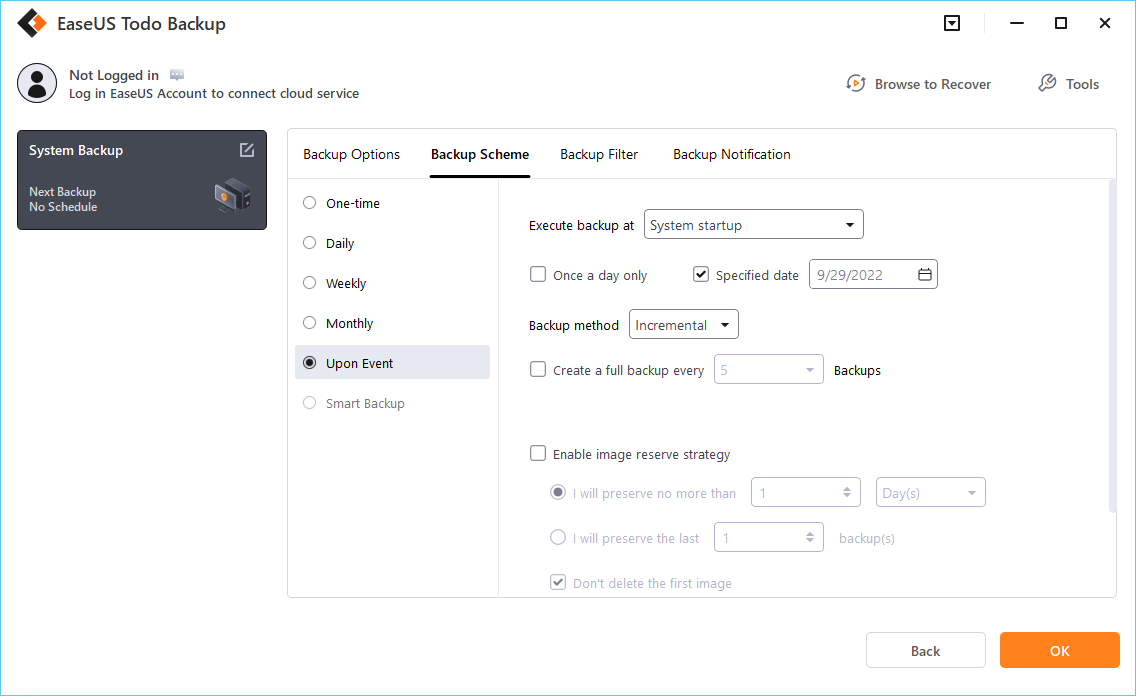 Step 7. Click "Backup Now" to start the file backup process. Your completed backup files are visible on the left area in a card style.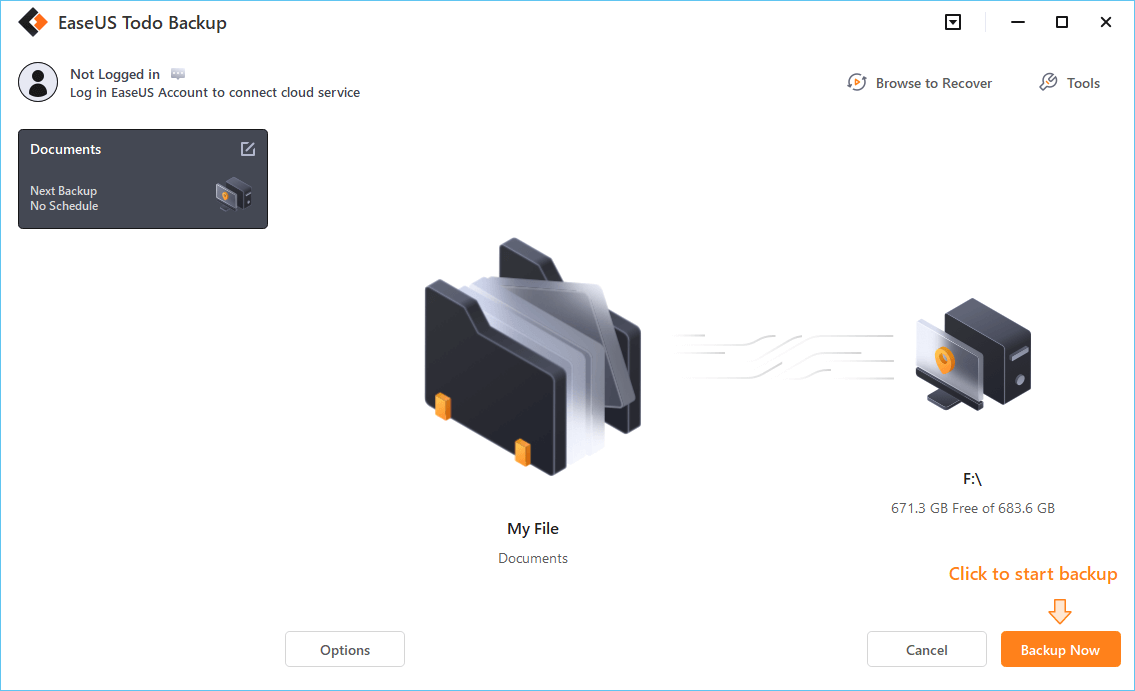 FAQs on Auto Backup Software for PC 
Hope, guys! You have resolved all of the backup software-related issues above. If still left with any, we are here to provide you with the solutions for one of the most asked queries related to the same.
1. What is the best free backup software for Windows?
EaseUS Todo Backup Free is one of Windows's finest free backup software that ensures users have complete access to their stored data. The tool is used by 2 billion users globally. It is a tested and trusted option that features an easy setup and access option to go on.
2. What is the best way to backup my PC?
If you are willing to back up your PC, the best thing you could do in the league is to enable auto backup software. The same will help you avoid accidental data loss and is also convenient to use.
3. Is Windows 10 backup any good?
Backing up data is something that everyone needs to have. It is the best way to keep your data and other personal or professional information intact, even during any physical damage from malware or virus attacks. 
Final Thought
So, guys! Keep your data safe throughout while enabling auto backup software for PC. We have enlisted above one of the leading seven options here. Make sure to go through it in detail and check out the features involved so that you can make perfect assistance accordingly.

Jean has been writing tech articles since she was graduated from university. She has been part of the EaseUS team for over 5 years. Her special focuses are data recovery, disk partitioning, data space optimization, data backup and Mac OS. By the way, she's an aviation fan!
Written by Tracy King 
Tracy joined in EaseUS in 2013 and has been working with EaseUS content team for over 9 years. Being enthusiastic in computing and technology, she writes tech how-to articles and share technical solutions about Windows & Mac data recovery, file/system backup and recovery, partition management, data transfer, Windows update issues, etc.
Taking everything into consideration, we can say that EaseUS Todo Backup Home can offer you a little extra sense of security with a set of advanced tools. The interface provides quick adaptation, every process guiding you all the way through so you don't get stuck or further damage your system rather than keeping it safe.

 Read More

EaseUS Todo Backup Free lets you create backups of your important files or your entire computer through its streamlined interface. Just choose the backup type you'd like to get started, and let the program do the reset.

 Read More

EaseUS includes all the features I expect from backup software like versioning, incremental backups, and scheduling. For more advanced users, EaseUS allows you to install a pre-boot environment onto your hard drive so you can use it to restore files without burning a CD or putting it on an external USB drive.

 Read More

EaseUS Todo Backup
Smart backup tool for your files and entire computer in Windows 10/8/7.
Install Windows on Multiple Computers at Once? No Problem!
Learn how to install Windows 11/10/7 and special programs/software on a batch of computers. Use 10 minutes to do the 10 hours work without making a single mistake!
Get Free Solution!