Why Need Windows System Restore Software
As computer users, you may encounter many problems during daily use, especially system crash which makes your computer won't start up properly. Sometimes the crash occurred with no indication, and then it caused data loss. So it is important for you to find a reliable Windows system restore software to create a Windows recovery disk in Windows 7/8/10/XP.  
Download the Best Free System Restore Software Windows 10
EaseUS Todo Backup Free can back up Windows system partition along with users settings to create a restore disk in Windows 10/8/7/Vista/XP. So, you can quickly get the system up and run in the event of a system crash or hardware failure under a different Windows operating system.
With EaseUS Windows 10 free system restore software, you can: 
Back up your Windows system in full, incremental, and differential backup.
Free restore system backup with advanced restoration settings.
Restore Windows backup image to a dissimilar computer.
Upgrade the older smaller hard disk without reinstalling Windows OS.
Use the Linux and WinPE based bootable CD to restore Windows system.
Now, download this free system restore software to restore Windows 10 with clicks. If you want to have a WinPE emergency disk, learn how to create EaseUS Todo Backup WinPE bootable disk for free.
How to Recover Windows with EaseUS Free System Restore Software
You have two choices to restore Windows system with different bootable CD media with EaseUS free system restore software. 
1. If you have created a Linux bootable CD, and what you need to do is to follow the on-screen system restore instructions and then you can restore the Windows system in a short time.
2. If you want to restore Windows from the WinPE bootable USB/CD, do as the following steps require. 
First, you should use EaseUS Todo Backup to create a Windows system image backup in advance when your computer is healthy or on a healthy computer. 
Second, connect EaseUS emergency disk to your computer and restart the computer and set it to boot from the WinPE bootable disk.
Third, enter EaseUS Todo Backup and restore Windows from the system backup image.
Step-by-step guide to restore Windows with EaseUS Windows recovery software
* To perform system recovery on a none-bootable machine, try to boot the computer through the EaseUS Todo Backup emergency disk.
Step 1. Launch EaseUS Todo Backup, click "Browse to Recover".
Step 2. Guide to your backup destination, choose the system backup file you need. (The backup file created by EaseUS Todo Backup is a pbd file.)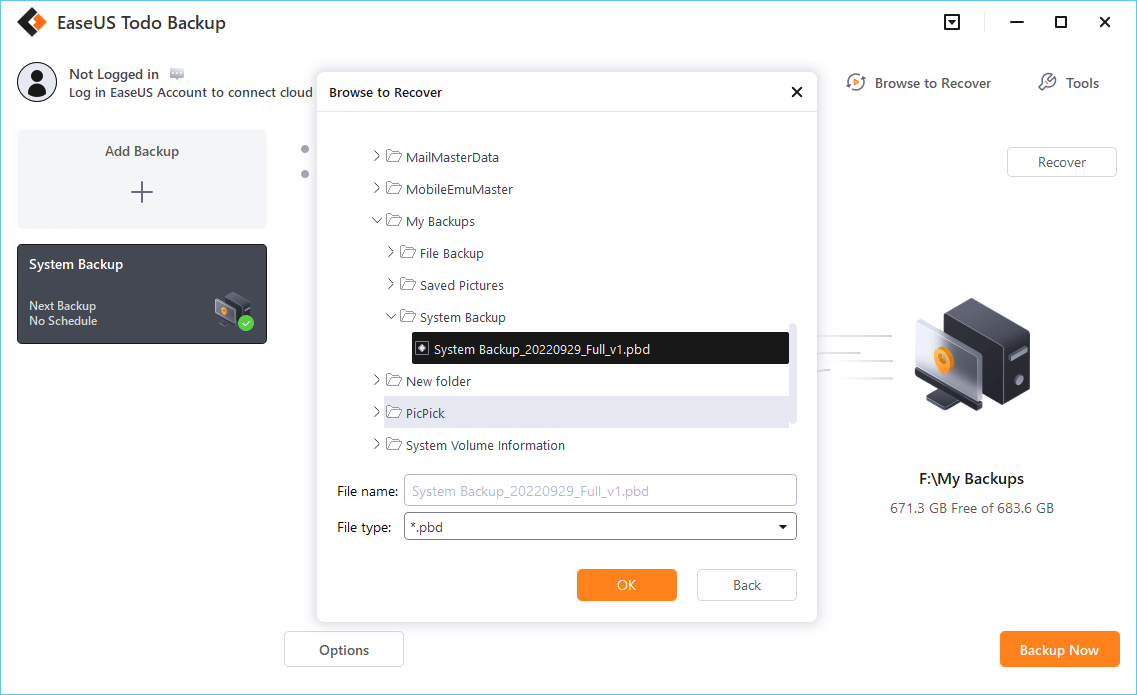 Step 3. Choose the recovery disk. Make sure that the partition style of the source disk and the recovery disk are the same.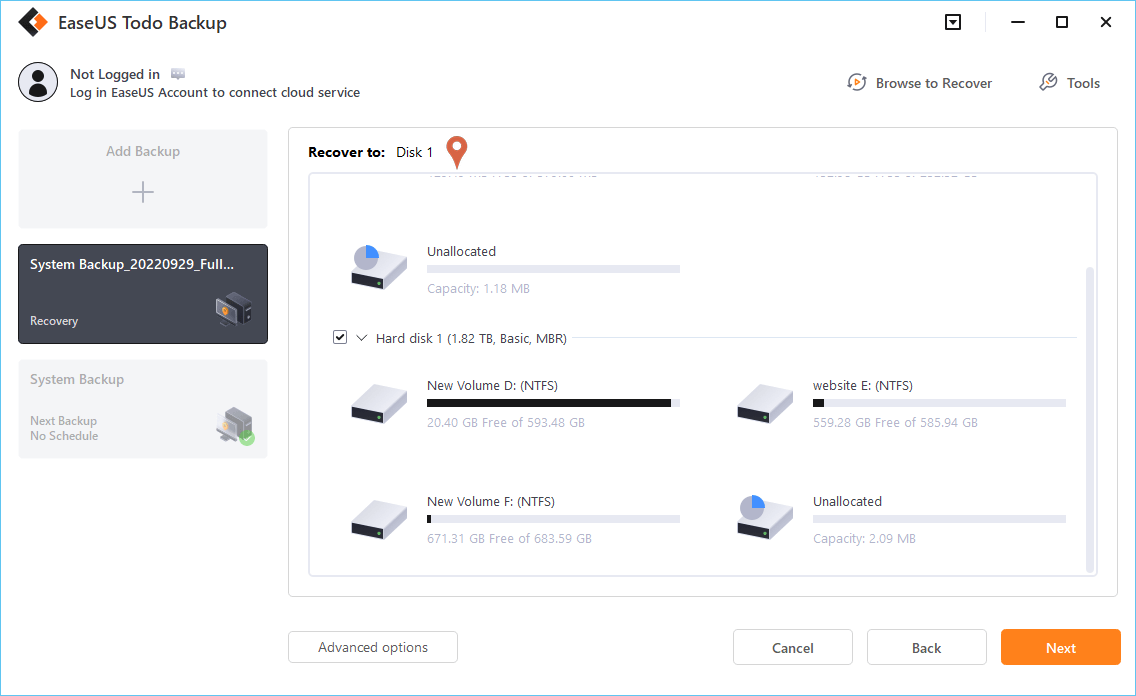 Step 4. You can customize the disk layout according to your needs. Then click "Proceed" to start system backup recovery.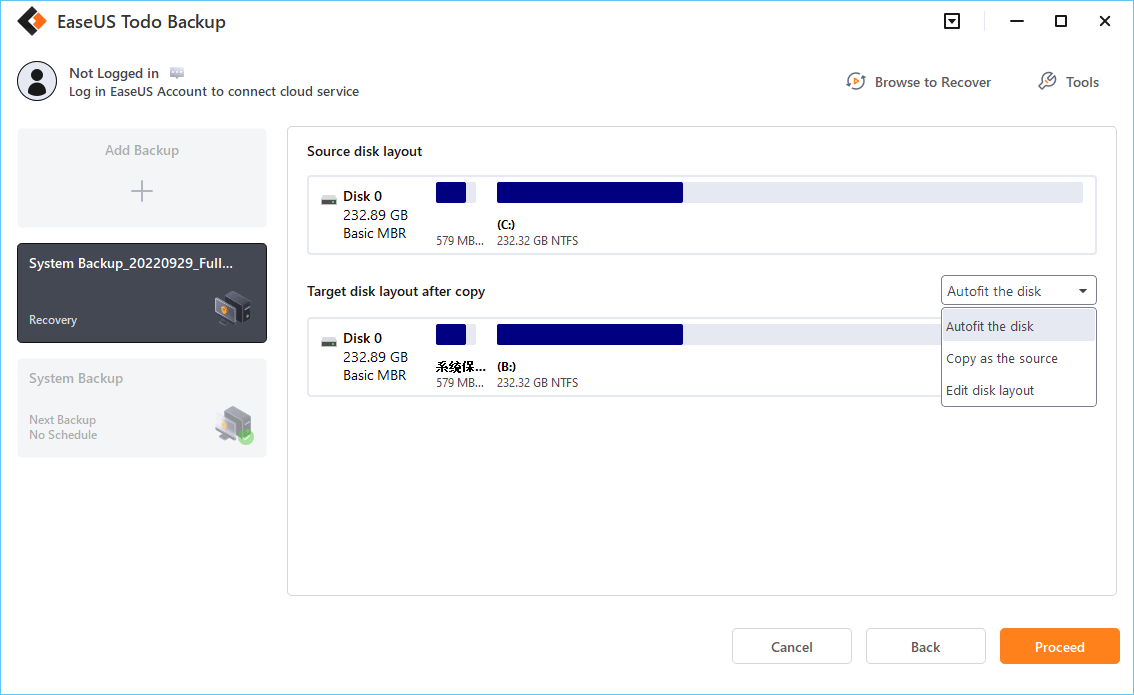 Conclusion
EaseUS Todo Backup offers you the simplest solution to perform Windows system backup and recovery. With this program, you can:
Back up files, partitions, disks, and system in one-click
Restore the whole system or deleted data from the backup instantly
And, most important of all, it's completely
FREE
system restore software on Windows 10/8/7/Vista/XP. Don't hesitate and have a try.
What May Cause System Crash on Windows 10 
Many problems can lead a system to crash, including:
1. Hardware conflict:
Each hardware device communicates to other devices through an interrupt request channel (IRQ). These are supposed to be unique for each device. If there are a lot of devices, or if they are not installed properly, both of them may end up sharing the same IRQ number. When the user tries to use both devices at the same time, a crash may happen.
2. Bad Ram:
Ram (random-access memory) problems might bring on the blue screen of death with a message saying Fatal Exception Error.
3. Mistaken BIOS settings:
Every motherboard is supplied with a range of chipset settings that are decided in the factory. A common BIOS error concerns the CAS latency which refers to the Ram.
4. Hard disk drives overload:
After a few weeks, the information on a hard disk drive starts to become piecemeal or fragmented. Hard disks will also slow down and crash if be stuffed with too much data.
5. Viruses attack:
The first sign of a virus infection is instability. Some viruses will erase the boot sector of a hard drive to cause a start failure. This is why it is a good idea to create a Windows restore bootable disk.
6. Software conflict:
A common cause of computer crash is faulty or badly-installed software, as well as the incompatible problem among software.
7. Power supply problems :
An unstable voltage or abrupt power failure can cause a computer crash easily.
Backing up and restoring your system is the best choice to secure your system when these issues arise. To make this job easier, it is very important to choose the best Windows system restore software. Free download EaseUS Windows recovery software and restore Windows quickly without data loss.
Read More About Windows System Recovery
See the following questions related to Windows system restore that other person also ask.
How do I force System Restore in Windows 10?
You can use EaseUS Todo backup and recovery software to create a WinPE bootable disk, and then force system restore from the bootable USB/CD:
1. Create EaseUS Todo Backup WinPE bootable disk easily.
2. Apply EaseUS Todo Backup to create a Windows system backup image.
3. Connect EaseUS WinPE emergency disk to your computer and restart your computer from the bootable disk.
4. Start EaseUS Todo Backup and restore Windows from the backup image for free.
Why is System Restore not working Windows 10?
If there are hard drive corruption or errant startup applications or scripts, Windows system restore may not work properly. In this case, you can use a free Windows automated system recovery software, such as EaseUS free Windows recovery software to restore Windows 10 with ease. Refer to the above for specific steps.
What is the best free backup program for Windows 10?
The list of the best free backup software on Windows 10:
EaseUS Todo Backup
Macrium Reflect Free
DriveImageXML
Paragon Drive Backup Free
ImageX
Clonezilla
Windows 10 File History  
Daisy is the Senior editor of the writing team for EaseUS. She has been working in EaseUS for over ten years, starting from a technical writer to a team leader of the content group. As a professional author for over 10 years, she writes a lot to help people overcome their tech troubles.

Brithny is a technology enthusiast, aiming to make readers' tech life easy and enjoyable. She loves exploring new technologies and writing technical how-to tips. On her spare time, she loves sharing things about her favorite singer - Taylor Swift on her Facebook or Twitter.
Taking everything into consideration, we can say that EaseUS Todo Backup Home can offer you a little extra sense of security with a set of advanced tools. The interface provides quick adaptation, every process guiding you all the way through so you don't get stuck or further damage your system rather than keeping it safe.

 Read More

EaseUS Todo Backup Free lets you create backups of your important files or your entire computer through its streamlined interface. Just choose the backup type you'd like to get started, and let the program do the reset.

 Read More

EaseUS includes all the features I expect from backup software like versioning, incremental backups, and scheduling. For more advanced users, EaseUS allows you to install a pre-boot environment onto your hard drive so you can use it to restore files without burning a CD or putting it on an external USB drive.

 Read More

EaseUS Todo Backup
Smart backup tool for your files and entire computer in Windows 10/8/7.
Install Windows on Multiple Computers at Once? No Problem!
Learn how to install Windows 11/10/7 and special programs/software on a batch of computers. Use 10 minutes to do the 10 hours work without making a single mistake!
Get Free Solution!