Clone One PC to Another PC - the Easiest Way to Transfer OS and Data
"My old computer is out of space, now I want to transfer some important data to another computer, is there any safe and easy way to do that?"
Frustrated with less space due to crammed disk with ever-changing data stored on it? Hope to transfer data from a PC to another PC for more free space or data backup? You know, you can do the data transfer job manually by copying your files one by one from one computer to another. But this method is not recommended because it is time-consuming. Then, a question comes out: what is the safest and easiest way? Here we can give you the answer - cloning a computer to another. Being efficient and convenient, it is your best bet. And in this page, we will talk about PC disk clone and tell you how to clone a PC to another PC in Windows 10/8/7 for operating system & data transfer via third-party backup software.
Best Software to Clone One Computer to Another - Easeus Todo Backup
EaseUS Todo Backup is the best backup software which is designed to deal with all hard drive backup & clone job in Windows 10/8/7 or other previous Windows versions for home users. By cloning the whole computer hard drive to another hard drive, and then install the cloned drive to your new computer, you can try this program to transfer data and even the operating system like Windows 10/8/7 from one computer hard drive to another safely and easily.
 Notice:

If you are trying to clone Windows 10 to a new HDD or SSD disk, please do remember to empty the disk in advance.
One more thing that you can do is to convert your HDD/SSD disk to MBR or GPT - exact the same as your current system disk, which will allow you to effortlessly boot system after cloning Windows system.
Let's see how to clone your Windows 10 OS to a new HDD/SSD without reinstallation Windows OS now:
Step 1. Connect the new HDD/SSD to your PC.
Step 2. Run EaseUS Todo Backup for Windows 10 Clone.
Select "System Clone" on the left tool panel by clicking the icon at the left top corner.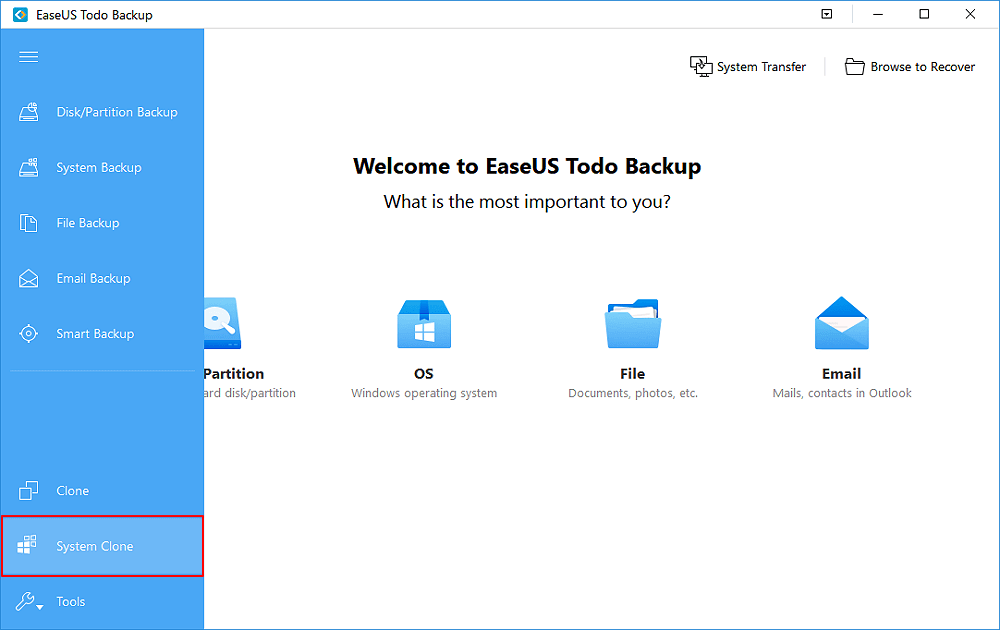 Step 3. Choose the destination disk - HDD/SSD to save Windows 10 system
Choose the new HDD or SSD as your target disk for saving the cloned Windows 10 system.
Then click "Proceed" to start cloning Windows 10 to HDD/SSD now.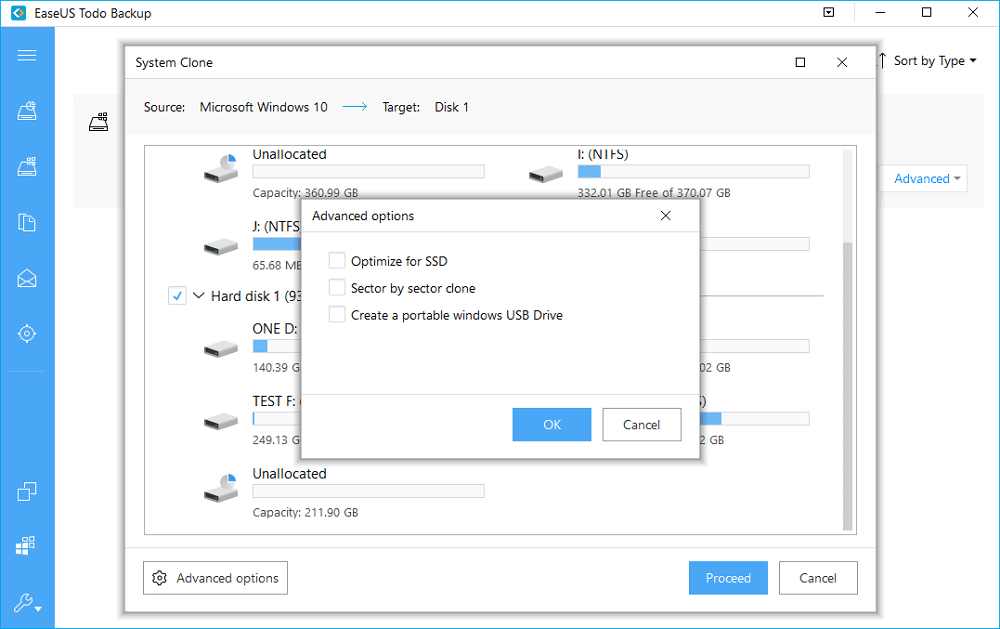 After this, insert your new HDD or SSD into your computer and reboot PC, change the boot order to set computer boot from new HDD/SSD with cloned Windows 10 system:
Restart PC and press F2 or F8 to enter BIOS settings.
In the Boot option, select new HDD/SSD as the new boot drive and save all the changes.
Exit BIOS and restart the computer, you should be able to see Windows 10 running on your new disk without any problems.
Useful Tips to Avoid Cloned Hard Drive Won't Boot Issue
What's more, if you want to transfer or move your operating system like Windows 10/8/7 or other previous Windows versions from one computer hard drive to another, here are some useful tips to help you avoid cloned hard drive won't boot issue.
1. Make sure the destination PC hard drive is equal or larger than the used space of the source computer hard drive.
2. Make sure you have cloned the system reserved partition besides the system partition (C: drive).
3. Make sure you have set the clone hard drive as the first boot drive.
4. Make sure both of the source disk and the destination disk are the same MBR disk or GPT disk. If not, convert MBR to GPT disk or vise verse.
5. Make sure your computer support UEFI boot mode if the clone hard drive is GPT partitioned.
6. Check if your clone uses an MBR system partition. If this is true, you must enable CSM in your BIOS which allows you to boot from both UEFI and Legacy OPROM devices.
7. Put out to source disk and replace it with the cloned disk.