A Quick Guide on What You'll Learn in This Post
Why Need to Clone PC to Another PC
🙍‍♂️User Case:
"I have a new laptop to replace my old computer as it becomes slower and slower after running for a few years. The problem I'm facing now is how can I keep the Windows 10, programs, and files the same as the old PC. I don't want to reinstall Windows and applications. Is there a quick and easy way to do that?"
Many users have the same confusion as the one above. Planning to switch to a new computer, but don't know how to migrate the Windows and data on the old PC. Instead of wasting time re-installing systems, applications, and files, you can use the methods here to finish cloning your PC efficiently.
Suppose you only need to clone Windows 10 and applications to the new computer, you can go to part 1 and use powerful backup software to transfer system. If you still want to copy files from the old computer to the new one, you can't miss the one-click PC data transfer tool in part 2. It enables you to transfer large data between two computers wirelessly.  
Part 1. How to Clone Windows 10 to Another Computer
Whenever we discuss cloning/transferring an operating system from one computer to another, compatibility and start-up issues are our top concerns. Since most hardware requires the appropriate drivers to run, you cannot simply move the system to a new computer with a different hardware configuration and hope that the system can run normally.
To avoid these worries and clone the Windows system without removing and installing the disk, we highly recommend you try the "System Transfer" function provided by EaseUS Todo Backup. This tool can help you to clone Windows 10 from the old computer to the new one with a bootable disk. And it ensures a successful system boot-up from cloned hard drive on the new computer.  Now, prepare a proper WinPE emergency disk/USB, and let's begin to clone a PC by creating a Windows 10 system backup.
Before you dive into the detailed information on this topic, let's see what you need to prepare for cloning Windows 10 to another computer.
⏰Time duration

5-10 minutes

📑Preparations

Download EaseUS Todo Backup on your Windows PC
A USB with enough storage space
A new working Windows computer
Stable network connection
Step 1. Create an Emergency Disk to USB
1. Connect an empty USB flash drive or external hard drive (with over than 100GB space) to your PC.
Note: Initialize the USB or external hard drive as MBR, and create two partitions: set the first partition as FAT32 and the second partition as NTFS.  
2. Run EaseUS Todo Backup and click "Tools" > "Create Emergency Disk".
3. Choose USB as the disk location to create the emergency disk and click "Create".
The bootable disk will help you boot computer and transfer system image to the new PC.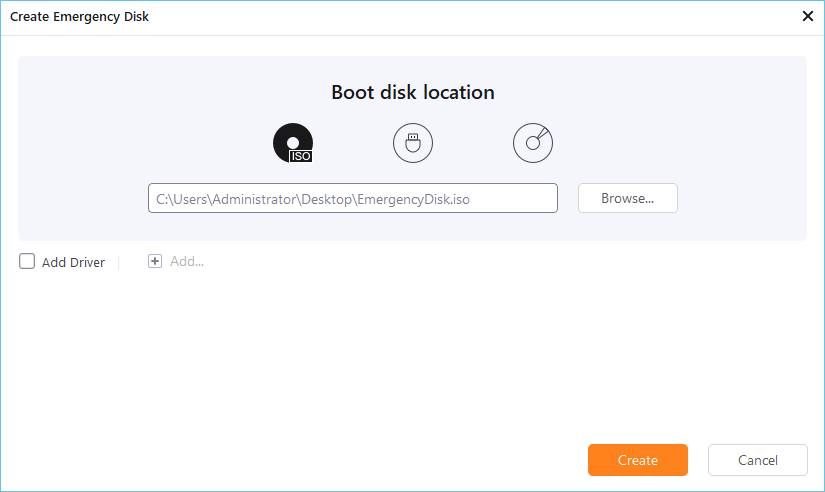 Step 2. Create System Backup Image on Source Computer
1. Click "OS" on the main page and Windows OS will be selected by default.
2. Choose the second partition of the USB drive which contains the emergency disk to save system image.
You may also save system backup image to another empty external disk (which must be equal or bigger than the system C drive).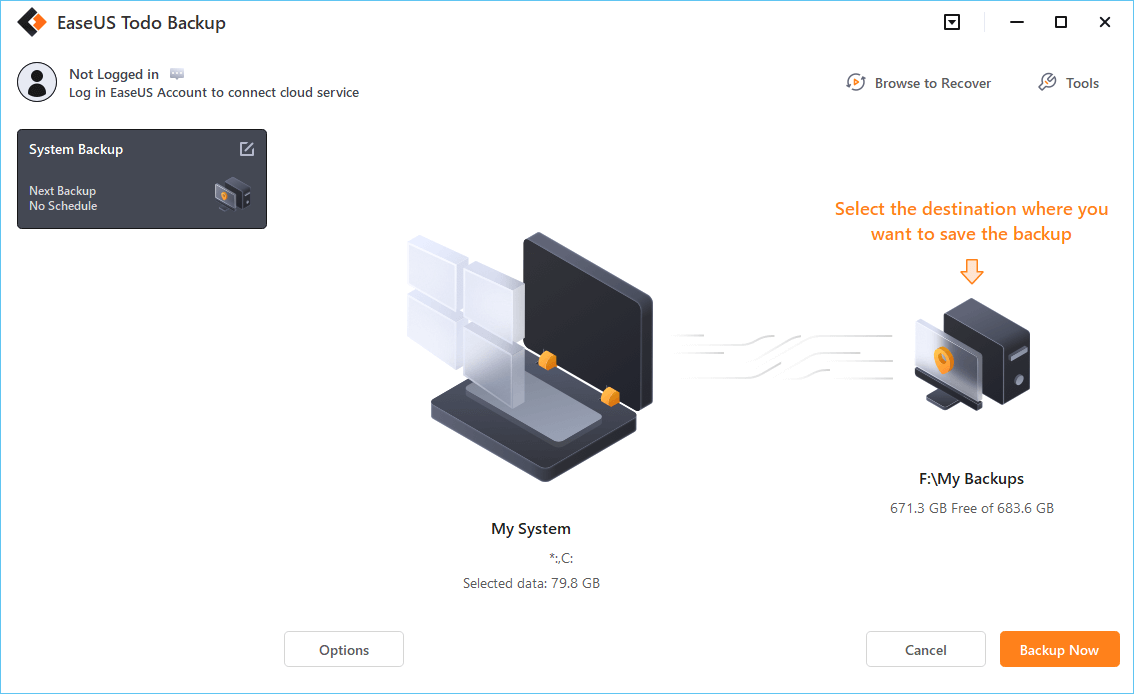 3. Click "Backup Now" to start creating a system backup image to the target device.
Step 3. Boot Target Computer from EaseUS Todo Backup Emergency Disk
1. Eject EaseUS emergency disk and system backup image USB and connect it to the new computer.
2. Restart PC and press "DEL/F2/F10/F12" to boot into BIOS. 
3. Go to the boot menu and set the computer to boot from the EaseUS Todo Backup emergency disk.
If you want to restore the system image to a GPT disk, you need to change the boot mode to EUFI in BIOS. Then your computer will enter EaseUS Todo Backup main interface.
Step 4. Transfer System to the New Computer
Note: Restoring system image to the new computer will erase the data on the target disk. Remember to back up the files in advance or use an empty disk to restore the system image to avoid data loss.
1. On EaseUS Todo Backup main interface, click "Tools" > "System Transfer".
2. Select the system image on your USB external drive and click "OK" to continue.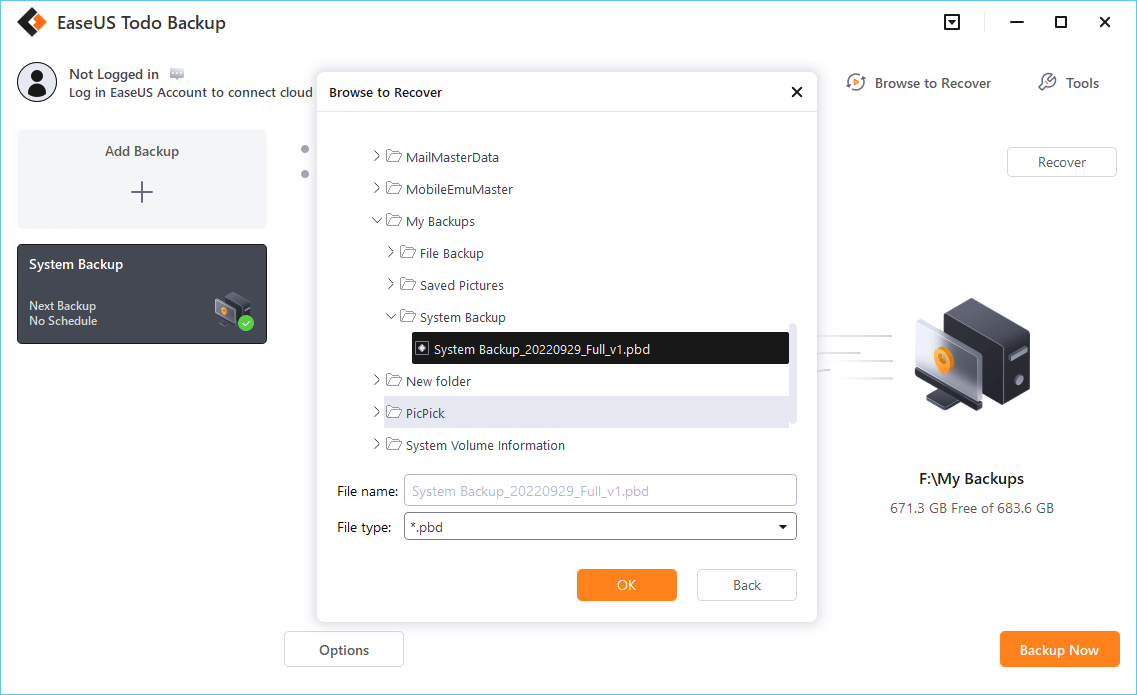 3. Then click "Proceed" to start transferring the system to a new computer.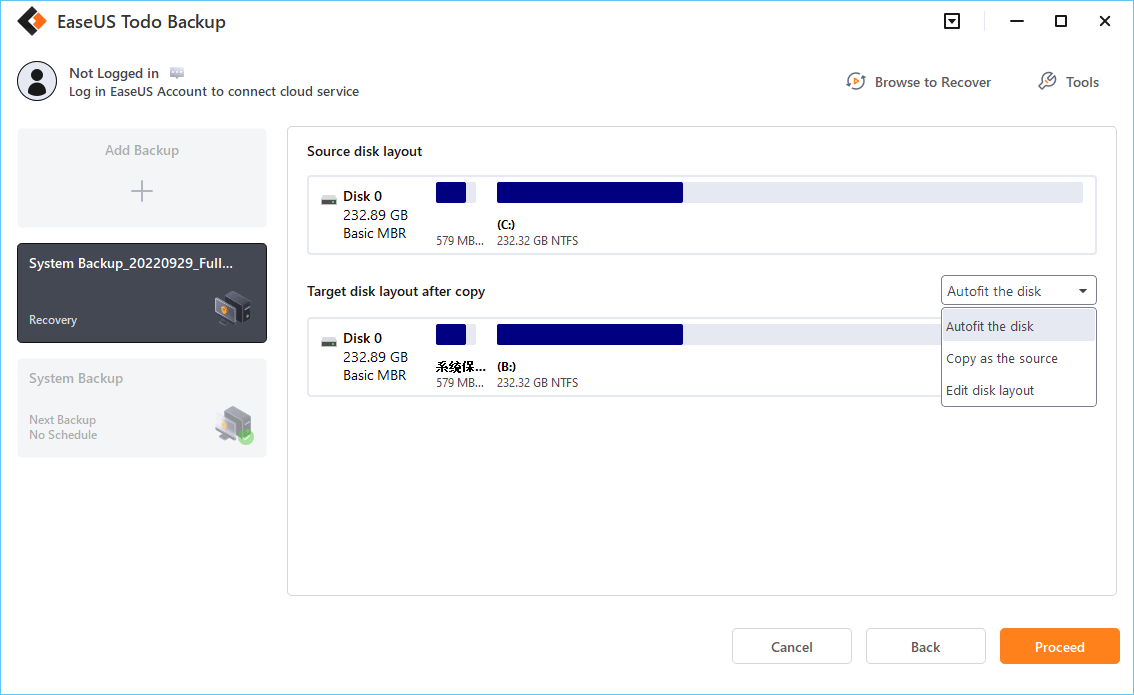 Step 5. Restart PC with transferred system
1. Enter BIOS and set computer to boot up from the drive with the transferred system.
2. Save all changes and restart your computer.
3. Update all drive drivers and programs to ensure all things will work just fine on the new computer.
When the system transfer accomplishes, Windows 10/Windows 7 and most applications will work on your computer. In case you have some software installed on other partitions rather than the C drive, you can copy them to the new computer by yourself for regular use.
Except for system transfer, EaseUS Todo Backup also provides you the system clone feature to resolve many complex migration problems, especially when your need to upgrade hard disk from an old to a new one, from a smaller to a larger one, or from HDD to SSD. Take a look and get more practical tutorials.
If you want a video tutorial, here it is. This 5'14'' YouTube video shows a detailed process of how to upgrade Windows OS to an SSD with specific steps.
Key points of this video:
0:00 - Introduction
1:10 - What is disk clone
1:40 - SSD cloning software
2:25 - How to clone Windows to SSD
4:20 - How to boot from SSD
Part 2. How to Transfer Files from One Computer to Another
EaseUS offers you a complete computer migration solution. After you have transferred the operating system from the old computer to the new one with EaseUS Todo Backup, you can continue to copy files with the great PC data transfer software - EaseUS Todo PCTrans.
Copying large numbers of files and programs manually is very time consuming, or you simply do not have a large enough external drive to complete the data migration. Don't be bothered by these problems. Use this easy PC transfer tool to quickly and safely migrate all the files, folders, and programs.
What to prepare when you transfer files from one computer to another? Refer to the table below:
⏰Time duration

8-15 minutes

📑Preparations

Download EaseUS Todo PCTrans on your Windows PC
Another working Windows computer
Use the same Network connection on two computers
Step 1. Open EaseUS Todo PCTrans on both of your computers. Choose "PC to PC" to go to the next step.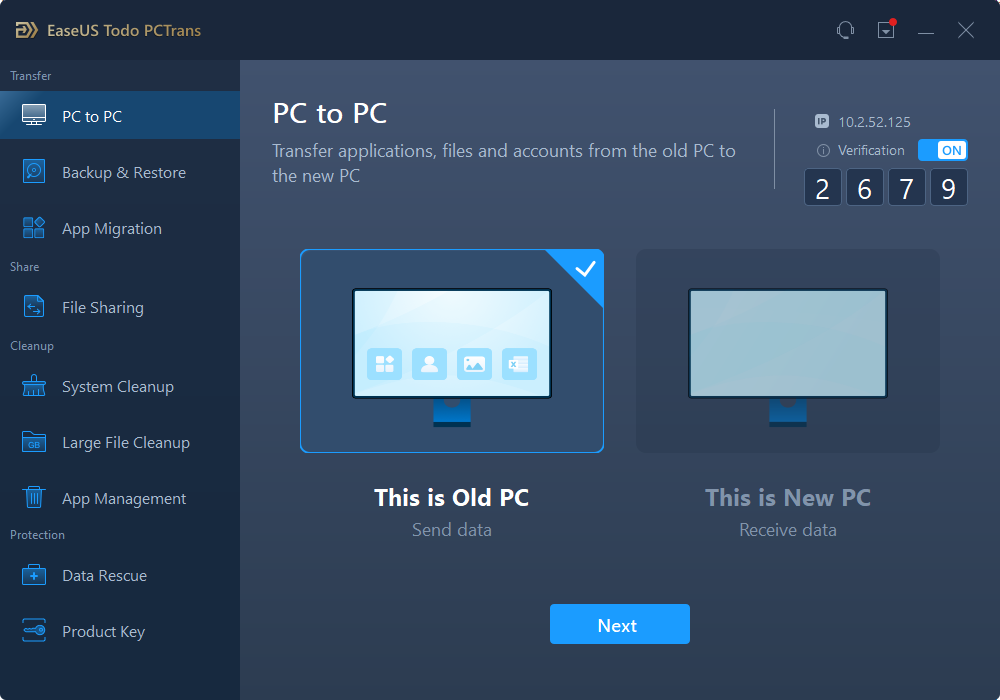 Step 2. Make sure you have chosen the right transfer direction.
"New" - Move data from old computer to current new computer.
"Old" - Move data from current old n computer to remote new computer.
Step 3. Connect two PCs via the network by entering the password or verification code of the target PC. Besides, make sure you have chosen the right transfer direction and click "Connect" to continue.
The verification code is on the right top of the "PC to PC" main screen on the target computer.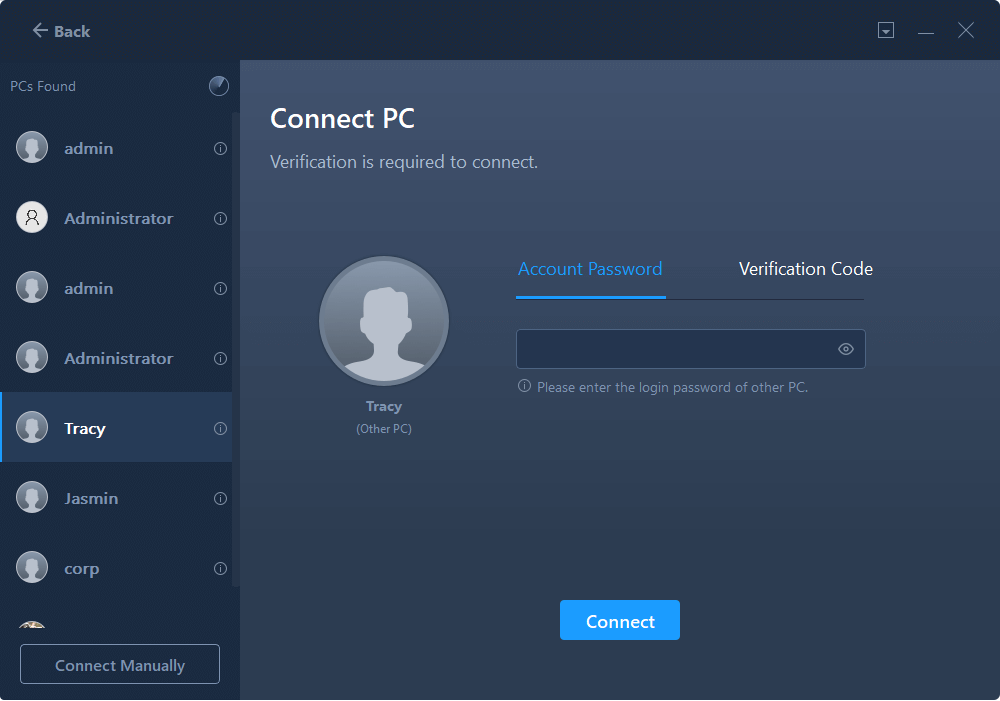 Step 4. Then, choose "Files" to select files to transfer. Select the specific files as you want. What's more, you can click the Edit icon to customize the storage path for transferred data.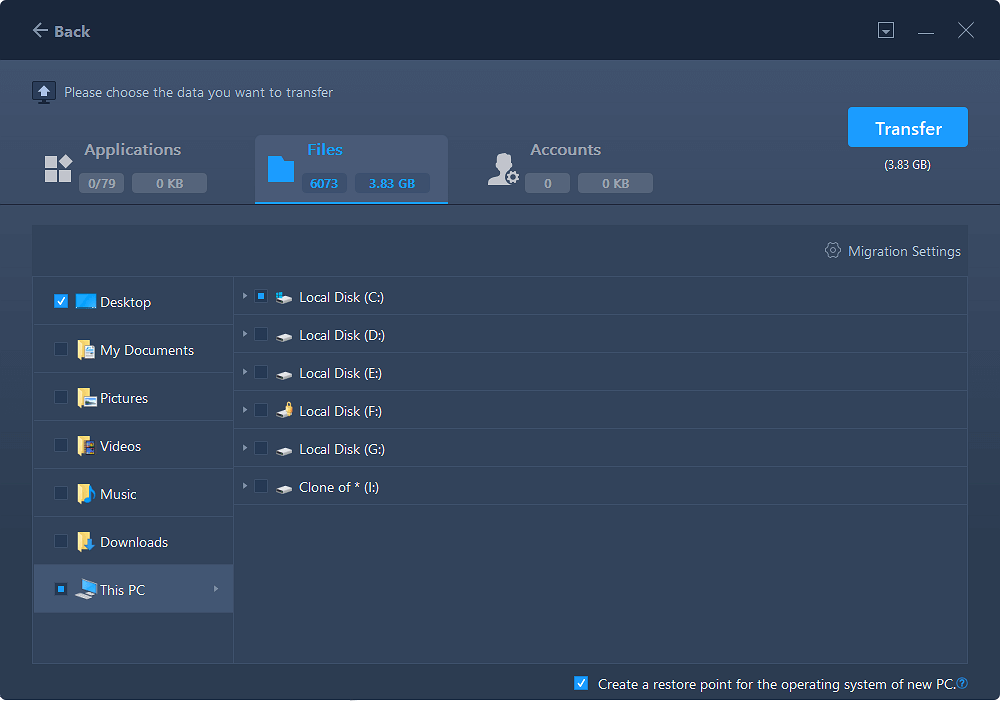 Step 5. Now, click "Transfer" to begin to transfer files from PC to PC. The size of the file determines the transfer time. Wait patiently.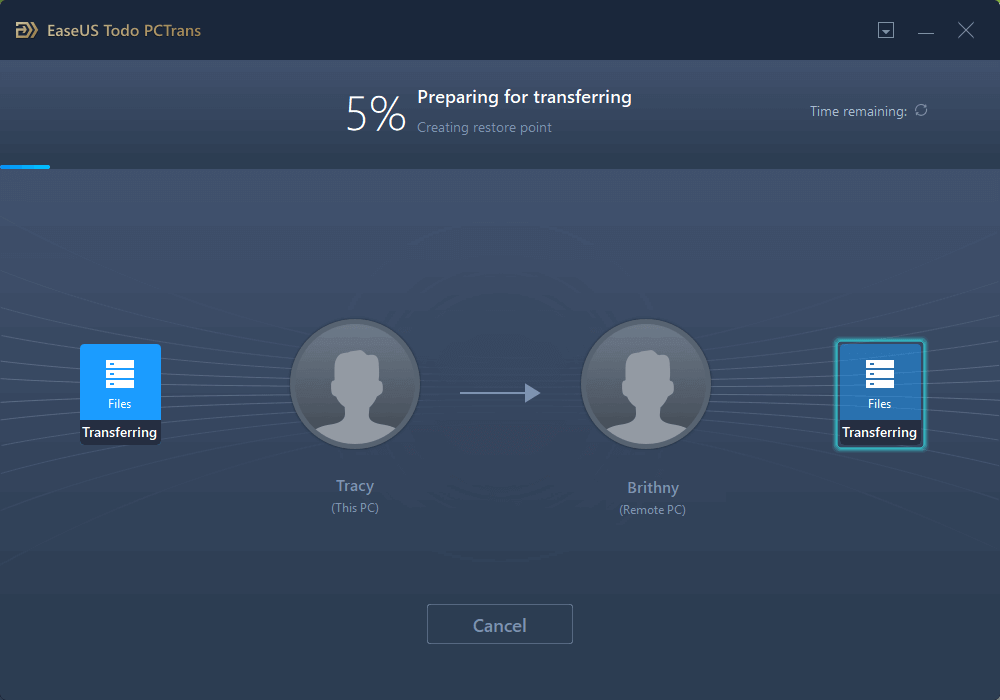 Bottom Line
EaseUS Todo Backup assists you to easily replace your old computer without worrying about the system transfer problem. This Windows schedule backup software also can back up your new computer regularly and automatically with the disk/partition backup function. Being efficient and convenient, it is your best bet.
Is this article useful? If you think this post will help you answer your query, please share it with your fans and friends on social media!
FAQ on How to Clone Windows 10/8/7 to Another Computer
Can I clone my Windows 10 to another computer?
Yes, it is possible to clone Windows 10 to another computer. You can do this by using a USB bootable media and cloning the Windows 10 installation to the other computer. This will allow you to have an exact copy of your Windows 10 installation on the other computer.
Can I clone my entire PC to a new one?
You can create a system image and then restore it to the new computer. With EaseUS Todo Backup, you can create a bootable system backup, meaning you don't need to reinstall OS and other applications.
Was this page helpful? Your supoport is truly important to us!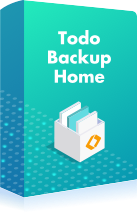 EaseUS Todo Backup
EaseUS Todo Backup is a dependable and professional data backup solution capable of backing up files, folders, drives, APP data and creating a system image. It also makes it easy to clone HDD/SSD, transfer the system to different hardware, and create bootable WinPE bootable disks.
Updated by

"I hope my articles can help solve your technical problems. If you are interested in other articles, you can check the articles at the bottom of this page, and you can also check my Facebook to get additional help."…

Read full bio

Written by

Tracy became a member of the EaseUS content team in 2013. Being a technical writer for over 10 years, she is enthusiastic about sharing tips to assist readers in resolving complex issues in disk management, file transfer, PC & Mac performance optimization, etc., like an expert.…

Read full bio