Summary
A dying hard drive usually accompanies with perceivable signs, like slowing down the computer, frequent freezes, blue/black screen of death, accumulative bad sectors, strange sound, S.M.A.R.T errors...Read the article about what to do with a dying hard drive, and hope you can self-check and self-repair it and rescue data with comprehensive data recovery solutions from EaseUS.
What to fo with a dying hard drive? How to deal with it without causing data loss? Follow the detailed guides on this page.
| Workable Solutions | Step-by-step Troubleshooting |
| --- | --- |
| Fix 1. Recover data from hard drive | Losing data or file corruption is a normal thing when a hard drive is dying. Your first move is to save data...Full steps |
| Fix 2. Back up hard drive | If hard drive slows down but works as normal, you should back up data. There a few ways to back up...Full steps |
| Fix 3. Replace corrupted hard drive | If the hard drive is corrupted with bad sectors, and the data recovery software cannot run a quick scan...Full steps |
| Fix 4. Revive a dying hard drive | After recovering important data to a safe place, your next step is to find ways to revive the dying disk...Full steps |
Hard drive has a limited lifespan. The average lifetime of a stationary hard drive today is around 5-10 years, according to the shared statistics on the internet, even longer if you choose brands of big manufacturers, keep the hard drive running at ambient temperature (25~40℃), and grow a good habit of regularly cleaning the hard drive. Do not heavily shake the computer host, drop coffee or juice on it. Strong variations in temperature, humidity, and motion will undoubtedly reduce the hard drive's lifespan, the realistic hard drive lifetime is probably around 3-5 years.
Imagine a hard drive that you bought 3 years ago. One day, you brought a cup of morning coffee and sat in front of your computer, supposing to continue the project of last night's. Oops, it takes almost 30 minutes to start up the computer, what's worse, the project.pdf cannot open, it's corrupted. All signs of the slow startup and file corruption suggest your hard drive is failing. What to do with a dying hard drive? In the best of cases, a gradual failure is a good thing, it has commonplace symptoms, giving you a chance to react, create an exact backup, and prepare for a hard drive replacement.
Six Signs Your Hard Drive Is Dying
Here is a list of symptoms and signs of a dying hard drive. And if you observed two of three signs on your computer, it means that your hard drive is probably dying.
1. The computer becomes extremely slow, frequently freezes, stuck in the blue/black screen of death.
2. Hard drive overheating, making strange sounds, clicking noises.
3. Data loss, corrupted, files disappear and won't open.
4. Slow processing speed and startup.
5. Increasing bad sectors.
6. S.M.A.R.T errors.
If you are having the above-all listed symptoms, your hard drive is almost dead. Follow on, you can check and diagnose if your hard drive is dying or dead.
Diagnose Hard Drive: Dying or Dead?
With below tips, you'll be able to check the S.M.A.R.T status on your hard drive, based on which you can tell if your hard drive is dying or dead.
Step 1: Press Windows+X keys and choose Command Prompt (Admin).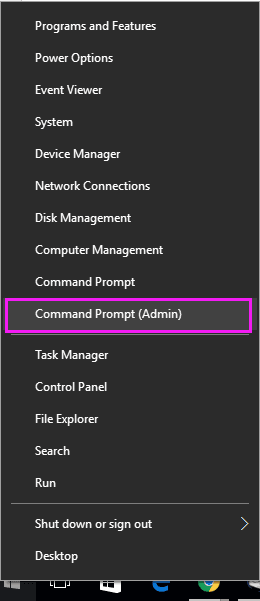 Step 2: Type: wmic diskdrive get status and press Enter.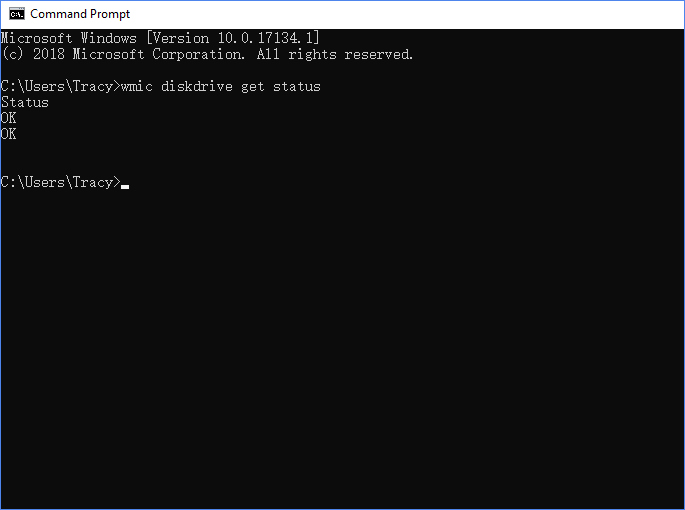 Syntax explanation:
Status "OK": Everything is working properly on your hard drive.
Status "Bad", "Caution" or "Unknown": Your hard drive has problems that may lead to death.
Upon a dead hard drive, you won't be able to run Windows OS, or even with a normal boot, the computer won't recognize it.
After checking the disk status, you may have two questions, and you can check and find the answers here:
What to Do with A Dying Hard Drive?
A dying hard drive is not dead yet, it's facing imminent failure. So, take care of the data. This should be the prior thing to do.
STEP 1: Hard drive inaccessible? Recover data.
Losing data or file corruption is a normal thing when a hard drive is dying. Your first move is to save existing data and restore lost files from the dying hard drive immediately.
If you have a full backup of your current dying disk data, congratulation! You can directly restore lost or corrupted files from the backup.
Without a present backup? Use reliable data recovery software, like EaseUS Data Recovery Wizard to recover data from almost all situations when a hard drive is facing logical problems and dying at the moment.
Data recovery capability:
Hard drive becomes RAW, cannot open.
Hard drive is not formatted with errors.
Hard drive corrupted, not readable.
The scanning process might be a little bit longer than its normal speed since it's canning a dying hard drive which may have bad sectors or other errors. Wait patiently when this software is trying to scan and find all your data.
STEP 2. Hard drive slows down but works as normal? Backup data.
You have multiple ways to back up a failing hard drive. EaseUS free backup software is a popular choice among home users and small businesses. It uncovers most features and allows users to backup disk/partition, files, and system for free.
STEP 3. Hard drive corrupted, growing bad sectors? Replace it with a new one.
When your hard drive has too many bad sectors and even the data recovery software cannot run a quick scan, you need to replace it with a new one, to prevent further more data loss.
To clone a failing hard drive with all data to an external hard drive or a new hard drive, you can continue using another EaseUS product called EaseUS Disk Copy.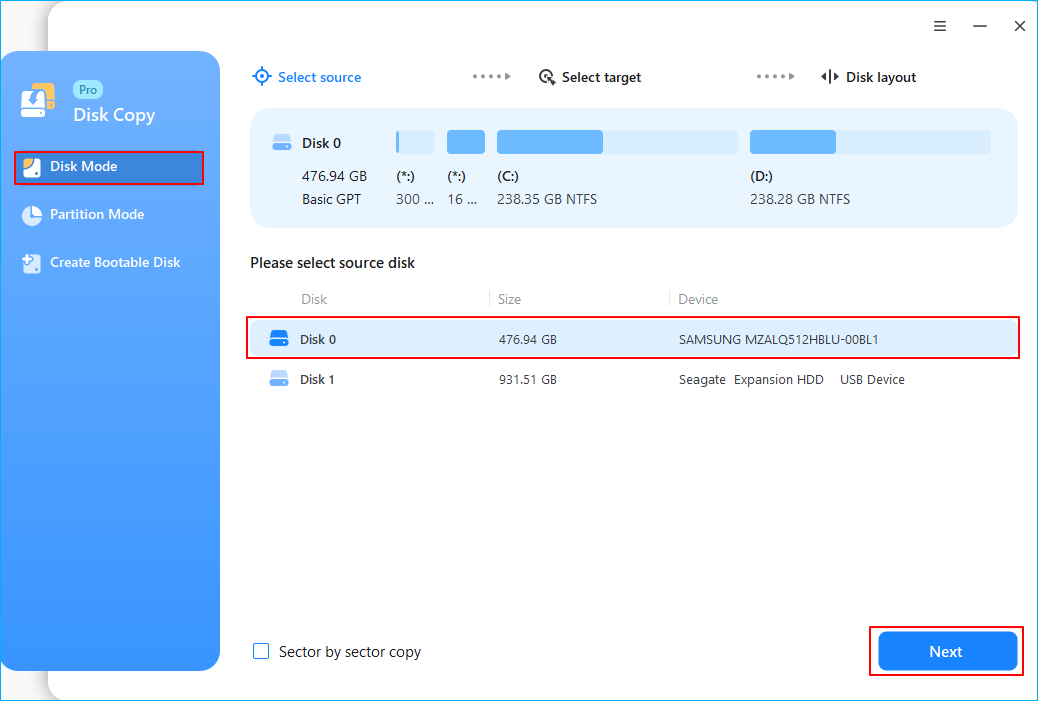 STEP 4: Revive a dying hard drive
After saving all useful files and data to a secure storage device, your next move is to find some possible ways to revive the dying disk. Try the following troubleshooting methods one by one.
Method 1. Change power cables and SATA cables, and turn on ATA/SATA in BIOS
You need to reconnect your hard drive to your PC and then enable ATA/SATA in BIOS to check out if it's working fine.
Shut down PC and unplug the data cable from hard drive properly.
Reconnect the hard drive with data and power cables.
Restart PC and press F2 to enter BIOS.
Enter Setup and check system documentation to see whether the not detected hard drive is turned Off in System Setup or not.
If it's Off, turn it ON in System Setup.
Reboot PC to check out and find your hard drive in Windows Explorer.
Then restart PC, Windows will automatically re-install the drivers on the hard drive. If not, continue with the following steps.
Method 2. Update the hard drive drivers
Click "Start" button, type: Device Manager and hit Enter.
Select Device Manager, expand categories to find the name of your hard drive and right-click it.
Select "Update Driver".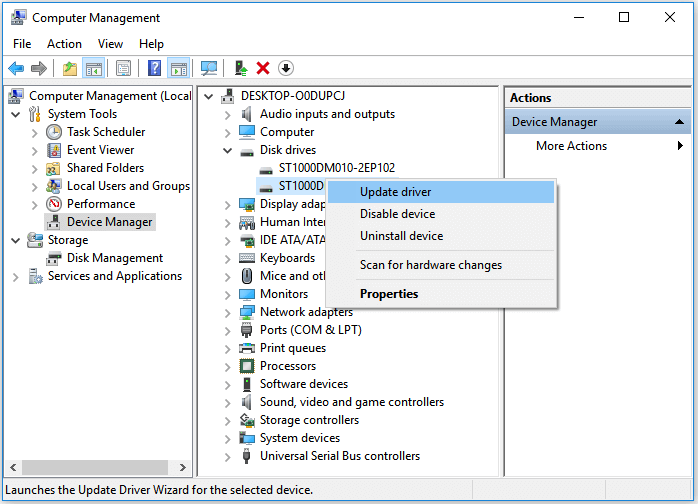 Select "Search automatically for updated driver software".
If Windows doesn't find a new driver for your drive, find the latest one on the device manufacturer's website.
If the above steps don't work, try re-installing the drivers: Open Device Manager. Right-click on your hard drive and select "Roll Back Driver" or "Uninstall".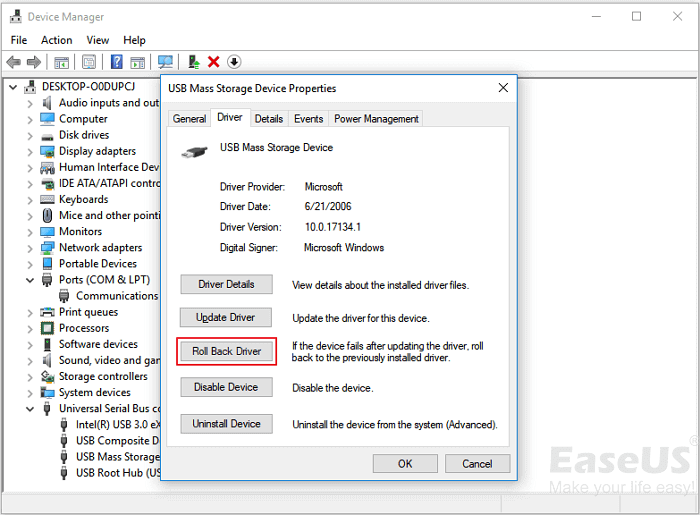 Then restart PC, Windows will automatically re-install the drivers on the hard drive.
Method 3. Test and check if the bad sectors are overtaking the disk
You can run EaseUS Partition Master Free on your computer with its Surface Test feature to check out how many bad sectors exist on the disk. According to a survey, it's said the when the existing bad sectors surpass 20%, your hard drive may have a slow issue.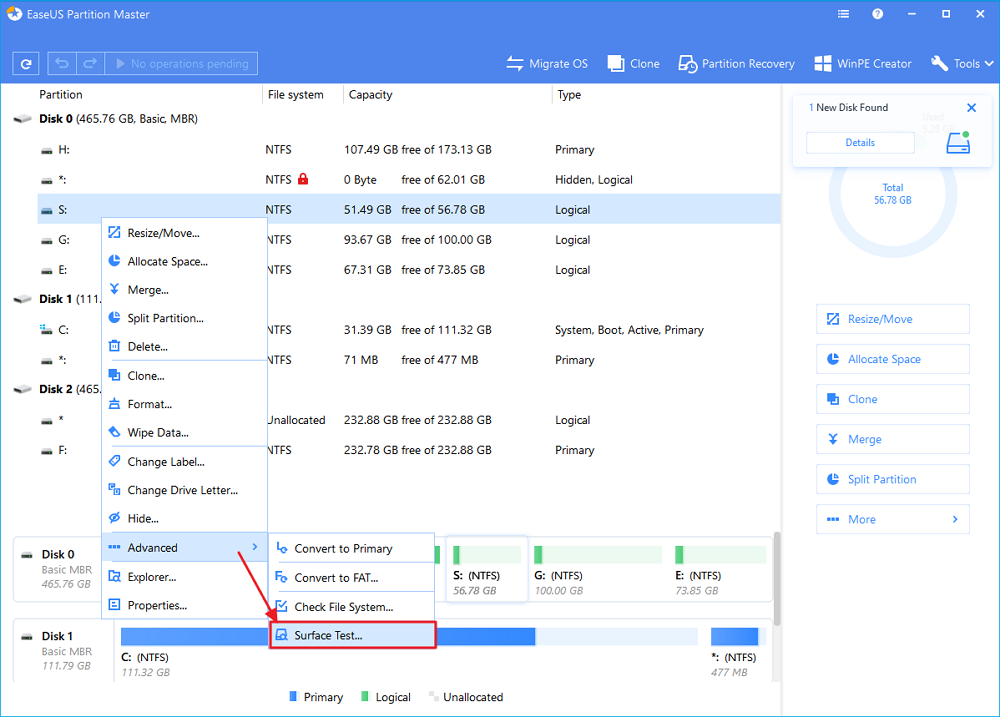 Method 4. Repair the hard drive under the warranty
When the bad sectors are over 50%, it's dying and it won't be able to function normally again.
Your best choice is to take your hard drive to the customer service center and get a warranty service.
100% of people found this article helpful.
Frequently Asked Questions
1. Why choose EaseUS Data Recovery Wizard?

"EaseUS Data Recovery Wizard is the best we've seen. It's far from perfect, partly because today's advanced disk technology makes data-recovery more difficult than it was with the simpler technology of the past, but it's fast and efficient..." —PCMag

"The first thing you'll notice about EaseUS Data Recovery Wizard Pro is that its interface is very clear and uncluttered, with only a small collection of self-explanatory controls. You won't find lots of extra options hidden in a system of hidden menus, either; what you see really is what you get." —techradar

"Recover lost files, even after deleting a partition or formatting your drive." —Macworld
2. Why cannot I recover 2GB data for free?

It is recommended to check the version installed is Free or Trial because they are different versions.

Trial has data preview function but cannot save any files, while the Free version enables to recover 2 GB files. The default free space is 500 MB and you may share the product on social media to get another 1.5 GB.
3. Why cannot the recovered files be opened?

A file is saved as 2 parts on the storage device: directory info (which is comprised by file name, time stamp and size info, etc.) and data content.

If the files with original file names and folder structures cannot be opened, one possible reason is the corrupted directory info. There is still a chance to recover the data content with the RAW Recovery method in our software.
4. Why isn't it suggested to recover the files back to the original drive?

The storage structure of the lost files would be altered or damaged by any changes on the drive. If you save the recovered files back to the same drive, the original data structures and data content would be corrupted or overwritten, which causes permanent data loss. So you should prepare another disk to save the files.
5. How can I check whether my data is recoverable or not before purchase?

The Free version helps you save 2GB files to better verify the recovery quality of our product before purchase.
6. How long does it take to scan the drive?

It strongly depends on the capacity of your hard drive and the performance of your computer. As reference,most drive recoveries can be completed in around 10 to 12 hours for a 1-TB healthy hard drive in general conditions.
About Data Recovery Wizard
It's super easy to recover 250+ types of files after deletion, disk formatting and virus infection. Click the links and compare the difference of each version.