According to many Windows users, RAM and CPU usage may easily get full after installing Windows 10 or updating Windows 10 into the new version. The system often warns users with "100% disk usage", "Windows 10 extremely high CPU usage" or "High RAM/CPU memory usage" etc messages.
Complaints about Windows 10 high RAM/CPU memory usage issue
"I've just fixed some BSOD problems on my computer and now, a new problem pops up that Windows 10 is telling my disk usage is 100% full. And now this computer is extremely slow. What can I do?"
"I was about to download a new Windows 10 update, but it said that I need 600MB. However, the memory is nearly full. I tried to move some apps or software into an external storage device, but it still keeps telling me with high memory usage error."
"I installed Windows 10 but get a high RAM usage warning that the memory got 90% usage without opening nay installation apps or files."
When you get Windows 10 full memory usage error or receive high disk usage warning, the RAM or memory in Windows 10 is not really full. Here let's see what reasons may cause such a problem:
Memory leak.
Registry hack.
Low space due to high usage by multiple apps or big installation patches.
Memory got taken up by a large number of useless junk files.
How to fix/solve Windows 10 RAM/CPU high memory usage issue
How to fix the memory high usage issue in Windows 10? Is it possible for you to deal with the Windows 10 100% disk usage problem? Let's find reliable solutions now.
Method 1. Fix high CPU usage issue by fixing system error, clean up junk files and optimize disk
System error is a major reason that may cause false information to the computer such as high CPU usage. And junk files in the computer can really take quite a lot space and it's quite necessary to clean up junk files in PC regularly. Optimizing Windows disk will surely improve system performance.
So how to deal with these issues? Don't bother anymore. Professional partition manager software - EaseUS Partition Master will do to help.
Check and fix system error
Step 1: Open EaseUS Partition Master on your computer. Then locate the disk, right-click the partition you want to check, and choose "Check File System".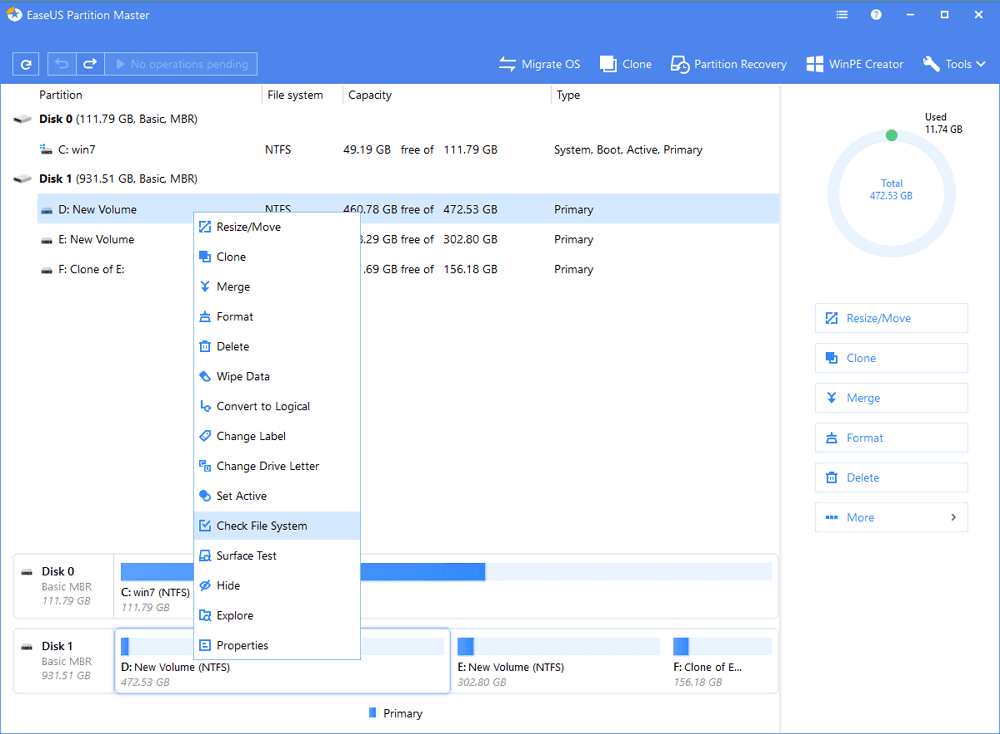 Step 2: In the Check File System window, keep the "Try to fix errors if found" option selected and click "Start".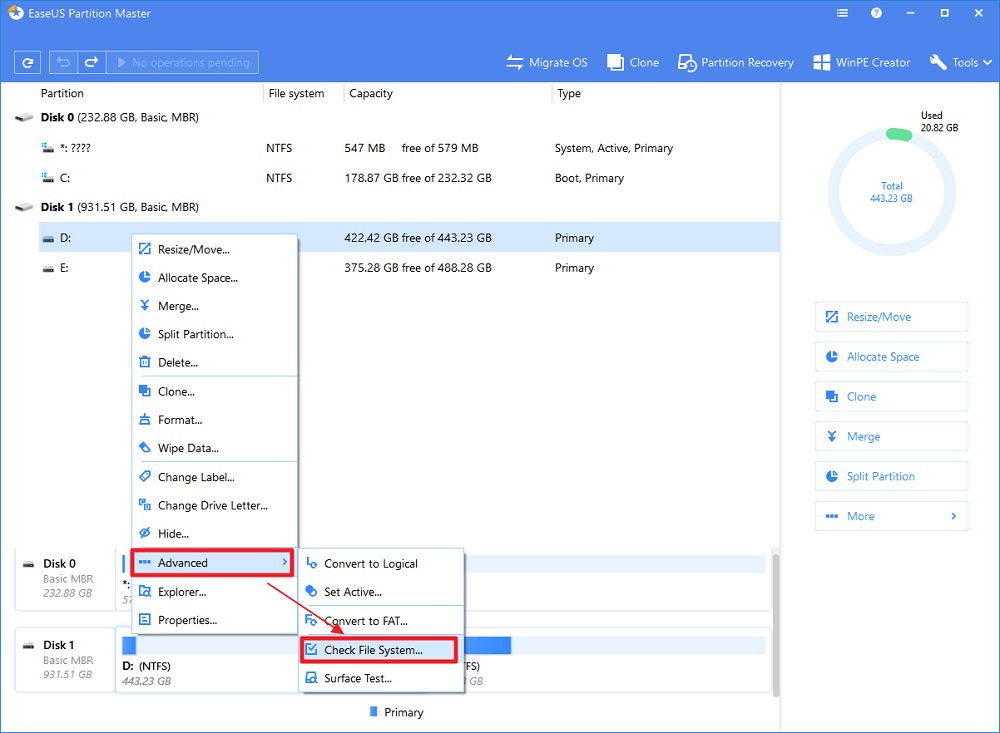 Step 3: The software will begin checking your partition file system on your disk. When it has completed, click "Finish".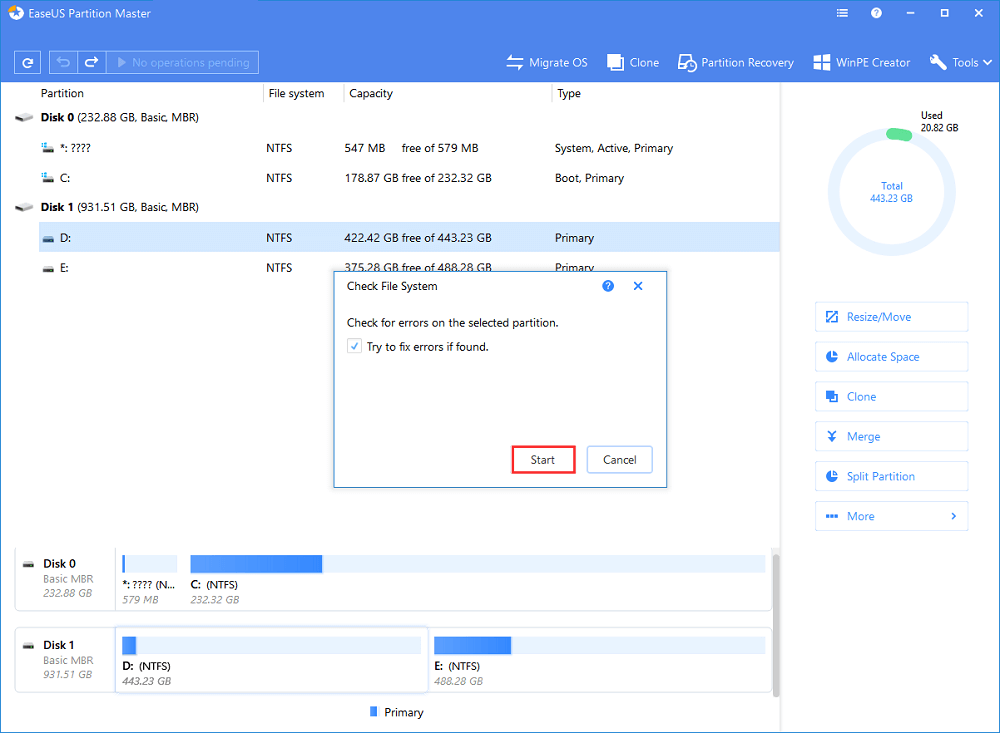 Clean up junk files and optimize Windows
EaseUS Partition Master provides Cleanup and Optimization feature for Windows users to thoroughly wipe out all useless files and improve system performance with simple clicks.
Method 2. Disable programs running at Startup to save CPU memory space
To disable programs running at Startup will effectively decrease the system load and saving quite a lot CPU memory space.
1. Press Windows + R > Type: msconfig and hit "Enter".
2. Click on Startup in the Task manager window > Right-click the applications that you don't want to run at Startup and select "Disable".
Method 3. Change settings in Chrome or Skype to fix 100% disk usage error
Software or browsers sometimes like Skype or Chrome may cause 100% disk usage error in Windows 10. To change settings in Chrome or Skype will help to fix the 100% memory disk usage issue.
Change Chrome settings to deal with the high CPU usage issue
Open Chrome > Go to Settings > Show Advanced Settings > Privacy > Uncheck Prefetch resource to load pages quickly.
Change Skype settings to solve 100% disk usage error
1. Open Windows Explorer > go to: C:\Program Files (x86)\Skype\Phone\.
2. Right-click Skype.exe and click "Properties".
3. Open Security and click Edit > Highlight All APPLICATION PACKAGES.
4. Tick Write and click "Apply" > click "OK" twice.
Method 4. Defragment hard drives
It will also help to save quite a lot CPU memory space by defragmenting hard drives.
Press "Windows + R" and type: dfrgui, hit "Enter"
Click on the hard drives (C: drive for example) you want to defragment and click Optimize;
Then follow the instructions on the screen to finish the defragment process. Do remember to restart the computer when the process is finished.
EaseUS Partition Master also has this feature to help you simply defragment Windows hard drives and optimize disk performance with ease.
Method 5. Adjust for Best Performance
1. Click on the Desktop icon in the start > Right-click Computer icon and select Properties.
2. Select Advanced System settings > Tap System properties > Settings.
3. Click Adjust for best performance > Apply > Tap "OK".
Then restart your computer to keep all changes in the system. With this, the computer will respond faster and improved with better performance. The high RAM/CPU usage issue will also be solved.