PAGE CONTENT:
ASUS Laptop Runs Very Slow Windows 10
Why Is ASUS Laptop Slow, Unresponsive or Freezing
Solutions to Speed up the ASUS Laptop
ASUS Laptop Runs Very Slow Windows 10
"Hello, all. I bought a brand new ASUS laptop and it was working perfectly for about 2 weeks. I have installed numerous games and an antivirus. It was always running fine. I have made no changes recently and barely any browsing. While playing football manager, after about 30 mins, the laptop froze for perhaps a minute before seemingly working normally again.
Now it seems to intermittently go very slow and unresponsive. The laptop is almost unusable. How can I solve this slow performance ASUS laptop with Windows 10 OS? Thanks in advance."
Why Is ASUS Laptop Slow, Unresponsive or Freezing
Is your ASUS laptop running slow on Windows 10? Does it keep freezing when you surf the Internet or work on a project? All laptops run slow over time, an ASUS is no exception.
If the performance of your computer keeps dropping, for example, hang up more often, ran much slower than it used to, you'd better watch out. You must figure out why is your ASUS laptop so slow. The reasons could be as follows:
Virus or Malware
Slow on Startup
Running Out of Disk Space
Windows 10 Automatic update
Solutions to Speed up the ASUS Laptop
When you have known the reason, you can start to fix the ASUS Windows 10 slow issue as soon as possible.
Solution 1. Remove the Virus or Malware
hen a Windows computer is caught by malicious viruses or programs, it will act up and slow down. The solution is also pretty straightforward, run an antivirus scan and remove any threats it might find.
Solution 2. Optimize the Startup
If your ASUS laptop or PC takes 60+ seconds to log in the screen, you'd better optimize it.
For Windows 7, Vista, or XP user:
Use this utility called MSConfig to tune up Windows startup.
For Windows 8.1 or Windows 10 users:
Right-click on the taskbar, then select "Task Manager" > "Startup".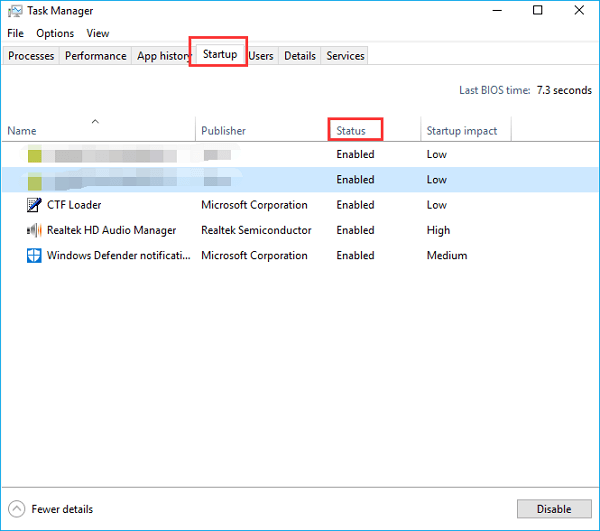 If a program shows Enabled, that means it will automatically run when you start up your ASUS laptop. Disable or uninstall those you don't need. The fewer Enabled items you have, the faster your PC will boot up.
Solution 3. Free up Space to Speed up ASUS Laptop
They say CPU is the brain of a computer, then the hard drive is like the blood that connects every part. If your ASUS disk usage is 100%, the whole computer will lag. So what to do about that? Clean it up!
You can do it manually or with a useful tool to help you.
Here, EaseUS Partition Master Free is recommended. This free partition manager comes with useful features that can solve the problem perfectly. Best of all, you can do all of them within a few clicks. The app is really a time-saver! Just follow the two steps below to speed it up
1. Clean up junk files
2. Increase C drive space
Step 1: Launch EaseUS Partition Master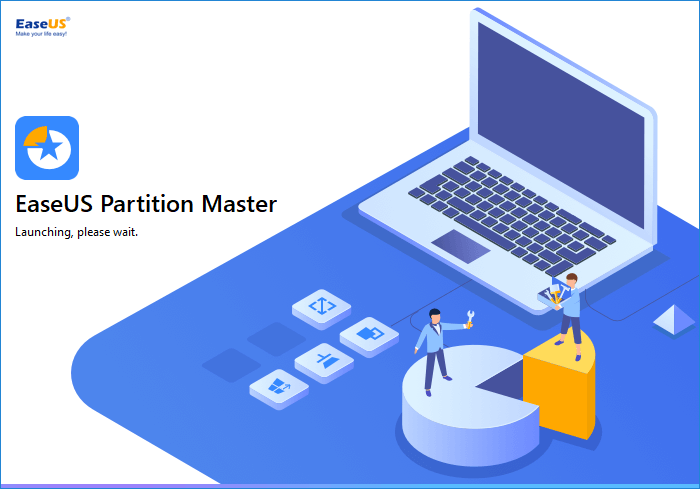 Step 2: Increase C drive space
1. Shrink partition to free up unallocated space:
Right-click on a partition next to the C: drive and select "Resize/Move".
Drag either end of the partition to shrink and leave unallocated space behind the system C: drive and click "OK".
2. Right-click on C: drive and select "Resize/Move".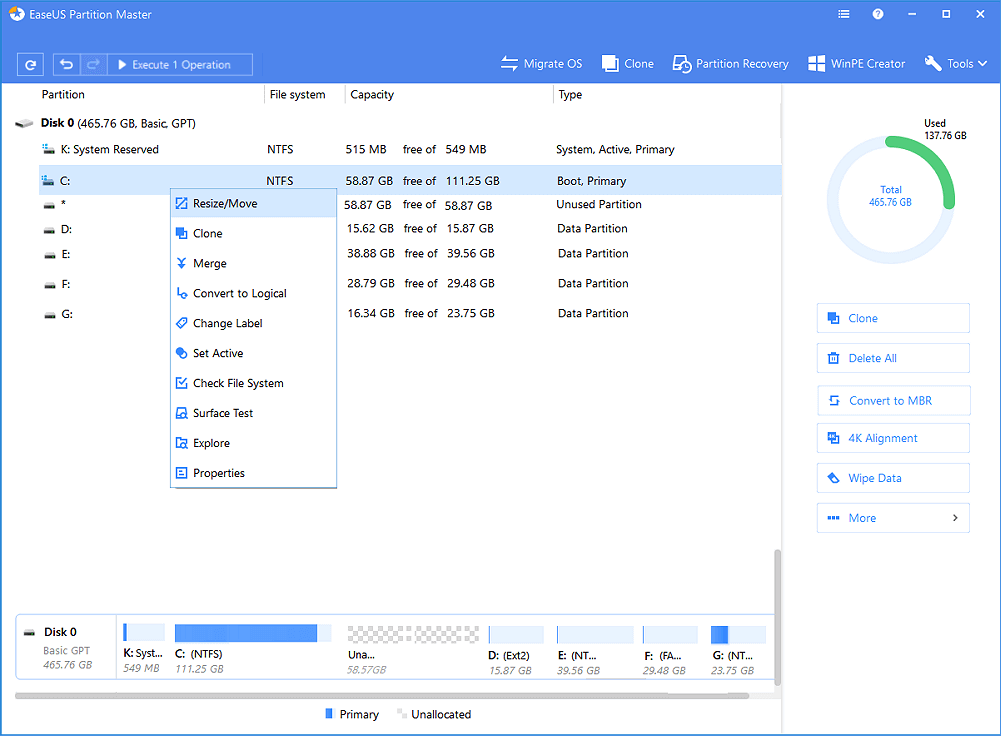 3. Drag the system partition end into unallocated space so to add space to C: drive.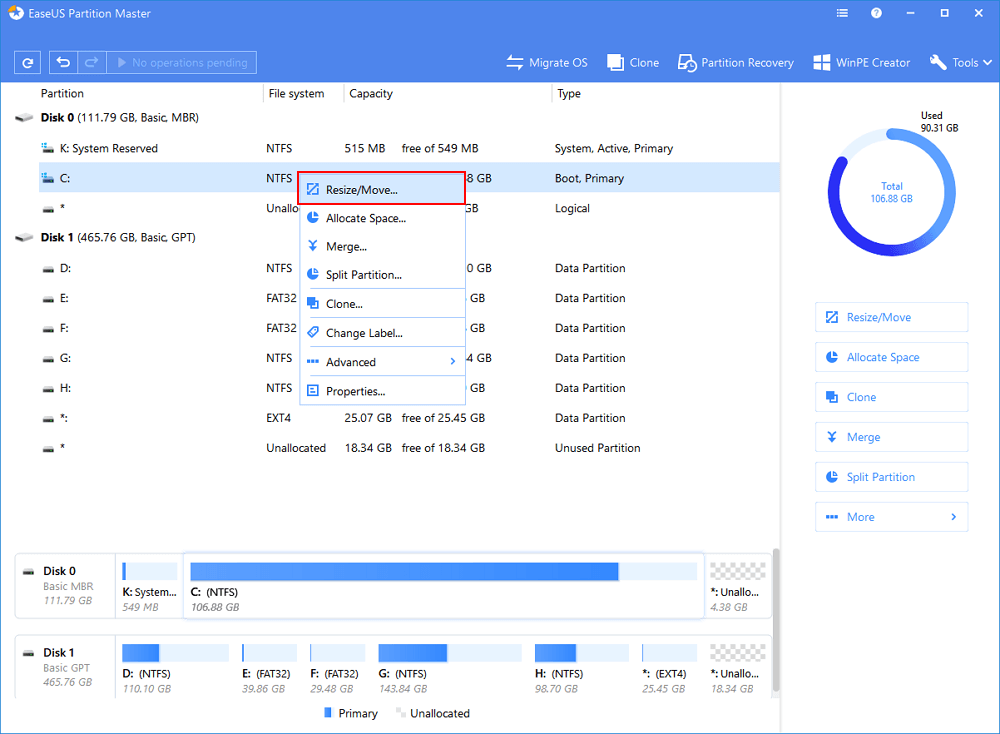 Step 3: Keep all changes to extend C: drive
Solution 4. Disable Windows 10 Automatic Update
It is indeed very annoying to be faced with the automatic Windows 10 Update. Disable the automatic update in every way now.
If your ASUS is still running slow after you have tried all of the solutions above, you can also ask us for help directly.