"My brand new Lenovo IdeaPad 720s (256GB SSD, 8GB ram) was quite slow and laggy. I had some trouble logging in - had to force shut down at the time. Later the Chrome and Adobe crashed and were unresponsive for a while. I ran Malwarebytes and then Avast and no viruses were detected. My laptop is still slow. What's the matter with it? How can I make it faster and gain a better performance of it?
PAGE CONTENT:
Check Memory and Memory Usage
Check for Low Disk Usage and Make Some Room
Disable Unnecessary Startup Programs
Disable Windows 10 Automatic Update
Before you take actions, you can make some quick fixes:
Make sure that you've tried to restart the laptop several times if the 'slow boot time' happened for the first time.
Had at least once run the antivirus software and removed the suspicious software on your computer.
Make sure you have all the latest Windows updates installed on the laptop. If you are on the Internet when your Lenovo laptop is slow, make sure all browser plugins are up-to-date.
For a general topic on Lenovo laptop running slow, please refer to the four troubleshooting methods one by one and solve the problem beautifully.
Method 1. Check Memory and Memory Usage
Press Ctrl + Alt + Delete, and then select Task Manager.
In Task Manager, select the Performance tab > Memory.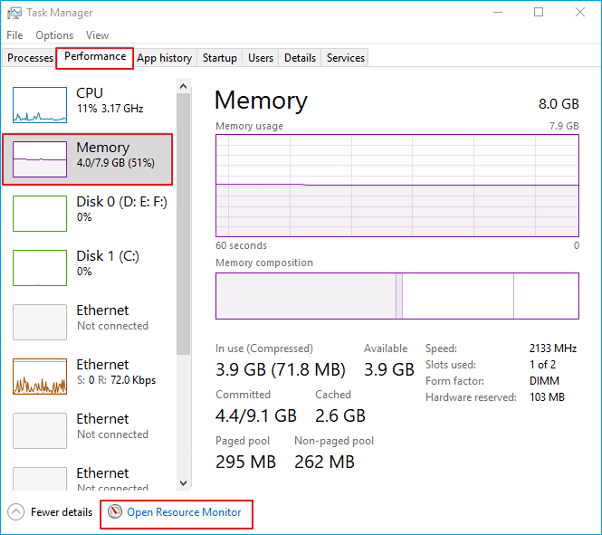 First, see how much you have total, and then check the graph and see how much RAM is being used.
Here's some info about the minimum memory requirements for Windows 10:
Windows 10 (32-bit) can run on a PC with 1 GB of RAM, but it runs better with 2 GB. For better performance, add memory so you have 3 GB or more.
Windows 10 (64-bit) can run on a PC with 2 GB of RAM, but it runs better with 4 GB. For better performance, add memory so you have 6 GB or more.
You can open Resource Monitor to end some process to free up some memory space.
Right click the process and click end process.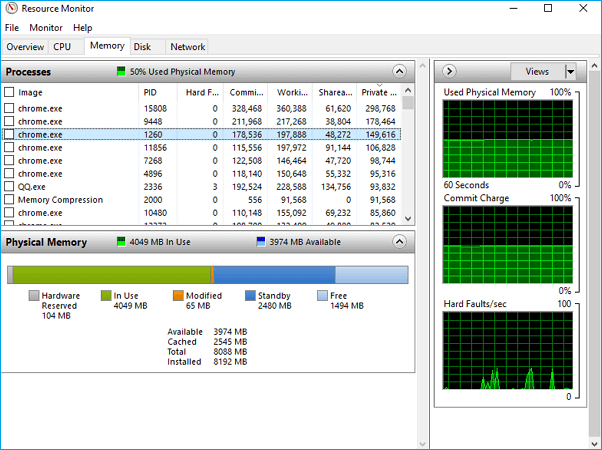 Method 2. Check for Low Disk Usage and Make Some Room
You may improve performance if you free some disk space on your PC.
To check for low disk space:
Select the Start button, and then select Settings > System > Storage.
Under Storage, your drives will be listed. Note the amount of free space and total size for each drive.
To clean up space:
1. Automatically delete Temp files.
2. Clean up junk files.
To increase disk space:
1. Adjust partition size.
When you find out the low disk space, you can increase the space by resizing the partitions. Here, you can use a free software.
With the help of the free partition software, you can adjust partition size magically. It won't cause any damage to the existing data. If you are still worried about your data safety before starting to adjust partition size. The copy disk/partition function allows you to back up all your data to another disk/partition to ensure you 100% security.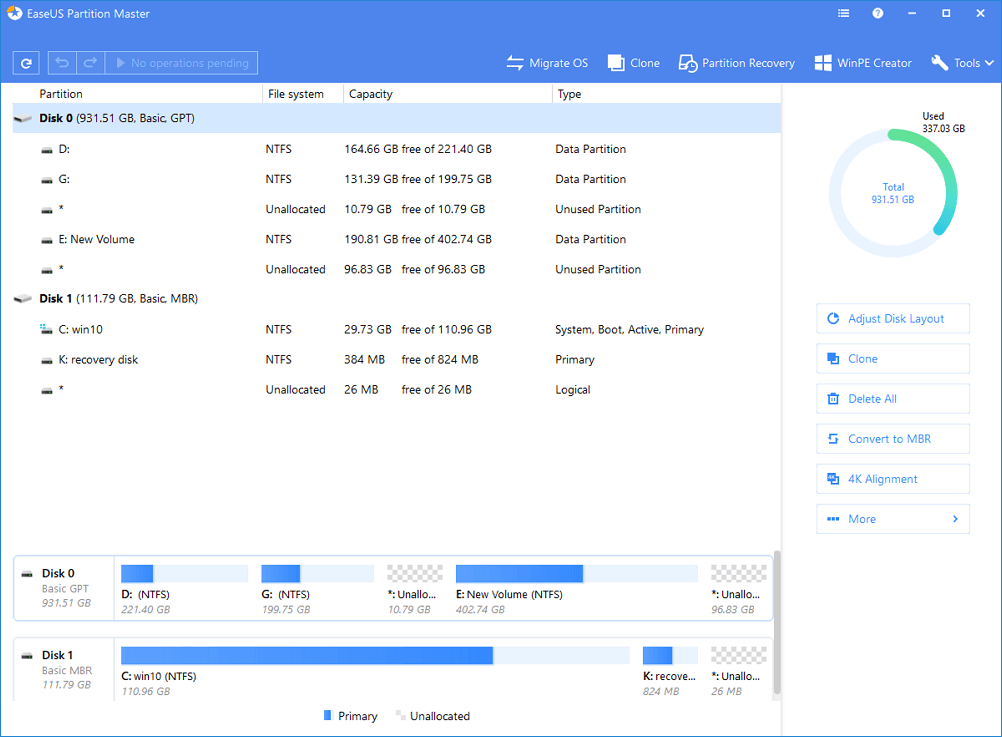 A Solid State Drive runs much faster than that of a Hard Disk Drive when it comes to choosing a boot drive for Windows computers. If you're tired of waiting too long to boot up Windows OS on your HP PCs, why not invest an SSD? Use the best hard drive duplicator software to upgrade HDD to SSD without reinstalling Windows.
Method 3. Disable Unnecessary Startup Programs
When you turn on your PC, some programs start automatically and run in the background. You can disable these programs so they don't run when your PC starts.
Many programs are designed to start automatically when Windows does. Software manufacturers often set their programs to open in the background - you don't realize they're running, but they'll open quickly when you go to use them. This is helpful for programs you use a lot, but not for programs you don't use often because it increases the time it takes Windows to start.
Select the Start button, and then select Settings > Apps > Startup.
Under Startup Apps, find the program you want to stop from starting automatically and set it to Off.
Method 4. Disable Windows 10 Automatic Update
Don't ignore one truth. Each Windows 10 update causes problems. Even you've tried all the recommended solutions above, it's still necessary to consider a permanent close for Windows 10 automatic update.
It is indeed very annoying to be faced with the automatic Windows 10 Update. Disable the automatic update in every way now.
If your Lenovo laptop is still running slow after you have tried all of the solutions above, you can also ask us for help directly.
100% of people found this article helpful.
Frequently Asked Questions
Why Choose EaseUS Partition Master?

"I've used Partition Master Professional many times to create, delete, format, move, rename, and resize partitions." —PCWorld

"Partitioning tools have come a very long since the days of complicated command line utilities and EASEUS Partition Master is one of the most advanced programs available." —TECH ADVISOR

"I love that the changes you make with EaseUS Partition Master Free aren't immediately applied to the disks. It makes it way easier to play out what will happen after you've made all the changes." —Lifewire
Will the "Migrate OS" feature transfer the Windows system files only or the whole C drive?

To ensure that the migrated system will boot normally, the Migrate OS feature will transfer all the files in the system and the boot partitions. Generally, the boot partition is the C drive so the transfer will include all the files in C.
Does EaseUS Partition Master license apply to multiple computers?

The license of Partition Master Professional and Server editions can be used on 1 computer only, while that for for the Technician and Unlimited editions can be used on multiple machines.
What is the difference between EaseUS Partition Master Trial version and the Free version?

Free is for home users only, with most basic functions available such as partition resize and clone. While trial can help you understand how this product works and test what a full license can do on a business or server OS machine.
Will it cause any data loss after resizing the partition in EaseUS Partition Master?

Generally, it will not cause any data loss or boot issue by resizing a partition. However, in order to protect your data, we suggest that you backup the partition before resizing, in case of any unexpected situations such as power outages, computer hardware failures, etc. You can use EaseUS Todo Backup to backup the partition and its trial version is fully functioned for 30 days.
What should I prepare before resizing the partition?

On the partition that is going to be operated, there might be some files being occupied by other programs. To ensure a successful operation, we suggest that you close all the unnecessary software before resizing that partition. Otherwise, EaseUS Partition Master will detect the partition being locked by the other software and require a reboot to resize the partition under boot mode.
About EaseUS Partition Master
All-round disk & partition management software for personal and commercial use. Let it manage your storage drive: resize, format, delete, clone, convert, etc.