Overview of RAID 5 Recovery
RAID is born to balance either the data redundancy or performance improvement, or both. So far, though many variations have involved such as nested RAID, the standard ones are RAID 0, RAID 1, RAID 5, RAID 6, and RAID 10. They are using different techniques to work in a specific situation. As a comparison, among the standard levels, it's the RAID 5 technology that reaps the benefits of enhanced data security, excellent performance, high data redundancy, and acceptable budgets.
RAID 0 - striping
RAID 1 - mirroring
RAID 5 - striping with parity
RAID 6 - striping with double parity
RAID 10 - combining mirroring and striping
Briefly speaking, this RAID type consists of at least 3 disks for correct work, and you can add up to a maximum of 16 if needed. To get the best result of RAID 5 data recovery, it's necessary to know how RAID 5 operates. As the image shows, data blocks are striped across the drives and on one drive a parity checksum of all the block data is written. The parity data are not written to a fixed drive, they are spread across all drives. Using the parity data, the computer can recalculate the data of one of the other data blocks, should those data no longer be available. That means a RAID 5 array can withstand a single drive failure without losing data or access to data.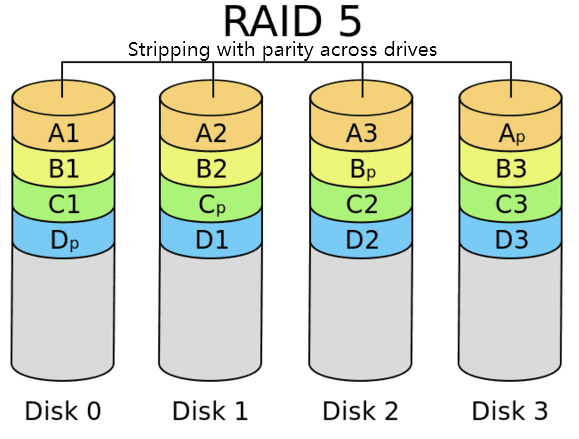 In conclusion, if 1 of 3 or above hard disks of RAID 5 becomes corrupted, damaged, or dead, no worry. Most renowned RAID recovery software can easily help you get the lost data back. But sometimes, it's not a single drive problem but two. How do you get over with it?
Can You Recover Data from RAID 5 with 2 Disk Failure?
One catastrophic disaster is having 2 out of 3 hard disks broke down, especially at the same time. It's never possible to retrieve data from RAID 5 under such a circumstance. If by chance you use 5 or more disks arrays, you can put yourself together and try EaseUS RAID EaseUS Data Recovery Wizard.
How many hard drives failed
Chance of data recovery
2 of 3 hard disks
Zero
2 of 5~16 hard disks

It depends

1. The more hard disks you are using, the higher the chance of successful RAID 5 data recovery

2. The more properly you handle the situation (i.e. Turn off the PC or RAID controller, or stop any operation on the RAID), the more likely you can rescue data without damaging the integrity
EaseUS Data Recovery Wizard is known as the most dependable, powerful, and efficient software that supports to rescue lost data from PCs, laptops, digital devices, hard drive (HDD, SSD), removable storage media (USB pen drive, memory card...), server, RAID, etc. Besides the ability to recover data from a corrupted hard drive or failed hard drive on RAID 5, it can also help recover data from the lost partition on RAID 5 and other levels.
Connect both the failed hard drives to your computer, and follow the guide below for a free trial. You can preview the scan results of lost data on the hard drives before actual data recovery.
Video Tutorial: RAID 5 Data Recovery
Step-by-Step Guide to Recover Files from RAID 5 Disk
Step 1. Scan the RAID drive
Choose the RAID drive from which you wish to recover data, and then click "Scan". Wait for the scanning process to finish, the deleted files will show up one by one.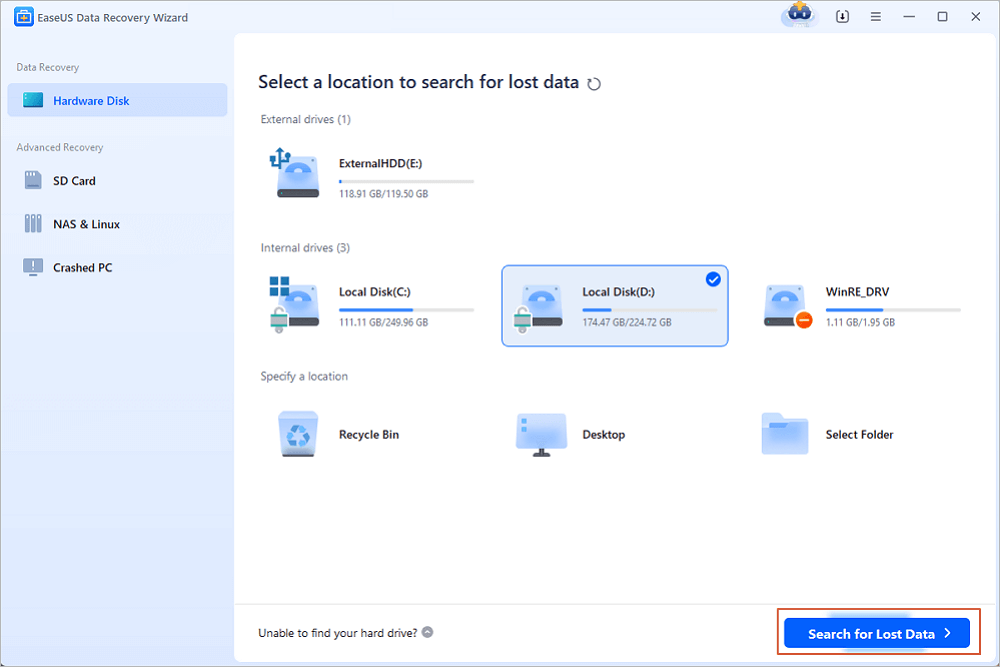 Step 2. Find and preview lost RAID files
You can use "Filter" as quick navigation to find deleted or lost files. Besides, you can also use Search to find your lost RAID drive files via its file name or file extension.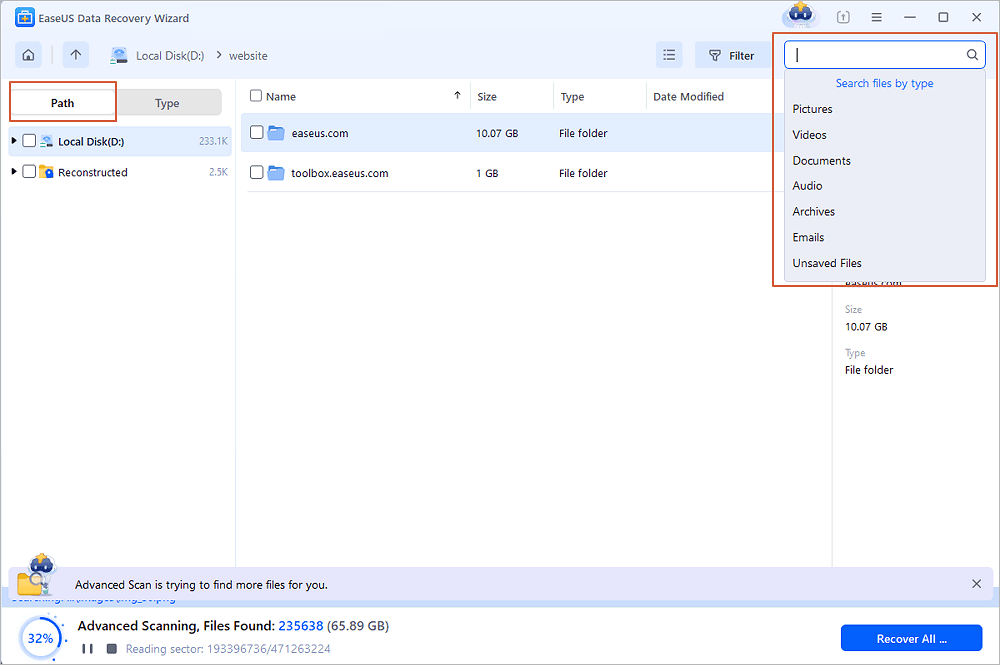 Step 3. Restore lost RAID drive files
Select the wanted files and click "Recover". Browse to save these files to another secure location.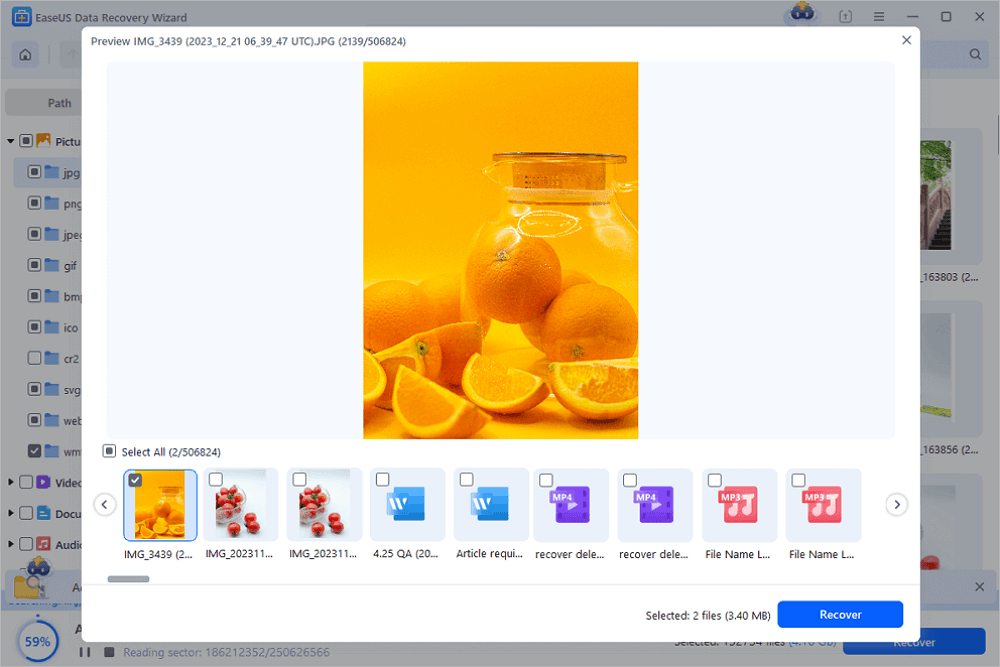 Manul Service - Recover RAID 5 Data with Experts
EaseUS also provides you with a RAID recovery service. Consult with EaseUS Data Recovery Experts for cost-efficient one-on-one manual recovery service and get help now.
EaseUS RAID Data Recovery Services
Click here to contact our experts for a free evaluation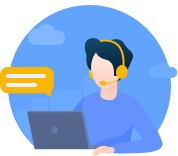 Consult with EaseUS data recovery experts for one-on-one manual recovery service. We could offer the following services after FREE diagnosis. Our decades-experienced engineers are knowledgeable and can repair the damaged RAID structure and restore data from all RAID levels.
Restore data from all RAID levels, including RAID 0, RAID 1, RAID 5, RAID 6, RAID 10, etc.
Recover data from enterprise RAIDs such as QNAP, Synology, WD, Buffalo, etc.
Retrieve lost RAID data caused by any issues
Fix disks that become GPT protected partitions
Recover data from RAID remotely, no need to ship
100% Raid 5 Data Recovery - Backup
Try to avoid two drives dying at once. As soon as one drive shows an amber light, stop writing new data or forcing RAID 5 array back online right away. For RAID 5 recovery under two failed hard drives, the EaseUS RAID recovery solution is the most time-saving and results-enhancing choice for quick and complete data recovery.
Though RAID 5 provides protection from a single drive failure, it's crucial to sense the danger of two hard disks malfunctioning at the same time, which makes full data recovery so difficult, even by professional data recovery services. It's of utmost importance to regularly back up RAID with a proper backup plan. A handy backup can guarantee a 100% possibility for RAID 5 data recovery with 2 problematic hard drives, or even more. Meanwhile, prevent disastrous consequences from the primary reasons for losing data.
Malfunctioned controller
Lost or deleted RAID partition
Incorrect RAID volume configuration
Viral damage or malware infection
Sudden power outage

Brithny is a technology enthusiast, aiming to make readers' tech life easy and enjoyable. She loves exploring new technologies and writing technical how-to tips. On her spare time, she loves sharing things about her favorite singer - Taylor Swift on her Facebook or Twitter.

Jean has been writing tech articles since she was graduated from university. She has been part of the EaseUS team for over 5 years. Her special focuses are data recovery, disk partitioning, data space optimization, data backup and macOS. By the way, she's an aviation fan!