Can RAID 0 be recovered? Yes! Can you recover data from RAID 0? Yes!
This page introduces everything about RAID 0. If your RAID 0 disk fails or corrupts, follow the solutions below to rebuild RAID 0 and recover data from RAID 0 disks with ease now.
What Is RAID 0

RAID 0, known as Redundant Arry of Independent Disks Mode 0, is generated on two or multiple drives with the same storage capacity, which stripes data evenly across these disks.
Pros
Cons

Stripes data across all disks
Cheap, Provides huge storage capacity
Fast to read, write and transfer data

No-fault tolerance or redundancy
One drive failure causes the entire array to fail
Low data security level: One drive fails, total data will loss
What is RAID 0 used for? As RAID 0 is widely used by Server managers, website owners, IT professionals, and database managers for:
Server service providing.
Server Database, store libraries storages.
Website service serving.
Generating huge storage pool
Improves the reading and writing speed on computers.
What Happens If a Drive Fails in RAID 0
As we know RAID 0 is an ideal structure for creating huge storage with fast accessing speed on Server machines and websites. However, sometimes, RAID 0 structure is also vulnerable to damage or corrupt.
Typically, when one drive fails, the whole RAID 0 structure fails. So what will happen if a drive fails in RAID 0 on your computer?
When a hard drive fails, you'll meet the following issues:
Hard drive failure, dying, or failing hard drives.
Total data loss on all RAID 0 disks.
RAID 0 structure broken, RAID 0 drives becomes logical partitions.
RAID 0 drives become inaccessible.
Can RAID 0 Data Be Recovered? How to Fix a Failed RAID 0 Without File Loss [4 Methods]
As mentioned above, it's clear that when a RAID 0 drive fails, all the data will be risky. So can RAID 0 data be recovered? Yes, but you'll need to turn to professional data recovery solutions.
Here we collected 4 methods to help you fix a failed RAID 0 drive and bring back all the files:
 Editors Recommend - Quick Guide to Pick a Right Method:

Open Disk Management > Check the State of Your RAID 0 Sates.
RAID 0 drives become logical partitions - Turn to Method 1, 2, 3 first.
1 RAID 0 drive or multiple drives display as Offline or unknown - Turn to Method 4.
Method 1. Run RAID Data Recovery Software
| | |
| --- | --- |
| Pros: Quick and safe to recover RAID 0 data. | Cons: Not free. |
When a RAID 0 drive fails, it'll become inaccessible, as long as Disk Management can detect and recognize the drive, you can turn to a reliable RAID data recovery software for help.
Here, EaseUS RAID data recovery software - Data Recovery Wizard can scan and find missing files from your RAID 0 drives.
EaseUS Data Recovery Wizard
Recover data from inaccessible RAID drives.
Recover data from failed RAID 0, RAID 1, RAID 5, RAID 10 drives.
Recover lost, deleted, or formatted files from RAID 0, RAID 1, RAID 5, RAID 10 volumes.
Recover files from virus-infected RAID disks.
Note: To avoid further data loss, remember to save the recovered RAID 0 files to another secure location, such as an external hard drive.
Step 1. Scan the RAID drive
Choose the RAID drive from which you wish to recover data, and then click "Scan". Wait for the scanning process to finish, the deleted files will show up one by one.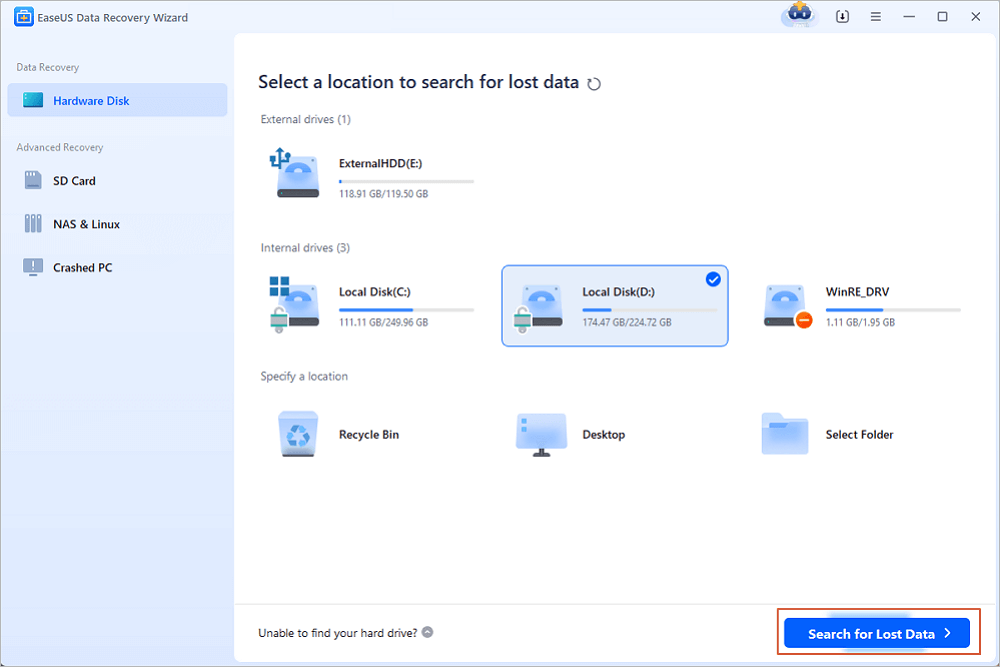 Step 2. Find and preview lost RAID files
You can use "Filter" as quick navigation to find deleted or lost files. Besides, you can also use Search to find your lost RAID drive files via its file name or file extension.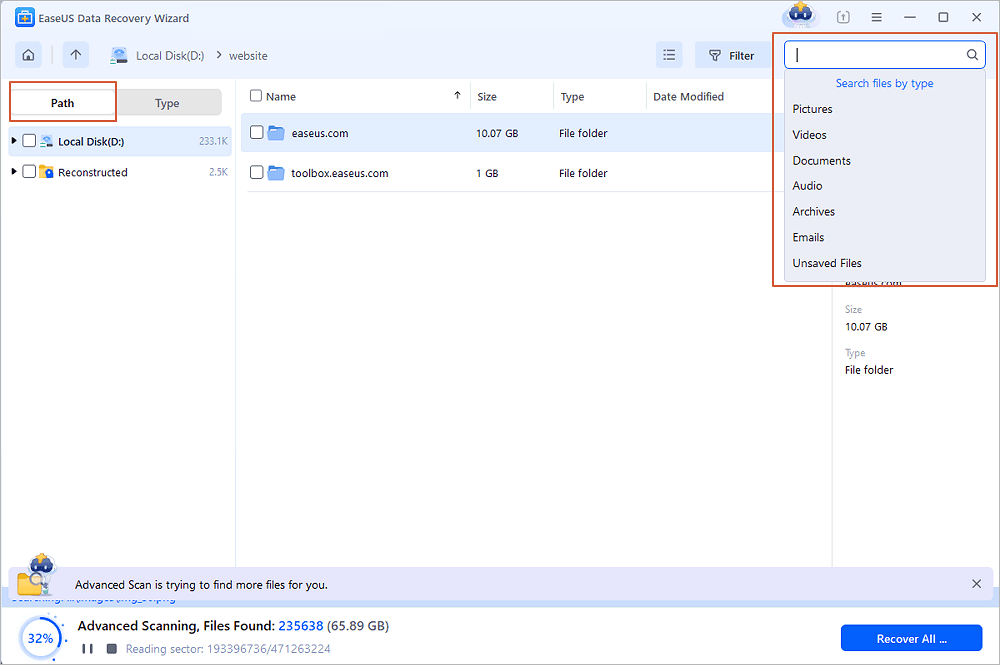 Step 3. Restore lost RAID drive files
Select the wanted files and click "Recover". Browse to save these files to another secure location.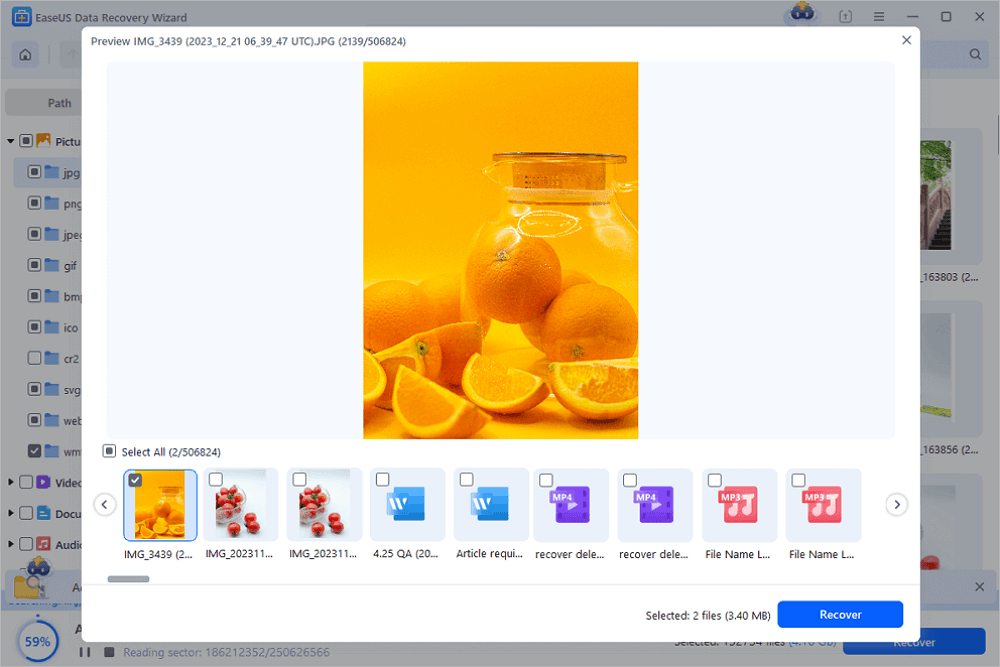 Method 2. Turn to RAID 0 Data Recovery Service
| | |
| --- | --- |
| Pros: Quick and safe to recover RAID 0 data. | Cons: Not free, Rebuild RAID 0 structure. |
The second method to recover your valuable RAID  0 data is to turn to professional RAID 0 data recovery services.
Or, if EaseUS Data Recovery Wizard fails to find your RAID 0 disk files, don't miss the RAID 0 data recovery service provided by the EaseUS Support team:
EaseUS RAID Data Recovery Services
Consult with EaseUS data recovery experts for one-on-one manual recovery service. We could offer the following services after FREE diagnosis. Our decades-experienced engineers are knowledgeable and can repair the damaged RAID structure and restore data from all RAID levels.
1. Restore data from all RAID levels, including RAID 0, RAID 1, RAID 5, RAID 6, RAID 10, etc.

2. Recover data from enterprise RAIDs such as QNAP, Synology, WD, Buffalo, etc.

3. Retrieve lost RAID data caused by any issues

4. Recover data from RAID remotely, no need to ship
You May Also Interest: Data Recovery Software vs Local Recovery Service
Method 3. Connect RIAD 0 Disks to a New Computer and Recover Data
| | |
| --- | --- |
| Pros: Free.   | Cons: Recover only partial data or nothing, low success rate. |
The other option that you may try is to disconnect the problematic RAID 0 drives from your computer and connect them to another PC to check and recover the data.
Step 1. Disconnect the RAID 0 drives from your current PC.
Step 2. Connect the RAID 0 drives to another computer.
Step 3. Check if you can access and visit data on the drives.
If yes, copy and save the files to another secure drive.
Method 4. RAID 0 Reconstruction
| | |
| --- | --- |
| Pros: Rebuild broken RAID 0 structure. | Cons: Complex. |
According to many professionals, it's true that once a RAID 0 drive fails, you can merely rebuild or reconstruct the RAID 0 structure. According to EaseUS Data Recovery experts, there are two ways to fix failing hard drive or rebuild the RAID 0 structure:
Option 1. Clone Failed RAID Drive to A Working One and Rebuild RAID 0
If you are professional in disk management, you can try the below tips to fix the failed RAID 0 drive and rebuild RAID 0 on your own:
Step 1. Prepare a new drive with equal space as the failed RAID 0 drive.
Step 2. Clone the failing hard drive to the new drive.
Step 3. Replace the problematic drive, install the newly cloned disk on your computer.
Step 4. Enter Disk Management, convert the new disk to dynamic, and re-create the RAID 0 construction with your drives.
Option 2. Take RAID 0 Disks for Repair in Professional Data Recovery & Repair Center
Another option is to take the RAID 0 drives for repair and re-construct the RAID 0 structure with your drives in a local professional data recovery and disk repair center.
Step 1. Take your RAID 0 disks to a local repair center.
Step 2. Clone and back up data from the failed or broken RAID 0 drive to another new drive.
Step 3. Rebuild RAID 0 with new disks with professional RAID 0 reconstruction tools.
Or, if you cannot find a local repair center for help, EaseUS local data recovery service as recommended in Method 2 can help.
Extended Reading: Causes, What to Do If RAID 0 Fails, and Tips to Protect RAID 0 Data
Some of you may also want to learn the causes of RAID 0 drive failure, what to do when RAID 0 drives fail and how to protect your data on RAID 0 disks.
Check the details below, you'll get desired answers.
1. What Causes RAID 0 Drives Failing or Failure
 Here are the main reasons:
Power failure or sudden power off.
Operating System failing or failure.
OS disk becomes RAID.
The RAID card is damaged.
The disk contains bad sectors.
Disk failure.
The disk is totally or partially broken or damaged.
Damaged controller.
2. Do's and Dont's If RAID 0 Drives Failed
Do's
Dont's

Mark the RAID 0 drives in a sequence.
Cut off the power supply if the lights of RAID 0 drives flash abnormally.
Back up all important data from accessible RAID drives as soon as possible.

Don't try to repeatedly reboot the PC or re-activate RAID.
Don't enter the RAID management program, trying to set the problematic RAID 0 drive online, Rebuild RAID 0, or initialize disks.
Don't unplug and replug the RAID 0 drives, trying to re-activate the disks.
3. How to Protect RAID 0 Data
Create a backup of RAID 0 data regularly.
Turn to professional RAID data recovery software like EaseUS Data Recovery Wizard for help if files get lost on RAID 0 disk.
Operate and use RAID 0 disks correctly.
Run antivirus software regularly.
Conclusion: RAID 0 Data Can Be Recovered with Professional RAID 0 Recovery Solutions
On this page, we explained what is RAID 0 and what happens if a RAID 0 fails. Also, we offered 4 reliable solutions to help you resolve the RAID 0 disk fails or RAID 0 structure damaged issue.
Remember: If your files matters on the failed RAID 0 disk, try to restore it first with EaseUS RAID data recovery software or EaseUS local data recovery service.
After restoring RAID 0 data, you can turn to professional tools to rebuild the RAID 0 structure.
 Note that RAID 0 data can be recovered with professional RAID 0 recovery solutions. Also, creating a backup of all valuable files on your RAID 0 disks also matters.

Cedric Grantham is one of the senior editors of EaseUS who lives and works in Chengdu, China. He mainly writes articles about data recovery tutorials on PC and Mac and how-to tips for partition management. He always keeps an eye on new releases and loves various electronic products.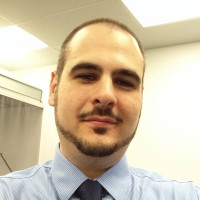 Approved by Evan Galasso 
Evan Galasso is a digital forensics and data recovery engineer with over 10 years of experience in the field. He presents opinions on the current state of storage media, reverse engineering of storage systems and firmware, and electro-mechanical systems of SSDs and HDDs.