What Is Btrfs
Btrfs, also known as the B-Tree file system, was created to address issues that arise frequently in enterprise storage systems, such as fault tolerance, complex data management and protection. As a modern file system that has been developed by a number of different parties, it is now supported by multiple Synology NAS models.
Benefits of Btrfs:
Stability:
Over the past few years, Btrfs has been greatly improved. Now it is mature enough to be used in most simple cases, even for different RAID levels. The latest Btrfs version can fix typical errors in a Btrfs Raid-5 file system.
Enhanced data availability:
Maintaining metadata integrity is critical in any storage system because it contains important data such as folder structures, filenames, access permissions, and the location of each file. In the storage process, Btrfs stores two copies of metadata on a volume, which offers help for data recovery if the hard drive is damaged or has bad sectors.
Data protection and snapshots:
The snapshot feature of the Btrfs file system allows you to create a real-time copy of a shared folder. As a result, you can easily recover lost data to the point when the snapshot was captured if important files are deleted or lost.
Efficiently save drive storage:
For Drive's file versioning and history data, Btrfs does not require double the storage space. When you use Drive, you can keep historical versions of files without worrying about running out of storage space.
Free Download Btrfs File Recovery Software
The functions of the Btrfs file system are really powerful, but it can be very annoying when the files stored in it are deleted or lost. If you, unfortunately, come across such a problem, how can you quickly restore deleted data from the Btrfs file system? There is actually an effective way to do this. With easy-to-use NAS data recovery software provided by EaseUS, you can accomplish Btrifs data recovery without much effort.
The professional data recovery tool, EaseUS Data Recovery Wizard, is not only helpful for recovering corrupted files, photos, and hard drives but also works well in Btrfs data recovery.
Highlights of EaseUS data recovery software:
Recover lost Btrfs data easily without pulling out Raid disks
Recover lost data from a NAS device that has been formatted or initialized
Preview the files before recovering them
Supported operating/file systems:
OS: Windows 11/10 64-bit
File systems: Btrfs/EXT4
How to Recover Data from Btrfs RAID Partition Step by Step
If you have downloaded EaseUS data recovery software on your PC, restoring lost data from the Btrfs file system can be pretty easy. This powerful tool won't let you down whenever you wish to recover deleted Btrfs files on your own. Learn how to use this powerful software with the following steps:
Step 1. Select a NAS server and start recovering.
Download and install EaseUS Data Recovery Wizard on your Windows 11/10 64-bit computer. When you open this software, select "NAS Recovery". All the NAS servers will be automatically listed, choose your target NAS device and click "Scan".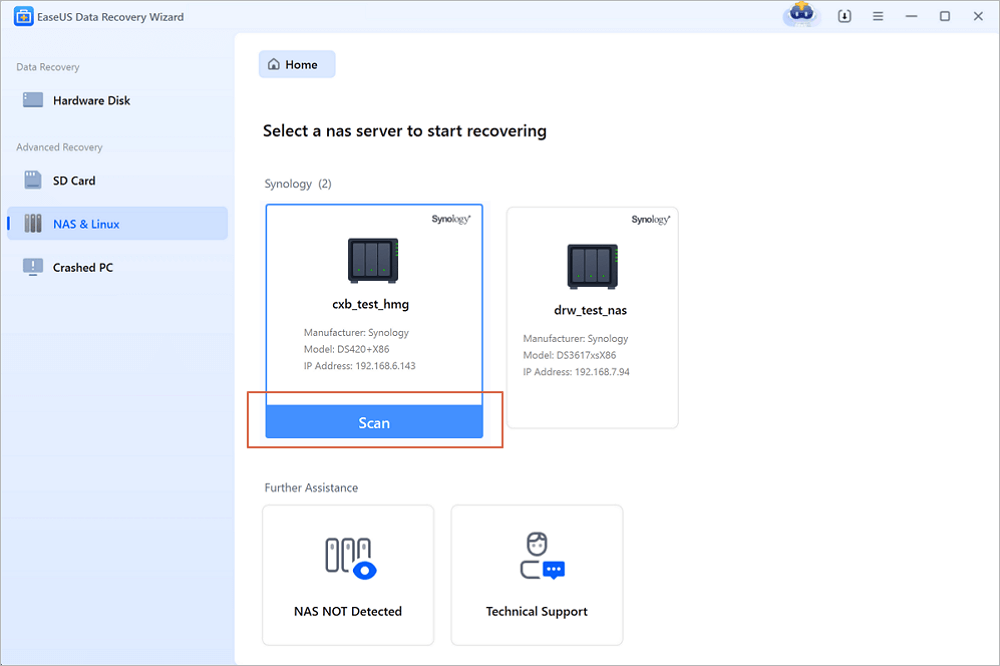 Step 2. Enable SSH service on the NAS server.
Go to "Control Panel > Terminal & SNMP" to check the "Enable SSH service" box. Then view and remember the port for remote access open EaseUS Data Recovery Wizard and click "Next".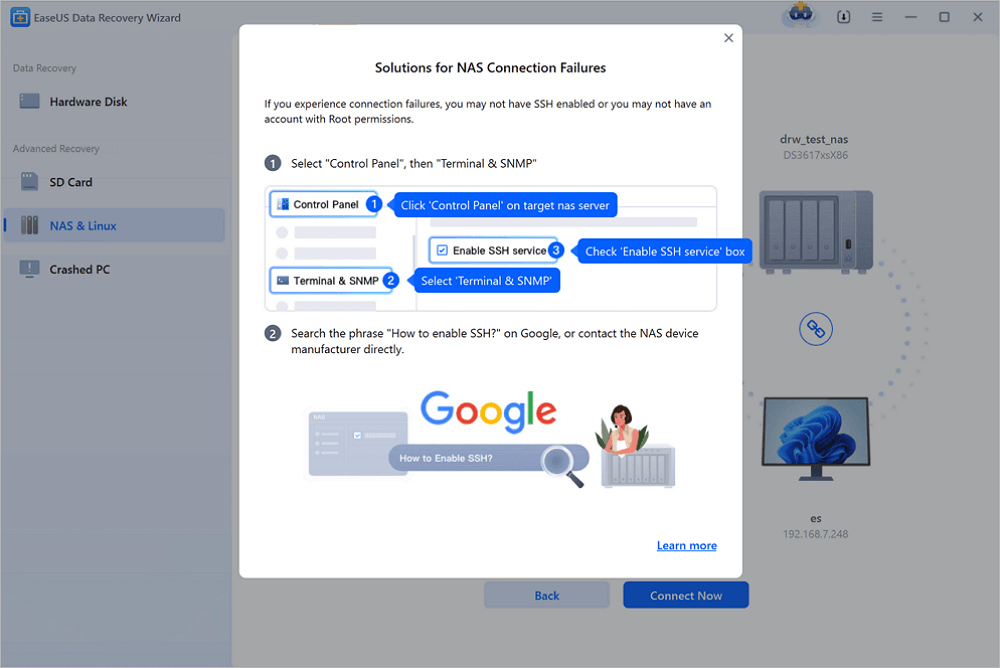 Step 3. Connect to the NAS server remotely.
This software will detect your IP and Port automatically. All you need to do is input the user name and password. If the IP address or Port is not right, you can correct it manually. Then, click "Connect Now".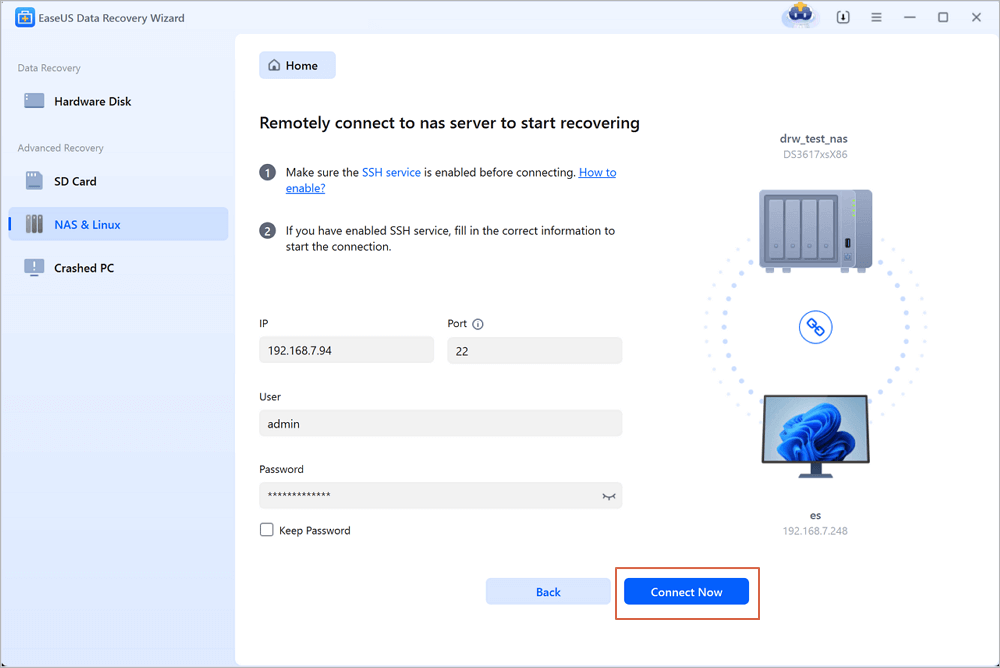 Step 4. Recover lost/deleted NAS data
Then, EaseUS data recovery software will connect to your NAS and start a NAS device scanning. After the scan, you will see all the deleted, lost, or existing files on your NAS server. 
You can apply the "Filter" feature or click the "Search files or folders" option to find the lost files on the hard drive. Select wanted NAS files that you lost on the server and click "Recover" to save them to another location.
Click the "Recover" button to restore deleted NAS files.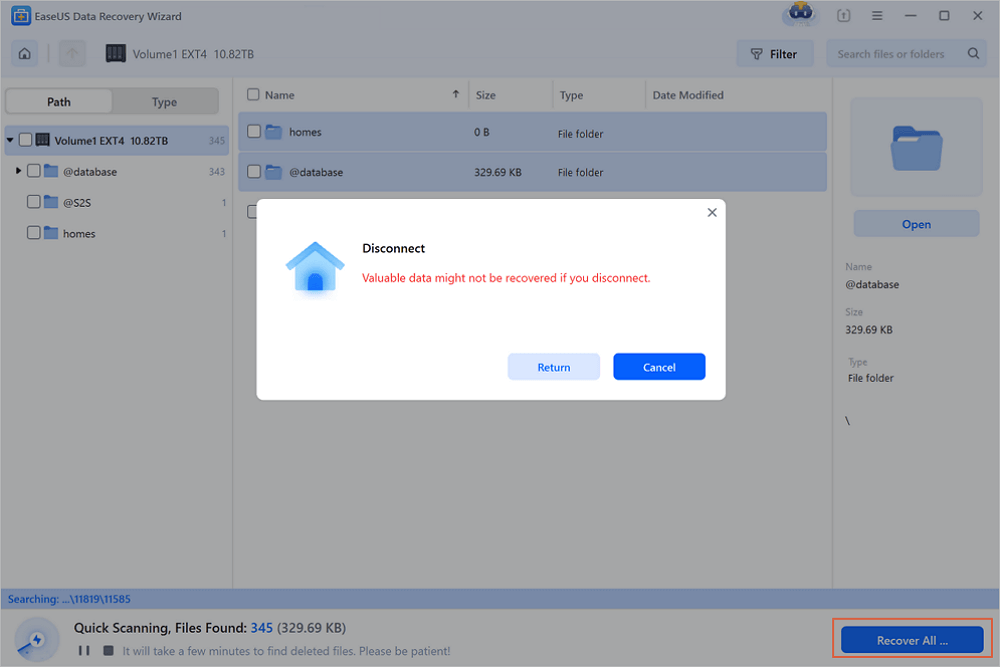 How to Recover Btrfs RAID with Data Recovery Service
Another effective way to recover Btrfs RAID data is using EaseUS Data Recovery Services. It offers the following services after a FREE diagnosis. Contact the experts to get help.
EaseUS RAID Data Recovery Services
Click here to contact our experts for a free evaluation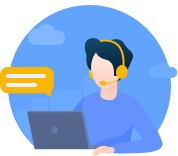 Consult with EaseUS data recovery experts for one-on-one manual recovery service. We could offer the following services after FREE diagnosis. Our decades-experienced engineers are knowledgeable and can repair the damaged RAID structure and restore data from all RAID levels.
Restore data from all RAID levels, including RAID 0, RAID 1, RAID 5, RAID 6, RAID 10, etc.
Recover data from enterprise RAIDs such as QNAP, Synology, WD, Buffalo, etc.
Retrieve lost RAID data caused by any issues
Fix disks that become GPT protected partitions
Recover data from RAID remotely, no need to ship
FAQs About Btrfs RAID Recovery 
If you know more about the Btrfs file system, you will address  Btrfs issues more smoothly. The information related to Btrfs RAID recovery below can help you grasp more skills to deal with Btrfs issues.
1. What Is Ext4? 
Ext4 means the fourth extended file system, which is a standard root/tree file system with a boot sector, partition table, and uses index nodes to describe files and objects. Ext4 is a successor to the ext3 file system. It incorporates scalability and reliability improvements to support large file systems to keep up with increasing disk capacities and cutting-edge feature requirements.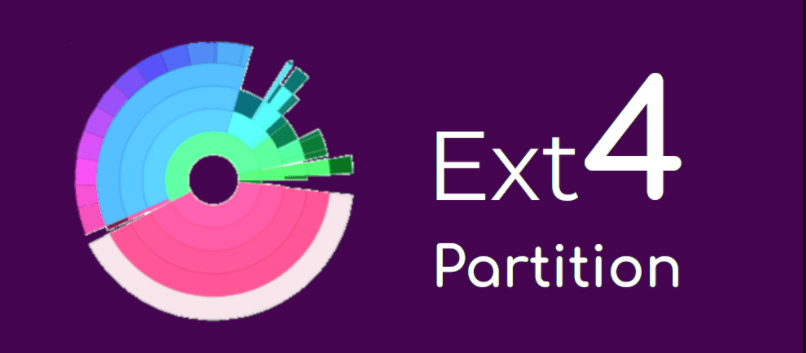 2. What's the Difference Between Btrfs and Ext4? 
Although both Btrfs and Ext4 are commonly used file systems, there are lots of differences between the two.
Journal or Copy-on-Write:
Btrfs: Copy-on-Write file system
Ext4: Journaling file system
Support for multiple devices
Btrfs: has built-in RAID support for multiple devices
Ext4: no built-in support for multiple devices
File system-level support:
Btrfs: supports file system-level deduplication and Compression
Ext4: does not support file system-level deduplication and Compression
Data integrity:
Btrfs: ensures data integrity by CRC32C checksum
Ext4: does not guarantee the integrity of the data
Snapshot:
Btrfs: supports read-only and writable snapshots of the file
Ext4: does not support creating snapshots of the file system
3. Where Are Btrfs Snapshots Stored?
Each snapshot will contain an empty snapshot directory. A snapshot is kept on the same disk where the subvolume is located. You can find a snapshot in /media/backups/current. 
4. How Do I Restore the Btrfs Snapshot?
Step 1. Boot into a restored medium and mount the Btrfs pool 
Step 2. Delete or relocate the undesirable subvolume
Step 3. If the date of the snapshot needs to be checked, find it under "snapshot-number"/"info." XML  
5. How to Undelete Files on the Btrfs RAID Partition?
In the past, undeleting files on the Btrfs partition could be pretty hard. However, with EaseUS NAS recovery data software, you can recover deleted files on the Btrfs partition whenever you wish to restore important data. You can begin by starting the EaseUS Data Recovery Wizard and then choosing "NAS Recovery". This reliable software can offer professional service to help you restore lost data.
Conclusion
As a popular file system, Btrfs is widely used in different places and occasions by multiple people. It is so powerful that it can handle a large amount of data and files. However, when data stored in it are lost, it can be very upsetting. How to precisely find the deleted or lost data from a huge database is a problem, not to mention that we have to restore it.
Don't worry about that! Whether data and files stored in the Btrfs are deleted by accident or not, you can easily restore them with EaseUS data recovery software. The newest version has a NAS data recovery function, which could offer lots of help when you try to address Btrfs file recovery problems.

Cedric Grantham is one of the senior editors of EaseUS who lives and works in Chengdu, China. He mainly writes articles about data recovery tutorials on PC and Mac and how-to tips for partition management. He always keeps an eye on new releases and loves various electronic products.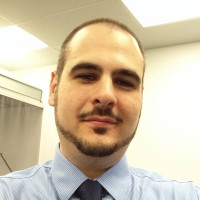 Approved by Evan Galasso 
Evan Galasso is a digital forensics and data recovery engineer with over 10 years of experience in the field. He presents opinions on the current state of storage media, reverse engineering of storage systems and firmware, and electro-mechanical systems of SSDs and HDDs.