Apply the following solutions to complete SSD repair effectively when you encounter SSD not working problem.
| Workable Solutions | Step-by-step Troubleshooting |
| --- | --- |
| Fix 1. Update SSD firmware | Update the SSD firmware to fix a dead SSD. Right-click on the Start icon and select Device Manager...Full steps |
| Fix 2. Update SSD drivers | Update drivers to can fix SSD not working. Open Device Manager and extend the drive driver category...Full steps |
| Fix 3. Check SSD file system | To repair SSD, check and repair the file system by running Command Prompt or using SSD repair tool...Full steps |
| Fix 4. Rebuild MBR, format SSD | Other useful ways for SSD repair are using power cycle, rebuilding MBR, and formatting SSD...Full steps |
Nowadays, SSDs are gaining more and more popularity due to their quick processing rate and instant boot-up abilities. But just like traditional hard disk drives, they are also prone to multiple types of problems, such as dead, failed, or not working SSD. This is the most common issue for many users.
So, in this article, we come up with all the effective methods to resolve how to fix a dead SSD. But before you start the process to fix SSD not working error, make sure that your SSD died due to logical error but not physical damage.
If your SSD not detected on the computer, try to plug it into another computer or use another SATA cable/port. If SSD is still not recognized, that indicates physical damage. For a broken SSD, the provided methods on this page won't help. You'll need to take your drive to a local disk repair center for help.
If your SSD fails to respond due to logical reason, follow this tutorial to fix and restore your dead SSD to work again.
Quick Fix. Unplug and Re-plug SATA Data Cable on SSD
Step 1. Unplug SATA data cable on SSD, leave the power cable connected.
Step 2. Turn on the PC and boot into BIOS.
Step 3. Let PC sit idle in BIOS for about half an hour and turn off PC.
Step 4. Plug the SATA data cable back into SSD and turn on PC to boot into BIOS.
Step 5. Make sure the boot order is correct; save it and launch Windows.
There you can check and read everything on your SSD drive right now. If this doesn't work, never mind. Three effective methods are available to help!
How to Fix a Corrupted SSD with 6 Effective SSD Repair Methods
There are five workarounds in all. You just need to follow all the steps in sequence to fix a dead SSD drive.
 Important

Before performing the below fixes, first of all, recover and export your important data on the SSD. To recover data from SSD, turn to a professional SSD data recovery software that enables you to undelete files from SSD drive, unformat SSD drive, and do SSD drive RAW recovery.
Fix 1. Update Firmware of Dead/Not Working SSD
Step 1. Right-click on the Windows/Start icon and click "Device Manager" on the left pane.
Step 2. Expand "Disk drives" and right-click your SSD drive, select "Properties".
Step 3. Select "details and Hardware IDs" under properties and click "OK".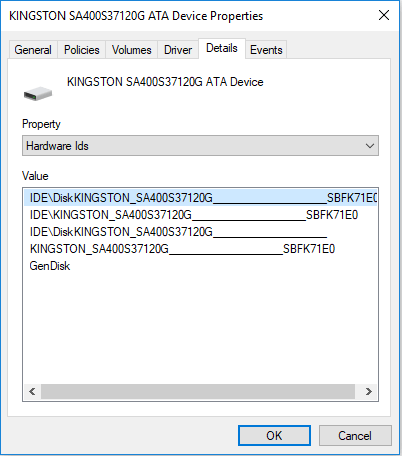 Step 4. Install and run the "SSD firmware update tool" (Crucial for example), check the firmware versions of your SSD on the tool.
Step 5. Click "License" and select "Accept".
Step 6. Select updates available and click "Update Drive", confirm the update by clicking "Yes".
Step 7. Click OK to finish the firmware update process. Then you can exit the update tool and check your SSD drive now.
Fix 2. Update Drivers to Fix Not Responding SSD
Step 1. Click the Start button and type Device Manager, hit Enter to open it up.
Step 2. Expand the drive driver category, right-click on each driver, and select "Update driver".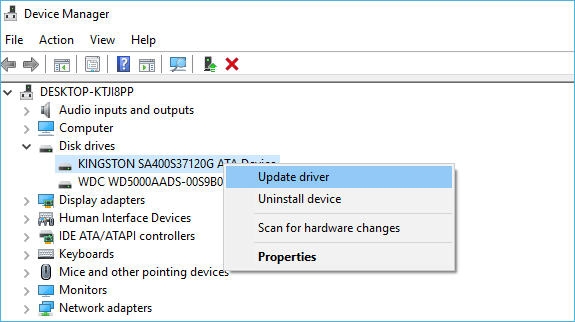 Step 3. Reboot PC when the process finishes. After this, you can check and see SSD drive saved data on your PC then.
Fix 3. Run CHKDSK/Free SD Repair Tool to Fix File System on SSD
If your computer warns you that the file system on your SSD disk corrupted or your SSD failed to respond due to some unknown file system error, CMD command or EaseUS free partition manager can fix this error for you. 
Option 1. Run CHKDSK in Command Prompt
Step 1. Open Command Prompt and type: chkdsk /f c: (replace c with a drive letter of your external hard drive).
Step 2. Hit Enter to let the checking process to run.
Step 3. When it's finished, type: exit and hit Enter to complete the process.
Step 4. After this, you'll be able to access and read data on your dead SSD in PC then.
Option 2. Use Free Partition Manager Software for SSD repair
If you don't know quite well about the CMD command line in PC, you can use free partition manager software for help. EaseUS Partition Master Free can check the file system easily in a click away to help you repair and fix dead or not working SSD on your PC.
Step 1. Open EaseUS Partition Master on your computer. Then, locate the disk, right-click the partition you want to check, and choose "Advanced" > "Check File System".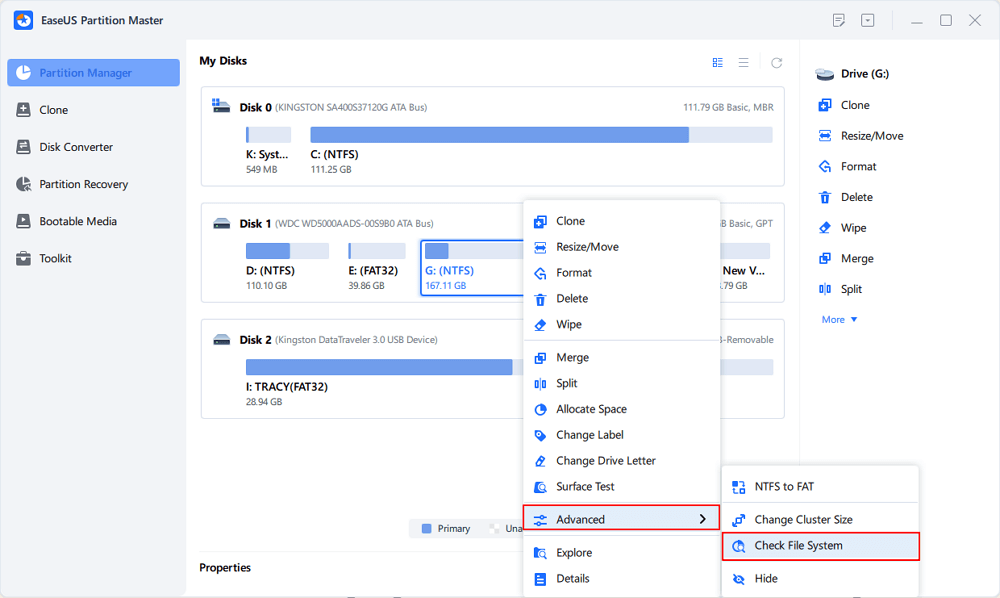 Step 2. In the Check File System window, keep the "Try to fix errors if found" option selected and click "Start".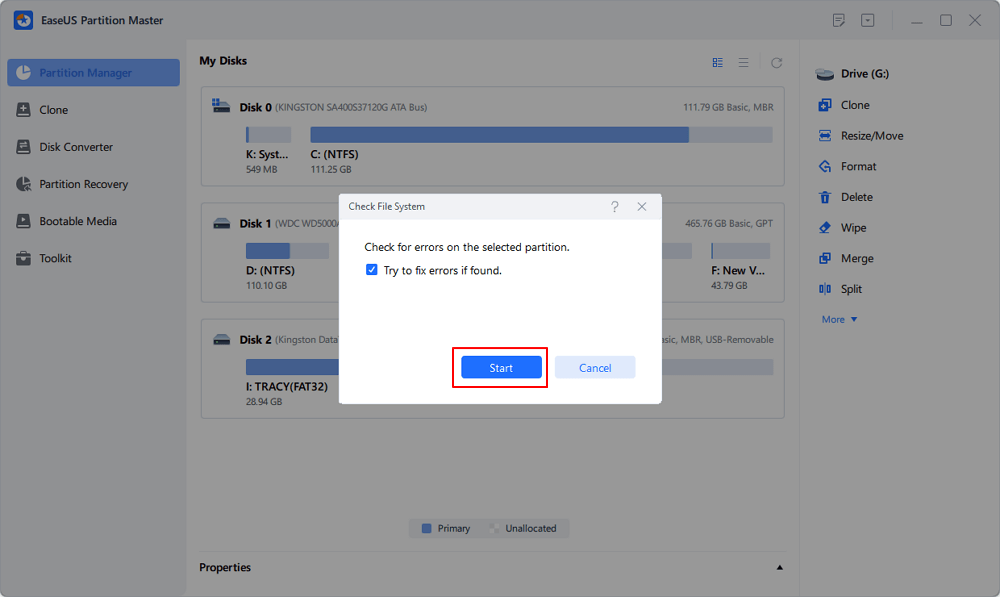 Step 3. The software will begin checking your partition file system on your disk. When it completes, click "Finish".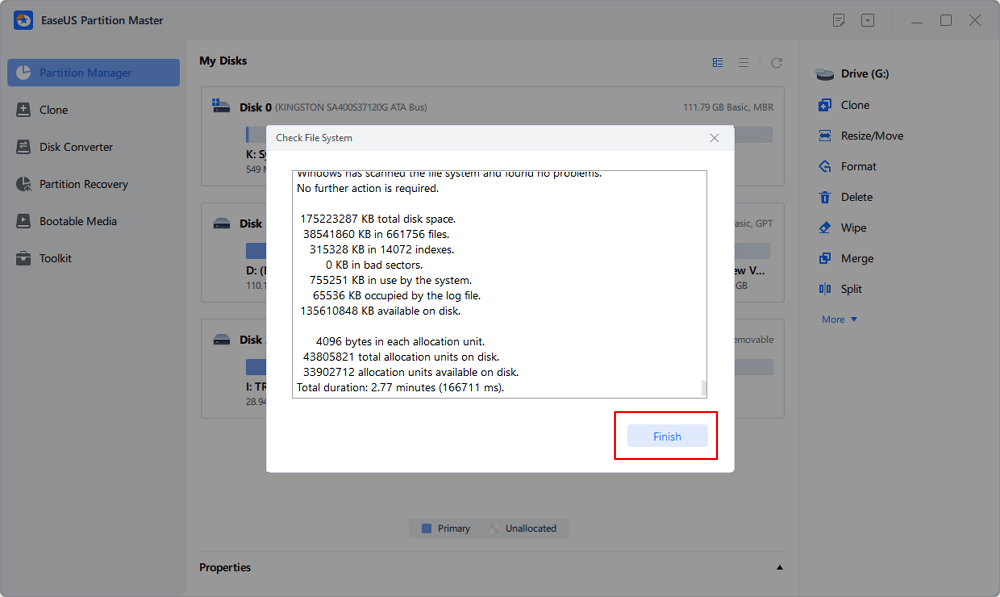 Except for checking file system, EaseUS Partition Master Free provides more one-stop disk partition features, such as resize/move partition to solve low disk space issue, clone disk, merge partitions, create/delete/format partition, wipe data, and disk/partition conversion, which are totally free.
Fix 4. Fix a Dead SSD Drive Using Power Cycle Way
If the SSD is already on your computer, pull the data cable, but not the power cable. If you're installing the SSD in a desktop or connecting it to a loose power supply temporarily, repair SSD in this way.
Connect the power cable, but no data cable, to the SSD.
Turn on the power and leave the power on for 30 minutes. After 30 minutes, power down or pull the power cable.
Wait 30 seconds, then restore power. Let the drive sit powered on for another 30 minutes. Power down again, then wait 30 seconds.
If all goes well, the SSD drive will come back to life when you connect the data cable or plug the drive back into a laptop.
Fix 5. Rebuild MBR for SSD Repair
If the master boot record on SSD is damaged, the SSD will fail to boot and not working. In this case, you can directly use the "Rebuild MBR" feature of EaseUS Partition Master to solve the problem and repair SSD.
If the SSD is your system disk and the MBR has damaged, your computer may not start properly. At this time, you can create an EaseUS Partition Master WinPE bootable disk to rebuild MBR (only supported in the pro version).
Step 1. Create a WinPE bootable disk
Launch EaseUS Partition Master, and click "Bootable Media" on the toolbar. Select "Create bootable media".
Click "Next" to finish the process.
Step 2. Boot EaseUS Partition Master Bootable USB
Connect the bootable USB or CD/DVD to your PC. 
Press F2 or Del when you restart the computer to enter the BIOS screen. Set and boot your computer from "Removable Devices" or "CD-ROM Drive". And then EaseUS Partition Master will run automatically.
Step 3. Rebuild MBR
Click "Toolkit" and choose "Rebuild MBR".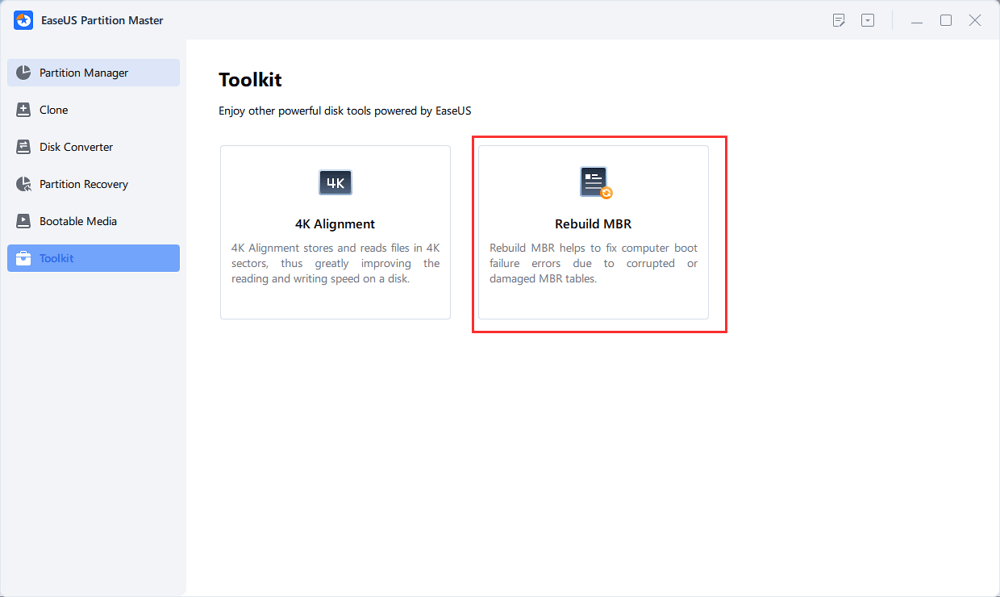 Select the disk and the type of MBR. Then, click "Rebuild".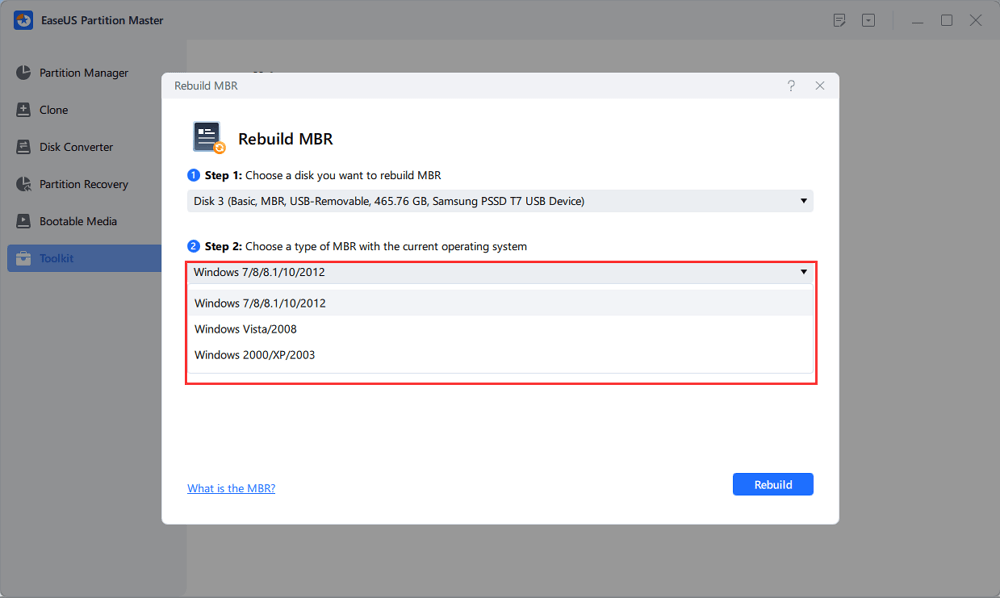 After that, you can see "MBR has been successfully rebuilt on Disk X".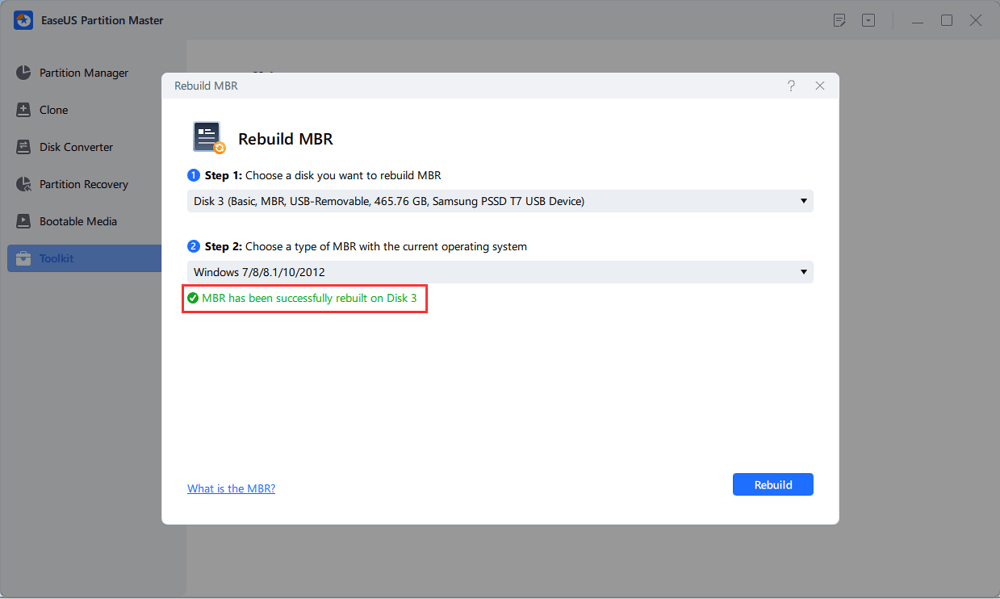 Fix 6. Format SSD to Repair SSD Not Working
Back up or restore SSD data to another storage device, then fix the corrupted SSD by formatting, especially when the SSD is write-protected due to file system corruption. When the SSD is a data disk, you can fix it directly after formatting and wiping. If the SSD is a system disk, you can reinstall the system.
Step 1. At the start, search for "Disk Management" and press "Enter".
Step 2. Choose the SSD partition you want to format. Right-click it and select "Format".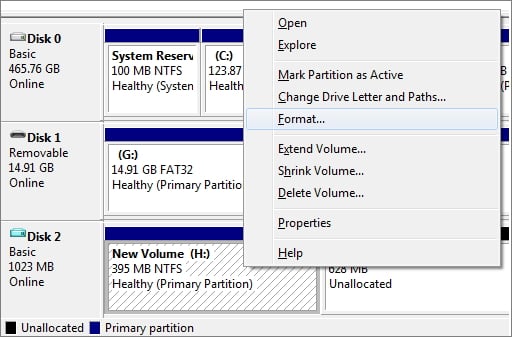 Step 3. Select the file system and set the cluster size. Place a checkmark next to "Perform a quick format". Click "OK" to format the drive.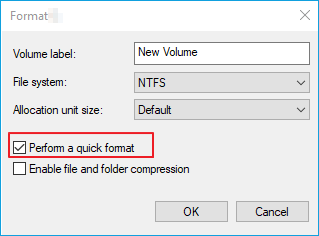 Summary of SSD Repair
In this article, we have discussed how to fix a dead SSD in several practical ways. You can repair SSD manually or use EaseUS Partition Master - an SSD repair tool to help you fix corrupted SSD. If all these methods don't work out well, contact your SSD manufacturer and see if they have any better solutions for you.
SSD Repair Frequently Asked Questions
This part contains more useful tips about SSD repair, such as how to know if an SSD is failed,
What happens when an SSD fails?
When an SSD fails, you go to turn on your machine, and your OS doesn't boot, or your drive stops getting detected. A file cannot be read or written to the hard drive. You will encounter frequent errors while moving files. Active applications will often freeze up and crash, and so on.
Can dead SSD be fixed? How to repair SSD?
You can try to fix a dead SSD or SSD not working with these methods:
Update SSD firmware 
Update drivers to repair SSD
Check file system to fix a corrupted SSD 
Fix a dead SSD drive using the power cycle way
Rebuild MBR
Format SSD
What causes SSD failure?
SSD failure can be caused by a variety of factors, but most obvious are age, physical damage, and heat. The latter two factors have a much smaller impact on SSD than a hard disk drive. But age can cause both SSD and HDD to eventual failure. Thankfully, symptoms and warning signs typically precede catastrophic SSD failure.
How do I know if my SSD is faulty? 
How to know if your SSD is dead, corrupted, or broken? The following common symptoms can indicate a fault SSD:
Unable to read or write files from the drive.
This computer runs too slow.
The computer doesn't boot, and you get a "no boot device" error on Windows.
The blue screen of death/black screen of death errors occurs frequently.
Application freezes or crashes.
Your drive becomes read-only.
How long will my SSD drive last?
Currently, people use three different factors to estimate SSD lifespan: the age of the SSD, the total number of terabytes written over time (TBW), and the drive write per day (DWPD). Based on the measurement standards you use, the estimated lifespan of the SSD will be different. Current estimates put the age limit for SSDs around 10 years, but there are certainly individual differences in each SSD. 
Updated by Tracy King 
Tracy joined in EaseUS in 2013 and has been working with EaseUS content team for over 7 years. Being enthusiastic in computing and technology, she writes tech how-to articles and share technical solutions about Windows & Mac data recovery, file/system backup and recovery, partition management and iOS/Android data recovery.