
Table of Contents

About the Author

Reviews and Awards

Best Data Recovery Software for 2021
"About half a year ago, I replaced my old hard drive with a Samsung SSD drive and upgraded my computer from Windows 7 to Windows 10. The SSD disk suddenly died for an unknown reason.
I know I can buy a new SSD disk to replace it, but the problem is that I have stored many working files on the SSD. Is it Possible to recover data from dead or failed SSD?"
Is It Possible to Recover Data from A Dead, Failed or Crashed SSD
How to recover data on a failed SSD?
If an SSD crashed/dead/failed, can files on it be recovered?
Can data be recovered from a failed SSD?
What to do if my SSD dead with no backup?
When SSD drive crashes or fails to boot, what comes to your mind first? Data recovery or repair the corrupted SSD? Of course, data always comes first, right? And the good news is that data saved on a failed or dead SSD drive can be recovered. 
How to Recover Data from Dead, Failed or Crashed SSD?
For most users who know little about SSD data recovery, this job might be quite tricky. But if you find the right way, it will become much easier. Then what is the best way for dead or failed SSD data recovery? You have two choices:
SSD Repair at a local storage device repair center
A manual data recovery service and repairing failed SSD usually cost hundreds of bucks. And it's extremely slow, taking for 1 week or so.
Professional data recovery software requires a reasonable price for data recovery. And you can immediately start the recovery process once you've downloaded the software. 
EaseUS file recovery software - Data Recovery Wizard is designed for users to recover lost files from a dead hard drive, or a failed SSD disk other storage devices when a disaster happens unexpectedly.
We personally suggest you try the second way for dead SSD data recovery. It's instant and secure for protecting your personal data and private information. And you can refer to either method here below to perform dead SSD data recovery. 
Solution 1. Recover Data from Dead SSD on A Healthy Computer
Applies to: dead SSD data recovery on another healthy computer
If you have two computers, you can follow guidelines here as a guide to restore the dead SSD disk data to a secure device on a healthy computer:
# 1. Connect Dead, Failed SSD to Another Computer as A Data Disk
Step 1: Remove the dead SSD disk from the source computer and connect it to another healthy computer as a data disk. 
Step 2: Restart the computer and check if you can access the saved data on SSD.
If yes, congratulations. Your SSD is running fine, and the problem exists on the hardware of your computer. 
If not, don't worry. Follow the guide steps below to restore data from the dead SSD.
# 2. Recover Data from A Dead SSD with EaseUS SSD Recovery Software
With the powerful data recovery capacity and wizard-like interface, EaseUS Data Recovery Wizard enables you to recover data from failed or crashed SSD with just a few simple clicks.
Here is the step-by-step guide:
Step 1. Scan the SSD
On EaseUS Data Recovery Wizard, select the drive marked as SSD where you lost data, and click the "Scan" button.
Step 2. View the results
When the scanning finishes, find lost SSD data by using the "Filter" and "Search" options.
Step 3. Recover SSD files
Select desired data and click the "Recover" button to get back lost SSD files.
After restoring the data, remember to save it to another secure device. 
Solution 2. Recover Data From Dead SSD on the Source Computer
Applies to: dead SSD disk data recovery on the source computer
When you don't want to unplug the dead SSD and connect it to another computer, don't worry. You still have a choice. To do so, you'll also need an empty external hard drive or a second disk for saving the restored data.
If the dead SSD was used as a data disk on your computer, go back to # 2 and follow the steps to recover data from dead SSD with EaseUS SSD data recovery software. 
If the dead SSD was a system disk on your PC, to restore the data, you'll need EaseUS Data Recovery Wizard with Bootable Media for help. 
To do so, you'll need to go through the steps below for a guide:
# 1. Create A Bootable Disk
1. Preparations:
An empty USB. (If you have important data on it, copy the data to another device. When you create a bootable disk, the data on the USB will be erased.)
EaseUS Data Recovery Wizard WinPE Edition installed on a third computer. 
2. Details:
Step 1: Connect the USB drive to PC, launch EaseUS Data Recovery Wizard Bootable Media.
Step 2: EaseUS Data Recovery Wizard WinPE Edition will recognize your CD/DVD device or USB drive automatically. You can also export the ISO file.
Step 3: Select the USB drive and click "Proceed" to create a bootable disk.
# 2. Boot from the Bootable USB
Step 1: Connect the bootable disk to PC that won't boot and change your computer boot sequence in BIOS.
For most users, it works well when they restart their computer and press "F2" at the same time to enter BIOS.
Step 2: Set to boot the PC from "Removable Devices" (bootable USB disk) or "CD-ROM Drive" (bootable CD/DVD) beyond Hard Drive. 
Step 3: Press "F10" to save and exit.
# 3. Recover Data from Data SSD that Won't Boot
When the computer successfully boots from the bootable USB, you are able to restore data from the dead SSD with below steps:
Step 1. Connect an empty external hard drive to the source PC.
Step 2.  Run EaseUS Data Recovery Wizard from the WinPE bootable disk and select the SSD disk to scan to find all your lost files.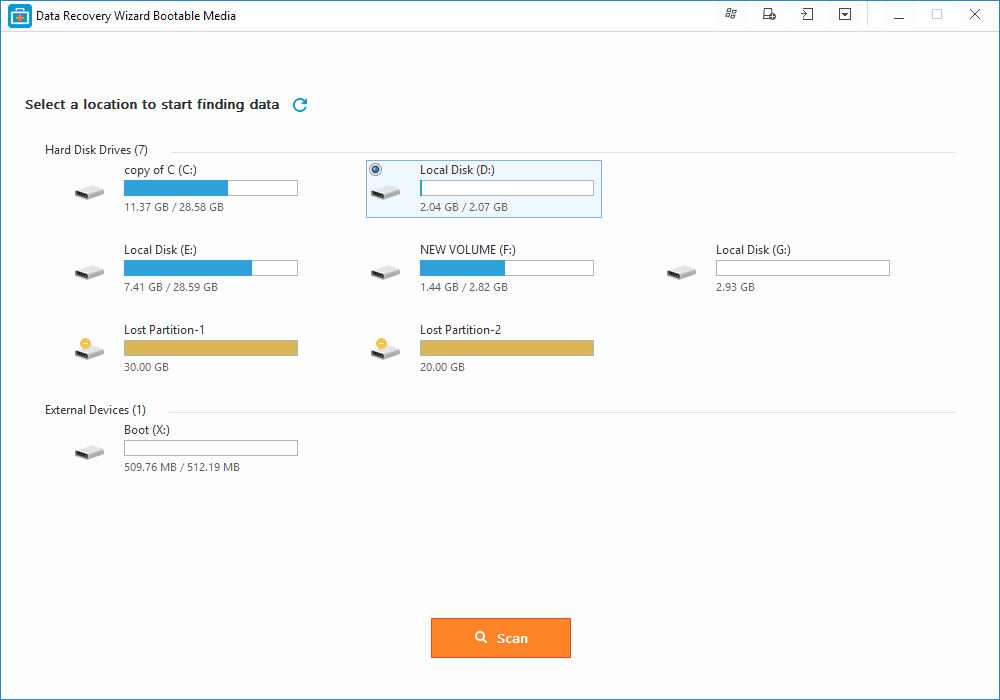 Step 3. Click "Scan" to start the scanning process.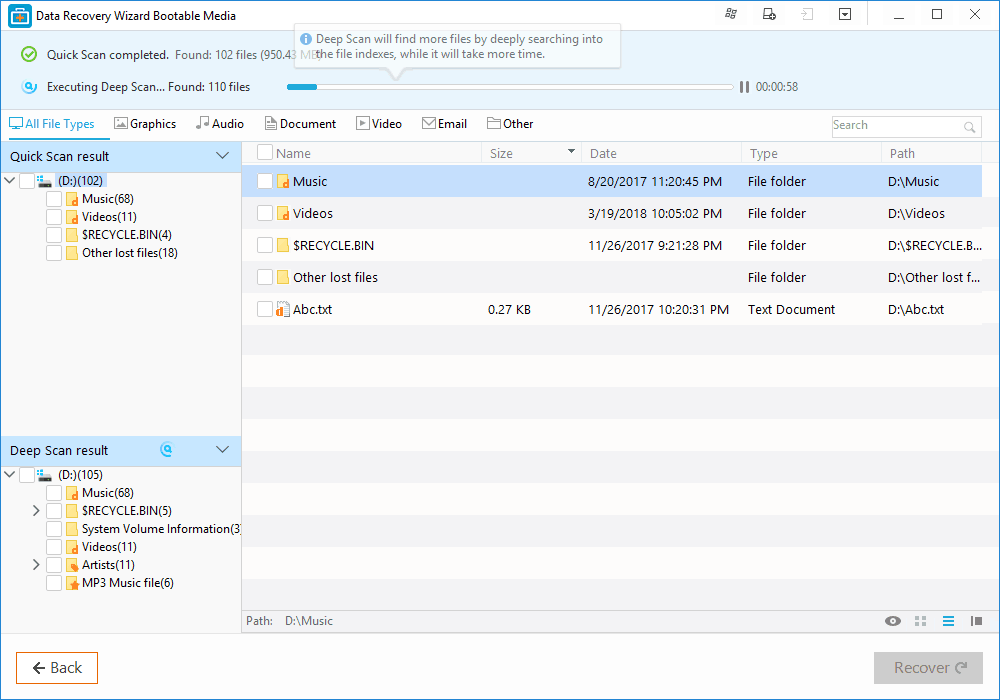 Step 4. Recover data from the computer or laptop.
After the scan completed. You can preview all recoverable files, select the targeted files and click "Recover" button to restore your files.
You'd better save all of the recovered data to another place to avoid data overwriting.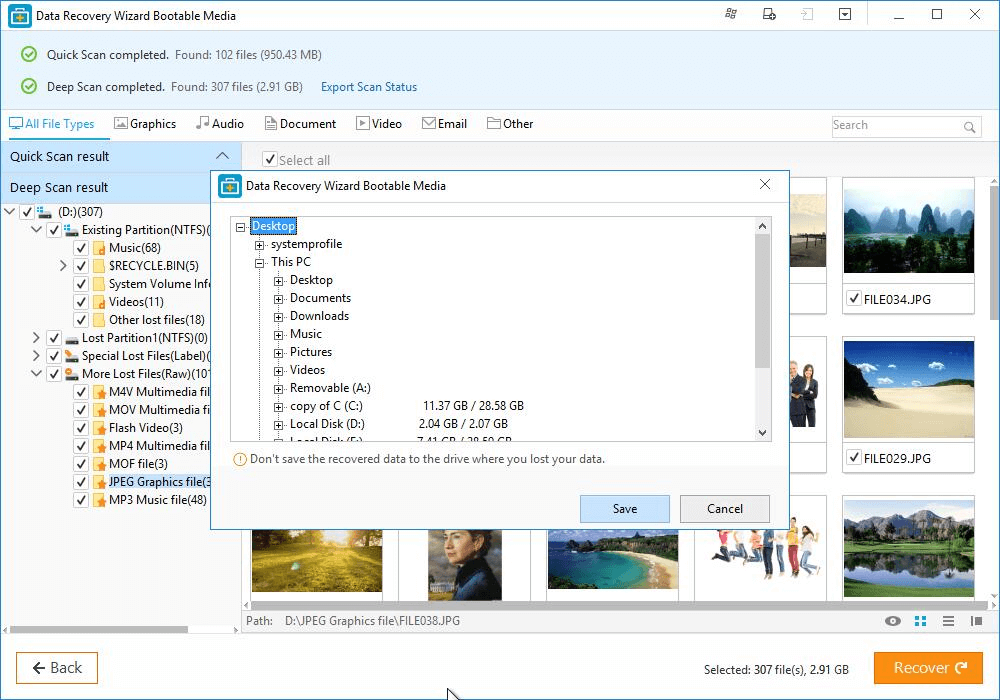 To sum up, after the tutorial steps on this page, you've successfully restored all lost data on the SSD disk. Then you can follow this link to repair a not working, failed or dead SSD. 

Roxanne is one of the main contributors to EaseUS and has created multiple posts on digital devices like PCs, Mobile phones, tablets, Mac, etc. She loves to share ideas with people of the same interest.
EaseUS Data Recovery Wizard is a powerful system recovery software, designed to enable you to recover files you've deleted accidentally, potentially lost to malware or an entire hard drive partition.

 Read More

EaseUS Data Recovery Wizard is the best we have seen. It's far from perfect, partly because today's advanced disk technology makes data-recovery more difficult than it was with the simpler technology of the past.

 Read More

EaseUS Data Recovery Wizard Pro has a reputation as one of the best data recovery software programs on the market. It comes with a selection of advanced features, including partition recovery, formatted drive restoration, and corrupted file repair.

 Read More