Can You Recover Data from SSD with Trim Enabled?
"Hi, I just now inadvertently deleted the 'wrong folder' from my 2014 MacBook Pro running Yosemite, and then emptied the trash. I don't have a backup of this folder, so I feel very bad at the moment. The worst part is that my SSD drive is with Trim enabled by default. Is there any way of recovering the files?"
Before helping you figure out the answer, let's first take a look at what Trim command is. Trim command, also known as TRIM, allows an operating system to inform a Solid State Drive (SSD) which blocks of data are no longer considered in use and can be wiped internally.
That is to say, once Trim command is enabled in MacOS or Windows OS, when a user deletes a file or formats the SSD, Trim will firstly mark the area and let new data overwrite "this place". Therefore, if your Trim enabled SSD has deleted a file and emptied Windows Recycle Bin or emptied Mac Trash Bin, virtually, you can no longer bring your loss back.
The Possibility of SSD Trim Data Recovery
Yes, we explained the possibility of SSD Trim data recovery at a technological level. Basically, it's definitely impossible to retrieve data on SSD drive with Trim enabled. However, some guys wrote to us, to express their huge gratitude of EaseUS Data Recovery Wizard for Mac helping them successfully restore data back on a Trim SSD. So, we still feel necessary to recommend EaseUS Mac drive recovery software to you, to give a last try with SSD Trim data recovery.
To recover data from SSD with Trim Enabled, please carefully follow the detailed guide:
Step 1. Launch EaseUS Data Recovery Wizard for Mac and select the file types of lost data on SSD with Trim enabled. Click "Continue" button.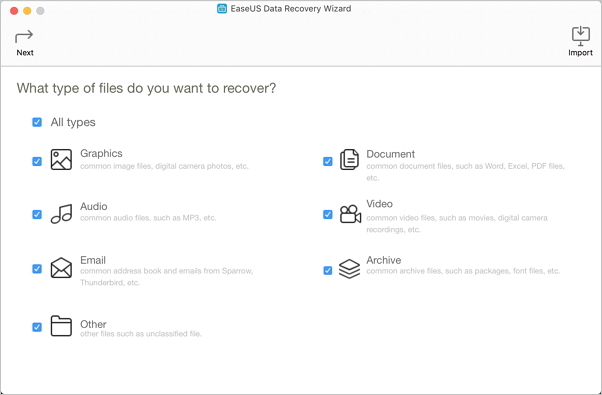 Step 2. Now choose the SSD partition where you lost your data and click "Scan" to find your lost files.
Step 3. After scan, all the lost files will be found and displayed on the left side. Mark files you have lost on SSD and click "Recover" button to bring them all back if EaseUS Data Recovery Wizard for Mac has found any; if failed, just ignore the software, and accept the truth that there is no other effective way to restore Trim SSD data.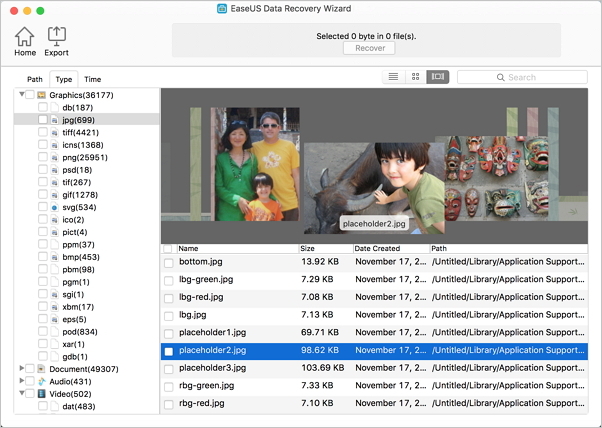 If you're running SSD drive on a Windows machine, try EaseUS hard disk data recovery software trial version instead for SSD Trim data recovery.