Summary
The TRIM command organizes data on an SSD and improves its performance. However, due to the nature of TRIM, data recovery efforts are less likely to be successful. Learn how to check if your SSD is TRIM enabled and about TRIM-SSD data recovery efforts.
Can You Recover Data from an SSD with TRIM Enabled
"Hi, just now I inadvertently deleted the wrong folder on my 2014 MacBook Pro running Yosemite, and then emptied the trash bin. I don't have a backup of this folder, so I'm feeling quite helpless. The worst part is that my SSD drive is TRIM-enabled by default. Is there any way for me to recover these files?"
Well, before giving you the answer, it's important to first understand what the TRIM command is. TRIM command, also known solely as TRIM, allows an operating system to inform a Solid State Drive (SSD) which blocks of data are no longer in use so that they can be wiped to make room for new data.
Normally, when data is deleted from a hard drive, the data is not accessible but it remains on the physical drive. Only once the space needs to be used for other information will the data block be wiped, then rewritten. Via TRIM, the data block is wiped immediately upon deletion. In this way, when the system tries to write new data onto a previously used block, it can do so without waiting. This results in improved performance.
The cost of this improvement in speed is that, on a TRIM-enabled SSD, deleted files can not be recovered. Once you empty the Windows Recycle Bin or Mac Trash Bin, the files are permanently gone.
Check TRIM Status
To see whether TRIM is enabled on your SSD or not, follow these instructions.
On PC: Go to Command Prompt and enter fsutil behavior query disabledeletenotify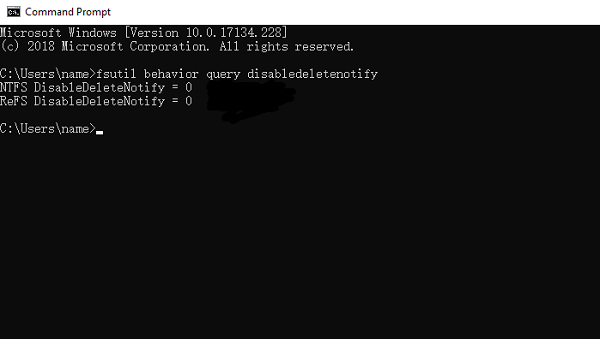 If DisableDeleteNotify = 0, trim is enabled.
If DisableDeleteNotify = 1, trim is disabled.
On Mac:
Click the Apple logo in the top-left of the screen and go to About This Mac.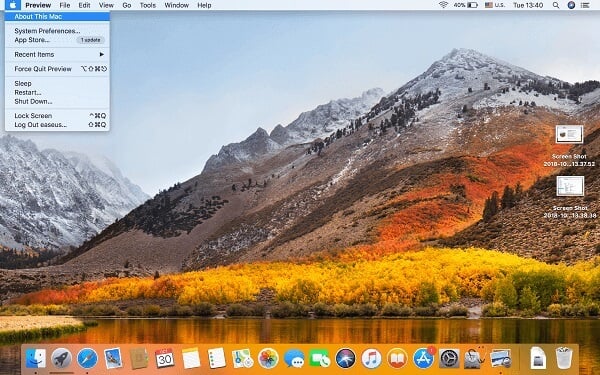 Click System Report…
Go to Hardware then SATA/SATA Express, and look for TRIM Support.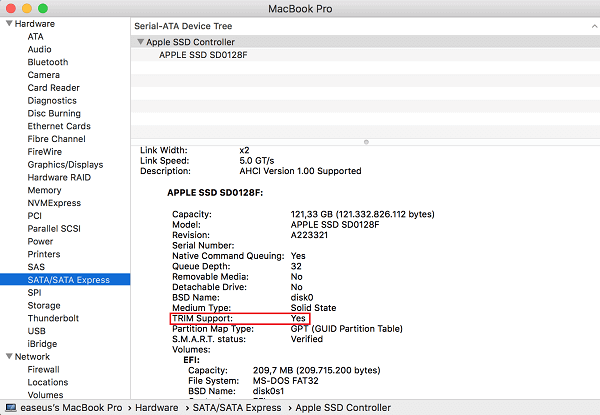 TRIM Support: Yes = TRIM is enabled.
SSD TRIM Data Recovery
Although it is definitively impossible to recover data from a TRIM-enabled SSD, you can still attempt to recover using EaseUS Data Recovery Wizard Free (for PC or for Mac). It is often the case that the file names will appear in the software's scan results, but the file content will not be recoverable. You can try to recover a few files with the free version to see if your data has indeed been wiped or not, at no cost.
The ultimate way to safeguard your files is to regularly back up your data. With TRIM enabled, this practice is incredibly important. EaseUS Todo Backup is a data backup utility that will allow you to restore all files that are lost or inadvertently deleted. Through the program, you can automate backup tasks to run on a time or event basis; such as backing up to an external hard drive each time it is plugged in. I'll stress again that maintaining data backups is crucial, particularly for TRIM-enabled devices. EaseUS Todo Backup Free (for PC or for Mac) is fully functional and can provide you with all necessary back up features.
100% of people found this article helpful.
Frequently Asked Questions
1. Why choose EaseUS Data Recovery Wizard?

"EaseUS Data Recovery Wizard is the best we've seen. It's far from perfect, partly because today's advanced disk technology makes data-recovery more difficult than it was with the simpler technology of the past, but it's fast and efficient..." —PCMag

"The first thing you'll notice about EaseUS Data Recovery Wizard Pro is that its interface is very clear and uncluttered, with only a small collection of self-explanatory controls. You won't find lots of extra options hidden in a system of hidden menus, either; what you see really is what you get." —techradar

"Recover lost files, even after deleting a partition or formatting your drive." —Macworld
2. Why cannot I recover 2GB data for free?

It is recommended to check the version installed is Free or Trial because they are different versions.

Trial has data preview function but cannot save any files, while the Free version enables to recover 2 GB files. The default free space is 500 MB and you may share the product on social media to get another 1.5 GB.
3. Why cannot the recovered files be opened?

A file is saved as 2 parts on the storage device: directory info (which is comprised by file name, time stamp and size info, etc.) and data content.

If the files with original file names and folder structures cannot be opened, one possible reason is the corrupted directory info. There is still a chance to recover the data content with the RAW Recovery method in our software.
4. Why isn't it suggested to recover the files back to the original drive?

The storage structure of the lost files would be altered or damaged by any changes on the drive. If you save the recovered files back to the same drive, the original data structures and data content would be corrupted or overwritten, which causes permanent data loss. So you should prepare another disk to save the files.
5. How can I check whether my data is recoverable or not before purchase?

The Free version helps you save 2GB files, so verify the recovery quality of our product before purchase.
6. How long does it take to scan the drive?

It strongly depends on the capacity of your hard drive and the performance of your computer. As reference,most drive recoveries can be completed in around 10 to 12 hours for a 1-TB healthy hard drive in general conditions.
About Data Recovery Wizard
It's super easy to recover 250+ types of files after deletion, disk formatting and virus infection. Click the links and compare the difference of each version.