Quick Navigation:
Workable Solutions
Step-by-step Troubleshooting
Restore Files from Time Machine
Choose system preferences; access Time Machine; click on Time Machine in Menu Bar; enter Time machine...Full steps
Restore OS from Time Machine
Put the mac in recovery mode; choose a backup drive; choose a backup by date; restore macOS...Full steps
Recover Data Without Time Machine

Software: EaseUS Data Recovery Wizard for Mac Free

Benefits: compatible with several macOS...Full steps

Restore Files  to Another Mac
Plug in USB drive; open Time Machine Backup; copy the files you want to restore and paste it to...Full steps
If you have Time Machine installed on your Mac, you may be confident that you will never miss any of your important documents. If you have a Mac, you can restore individual files using the built-in backup Time Machine, or you may travel back in time and restore your computer from the ground up if you have lost everything.
As a result of Time Machine, you will never have to be concerned about accidentally deleting crucial data again; however, if you're wondering How to Restore from Time Machine backup. Don't worry; this article covers how to recover macOS and files. Let's get started!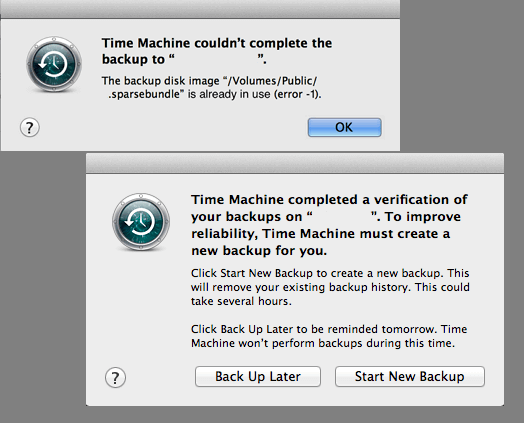 How to Restore Files from Time Machine
Sometimes you delete files unknowingly, format a hard drive containing some essential data, or empty the trash of your PC containing work files. Recovering the data securely in these scenarios is pretty necessary. And the good news for Mac users is that it's possible with Time Machine.
Typically, individuals turn to their Time Machine backups to recover files or restore their computer to the exact condition a few days or weeks ago, depending on the situation. All you'll need is your Mac and an external hard disc with the Time Machine backup to complete this task successfully. However, make sure that you've backed up the files in Time Machine previously.
To recover files from a Time Machine, follow these instructions:
Step 1: Click on System Preferences
In the upper-left corner of your screen, click the Apple logo. Then, choose System Preferences from the drop-down menu.
Step 2: Access Time Machine
Click the downward-pointing curved arrow around a clock face symbol to access the Time Machine. Open the Time Machine options by clicking on this icon.
Step 3: Click on Time Machine in Menu Bar
Make sure the Show Time Machine in the menu bar option is checked. The Time Machine symbol has been added to the menu bar. It's time to press the button.
Step 4: Enter Time Machine
Click on the Enter Time Machine button. All of your previous Time Machine backups will be shown on this screen. To restore a file or folder, look for it in its original location.
Step 5: Restore the Files
Afterward, click the Restore button. This will transfer the file back to its previous place and restore the item.
How to Restore OS from Time Machine
In case you've altered your HDD with another one, your Mac is working too slow, or you want to restore a previous macOS version, etc., macOS recovery is pretty essential. And Time Machine has made it possible for Mac users.
What macOS versions allow you to back up and restore OS using Time Machine?
Time Machine is supported by macOS 10.5 or a newer version. It was first launched in macOS 10.5 Leopard but is wholly revamped in macOS 11 Big Sur.
To recover/restore macOS using Time Machine, follow these instructions:
Step 1: Put the Mac in Recovery Mode
Restart your Mac. Press the Command + R keys until the machine boot into recovery mode. If you see the Apple logo on the screen, release the keys. Choose Restore from a Time Machine backup and click Next using the recovery mode.
Step 2: Choose a Backup Drive
Click the Continue button on the Restore from Time Machine page. Hit Continue after selecting your Time Machine backup drive to proceed
Note: To decrypt an encrypted drive, you'll need to enter the credentials.
Step 3: Choose a Backup by Date
Click Continue once you've chosen a backup and sorted it by date.
Step 4: Restore macOS
Restore the contents of your Mac's hard drive by selecting the drive and clicking on Restore. Restart your Mac when you've finished.
Bonus Tip: How to Recover Data Without Time Machine Backup
It is possible to use EaseUS Mac recovery software to recover lost files from SD cards and external memory devices volumes on Mac OS X in a few easy steps. Recovering lost Mac data from macOS is made effortless and straightforward even for those with no technical expertise, thanks to the EaseUS Data Recovery Wizard for Mac Free.
It guarantees a clean and safe environment for accessible data recovery of up to 2GB. It is a convenient tool that allows you to recover deleted files securely. It comes with a preview mode to help you view the deleted files.
Benefits
Preview Mode
Compatible with several macOS
East-to-use
Free Data Recovery up to 2GB
How-to Guide
Step 1. Scan for deleted files
Select the hard drive, external drive, or SSD where your important data & files were deleted and click "Search for lost files".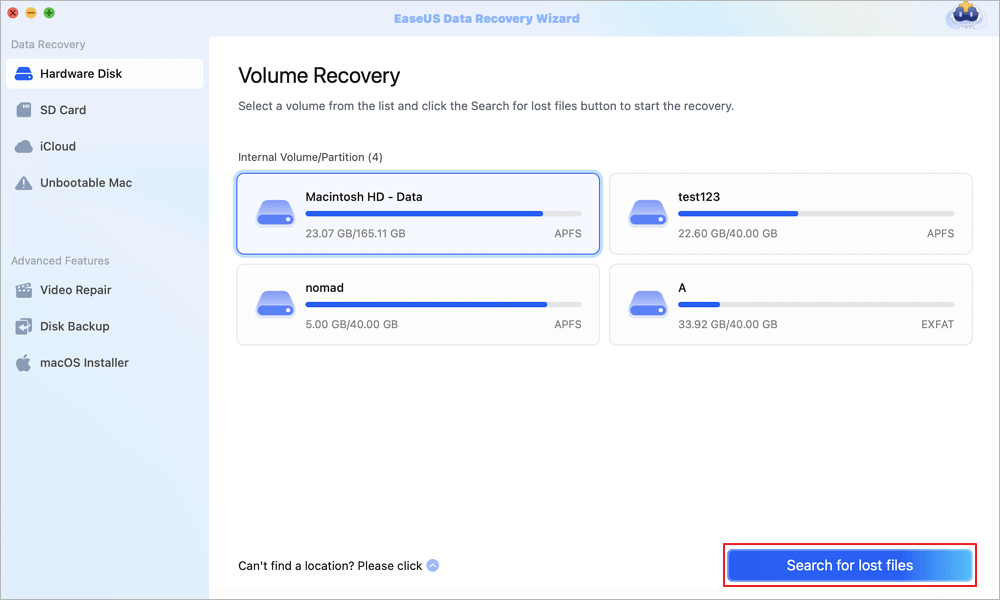 Step 2. Filter the lost files
The software will run quick and deep scans and work hard to find as many deleted files as possible on the selected volume. Filter wanted files through the "Type" and "Path" options.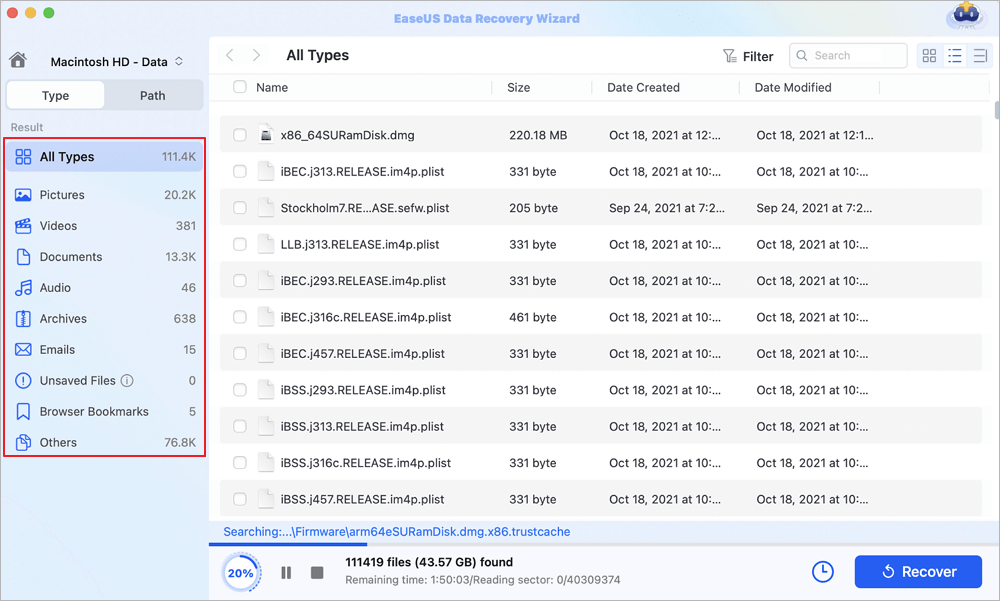 Step 3. Recover deleted files
Double-click the deleted files to preview. Then, click the "Recover" button to get them back.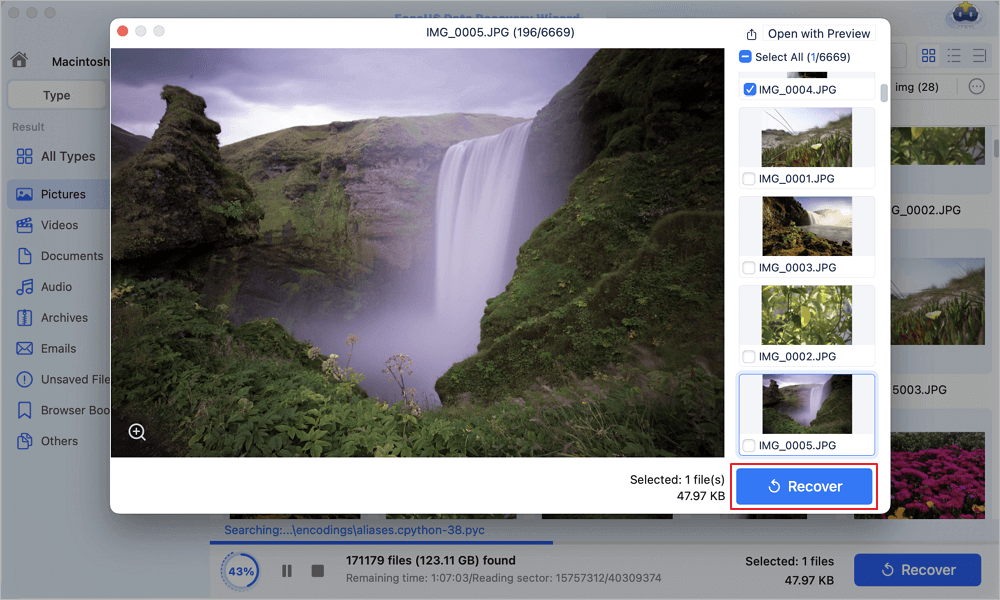 Can You Restore Files from Time Machine to Another Mac?
Yes, it is possible to restore files to another Mac using Time Machine. To transfer files using Time Machine to another Mac, follow these instructions:
Step 1: Plug in USB Drive
Plug in the USB that contains the Time Machine Backup to the Mac you're transferring data.
Note: Ensure that the source Mac is running
Step 2: Open the Time Machine Backup
Now, you'll see the Time Machine Backup drive. Open it and click on the database file to view the backup.
Step 3: Restore the Files
Now, copy the files you want to restore and paste to the new Mac.
Note: You can also drag and drop the files.
Conclusion
Losing data on your Mac is unpleasant, but the issue may often be lessened if you have Time Machine backups handy. You should utilize the program periodically to back up your essential information. Your backups can be the only method to recover from a significant data loss event. Moreover, we hope that you know How to Restore from Time Machine after reading this article!
Updated by Gemma
Gemma is member of EaseUS team and has been committed to creating valuable content in fields about file recovery, partition management, and data backup etc for many years. She loves to help users solve various types of computer related issues.

Jean has been writing tech articles since she was graduated from university. She has been part of the EaseUS team for over 5 years. Her special focuses are data recovery, disk partitioning, data space optimization, data backup and macOS. By the way, she's an aviation fan!