Quick Navigation:
Workable Solutions
Step-by-step Troubleshooting
1. Free Mac Data Recovery Solutions

1. Open-source 100% free - e.g. TestDisk...Full steps

2. A limited free offer - e.g. EaseUS Data...Full steps

2. Paid Mac Data Recovery Solutions

Select the device location you deleted files...Full steps
I believe that 90% of our readers once experienced data loss moments. That's why data recovery is always a popular topic under discussion, and it's not finished yet. Losing data while working on a PC/Mac is common, only that some people can quickly recover from the pain, but some cannot bear the loss regarding the file's value. Now, we'll start with a general troubleshooting guide on how to recover permanently deleted files on Mac, which you can no longer find in the Trash Bin in macOS.
What you'll learn in this post:
■

Permanently deleted files ≠ Permanently lost

■

Some data recovery solutions can be free

■

When you must invest in a paid Mac recovery solution
1. Permanently deleted files ≠ Permanently lost
First and foremost, the permanent deletion manners involved on a Mac include the combination keys usage of Shift-Command-Delete or Option-Shift-Command-Delete. Both shortcuts remove the selected files without sending them to the Trash. Besides, other paths are leading to the permanent deletion of files on Mac.
Delete Immediately
Secure Empty Trash
Secure Empty Trash
Mac Terminal rm command or rmdir command
Use some third-party apps to force deleting or emptying the Trash
Enable the option of "Remove items from the Trash after 30 days" in Finder Preferences
Now we should be clear that permanent deletion means that the data you deleted is completely gone from your computer, and you have nowhere to find it unless you have made a backup. That's true based on what you saw with your eyes. However, the conclusion is different for a specialized Mac data recovery program.
 What a Mac data recovery application recovers for you

Many times, it's possible to recover permanently deleted files with the original filenames and folder structure. But other times, if the lost files were not fully protected, though the data files can be recovered, the filenames, folder paths, and date/timestamps are lost. It doesn't matter to lose the attributes if the file content really matters to you.
2. Free Mac Data Recovery Solutions
It won't be hard to retrieve files that were permanently removed a while ago unless you found a dependable data recovery solution. If you're the group of free data recovery software users, there are only two types of such recovery solutions to choose from.
1. Open-source 100% free - e.g. TestDisk
2. A limited free offer - e.g. EaseUS Data Recovery Wizard for Mac 2GB free
TestDisk Overview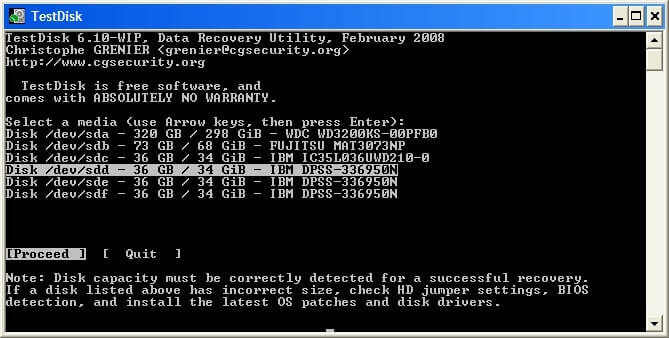 TestDisk is powerful free open source data recovery software that is primarily designed to help recover lost partitions and make non-booting disks bootable again. It can also be used to recover deleted files on many platforms, including Mac OS X/macOS.
This is the official website you can read the product information and find a download link:
https://www.cgsecurity.org/wiki/TestDisk
The overall experience for computer novices may be time-consuming to get familiar with the complete procedures due to the lack of intuitive interface design and ready-to-use recovery buttons. Nonetheless, once you get used to it, it's the irreplaceable Mac data recovery utility that's completely free to use.
EaseUS Data Recovery Wizard for Mac Overview
So far, it's the unique recovery program with the best user design and highest data recovery quality in our test of 10 products. Most mature recovery software in the market indeed comes with a free plan, with a limit of recoverable file size from 500MB to 2GB. EaseUS Data Recovery Wizard offers the maximum amount of the free offer of 2GB. Hence, if you don't feel confident utilizing the open-source TestDisk program, at the same time, with a small number of files to recover, choose EaseUS Data Recovery Wizard for Mac Free.
3. Paid Mac Data Recovery Solutions
Isn't it great to have free data recovery software to retrieve the essential files you mistakenly deleted from a disk, external USB drive, or SD card on your Mac? Despite that, even 100% free recovery software doesn't have to be "Safe & Reliable". When you lost files that really matter to your job, career, or reputation, you must stick to laying trust in the professional recovery program that offers a reliable paid service!
Data recovery applications make it possible to restore deleted files, formatted disks, or corrupted data, but the premise of the recovery result depends a lot on how you handle the lost data after incidents happen. Usually, you don't keep writing new data to the device; What's more, you don't take the risk to use the crack Mac data recovery software. At last, you need technical help to locate the target file in case it had lost the original filename and folder path.
If you studied several reputable recovery solutions for Mac, you should remember the brands EaseUS, Disk Drill, and Stellar. Those three products are the most recommended on forums and review websites. They all have their own highlights. You should make the choice according to the general score and the trial experience on your own.
Since the mentioned three solutions are all applicable to the permanently deleted files recovery on Mac, if you need a remote service & a manual data recovery service, choose EaseUS.
What makes EaseUS Data Recovery Wizard stand out
User-friendly interface
Powerful as you heard of
The long brand history of over 10 years
Competitive price for the 99.7% successful recovery rate
Standalone manual recovery service from professional IT teams
24x7 remote IT support for any recovery issues. Solve your problem onsite
Do You Need Specialized Data Recovery Services?
Consult with EaseUS Data Recovery Experts for one-on-one manual recovery service. We could offer the following services after FREE diagnosis:
1. Repair corrupted RAID structure, unbootable Windows OS and corrupted virtual disk file (.vmdk, .vhd, .vhdx, etc.)

2. Recover/repair lost partition and re-partitioned drive

3. Unformat hard drive and repair raw drive(Bitlocker encrypted drive)
As you can see, EaseUS Data Recovery Wizard for Mac can serve as both free and paid solutions to recover permanently deleted files on Mac. Follow the below guide to perform the recovery as soon as possible once you made up your mind to download the software on your Mac.
Step 1. Select the location and scan
Launch EaseUS Data Recovery Wizard for Mac and choose the disk where you lost data. Then, click "Search for lost files" to start scanning.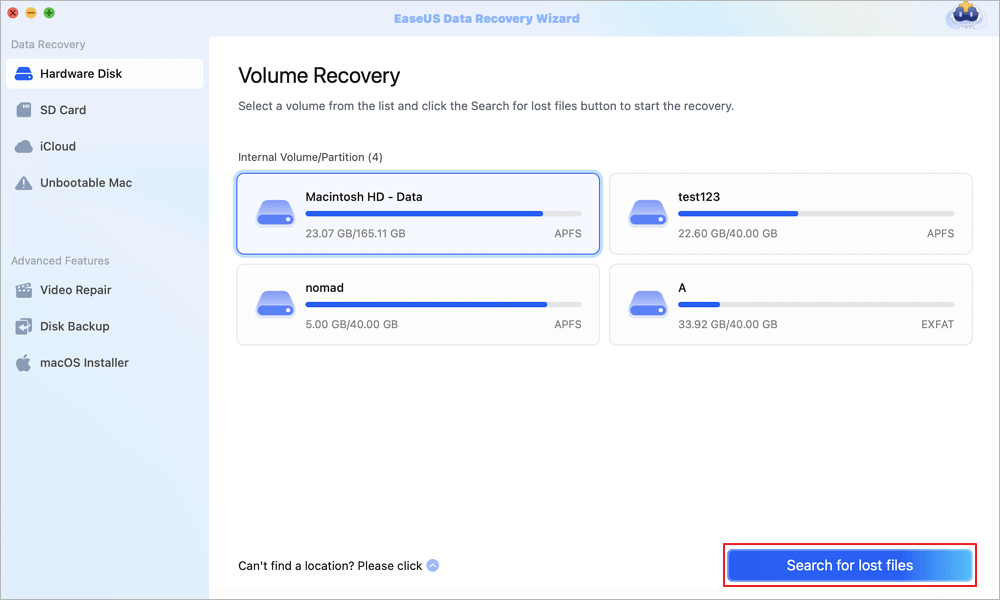 Step 2. Filter and preview lost files
After the scan, use the file format filter on the left or upper right corner to find the deleted files you need.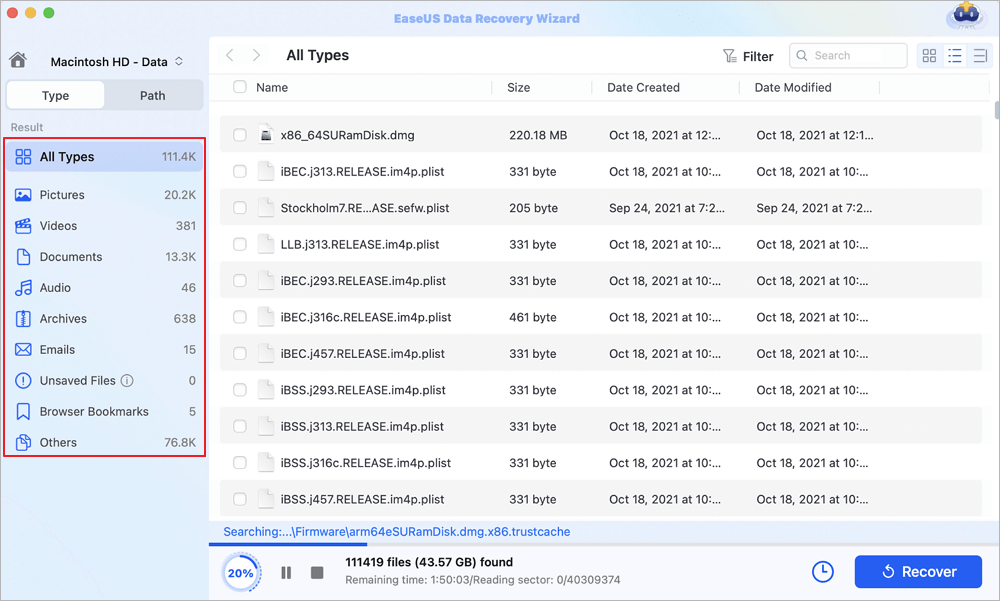 Step 3. Recover lost data or files
You can double-click a file to preview its content, or choose multiple files to recover them at once. Click "Recover" to restore the lost data to a local or cloud drive.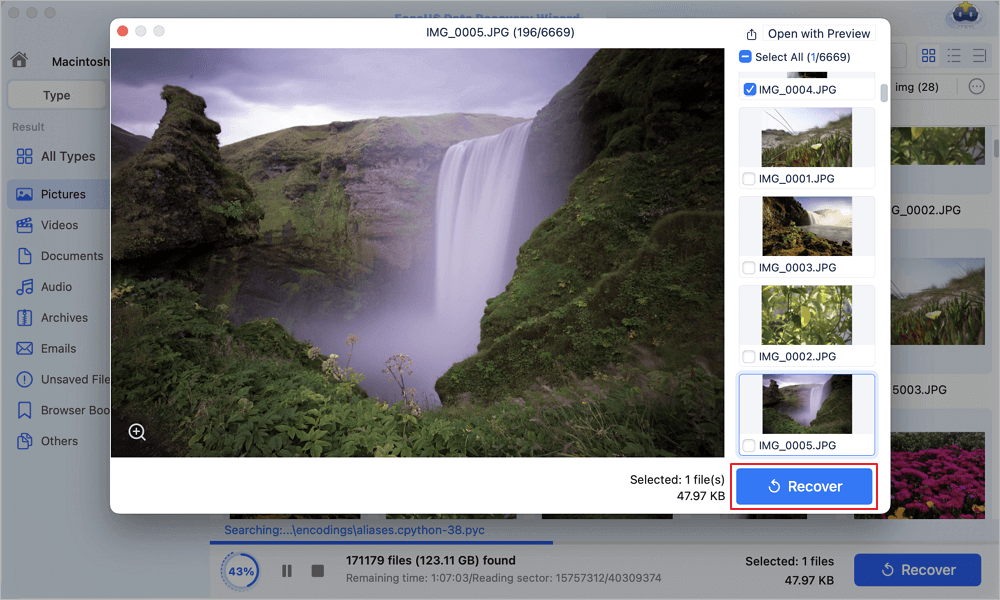 FAQ
1. Can Apple recover permanently deleted files?
Unfortunately, you can't recover permanently deleted files with Apple's built-in utilities on Mac. However, if you have backed up the deleted files with Time Machine before, you could restore them by Time Machine. Or you can use third-party data recovery tools like EaseUS Data Recovery Wizard for Mac to help you recover permanently deleted files.
2. How can I recover permanently deleted files from Mac without software?
Apart from third-party data recovery software, the only built-in utility you can trust to recover permanently deleted files is Time Machine. Time Machine is the backup utility on Mac, it saves the selected files to a backup disk. You can recover both the single file and the OS when needed.
3. What happens to permanently deleted files Mac?
The permanently deleted files mean those files were completely removed from your Mac, including the Trash. What's more, once permanently deleted, you can't revert the deletion unless you restore a backup or perform a data recovery with software.

Brithny is a technology enthusiast, aiming to make readers' tech life easy and enjoyable. She loves exploring new technologies and writing technical how-to tips. On her spare time, she loves sharing things about her favorite singer - Taylor Swift on her Facebook or Twitter.

Jean has been writing tech articles since she was graduated from university. She has been part of the EaseUS team for over 5 years. Her special focuses are data recovery, disk partitioning, data space optimization, data backup and macOS. By the way, she's an aviation fan!