Key Takeaways for Mac Trash Recovery
Mac Trash is a folder/application that is used to keep deleted files from the Mac internal drive and a variety of external drives (USB flash drive, Pendrive, SD card, TF card...)
Mac allows users to retrieve temporarily deleted files from Trash by the Put Back option
System Preference has an option to keep Trash files for 30 days, later all deleted items will be emptied from Trash
Option+Command (⌘)+Delete, Delete Immediately and Empty Trash is meant to delete files permanently, you cannot undo any of the actions to retrieve files
Permanently deleted files will bypass the Trash and delete forever
Can you recover deleted files from Trash on Mac? How about you have emptied Trash? Is there any chance to undo empty trash to get your documents, pictures, videos, or audio files back? Don't panic. As long as you take care of the lost data by taking the right measures, you can easily undelete files from Trash on Mac, or rely on capable Mac data recovery software for a full recovery.
※ A small tip:  Simply press the Command (⌘)+Z keyboard shortcut so you can undo the last performed action of deleting a file/folder.
Method 1. How to Recover Deleted Files from Trash on Mac
Applies to whom:
Select a file and press Command (⌘)+Delete on the keyboard;
drag and drop a file onto the Trash icon on the dock;
Control-click a file and choose Move to Trash
The trash Bin in Mac functions the same as Recycle Bin in Windows 10 computers, which is designed to provide a temporary place for holding deleted files and data. If you realize that you have deleted something important you didn't mean to, you can restore it from the Trash bin easily.
Follow how-to:
Open Trash on your Mac
Locate deleted files or folders you deleted in Trash
Option-click on the file and choose Put Back
※ Restored files are sent to their original location before getting deleted.
Method 2. How to Recover Deleted Files from Emptied Trash on Mac
Applies to whom:
Use Option+Command (⌘)+Delete to permanently delete a file
Select a file and choose the Delete Immediately option
Clear the whole trash bin files by clicking the Empty button in the Trash
Enable the option "Remove items from the Trash after 30 days" in Finder Preferences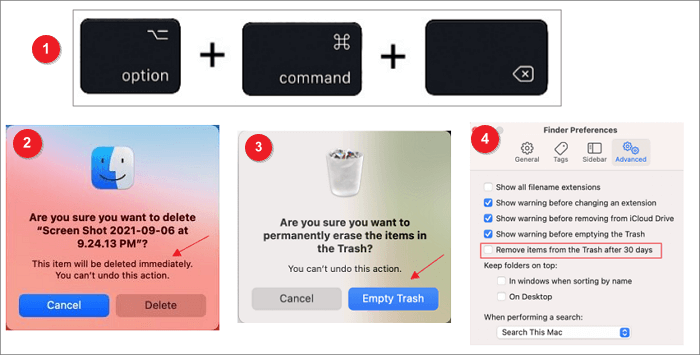 However, it's not always that simple to recover lost files if you have emptied the Trash bin. In this regard, you need a more capable way to undelete files from emptied Trash on Mac.
Data recovery software is a wise solution for any data loss situation. Whether you emptied the Trash bin or permanently deleted files on your Mac, it can scan and recover all types of lost data. It is worth mentioning that the data recovery software not only supports the recovery of Mac internal disk data but also applies to external storage devices like SD cards or external HDDs.
What makes data recovery software mighty:
Every time a file is deleted, the system will mark the storage space where the file is located as empty, but the deleted file is actually kept in the storage device until the storage space is overwritten by other data. This is how data recovery software works. It scans and finds all deleted files before they are overwritten and restores them to a safe location. EaseUS Data Recovery Wizard for Mac is such a data recovery tool. Here are the reasons why we recommend it.
EaseUS Emptied Trash Recovery Tool:
Deleted Mac file recovery in Trash or losing access to Trash
Compatible with macOS from the latest Monterey to Mavericks.
Support recovering more than 1000 types of files and previewing recoverable files for free.
Highly improved operational efficiency on M1 Chip. (Check to Load System Extension on the Mac with M1 Chips)
Tips for increasing data recovery rate:
Stop all the write operations, such as editing, saving, creating, and deleting files.
Do not access data on the target disk, such as view files or folders.
Do not format or reformat the disk.
Follow how-to:
Step 1. Scan for deleted files
Select the hard drive, external drive, or SSD where your important data & files were deleted and click "Search for lost files".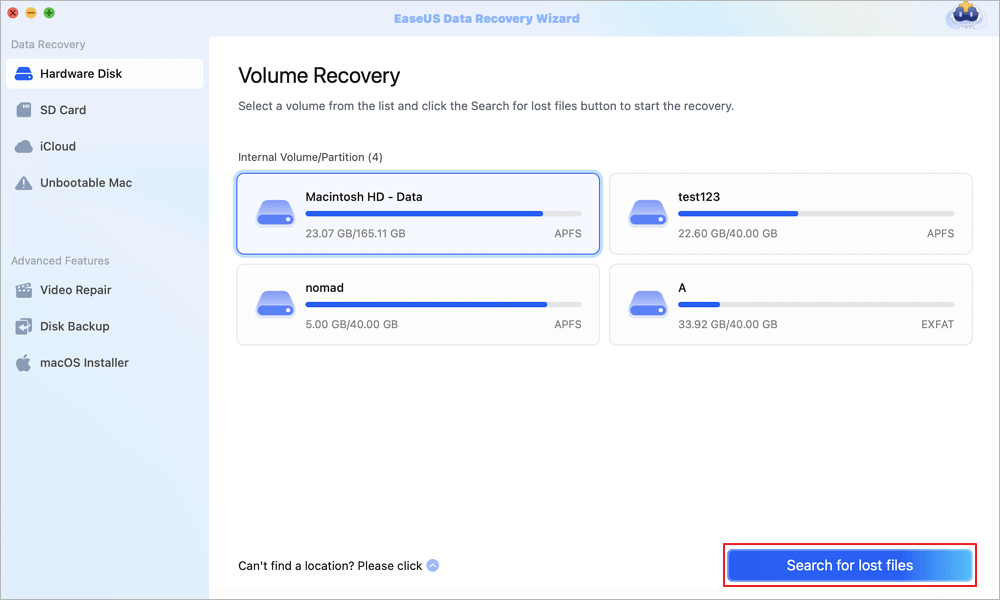 Step 2. Filter the lost files
The software will run quick and deep scans and work hard to find as many deleted files as possible on the selected volume. Filter wanted files through the "Type" and "Path" options.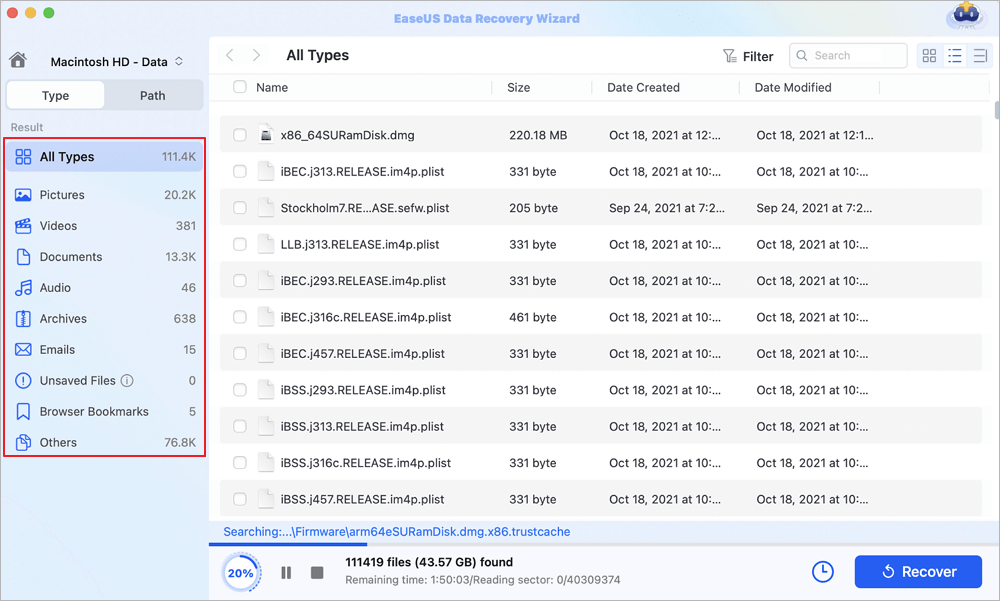 Step 3. Recover deleted files
Double-click the deleted files to preview. Then, click the "Recover" button to get them back.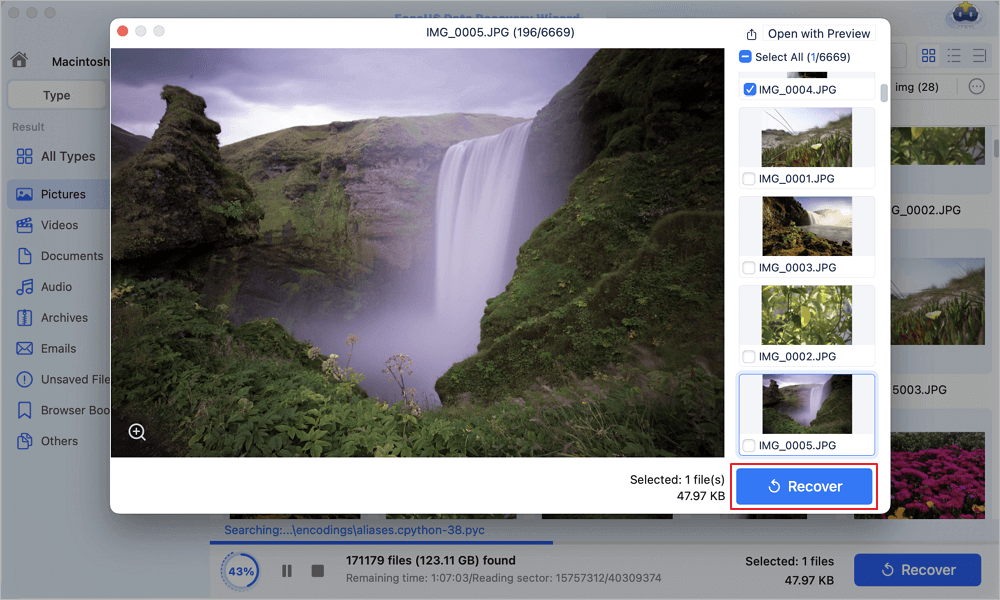 Undo Empty Trash Mac Related Questions
Here are some related questions that you may be interested in. Read on and solve your problems easily.
1. Where is the trash on Mac?
Usually, it is on the desktop. If it is not there, click its icon in the Dock. A Finder window called Trash opens and displays any files it contains. To retrieve an item that is already in the Trash, drag it back out, either onto the Desktop or back into the folder where it belongs.
2. Where do deleted files go after emptying Trash?
Files that are moved to the Trash can when you delete them. If you empty the Trash, these files are still located on the hard drive and can be retrieved with the right software.
3. Can I recover emptied trash on a Mac?
Yes. It's a piece of cake to recover files from Mac emptied Trash with the help of EaseUS Data Recovery Wizard Mac. It only takes three steps to recover files from emptied Trash:
Step 1. Select the location and click the Scan button.
Step 2. The software will run both a quick scan and a deep scan to find lost files.
Step 3. Select the file(s) and click the Recover Now button to get them back.
4. How do you empty the trash on a Mac?
Click and hold the Trash icon in the Dock.
A popup will appear that says Empty Trash. Select it. 
You can also empty the Trash from any open Finder window by holding down the Command + Shift + Delete keys.

Cedric Grantham is one of the senior editors of EaseUS who lives and works in Chengdu, China. He mainly writes articles about data recovery tutorials on PC and Mac and how-to tips for partition management. He always keeps an eye on new releases and loves various electronic products.
Daisy is the Senior editor of the writing team for EaseUS. She has been working in EaseUS for over ten years, starting from a technical writer to a team leader of the content group. As a professional author for over 10 years, she writes a lot to help people overcome their tech troubles.