
About the Author
Hot Topics in 2022
How to Install Operating System on SSD and Everything Else on HDD
HDD and SSD Overview
Storage devices have come a long way, and so has the operating system. Apps and games need faster writing speed and installation speed to improve the user experience. That is where SSDs come into the picture. 
HDD or Hard Disk Drive is an old form of storage that is slower compared to the modern SSD or Solid-State Drive. Even today there are many PCs, especially the OS installed on them. HDD makes the overall experience slow as it takes a lot of time to fetch data, install software, and everything else.
For example, if you play a lot of games on your computer, you need a faster drive, like SSD. SSDs will make sure the game launches faster, updates faster, and when you are playing it, the resource files, graphics, and every element that is needed during gaming loads faster. 
Similarly, when editing a video, or downloading a large file, it is important to have a faster read-write speed. It is particularly helpful when you render a video. If the software can save more data in less time, the render will be a lot faster. Imaging a video render on HDD could be an hour while on SSD, it could be few minutes. In case you need to fix a mistake in the video, you can fix it a lot faster.
Why Install OS on SSD and Keep Others on HDD
Coming to the point of why installing OS on SSD makes sense, and everything else on HDD, it is important to understand the reason behind it along with other aspects. Let's start with SSD followed, by HDD.
SSDs have their advantages and disadvantages. A user needs to decide to get only SSD or split between SSD and HDD.
While it makes sense to upgrade to SSD, it comes at a price. There is a difference of at least 60-70% in terms of cost vs storage type ratio making it challenging to buy SSD for everything. Another disadvantage of SSD includes the fact that they will wear out faster than a standard hard drive, and even though they are more expensive, you will need to buy more than one in due course of time.
When it comes to advantages, it is all about speed and performance. OS will boot a lot faster than it was on HDD, and your gaming experience will be a lot better., editing videos will be quicker. Your PC will be able to load apps almost instantly.
The rest of the files, that you do not access often, can be on an HDD. These files can be photos, videos, documents. These files do not need a lot of resources, they would work just fine on an HDD. It is the primary reason why most of the backup drives are built using an HDD. They are not only cost-effective, but they last longer compared to SSDs. They also have more storage space compared to SSDs.
So, to find an ultimate balance, the best solution is to install the OS on SSD, and for everything else, including backup and storage, use an HDD. OS on SSD will enhance your system speed, backup, and storage; on the other hand, it will be less susceptible to disk failure. Since files on HDD will not be accessed regularly, a speed slower than SSD is fine. 
How to Migrate OS from HDD to SSD on Windows 10 
If you are setting up everything new, it is easy to go ahead with SSD, but not when you are already on HDD. No one likes to spend hours and hours setting up all the stuff on a new OS and then changing it to SSD. Many things need to be taken care of, including app installation, file restoration, setting up a user account, browser settings, etc.
However, there is an easy way out. Users who have installed OS on HDD and don't want to redownload and reinstall Windows on SSD can directly migrate OS from HDD to SSD with professional partition software - EaseUS Partition Master. 
Key features of EaseUS Partition Master:
Supported partitions with BitLocker
Resize/extend/shrink/create/clone/format/delete partitions
Merge partitions into a larger one without losing data.
Convert MBR to GPT disk or vice versa
Change between FAT32 and NTFS, Primary and Logical partitions 
The software offers easy to use interface and migration tools that can clone everything on HDD and transfer it to SSD. 
Note: The operation of migrating OS to SSD or HDD will delete and remove existing partitions and data on your target disk when there is not enough unallocated space on the target disk. If you saved important data there, back up them to an external hard drive in advance.
Step 1. Select "Clone" from the left menu. Select the "Migrate OS" and click "Next" to continue..
Step 2.  Select the target disk you want to clone. Click "Next".
Step 3. Click "Yes" after checking the warning message. The data and partitions on the target disk will be deleted. Make sure that you've backed up important data in advance. If not, do it now.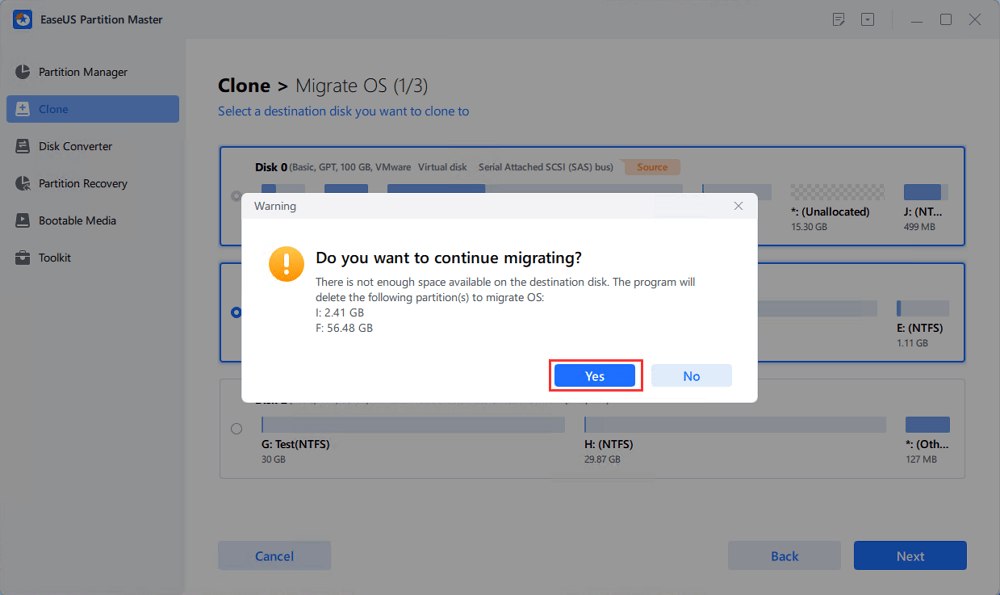 Step 4. Preview the layout of your target disk. You can also click the disk layout options to customize the layout of your target disk as you want. Then click "Start" to start migrating your OS to a new disk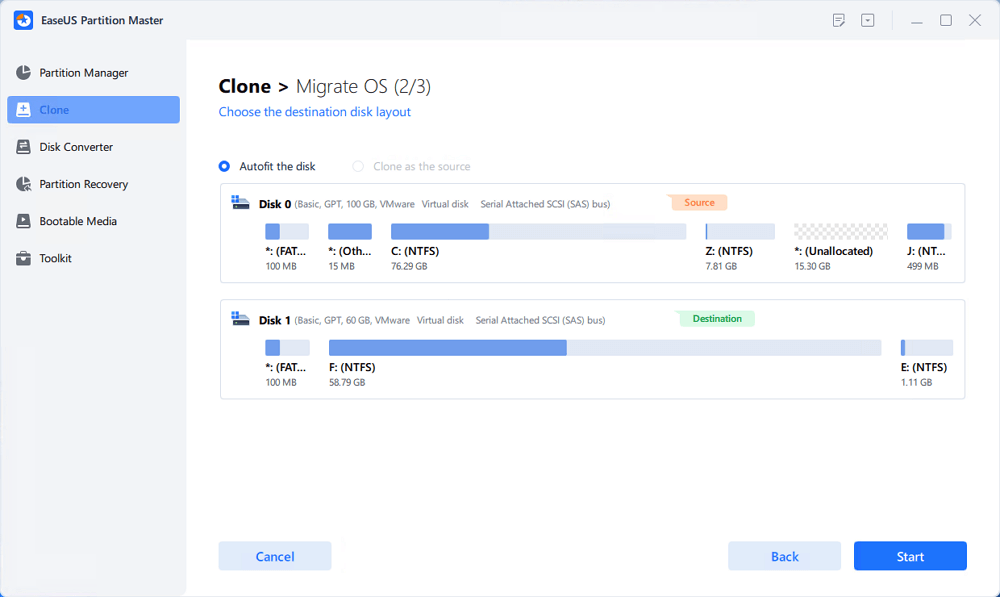 Once complete, you can change the boot drive in the BIOS from HDD to SSD. Reboot, and you should be able to use the computer as before.
How to Migrate All Programs from SSD to HDD Without Reinstalling
Migrating everything to SSD is only one part; you also need to move what is not required on SSD to HDD. It is needed to increase the life of SSD in the long term. So once you are done migrating, use EaseUS Todo PCTrans to migrate all the applications from SSD to HDD in simple clicks. 
EaseUS Todo PCTrans is PC migration software that can moves data, applications, and accounts between computers or to another new hard disk without reinstalling. The process makes sure everything that is moved carries along all the settings, so you don't have to reinstall from scratch. The software supports the migration of applications such as MS Office, Photoshop, Adobe Software, and so on. 
There are three transfer modes—via a Network connection, local transfer, and transfer via image files. It makes sure you can migrate under any circumstances.
Follow the steps below to learn how to move all programs from HDD to SSD with EaseUS Todo PCTrans.
Step 1. Connect new SSD or HDD to your PC and Run EaseUS Todo PCTrans
1. Connect the new SSD or HDD to your computer and initialize it to make the drive accessible.
2. On the main screen of EaseUS Todo PCTrans, click "App Migration" and click "Start" to continue.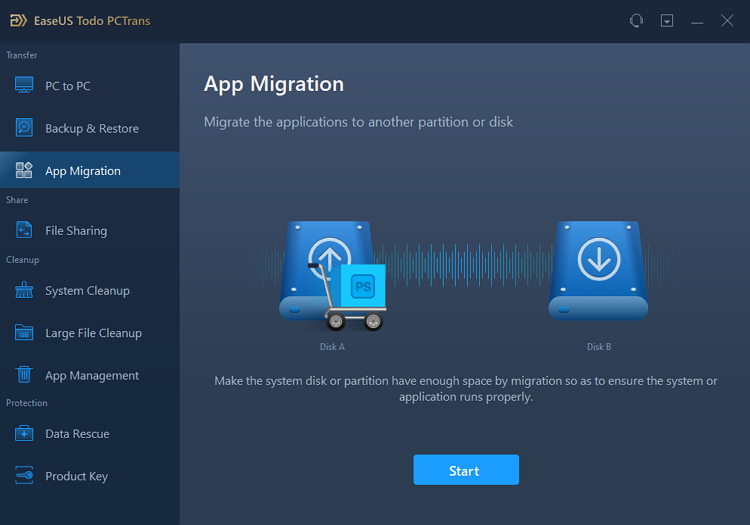 Step 2. Select apps, programs on the source disk and select SSD or HDD as target disk to transfer
1. On the source partition where you installed apps, tick desired programs (marked as "Yes") that you'd like to transfer to your SSD or HDD.
2. Click the triangle icon to select the new SSD or HDD as the destination and click "Transfer" to move the selected programs.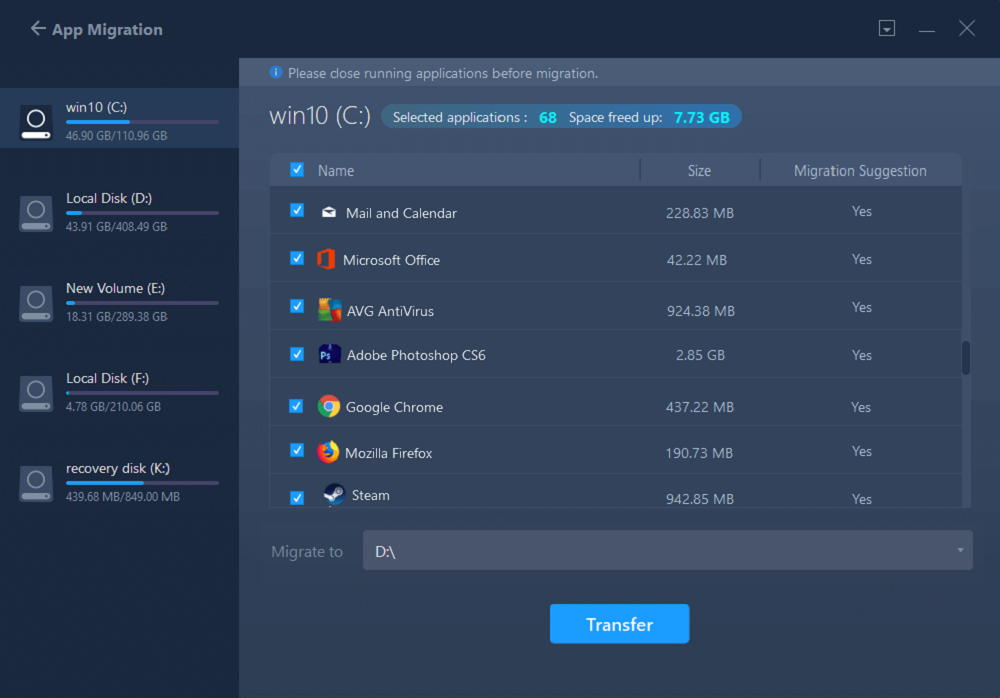 Step 3. Wait for the transferring process to finish
When the process finishes, click "OK" to complete. 
Then you can restart your PC to keep all the changes and you can run the transferred program on your new SSD or HDD again.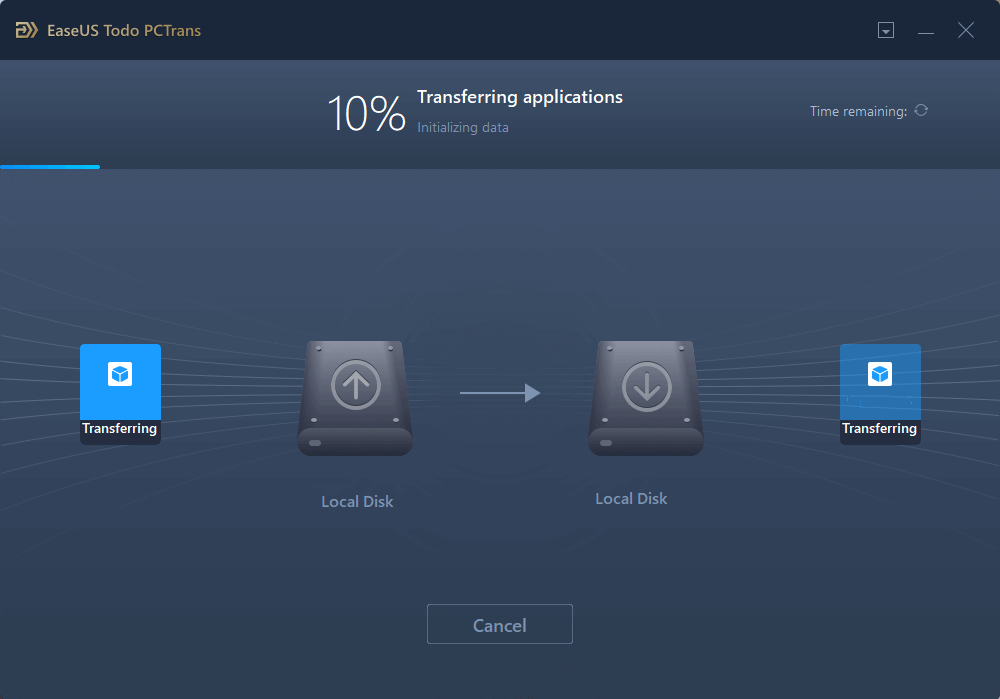 Final Words 
One of the best ways to improve the performance of your computer is to install a Solid State Drive (SSD) as your main storage device. While a traditional Hard Disk Drive (HDD) will always be durable than an SSD, SSDs are much faster.
If you're going to use HDD and SSD together, you can install the Windows on the SSD and store others on the HDD. The SSD makes the system more reliable. If you have an old computer that has the HDD, it's better to just reinstall Windows on the SSD and keep the HDD for backups.
To migrate OS to SSD, apply EaseUS partition management tool. Looking at all its features, it is clear that EaseUS Partition Master is a must-have utility tool that provides you with a quick, easy, and professional way to manage your hard disk's partitions with an intuitive and neat interface.
About the Author
Updated by Tracy King 
Tracy joined in EaseUS in 2013 and has been working with EaseUS content team for over 7 years. Being enthusiastic in computing and technology, she writes tech how-to articles and share technical solutions about Windows & Mac data recovery, file/system backup and recovery, partition management and iOS/Android data recovery.

Cedric Grantham is one of the senior editors of EaseUS who lives and works in Chengdu, China. He mainly writes articles about data recovery tutorials on PC and Mac and how-to tips for partition management. He always keeps an eye on new releases and likes various electronic products.
Product Reviews
I love that the changes you make with EaseUS Partition Master Free aren't immediately applied to the disks. It makes it way easier to play out what will happen after you've made all the changes. I also think the overall look and feel of EaseUS Partition Master Free makes whatever you're doing with your computer's partitions easy.

 Read More

Partition Master Free can Resize, Move, Merge, Migrate, and Copy disks or partitions; convert to local, change label, defragment, check and explore partition; and much more. A premium upgrade adds free tech support and the ability to resize dynamic volumes.

 Read More

It won't hot image your drives or align them, but since it's coupled with a partition manager, it allows you do perform many tasks at once, instead of just cloning drives. You can move partitions around, resize them, defragment, and more, along with the other tools you'd expect from a cloning tool.

 Read More