Workable Solutions
Step-by-step Troubleshooting
Recover Data from Corrupted Hard Drive

Connect SSD/HDD with Another SATA Port /Cable/PC to Restore Data...Full steps

Use Hard Drive Data Recovery Software for Corrupted SSD Recovery...Full steps

Repair Corrupted SSDRepair SSD in Windows 10 Manually

1. Check and Fix File System ...Full steps

2. Rebuild MBR to Repair SSD...Full steps

3. Format/Erase the Damaged SSD...Full steps

Repair SSD in Windows 10 Manually

1. Update SSD's Firmware to Repair SSD...Full steps

2. Update your SSD Drivers...Full steps

3. Run CHKDSK to Fix File System Error...Full steps
SSD/HDD Failed to Respond and Corrupted
Have you ever lost data on corrupted SSD or HDD drive? Did your disk become RAW or computer cannot boot from corrupted SSD/HDD? Are you looking for solutions to repair corrupted SSD/HDD and restore lost data?
Don't worry. Here, you'll find effective methods to repair corrupted SSD or HDD without losing data offered. Let's see how to fix and repair corrupted SSD or hard disk drive now.
How Do I Know If My SSD Is Corrupted
Although SSD is better than HDD in some ways, the problem on it is not rare. If the SSD has the following five significant symptoms, it is likely to corrupt or damage. Them, you may need to repair SSD. So how do you know if your SSD is corrupted?
1. File on SSD are unreadable
If some files on SSD are unreadable, the data is in a bad block. And you can't copy the files. 
2. Unable to access, SSD drive runs slowly
If you are using an SSD with slow read/write speeds or your system crashes frequently, you need to use a few tools to check for SSD damage and be prepared to replace your hard drive in time to prevent important data loss.
3. Check file system
If the system frequently prompts the error that the file system needs fix, it implies the hard drive damage.
4. The blue screen occurs for many times 
Hard disk damage will also cause the computer blue screen. If the blue screen problem occurs during the computer startup process, it can be considered as a system problem and a disk problem. When you encounter a blue screen and can't enter the system, you can solve it by reinstalling the system. If system reinstalling doesn't resolve the problem, you can assume that the hard disk is damaged.
5. Unable to write, SSD becomes read-only
If you are directly prompted that you cannot write or write-protect, refuse to write, etc. when you put a file in the SSD, there is no doubt that it is broken.
Recover Data from Corrupted Hard Drive Before SSD Repair
Before you repair SSD, to ensure data security, you'd better perform a corrupted SSD data recovery in two ways below.
1. Connect SSD/HDD with Another SATA Port /Cable/PC to Restore Data
If you are having one of the below issues, try this method to connect SSD or HDD with another SATA port and cable or another PC to restore data:
Present PC cannot read or recognize SSD/HDD
Current PC cannot boot properly
New SATA port and cable or new PC may be able to help you access data on your SSD/HDD if you have the above two situations.
2. Use Hard Drive Data Recovery Software for Corrupted SSD Recovery
If Method 1 cannot access your data in SSD or HDD, or SSD/HDD become corrupted with RAW error, you'll need a professional hard drive data recovery software.
Here you may try EaseUS Data Recovery Wizard, which supports you to restore all lost data on HDD/SSD, external hard drive, USB, or SD card. All Windows systems (Windows 10, 8, and 7) are supported. Three steps will restore all data from RAW or corrupted SSD/HDD: Run Software > Select and Scan disk data > Preview and Restore data.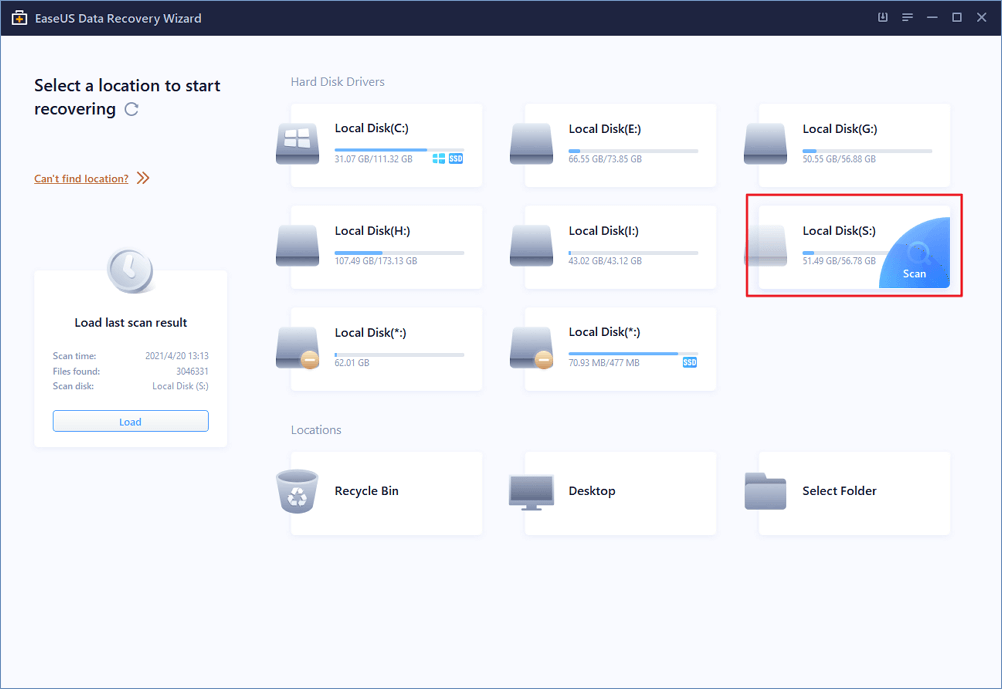 How to Repair Corrupted SSD with a Professional SSD Repair Tool 
EaseUS Partition Master is a top-notch disk and drives management tool that provides comprehensive, effective solutions to help you repair corrupted or damaged SSD by checking file system, rebuilding MBR on SSD, formatting, and erasing SSD. 
1. Check and Fix File System 
Step 1. Right-click the target partition that has a problem.
Step 2. Choose "Advanced" > "Check File System".
Step 3. Confirm if you want to hide the partition or not.
Step 4. In the Check File System window, check the "Try to fix errors if found" option.
Step 5. Click "Start" to check errors on your partition.
2. Rebuild MBR to Repair SSD
If the master boot record on SSD is damaged, the SSD will fail to boot. After booting up, the system will prompt "Disk boot failure, Insert system disk and press enter" to tell you that the boot partition hard disk cannot be found, or there is no boot file on the hard disk. Please insert the boot disk and press Enter. In this case, you can directly install EaseUS Partition Master and use its "Rebuild MBR" feature to solve the problem.
If SSD is your system disk and the MBR has damaged, your computer may not start properly. At this time, you can create an EaseUS Partition Master WinPE bootable disk to rebuild MBR.
Note: Rebuilding MBR is only valid for MBR disks. If your SSD is a GPT disk, this method won't work. 
Step 1. Create a WinPE bootable disk
Launch EaseUS Partition Master, and click "Bootable Media" on the toolbar. Select "Create bootable media".
Click "Next" to finish the process.
Step 2. Boot EaseUS Partition Master Bootable USB
Connect the bootable USB or CD/DVD to your PC. 
Press F2 or Del when you restart the computer to enter the BIOS screen. Set and boot your computer from "Removable Devices" or "CD-ROM Drive". And then EaseUS Partition Master will run automatically.
Step 3. Rebuild MBR
Click "Toolkit" and choose "Rebuild MBR".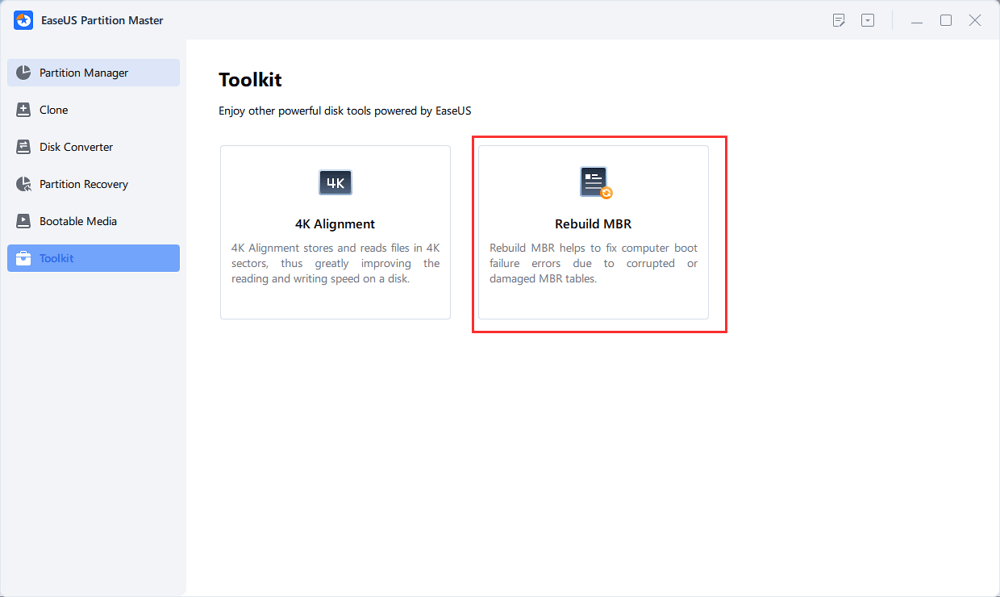 Select the disk and the type of MBR. Then, click "Rebuild".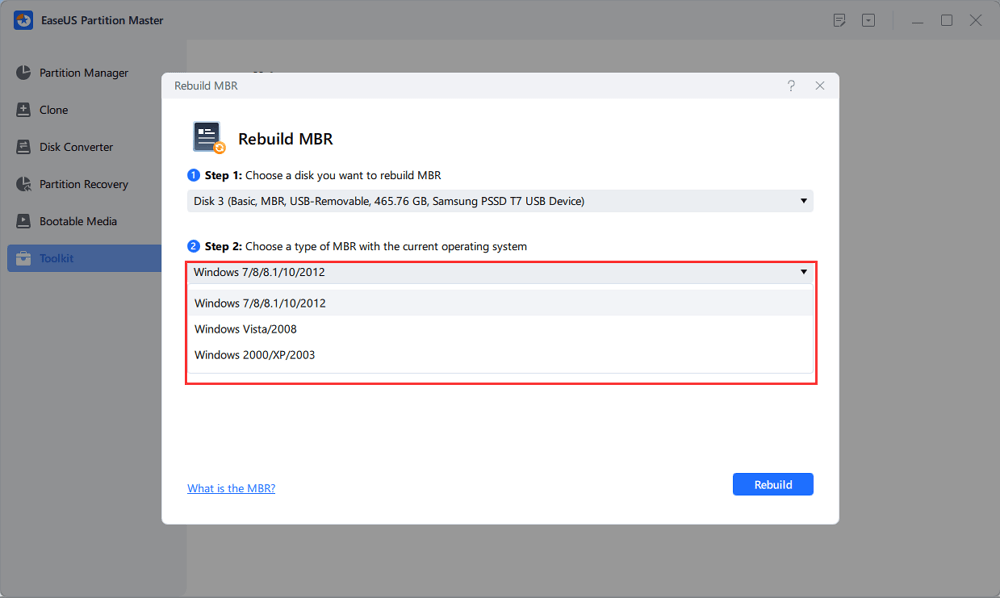 After that, you can see "MBR has been successfully rebuilt on Disk X".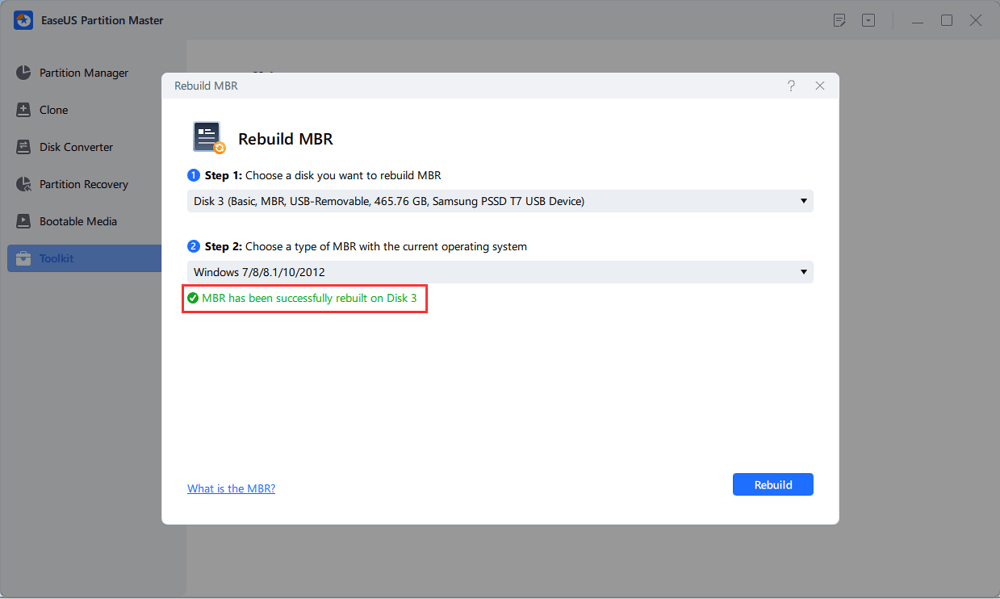 3. Format/Erase the Damaged SSD
If the above methods won't work and you can't repair SSD anyway, or if the SSD is write-protected due to file system corruption, you can fix the corrupted SSD drive by formatting and securing erasing. For SSD is a data disk, you can reuse it directly after format and wiping. If the SSD is a system disk, you can reinstall the system.
Launch EaseUS Partition Master, right-click the SSD disk or drive, choose Wipe Data or Format and wait for the process to accomplish.
Summary: Using the four options of EaseUS Partition Master, you can repair corrupted SSD on Windows 10/8/7. Besides the excellent SSD repair function, this powerful partition management software also enables you to resize/move partitions, merge, create, format, and delete partitions, perform SSD 4K alignment, migrate OS to SSD, and more.  
How to Repair SSD in Windows 10 Manually
There are many ways you can try to fix SSD, including simple and complex solutions. This part covers the manual means to repair corrupted SSD/HHD by updating firmware, drivers, or using the Command Prompt.
1. Update SSD's Firmware to Repair SSD
Step 1. Press Win+X keys and choose "Device Manager".
Step 2. Expand "Disk drives" > right-click the SSD drive > select "Properties". Choose "Details" tab > click the drop-down menu under Property > choose "Hardware Ids" > click "OK" to save the settings.
Step 3. Run the SSD firmware update tool and follow the on-screen instructions to complete the process.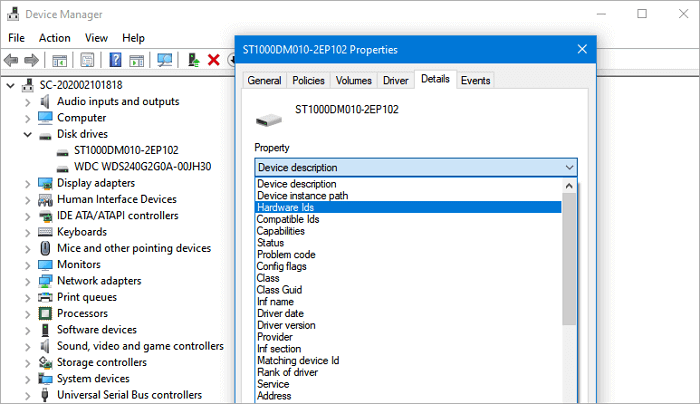 2. Update your SSD Drivers
Step 1. Press Win+X keys > select "Device Manager".
Step 2. Expand "Disk drives" > right-click your SSD > choose "Update driver". Then, follow the on-screen instructions to update SSD'S driver. When the process finishes, restart your PC.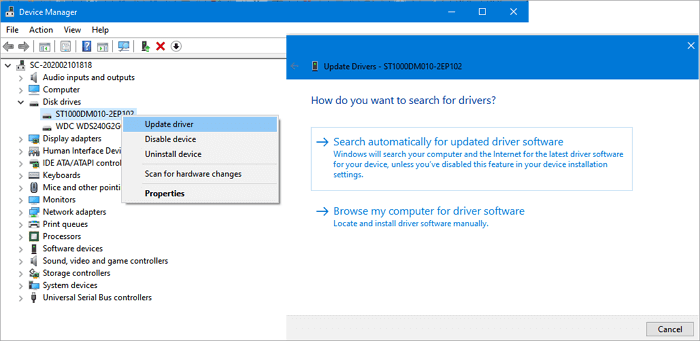 Or you can choose to uninstall and reinstall the driver to troubleshoot.
3. Run CHKDSK to Fix File System Error
Press "Win + R" to open the "Run" dialog.
Type: cmd and hit Enter to open "Command Prompt".
Click "Run as administrator" and log in as Administrator.
Type: chkdsk C: /f /r /x in Command Prompt and hit Enter.

Note: C: shall be the drive letter of your corrupted SSD or HDD and do remember to replace C: with the right letter. Wait for the process to complete, then type exit and press Enter to close the command prompt.
We hope these three basic methods can help you repair SSD or HHD with corruption. But if none of these methods can fix damaged SSD, don't discourage, because you can still use a professional SSD repair tool for assistance.
People Also Ask
1. Can SSD drives be recovered?
Due to the technology known as SSD TRIM, data recovery software can't restore data from an SSD drive when files or folders have been deleted. But if the TRIM is disabled, you can use the EaseUS data recovery tool to restore lost data on SSD. 
2. How do I know if my SSD is failing?
If you are encountering the following issues, your SSD may be failed.
File on SSD are unreadable
Unable to access, SSD drive runs slowly
Check file system
The blue screen occurs for many times 
Unable to write, SSD becomes read-only
3. Can SSD fail?
Although SSD is faster, more stable, and consumes less power than traditional HDD, SSD has a shorter life than HDD with the limited write cycle, so it can fail before their expected life span of five to seven years.
4. Can data be recovered from a failed SSD?
Yes. You can use the EaseUS data recovery program to recover data from failed SSD that can be detected by the computer. This application will help you recover all data from crashed and failed SSD drives in a few clicks. 
5. How do I fix a corrupted SSD?
Overall, you have six solutions to fix a corrupted SSD. For instance, update SSD's firmware and drivers, check and fix the file system, rebuild MBR, format, and erase problematic SSD.
6. How do I fix my SSD when it won't show up?
First, you need to fix the SSD not showing up matter via changing the drive letter, SSD initialization, reinstall SSD'D driver, etc.. When your SSD shows up, you can use the methods provided in this tutorial to repair corrupted SSD. 
Updated by Tracy King 
Tracy joined in EaseUS in 2013 and has been working with EaseUS content team for over 7 years. Being enthusiastic in computing and technology, she writes tech how-to articles and share technical solutions about Windows & Mac data recovery, file/system backup and recovery, partition management and iOS/Android data recovery.