Summary
Generally, if your disk shows not initialized, it's probably caused by MBR corruption or physical damage. If your disk becomes unknown and not initialized and shows as unallocated space. You can initialize the disk and then recover data with EaseUS Data Recovery Wizard to fix the issue. If Disk Management shows no information about your disk capacity, you will need other fixes provided to have a try.
Disk 1 Unknown, Not Initialized, Unallocated
"When I plugged in my external hard drive, Western Digital My Passport 0740 (500GB), PC said that it's successfully installed however it did not appear on My Computer. Also when I went into system tools it said that disk 1 is unknown, not initialized, unallocated. Does anyone know how to recover data when a hard drive is not initialized or how to initialize disk without losing data?"
Symptoms
Like the case above, "Disk Unknown Not Initialized" issue usually attacks unexpectedly in all the Windows version, including Windows 10, 8, 7, and annoys numerous users. When it happens, your external hard drive may show "unallocated space" or nothing about the disk capacity in Disk Management (like in the image below), so you are not able to open and access the data on this disk.

Causes
Although the disk shows "Unknow, Not Initialized" in both of the situations. They present different information about the capacity of the hard drive, which means they are caused by different reasons.
If "disk unknown not initialized" is accompanied by "unallocated", the cause is likely to be MBR corruption on the hard drive. MBR, Master Boot Record, is the first sector on an MBR or GPT disk. It provides information on loading Windows and on the partition of the disk. Thus, when it is corrupted, you will certainly encounter issues, including disk showing as "Not Initialized".
However, if your disk 1, disk 2, or another disk becomes "Not Initialized" without any information about the disk storage, the causes may be a connection issue, disk driver issue, or physical corruption on the disk.
How to Fix Disk Unknown Not Initialized in Windows 10/8/7
Depending on your situation, you will have different solutions to the problem "disk not initialized" on your computer, be it a local hard drive or external hard drive.
Situation 1. Disk Is Not Initialized and Shows Unallocated
To fix a disk becoming "Not Initialized" in such a case, you can initialize the disk directly. Then here comes the question - does initializing a disk erase data? Actually, Initializing a disk will rebuild the master boot record. It WON'T ERASE the data on the disk. However, to make the disk usable again, you need to further partition and format the disk, which will erase the files on your hard drive. Thus, to fix "disk not initialized", you are recommended to :
Initialize the hard drive
Recover data from the disk
Partition and format the disk to make it ready for data storage
It is the easiest way to fix disk unknown not initialized issue. Just right-click "My Computer" > "Manage" to run Disk Management, Here, right-click the hard drive and click "Initialize Disk". In the dialog box, select the disk(s) to initialize and choose MBR or GPT partition style.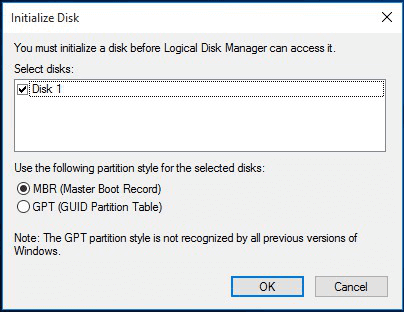 After initializing the disk, you can now recover data from your disk. Based on your needs, you can either recover data only from the disk or recover both the partitions and the files on it. (If you can't initialize the disk, learn how to fix it here.)
Solution 1: Recover Data from Hard Drive
Here, if you have important files on the external hard drive, you can try the hard drive recovery software - EaseUS Data Recovery Wizard to recover the files from the inaccessible disk.
Step 1. Run data recovery software to scan data.
Select the location of your hard drive/external hard drive. The not initialized partition could be named as "Lost Partition" in the user interface. Click "Scan" to start scanning lost data on the hard drive.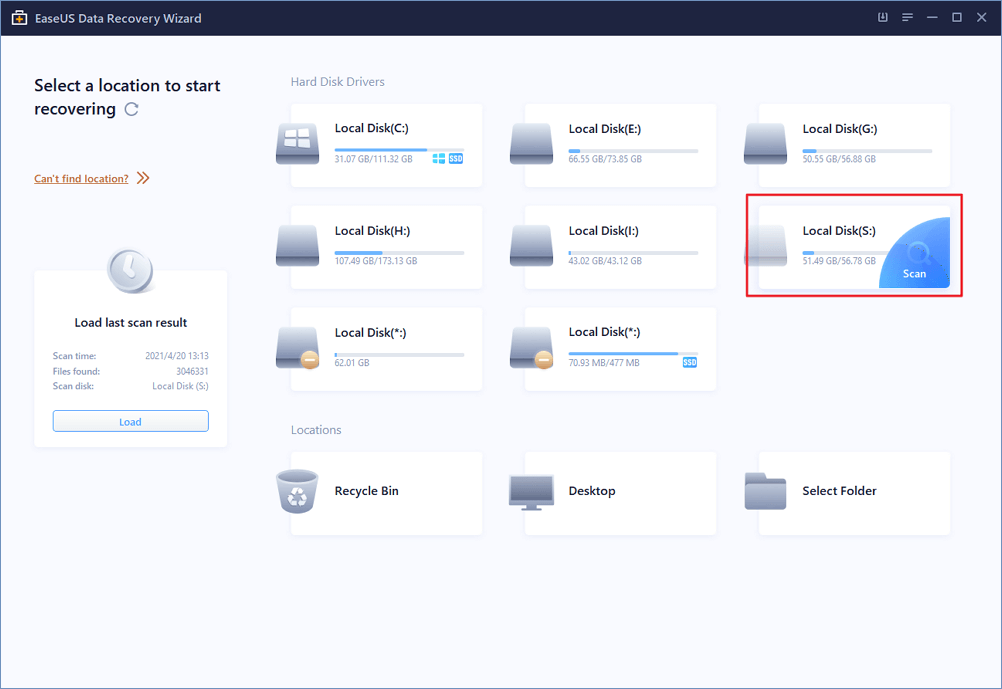 Step 2. Filter wanted files.
Once the scanning process completes, you can quickly find your lost files by clicking "Filter".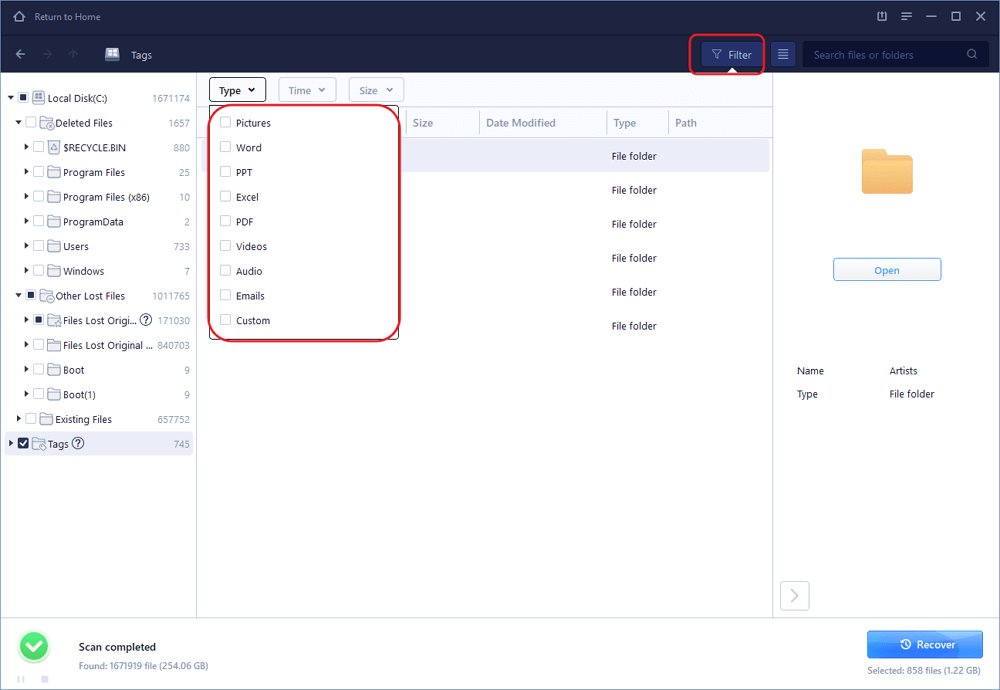 Step 3. Preview and recover data.
You can double-click the found files one by one to preview. Afterward, select the items you want to retrieve. Click "Recover", choose a location to save the files, and then click "OK" to start recovering the selected content.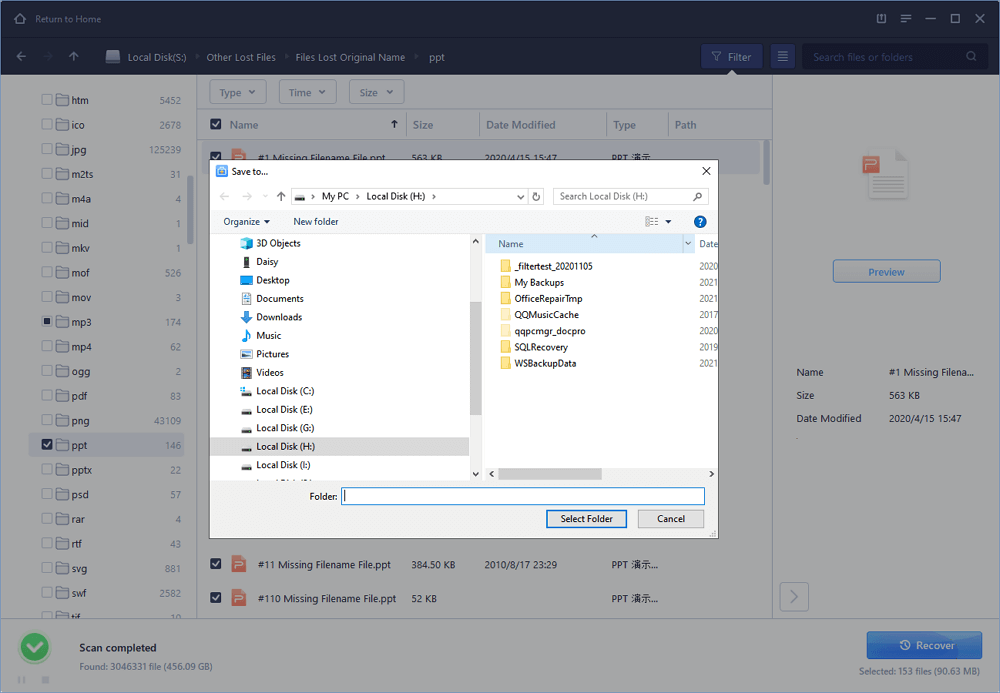 If you recover data only, you will need to partition the disk by yourself following the steps below.
Step 1. Right-click "This PC" and choose "Manage" > "Disk Management".
Step 2. Right-click the unallocated space and choose "New Simple Volume..."
Step 3. In New Simple Volume Wizard, click "Next" to continue.
Step 4. Follow the wizard to specify the volume size, assign a drive letter to the volume, and then format the partition.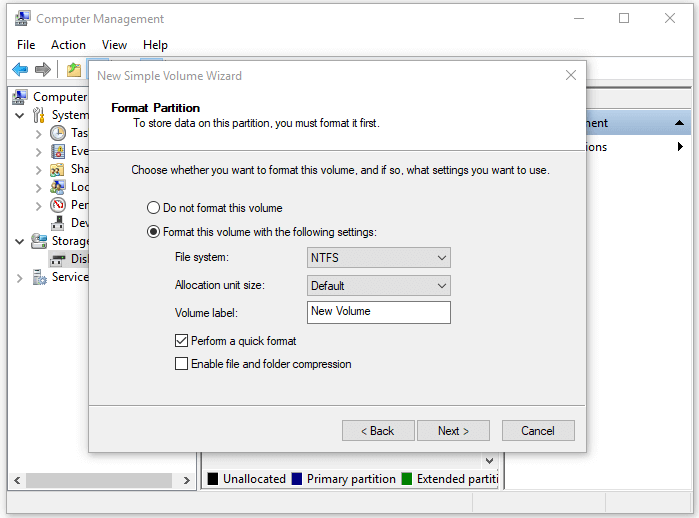 If you don't want to create partitions by yourself, you can recover partitions on your disk that shows "Not Initialized", which will help you restore the original partitions on the hard drive.
Solution 2: Perform a Partition Recovery
Download and launch the reliable partition tool - EaseUS Partition Master on your computer. With it, you can recover the partition on your hard drive with ease.
Step 1: Launch EaseUS Partition Master on PC
Click on "Partition Recovery" at the top of the main window.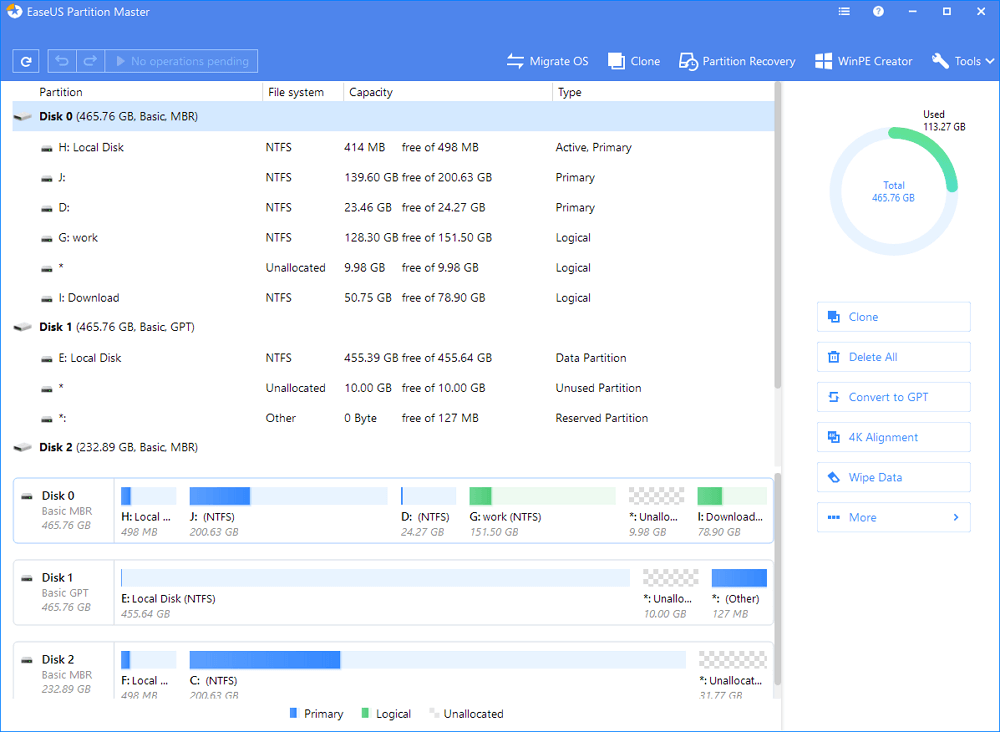 Step 2: Select a hard disk to search for the lost partition(s)
Choose the hard drive disk or SSD where you lost partitions, and click "Scan".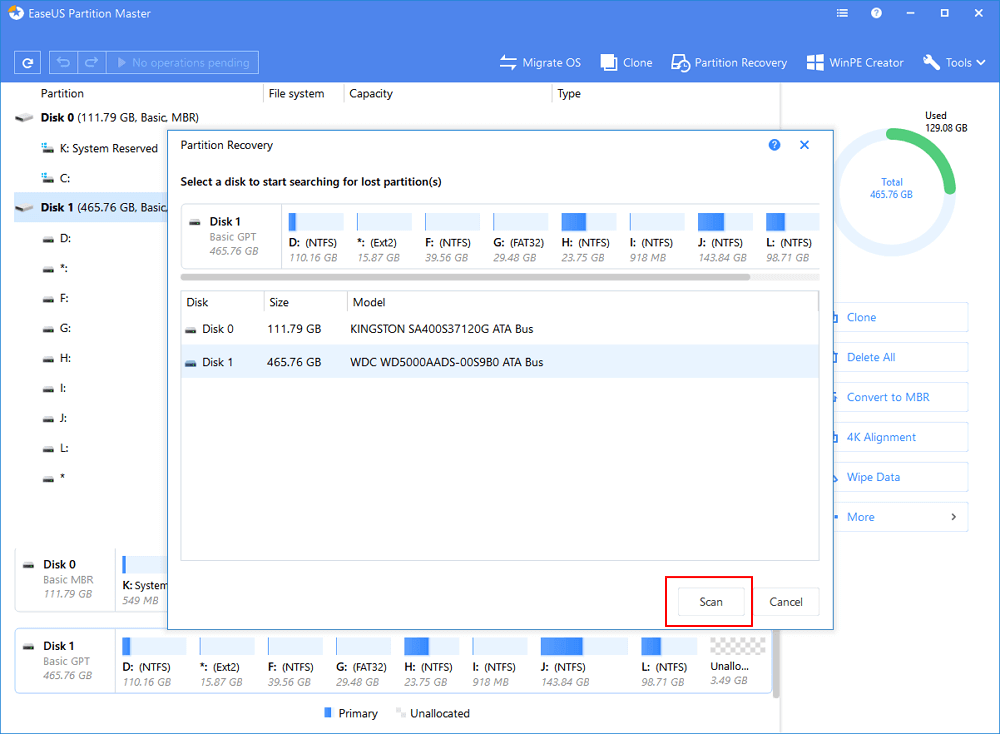 Step 3: Wait for the scanning process to complete.
This program will scan the whole disk with two modes - "Quick Scan" and "Deep Scan" to find all lost partitions and data for you.
Quick Scan will find your latest deleted partition with a fast speed.
Deep scan will scan and find more and earlier deleted partitions.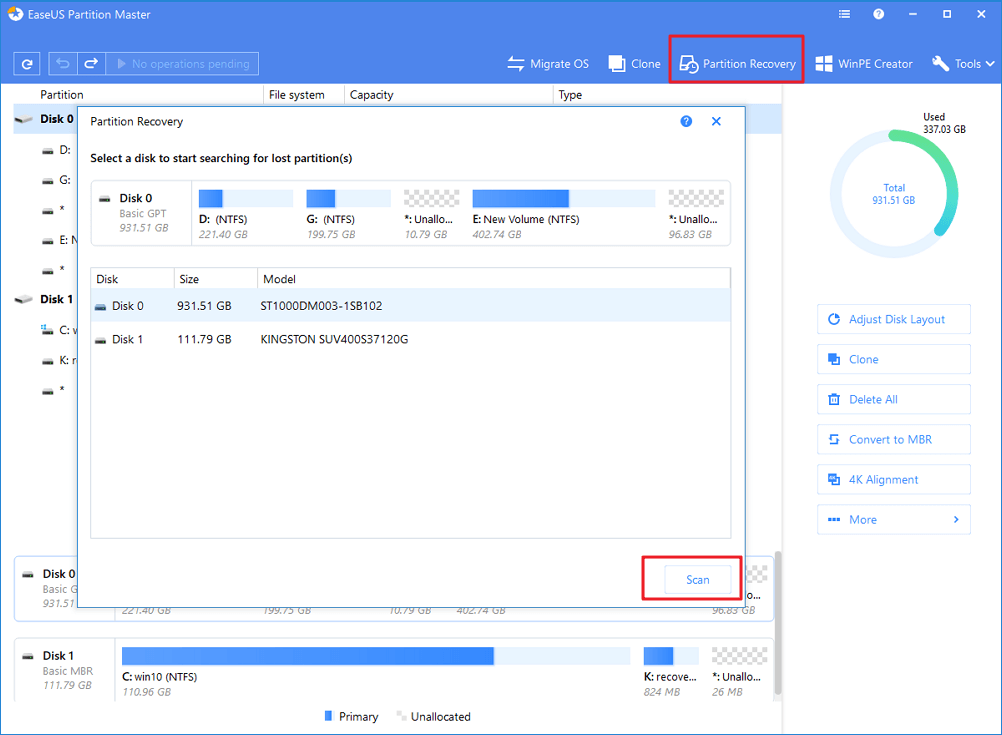 Step 4: Select and recover lost partitions
1. Select the lost partition, marked as "Deleted" with previous Labels, capacity etc, and click "Proceed" to continue.
2. Click "Recover Now" to confirm and restore the lost partition.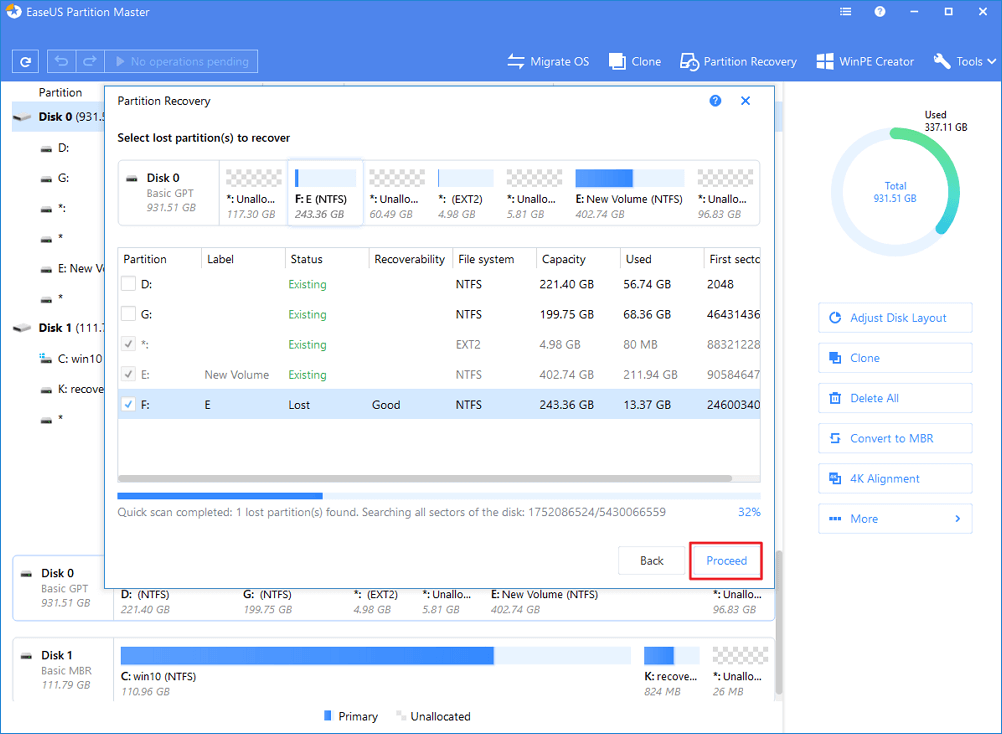 3. Click the "Execute Operation" button and click "Apply" to restore lost partition.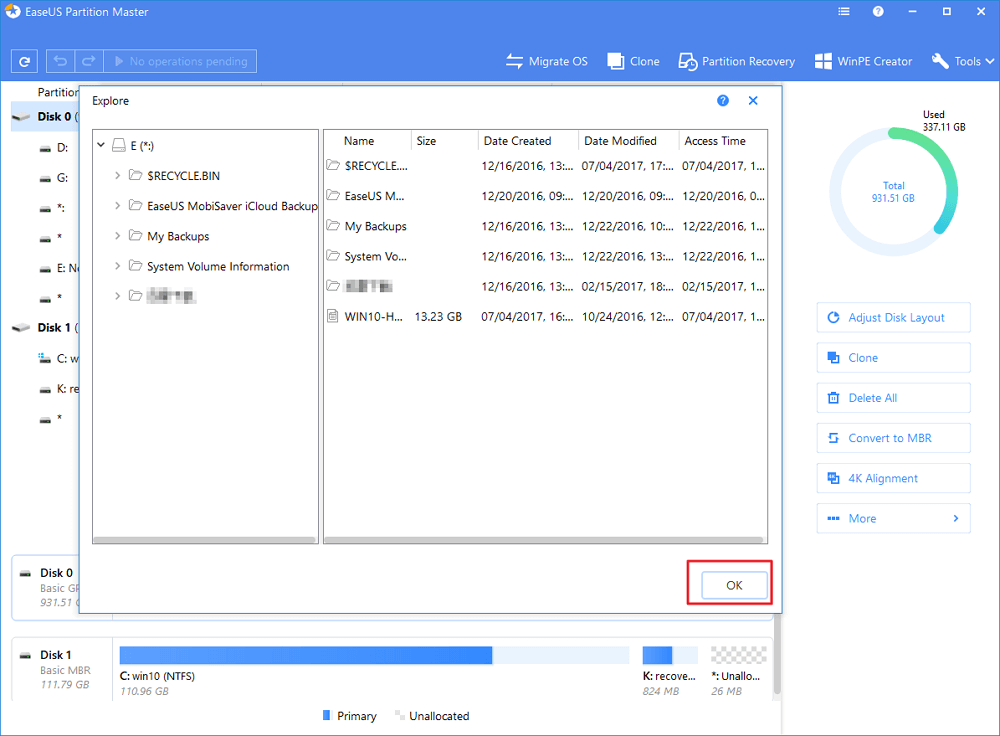 Besides, you can also rebuild MBR to try to fix "disk unknown not initialized".
Situation 2. Disk Is Not Initialized and Shows Nothing About Disk Capacity
According to the possible causes mentioned, to fix "disk not initialized" with no information on disk storage, you can try three tips:
Method 1. Check the Connection
Minor connection issue can cause serious problems like the one in the discussion. To check the connection, you can:
Connect your Toshiba external hard drive to another USB port, including the rear ones, on your computer
Use the original cable to connect your hard drive
Use another cable to connect your Toshiba hard disk
Connect your Toshiba hard drive to another computer
Method 2. Update Device Driver
Outdated or corrupted disk driver may also be the culprit. Updating the device driver can be easily done in Device Manager.
Step 1. Right-click on "This PC" (in Windows 10) and choose "Properties".
Step 2. Click "Device Manager" then expand "Disk drives". Find and right-click the problematic disk and select "Update driver"
Step 3. Click "automatically search for driver software online".
Step 4. Wait for the driver to be updated, then reboot your computer. Afterward, you can try to reconnect your USB drive to PC and check whether the USB drive shows up or not.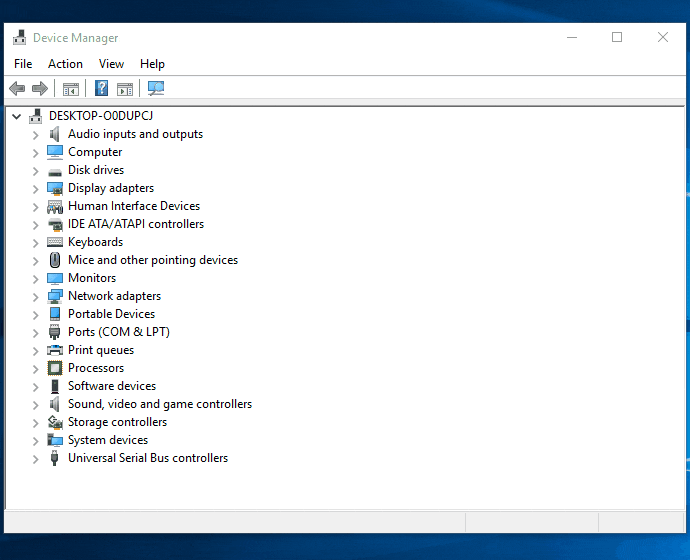 Method 3. Send for Manual Repair
Physical damage will inevitably result in serious issues on a storage medium, including "disk unknown not initialized". If the methods above fail to solve the problem for you, sending your device to professionals for manual repair is a good choice.
Extra Tip: How to Fix Cannot Initialize Disk in Windows
A common reason that leads to "disk unknown not initialized" is that you fail to initialize the drive with a message saying "The request could not be performed because of I/O error", which, afterward, will cause your disk to be shown as Unknown or Not Initialized. When you can't initialize a hard disk, "disk unknown not initialized" is not the only issue that you may encounter. For the detailed explanation and corresponding solutions, go to the article about how to fix the i/O device error. If the guide cannot help you solve the problem, you are highly recommended to ask help from experts for manual repair or directly replace it with a new disk.
The Bottom Line
Although initializing a disk won't erase data on the device, the further operations will. Thus, if you want to fix a disk that is not initialized without losing data. Data recovery software is needed. However, if your disk shows "Unknow, Not Initialized" due to physical corruption, no data recovery software will help and only manual data recovery services have the chance to rescue your files.
100% of people found this article helpful.
Frequently Asked Questions
1. Why choose EaseUS Data Recovery Wizard?

"EaseUS Data Recovery Wizard is the best we've seen. It's far from perfect, partly because today's advanced disk technology makes data-recovery more difficult than it was with the simpler technology of the past, but it's fast and efficient..." —PCMag

"The first thing you'll notice about EaseUS Data Recovery Wizard Pro is that its interface is very clear and uncluttered, with only a small collection of self-explanatory controls. You won't find lots of extra options hidden in a system of hidden menus, either; what you see really is what you get." —techradar

"Recover lost files, even after deleting a partition or formatting your drive." —Macworld
2. Why cannot I recover 2GB data for free?

It is recommended to check the version installed is Free or Trial because they are different versions.

Trial has data preview function but cannot save any files, while the Free version enables to recover 2 GB files. The default free space is 500 MB and you may share the product on social media to get another 1.5 GB.
3. Why cannot the recovered files be opened?

A file is saved as 2 parts on the storage device: directory info (which is comprised by file name, time stamp and size info, etc.) and data content.

If the files with original file names and folder structures cannot be opened, one possible reason is the corrupted directory info. There is still a chance to recover the data content with the RAW Recovery method in our software.
4. Why isn't it suggested to recover the files back to the original drive?

The storage structure of the lost files would be altered or damaged by any changes on the drive. If you save the recovered files back to the same drive, the original data structures and data content would be corrupted or overwritten, which causes permanent data loss. So you should prepare another disk to save the files.
5. How can I check whether my data is recoverable or not before purchase?

The Free version helps you save 2GB files to better verify the recovery quality of our product before purchase.
6. How long does it take to scan the drive?

It strongly depends on the capacity of your hard drive and the performance of your computer. As reference,most drive recoveries can be completed in around 10 to 12 hours for a 1-TB healthy hard drive in general conditions.
About Data Recovery Wizard
It's super easy to recover 250+ types of files after deletion, disk formatting and virus infection. Click the links and compare the difference of each version.