"I'm wondering if there is some data recovery software that supports to recover files by time. So many third-party recovery tools let customers find the files by file types, and it's really troublesome and time-consuming."
Common Ways of Files Recovery from Third-party Data Recovery Tools
Admittedly, data recovery tools developed by many reputed IT companies play a significantly important role in our daily lives in such information age. Data loss can hardly avoid due to human error, hard drive corruption, power outage, computer malfunction, virus attack, etc. Thanks to third-party data recovery software, we escaped from various types of data loss disasters on a hard drive, flash drive, memory card, camera, phone, music player and so on.
Only one frustration is noticeable. While selecting recovered files the software has found, customers said that they always get stuck at finding the target files by choosing from file types. Why don't so many data recovery tools allow us to restore files by time? We can remember the date on which we deleted the files. Isn't it nicer and quicker to find the files by time classification?
How to Recover Lost and Deleted Files by Time Classification with EaseUS Data Recovery Wizard?
To ease the worry and reduce complaints from customers who care so much about their lost data, EaseUS Data Recovery Wizard feels responsible make the recovery option more helpful, even it enables people to recover files with original file names. After some refining work on EaseUS hard drive recovery software, now it fully supports to preview and recover lost or deleted files by date, type and path. Customers can choose any of the recovery classifications to find their target files promptly.
To recover deleted files by date, please follow the guide carefully.
Step 1. Choose the hard disk drive where files were deleted and gone. Click "Scan".
Step 2. EaseUS Data Recovery Wizard will start a quick scan first. After the quick scan completes, a deep scan will automatically launch in order to find more files.
Step 3. Among the scanning results, you may first click on the folder that contained your deleted files, then click on "Date" part to sort the files from latest to oldest or vice versa.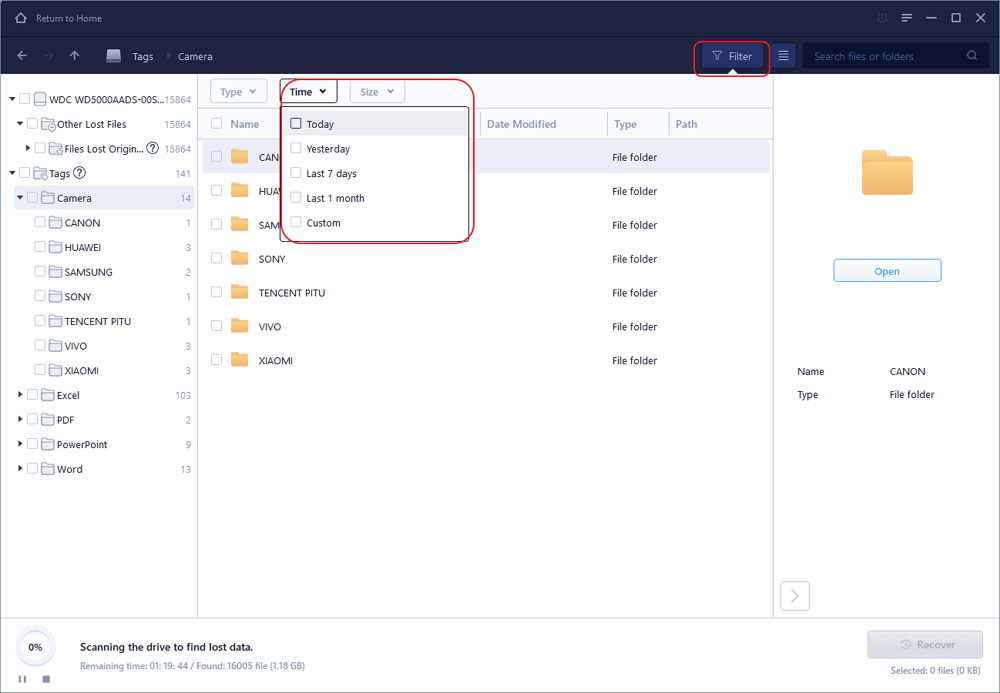 By sorting recoverable files by time classification, I hope every one of you an efficient data recovery with EaseUS Data Recovery Wizard.