Windows Explorer (explorer.exe), later called File Explorer in Windows 10, is the file management application in Windows. It navigates you to hard drives and displays the contents of folders. File Explorer is automatically launched at any time you open a folder in Windows operating system, but most of the time we tend to open the Explorer from the shortcuts in the Start menu, Taskbar, My Computer, Windows folder, etc.
"Windows Explorer Has Stopped Working", How to Open File Explorer
Did you receive an error "Windows Explorer has stopped working" when working on the File Explorer folder? You cannot open the Windows folder normally in Windows 7/8/10 32 or 64 bit because Windows File Explorer keeps crashing and stops responding, prompting an error message "Windows Explorer has stopped working. Windows is checking for a solution to the problem".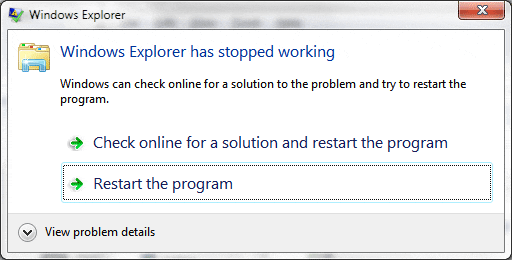 You need a solution eagerly at this moment. Let's work out the problem by all means when File Explorer won't open in Windows 10/8/7 due to the "stopped working" warning.
Above all, try quick fixes below.
Wait for Windows finds the solution for you.
Close the File Explorer in Task Manager and restart.
Restart your PC (not thoroughly recommended because it could induce data loss).
Update video driver with the proper 32 or 64-bit version.
Scan and remove malware infection/computer viruses.
Advanced solutions to Windows Explorer has stopped working
PAGE CONTENT:
1. Restore hard drive folders with EaseUS Data Recovery Wizard
2. Run System File Checker (SFC) to fix missing or corrupted files
3. Test your system's RAM memory and clear some
4. Repair corrupt thumbnail file
5. Perform a system restore (be very cautious, system restore removes data)
Proceed with "Windows Explorer Has Stopped Working" Solutions Step by Step
Don't be upset if quick fixes fail to revive the File Explorer. You still have five advanced solutions to help resolve this common error, most importantly, without letting you lose the access to all the crucial downloads, pictures, music, videos, local drives, flash drive, external hard drive, etc.
Solution 1. Restore Hard Drive Folders with EaseUS Data Recovery Wizard
ATTENTION:
1. If you deleted or lost folders on an external device, stop using the device and connect it to your computer.
2. If you deleted a folder on your PC, check the recycle bin firstly to see if the folder is there.
3. If not, relax. Refer to professional file recovery software - EaseUS Data Recovery Wizard for help right now:
Step 1. Run EaseUS file recovery software.
1. Select a hard drive, external device or click "Specify a location" to choose the exact location where you lost folder on EaseUS Data Recovery Wizard window.
2. Click "Scan" to let this tool scan lost folder.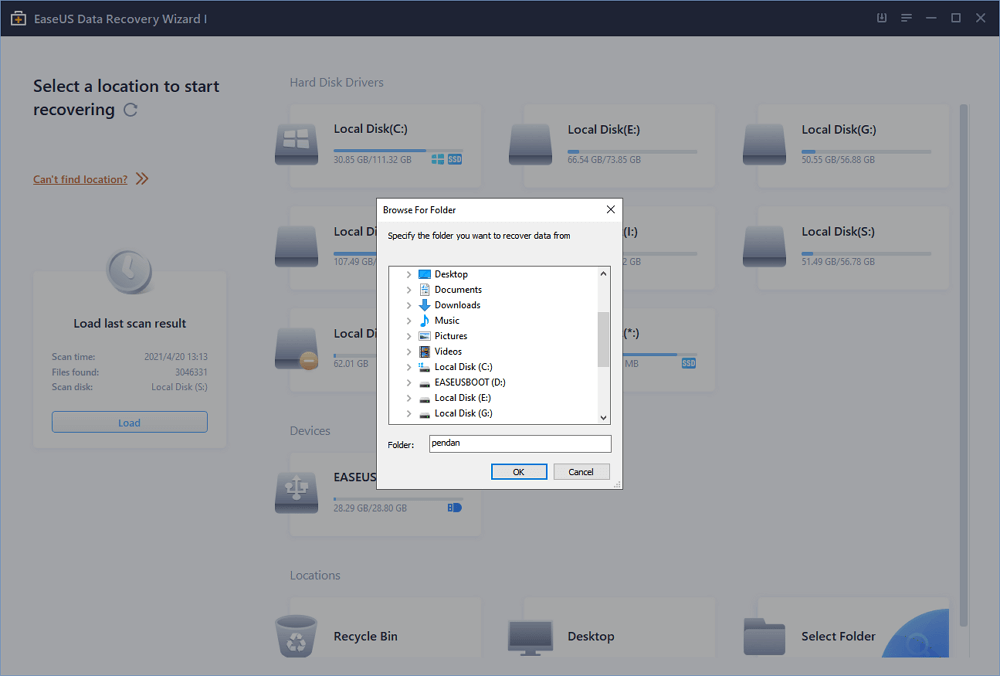 Step 2. Preview found folder file.
1. Check found files in "Deleted Files", "Drive (with your device name)" or you can use "Search" to quickly find your lost folder by searching the folder name.
2. Double click found files to preview them.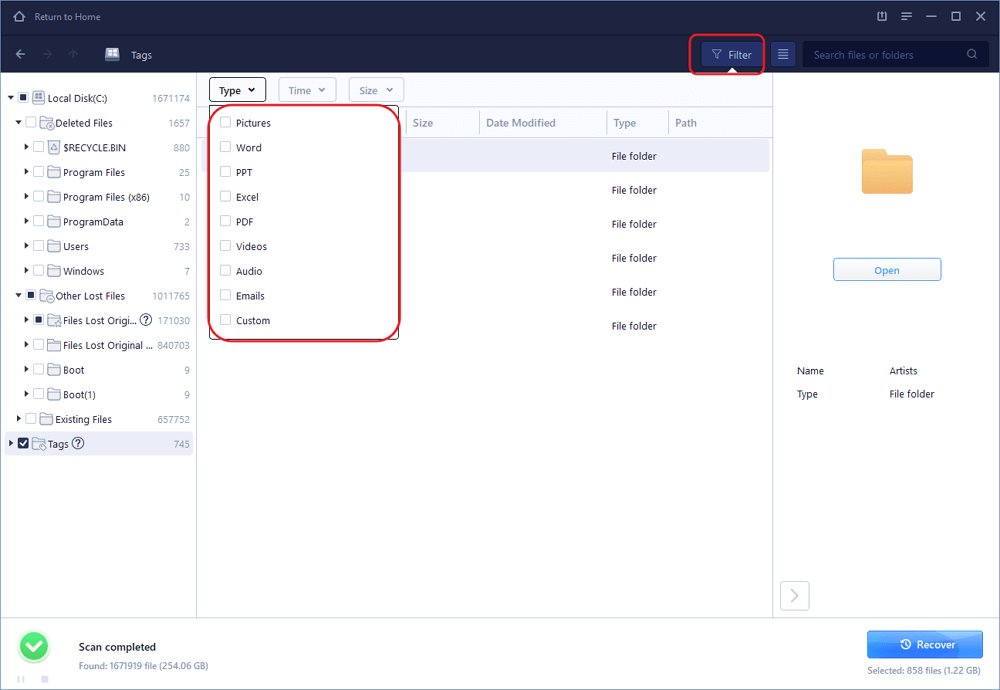 Step 3. Restore the found folder and data.
Last, you can choose the folder file and navigate to save them to a secure location on your PC or on an external storage device by clicking "Recover".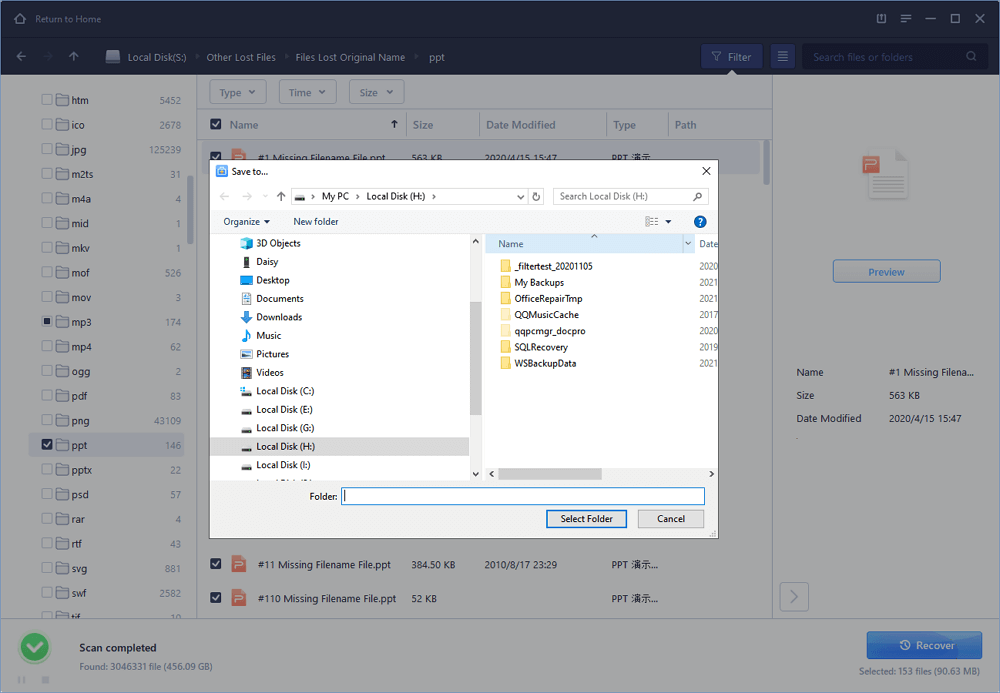 Solution 2. Run System File Checker (SFC) to Fix Missing or Corrupted Files
Step 1. In the results area, right-click cmd.exe, and then click Run as administrator. You may be prompted to type the Step 2. password for an administrator account.
Step 3. Click Continue if you are the administrator or type the administrator password and then, click Continue.
Step 4. At the command prompt, type Sfc /scannow and then press ENTER.
Solution 3. Test Your System's RAM Memory and Clear Some
----Test your computer's RAM with the Windows Memory Diagnostic
Step 1. Open the Start menu, type "Windows Memory Diagnostic" and press Enter.
Step 2. Choose whether to restart the computer and run the tool immediately or schedule the tool to run at the next restart.
Step 3. Windows Memory Diagnostics runs automatically after the computer restarts and performs a standard memory test automatically. If you want to perform fewer or more tests, press F1, use the Up and Down arrow keys to set the Test Mix as Basic, Standard, or Extended, and then press F10 to apply the desired settings and resume testing.
Step 4. When testing is completed, the computer restarts automatically. You'll see the test results when you log on.
----Read further information about how to clear memory and increase RAM in Windows 10/8/7.
Solution 4. Repair Corrupt Thumbnail File
Step 1. Press Windows + E to bring up File Explorer. Navigate to Organize on the top left.
Step 2. Click the Folder Search Options and go to the View tab.
Step 3. Check the box and turn on the option of Always show icons, never thumbnails. Click OK.
Solution 5. Perform a System Restore (Be Very Cautious, System Restore Removes Data)
The final resolution always helps remove the "Windows Explorer has stopped working" problem correctly. However, risks are there. Restoring your previous version of Windows allows you return to a working state before the question arises, however, all the newly added data or installed programs after that state point will be entirely removed. So, always remember to preserving a copy of the vital computer data to avoid massive data loss.
Follow the System Restore wizard if you use the default Windows backup program.
Third-party backup and recovery software users should restore the system backup as instructed.
Additional help: how to recover data after system restore.