"I just received a new desktop computer with a clean Windows 10 install. But now, File Explorer window cannot open when I tried to launch it from the Taskbar or the Start menu. And I can't open any folders. Is there any way to fix the problem and open file explorer on windows 10? I need to get access to some important files. Please help!"
Overview of File Explorer Not Opening in Windows 10
Sometimes, when you try to launch File Explorer to open some files or folder from the Taskbar, it doesn't show you the Window. The problem has also happened on Windows 7, Windows 8 and Windows 8.1, preventing users from getting access to any of their folders or files.
And now, it happens more and more frequently in Windows 10 and makes more and more users become the victims of the folder won't open issue. If you are having trouble opening or viewing your folders or files in Windows 10 because you can't open file explorer, this article provides the right solutions for you.
Follow the instructions below to see which methods finally help you fix the problem and regain access to your files and folders.
3 Fixes to File Explorer Won't Open in Windows 10
To fix this issue from the Taskbar error without losing any data, we suggest you try the solutions provided below first, then you can follow the extra tip to restore files from inaccessible folders or hard drive partition if necessary.
Here you can try either method in the below to fix and repair File Explorer to work and open your files or folders again:
Method 1. Restart File Explorer in task manager
Step 1: Press Ctrl + Alt + Del to start "Task Manager". Then locate "Windows Explorer".
Step 2: Right-click on Windows Explorer and choose "End task".
Step 3: On top of the Task Manager window, click the "File" option and choose "Run new task".
Step 4: Type "explorer.exe" in the box and then hit Enter.
Method 2. Create a new path of File Explorer
Step 1: Right-click the File Explorer icon on the Taskbar, then choose "Unpin from the Taskbar".
Step 2: Right click on the blank spot on the desktop and choose "New > Shortcut" to create a new shortcut.
Step 3: Type in the following address: "C:\Windows\explorer.exe" in the Create Shortcut window and click "Next".
Step 4: Rename the file to "File Explorer" and click "Finish".
Step 5: Right-click the newly created shortcut and choose "Pin to Taskbar".
After all the steps, you can double-click on the newly created shortcut to verify that if you can open File Explorer. If it works, right click on the Taskbar icon and select Pin to the Taskbar if you would like to quickly access files or folders by opening File Explorer from the Taskbar.
Method 3. Restore File Explorer Defaults
If the File Explorer won't open in Windows 10, you can also go to the File Explorer Options to restore defaults to have a try.
Step 1: Click the "Start" button and type File Explorer Options.
Step 2: Reset File Explorer Defaults.
Under the General tab, click "Clear" to clean up File Explorer history and then click "Restore Defaults".
Under the View tab, click "Reset Folders" > "Restore Defaults".
Under the Search tab, click the "Restore Defaults" button directly.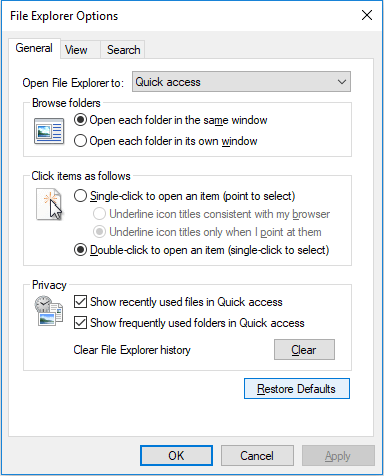 Extra Tip: Restore Data from Inaccessible Folders When File Explorer Not Opening
After fixing the File Explorer error, you can try to open folders or hard drives to check and use your files with File Explorer. If your folders or hard drive partition become inaccessible and File Explorer cannot open them, the best way is to restore data from inaccessible folders or hard drive partition is to try let professional data recovery software help in case of unexpected data loss.
Here, you can try EaseUS Data Recovery Wizard which allows you to access and find all data from file folders or hard drive partition. You may be asked to activate it before recovering. We suggest you preview the found files. First, all previewable files are available to recover, then activate this software and restore all data.
Step 1. Run folder recovery software.
Launch EaseUS folder recovery software on your PC.
Connect the device to your computer if the lost folder is saved on an external storage device.
Click "Specify a location" to choose the exact location where you lost the folder.
Click "Scan" to begin scanning lost folder with files.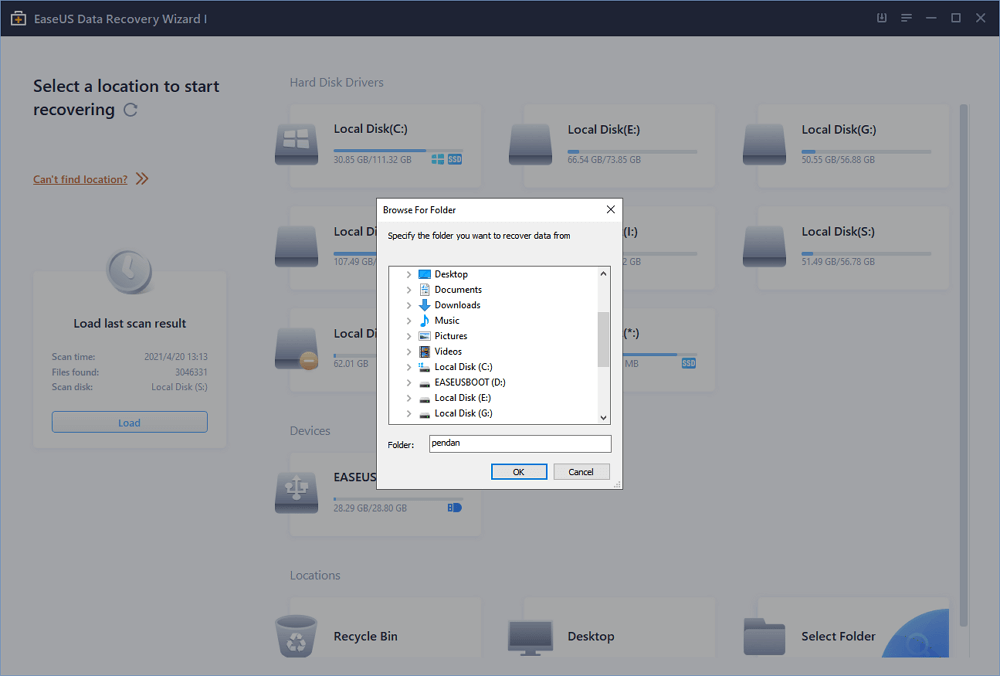 Step 2. Find lost folder.
You can use the "Search" feature to quickly find the lost folder by searching the folder name.
Or you can check and find them from "Deleted Files", "Drive (with your device name)".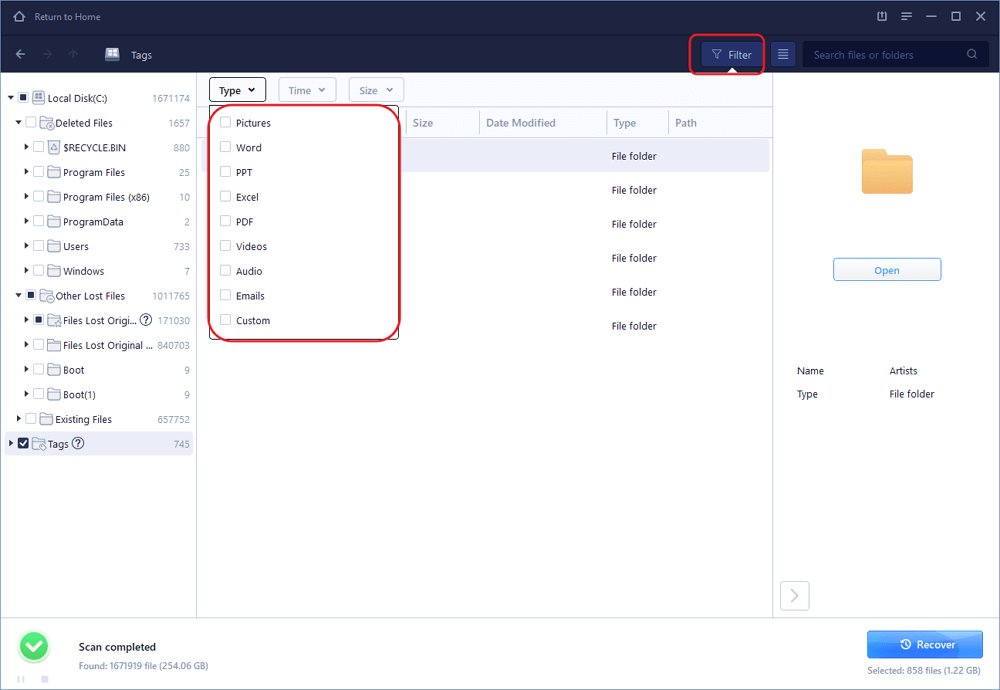 Step 3. Recover the lost folder.
Last, select the folder and choose to save it to a new & secure spot on your PC by clicking "Recover".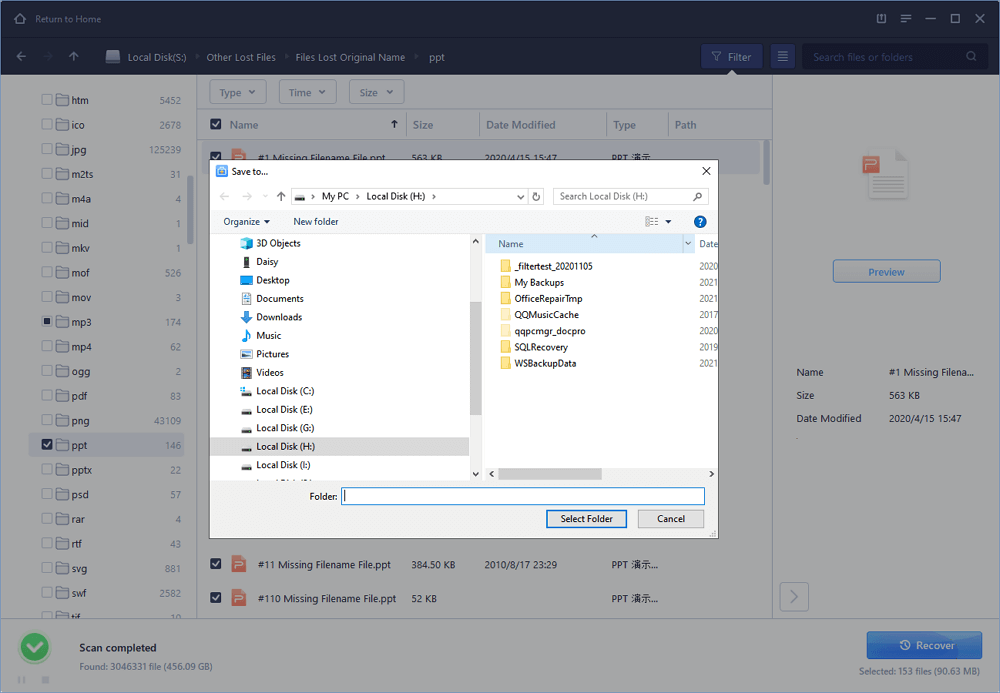 Do remember to save the files to another secure location and then move to Step 2 for further solutions to fix the File Explorer not opening error.