Summary
You may permanently delete files/folders from hard drives or storage devices due to pressing "Shift + Delete" buttons, emptying the Recycle Bin, or because of other causes. When this happens, you can recover the permanently deleted files/folders from the previous versions, Windows backup, or with EaseUS Data Recovery Wizard.
PAGE CONTENT:
Method 1. Restore from Previous Versions (won't work without backup)

Method 2. Retrieve from Windows Backup (won't work without backup)

Method 3. Recover with professional file recovery software without backup
The provided methods on this page can be applied to recover permanently deleted files in Windows 10, 8, 7, XP, and even Vista.
Causes of Files or Folders Permanent Deletion in Windows
Usually, folders or files that get deleted normally can be retrieved from the Recycle Bin. However, as for the permanently removed ones, recycle bin recovery doesn't work at all. In this case, you may ask how do I recover permanently deleted files from my PC? Before data recovery, it's important to learn how the files or folder get completely lost. Here are two main causes:
1. Shift + Delete
It's a quick method to remove files from your device forever: select files and press "Shift + Delete" keys instantly. A lot of users like to press "Shift + Delete" keys when they want to remove a file or folder from the computer.

2. Empty the Recycle Bin
Another common way to entirely delete files is to empty the Recycle Bin. Sometimes, when people delete files from their computers or external storage devices, they keep the habit of regularly emptying the recycle bin to clear up junk files. Then a permanent file loss issue occurs. So another question appears, that is how to recover permanently deleted files from emptied recycle bin?
In general, after you delete files using Del key or right-click deletion, they are moved to Recycle Bin. If you change your mind and want to restore the deleted files from there, you can do it in this way.
Open Recycle Bin. Find the file or folder you want to recover.
Right-click the item and click "Restore". Then, the deleted files will be restored to its original location.
The Recycle Bin will keep deleted files all the time until the maximum storage size for that Recycle Bin has been reached. When this happens, the Recycle Bin will automatically permanently delete/empty older files in chronological order to make room for the newer deleted files. If you don't want the Recycle Bin to delete files by itself, you can increase its maximum storage size.
Right-click "Recycle Bin", and choose "Properties".
Select the Recycle Bin location for the drive that you want to change the maximum storage size.
Under "Custom size", set the maximum size in MB for storage you want, and click "Apply". Repeat these steps if you're going to change the maximum storage size for another Recycle Bin location.
Note: The default maximum storage size of a Recycle Bin location is about 5% of its space available.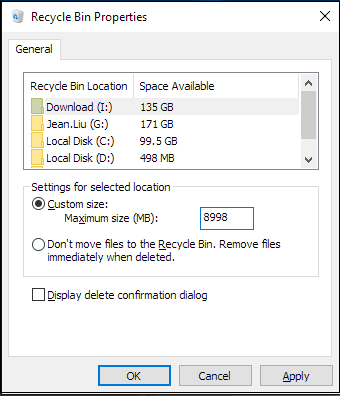 3. Deleted Files Bypass the Recycle Bin
If the deleted files are larger than the free space of the Recycle Bin, or if you have selected the "Don't move files to the Recycle Bin. Remove files immediately when deleted." option, the deleted items will bypass the Recycle bin and be deleted permanently. To prevent this accident, you can increase the size of the Recycle bin with the way above and disable the feature.
4. Other Unexpected Issues
Some other things beyond expectations can also cause the permanent deletion of files in Windows 10, such as abrupt system crash, malware or virus infection.
Most casual computer users can't find a way to recover the permanently deleted files resulted from these reasons. But now that you're here, don't worry anymore. This page includes the three most useful ways to help you undo the permanent deletion. Read on, and learn how to recover permanently deleted files in Windows 10/8/7/XP effortlessly.
Method 1. Restore from Previous Versions
Support: Undo permanent file loss with File History backup. With no backup, this method won't work.
If you have set up File History to back up target files or folder automatically and even a local drive on your computer, when you delete files or folder on Windows 10 or 8 PC with the "Shift + Delete" button, you can retrieve them from the Previous Version. If you didn't turn on the feature, nothing would be found. Here are the steps.
For Windows 10/8 users:
Step 1. Open "File History", search for the path to locate the folder that you deleted on the computer. It will display all the files in the most recent backup of that folder.
Step 2. Click the "Previous" button to locate and select the file you want to retrieve, then click the green "Restore" button to get it back.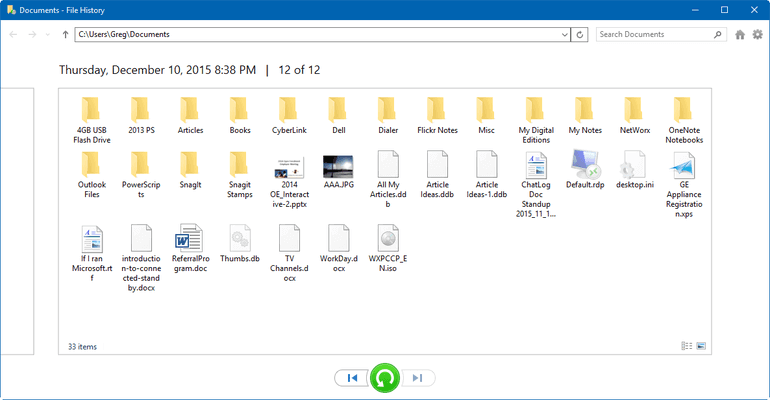 Step 3. If the computer warns you that it already contains a file or folder with the same name, select "Replace the file in the destination" to get your permanently deleted files or folder back.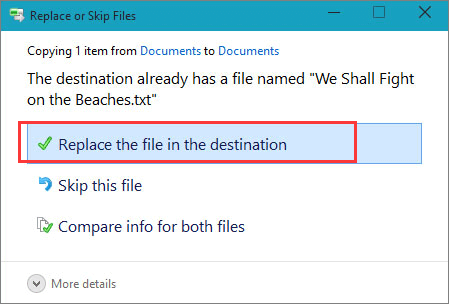 For Windows 7 and older OS users:
This method only occasionally works to restore permanently deleted files or folders from its previous version in Windows 7 or even older Windows OS.
Step 1. Create a new file or folder on the desktop and name it as the same as the deleted file or folder.
Step 2. Right-click the new file or folder and choose "Restore previous versions". Windows will search for and list the previous versions of files or folders with this name along with their associated dates.
Step 3. Choose the latest version and click "Restore" to get your deleted file or folder back.
Method 2. Retrieve from Windows Backup
Support: Bring forever lost files back using a previously created file or folder backup. Also, this method won't work if there is no backup generated before.
If you created a back up of all valuable files and folders on an external hard drive, you could effectively restore the lost files from the backup. Or, if you have turned on the Windows backup, you probably still have a chance. If not, sorry, you are not the lucky one. Here are the steps that you can follow.
Step 1. Open "Control Panel", go to "System and Maintenance", select "Backup and Restore (Windows 7)".
Step 2. Click "Restore my files".
Step 3. Click "Browse for files" or "Browse for folders" to select the previously created backup.
Step 4. Navigate a location to save the backup - "In the original location" or "In the following location". If there's a conflict, choose "Copy and Replace", "Don't copy" or "Copy, but keep both files" according to your needs.
Step 5. Wait for the restoring process to complete. Then all of your files or folder that were permanently removed will show up on your PC at the original or the new location.
Method 3. Recover with a Permanently Deleted File Recovery Tool
Support: 3-step recovery of permanently deleted files on Windows 10/8/7/XP without backup
As you can see, the file backup or Windows backup recovery requires you to have a backup file at first. If not, they are useless to you. So, to recover permanently deleted files without a backup, you can make it with the help of EaseUS Data Recovery Wizard.
This professional data recovery program aims to recover lost data due to deletion, formatting, partition loss, OS crash, virus attack, or some other reasons. You can download it and follow the guide below to recover permanently deleted files/folder in a few simple steps.
Step 1. Run EaseUS Data Recovery Wizard. Choose the specific device and drive where you have permanently deleted files. Then, click "Scan" to find lost files.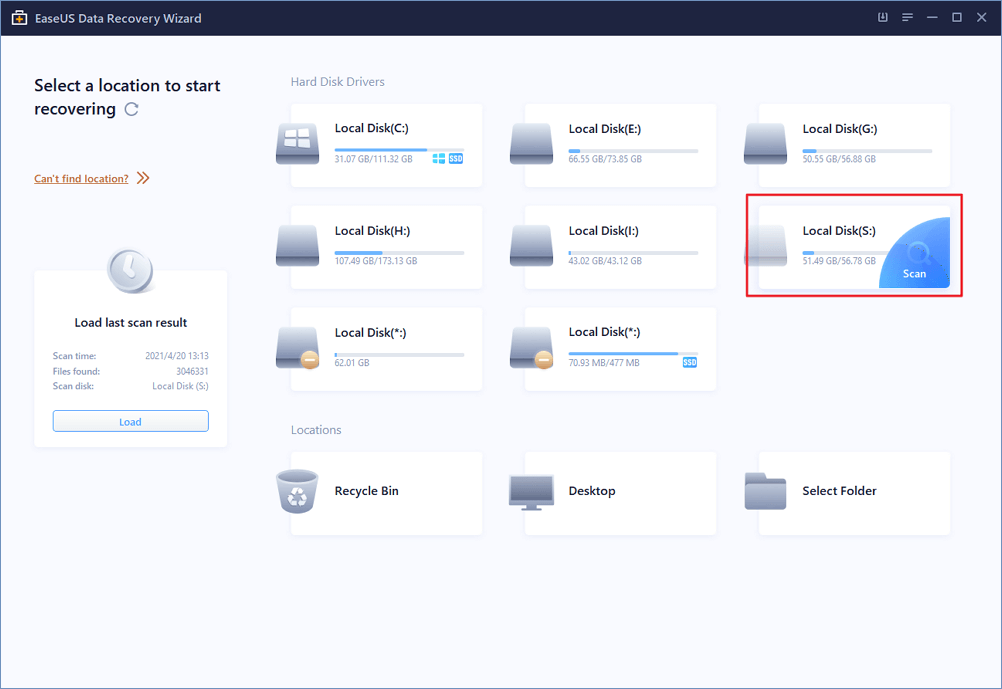 Step 2. The software will automatically start scanning all over the selected drive. Soon, a quick scan result comes out and displays in "Deleted Files" under the drive/disk.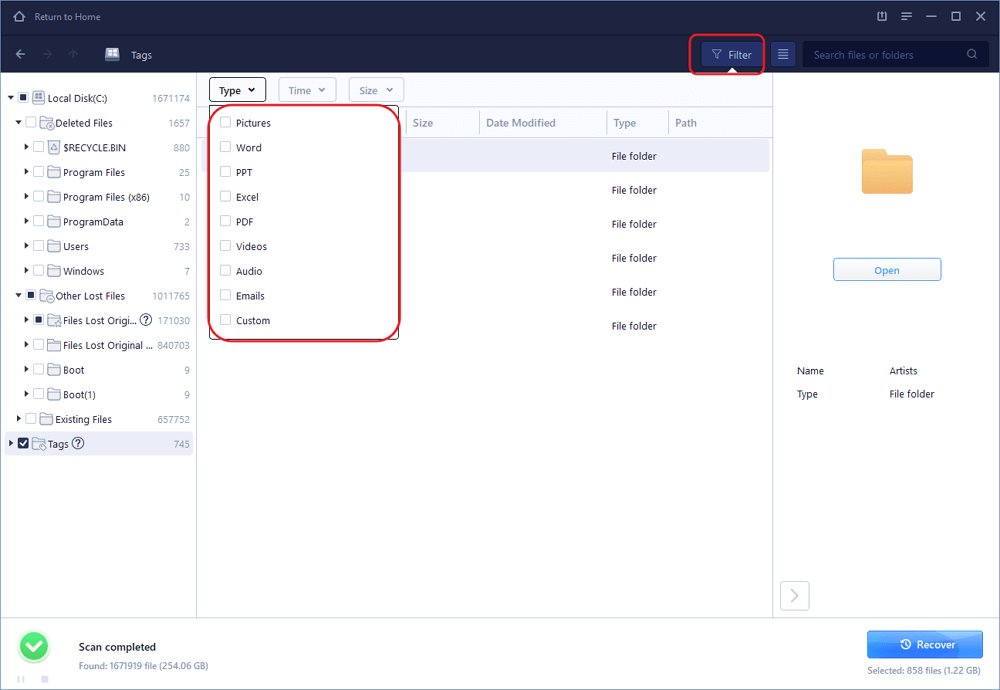 Step 3. Preview and select the wanted files. Next, click "Recover" to save them to another secure location or device.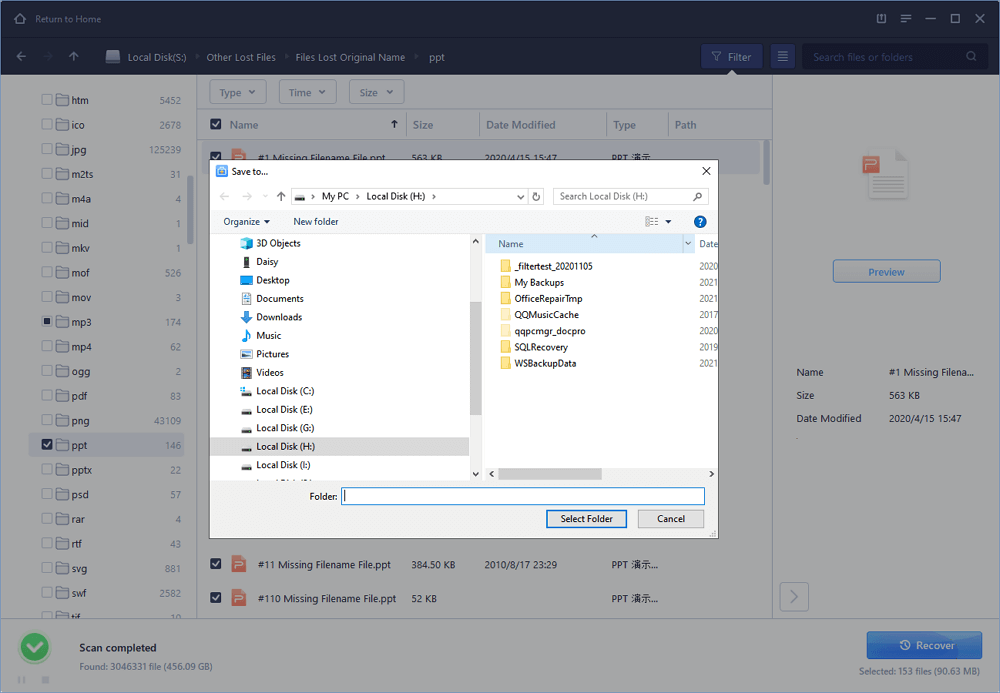 EaseUS free data recovery software allows you to recover permanently deleted files in Windows 10/8/7 for free. As long as the data you lose is less than 2GB, you can use the free version of EaseUS Data Recovery Wizard to get it back. If you want to recover more than 2GB or unlimited data, you need to choose the pro edition.
Sum Up
If you have enabled File backup or Windows backup before, the first attempt to recover permanently lost files is restoring to the backup. But if you don't have any backup, don't despair, EaseUS Data Recovery Wizard is your last but best shot. It will fully scan and restore your lost files with a high recovery rate.
It's better to do a data backup in advance than to recover it after losing. Therefore, it is always recommended that you create a full backup of important files. It will save you from both file loss and economic loss. EaseUS Todo Backup enables you to do the basic file backup, disk partition backup, and even OS backup within only three steps. If you'd like to try it, here are the brief guides.
 Tip

You'd better create the backup file on an external disk or on the cloud in case the local backup gets corrupted or destroyed.
Step 1: Launch EaseUS Todo Backup software and then choose "File Backup", "Disk/partition Backup" or "System Backup" for different backup purpose.
Step 2: Choose the system, disk partition, files or apps that you want to back up. Then select a destination where you want to store the backup file.
Step 3: Click "Proceed" to start the data backup process.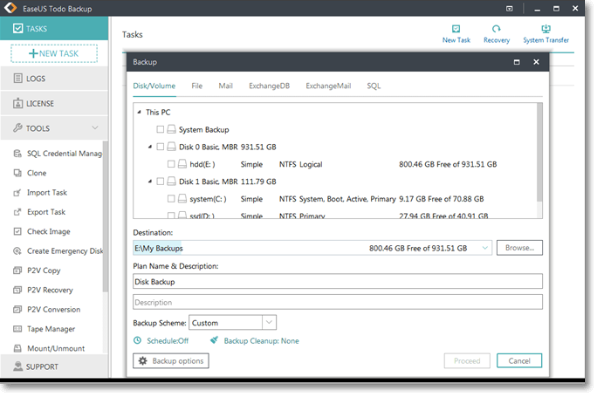 100% of people found this article helpful.
Frequently Asked Questions
1. Why choose EaseUS Data Recovery Wizard?

"EaseUS Data Recovery Wizard is the best we've seen. It's far from perfect, partly because today's advanced disk technology makes data-recovery more difficult than it was with the simpler technology of the past, but it's fast and efficient..." —PCMag

"The first thing you'll notice about EaseUS Data Recovery Wizard Pro is that its interface is very clear and uncluttered, with only a small collection of self-explanatory controls. You won't find lots of extra options hidden in a system of hidden menus, either; what you see really is what you get." —techradar

"Recover lost files, even after deleting a partition or formatting your drive." —Macworld
2. Why cannot I recover 2GB data for free?

It is recommended to check the version installed is Free or Trial because they are different versions.

Trial has data preview function but cannot save any files, while the Free version enables to recover 2 GB files. The default free space is 500 MB and you may share the product on social media to get another 1.5 GB.
3. Why cannot the recovered files be opened?

A file is saved as 2 parts on the storage device: directory info (which is comprised by file name, time stamp and size info, etc.) and data content.

If the files with original file names and folder structures cannot be opened, one possible reason is the corrupted directory info. There is still a chance to recover the data content with the RAW Recovery method in our software.
4. Why isn't it suggested to recover the files back to the original drive?

The storage structure of the lost files would be altered or damaged by any changes on the drive. If you save the recovered files back to the same drive, the original data structures and data content would be corrupted or overwritten, which causes permanent data loss. So you should prepare another disk to save the files.
5. How can I check whether my data is recoverable or not before purchase?

The Free version helps you save 2GB files to better verify the recovery quality of our product before purchase.
6. How long does it take to scan the drive?

It strongly depends on the capacity of your hard drive and the performance of your computer. As reference,most drive recoveries can be completed in around 10 to 12 hours for a 1-TB healthy hard drive in general conditions.
About Data Recovery Wizard
It's super easy to recover 250+ types of files after deletion, disk formatting and virus infection. Click the links and compare the difference of each version.