What Is Data Rescue 6 Used For
Data Rescue 6 is a top-notch file recovery app, which brags about simple file recovery with a few hassle-free steps. It allows you to scan your drive, clone, retrieve lost files and build a recovery drive when your Windows or Mac PC quits cooperating.
So, do you want to know a complete data rescue 6 review? In today's article, we take a glance at what Data Rescue 6 for Windows or Mac has to offer and what makes this app an impeccable file retrieving solution in the market.    
Data Rescue 6 for Windows
Have you accidentally eliminated crucial files from your Windows PC? Or, does your external drive no longer respond or show up? With the help of Data Rescue 6, the best data recovery software, you can recoup those valuable videos or images and confidential business documents with ease.
For downloading Data Rescue 6 for Windows, your system must be a Windows 7 or later, have a strong internet connection, and a secondary storage device.
As far as standard licensing is concerned, you have to pay for those files you're willing to retrieve at a nominal rate of $19.  
Data Rescue 6 for Mac
Data Rescue 6 for Mac also lets you retrieve critical business documents and others within a few minutes. In order to avail data rescue facility on your Mac, you need macOS 10.12 and, later, a robust internet connection and a secondary storage device.
What's more? Data Rescue 6 for Mac now provides complete Catalina Support (10.15). You will get APFS support and build a Recovery Drive for macOS 10.15, numerous user interface enhancements, and dark mode.
The standard license costs you as little as $19 for the files you want to retrieve and helps you find all your lost files for free. On the other hand, the professional license has extraordinary features like improved RAID recovery, Mac and Windows cross-compatibility, rapid scan and retrieval speeds, etc. 
What's new about Data Rescue 6
The Data Rescue 6 app provides full Big Sur support and APFS support. So, you can create a quick Retrieval Drive for macOS 10.15, having a USB 3.0 Flash Drive with 32GB space, numerous user interface maximization, and dark mode.
The best software features are the following:
Improved RAID Recovery: Automatically ascertains a set of RAID configurations.
Extra standalone tools: You can now secure and eliminate your files with full-fledged security or quickly discover your drive order with Number Sector.
Cross-compatibility of Windows and Mac: Data Rescue 6 can now be installed on both OS with the same license.
Super-fast scan and retrieval speed: Lower the time to operate a complete scan and disseminate your recoverable files.
Observe File Data and Raw Drive: See files from your scan before recouping them in the hex viewer.
Data Rescue 6 Main Features
Data Rescue 6 is the best retrieval tool created by Prosoft Engineering, available for both Mac and Windows. In this data rescue review, the best features of this recovery tool are shown below
Do you have a failing hard drive? Or do you have a hard drive that is not functioning as it used to? Hence, using Data Recovery 6 helps you make a full-fledged clone of your existing drive. Data cloning is one of the best proactive steps in safeguarding yourself against data misplacement.
In case you lack a disk to clone to, create an image file directly within the app instead. Therefore, you can utilize this image file to reproduce a hard drive later.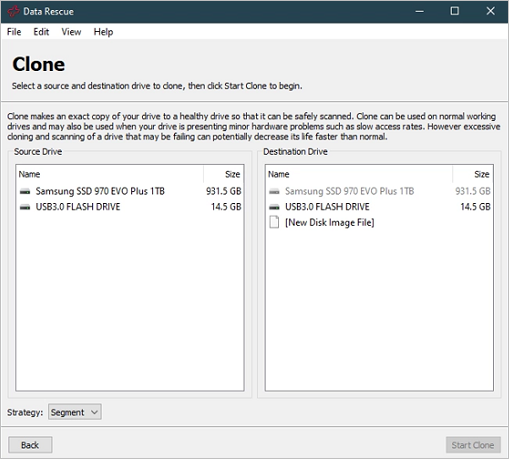 Data Rescue 6 supports more than 100 distinct types of files. Also, for the file types that aren't listed on the site, Data Rescue 6 has developed a built-in feature named FileIQ. It allows it to know more about new file types. All you have to do is add a file simply to the list, and this app will remember the file type for retrieval in the future.
Build a Bootable Recovery Drive
The seamless ability to build a bootable retrieval drive is functional. When you buy pre-configured boot drives from the Prosoft website, it lets you create your own within Data Rescue 6. However, a bootable recovery drive provides you with the best chance to recoup your hard drive content if your PC has problems with meeting its boot sequence.
Assess Previous Scan Results
In case you've ended a scan already, you can quickly re-access it. Considering the previously scanned connected drive, you can utilize Data Rescue 6 to bring up the contents of the last scan. Anyway, the last scan will be saved only, and the more detailed scans consume more time; hence keeping a saved record is essential for time-saving. Also, you don't have to rescan the whole drive again.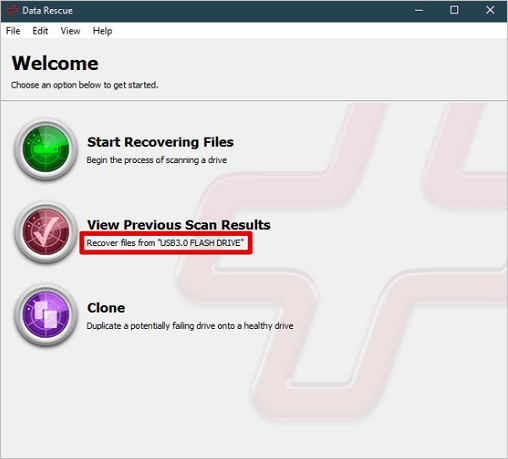 Pros and Cons of Data Rescue 6
Data Rescue 6 app of Prosoft Engineering is the best choice due to its splendid recovery system and ease of use. But it does have a few pros and cons! Despite its shortcomings, Data Rescue 6 is the best tool for IT pros and everyday consumers. 
Pros:
Straightforward and hassle-free to use
Pay for those files only that you need to retrieve
Mac and Windows supported
Preview files for free prior to recovery
Cons:
No refund policy
Troubleshooting support is available online only
Data Rescue 6 Price
In this 4th part of the data rescue 6 review, we will discuss the pricing and plans of Data Rescue 6. Prosoft lets users trial this tool by providing free scans to find deleted or mislaid files. Besides that, file recovery with Data Rescue 6 will be charged no matter what, if it's a standard or professional license. 
With Data Rescue 6's standard license, you can scan your drive for retrievable files, and it provides you with a hands-on demo before paying. Once the scan is over, you need to pay for the files you want to retrieve at $19. Hence, this method is fantastic for those who occasionally use this software.
On the other hand, those who use it daily will benefit from a Professional license. The price of this professional license is pretty vertical while considering it's a leading subscription-based product. At $399.96/year, you will get limitless drive retrievals and system activations compared to other recovery tools.
Prosoft Engineering also provides Enterprise Licenses. You need to contact them to obtain a direct quote and know its features. 
License Version
Cost
Advantages/Disadvantages
Standard  
Free

Pros: Pay per retrieval, Free disk scans

Cons: No trial recoveries

Professional
$399.96/year 

Pros: Infinite file recovery benefits, Endless activation 

Cons: Not budget-friendly
Data Rescue 6 Download and Setup
Until brand-new data is written to the drive and overwrites the contents of that free space, a top-notch data retrieval software, such as Data Rescue 6 uses its best algorithms to search the device for files in terms of known file patterns, and restructure the raw data of identified files. However, the steps are shown below to download Data Rescue 6 for your Windows and macOS:
Step 1. Download this Data Rescue 6 directly from the Prosoft Engineering website.
Step 2. Open the ZIP file once the download is over. A window will quickly pop up with the data rescue logo. To install the software, you will have to drag the icon into your applications folder.  

Step 3. The software is installed and can be quickly launched from your applications folder. You need to enter your name, and you will be asked to provide the purchased serial number or the demo. Once you enter the information, you will be redirected to the welcome screen.

How to Use Data Rescue 6 to Recover Data in Windows
To understand how efficient Data Rescue 6 is in retrieving files, you need to download this software from Prosoft Engineering by paying for any license versions. However, let's closely look at the data retrieval process to recover data in Windows, which requires a standard USB flash drive.
Step 1. Opt for "Start Recovering Files".
After opening Data Rescue 6, you will get a welcome screen. It allows you to observe previous scan results, select between scanning for files, and clone your drive. To kick-start, hit the "start recovering files."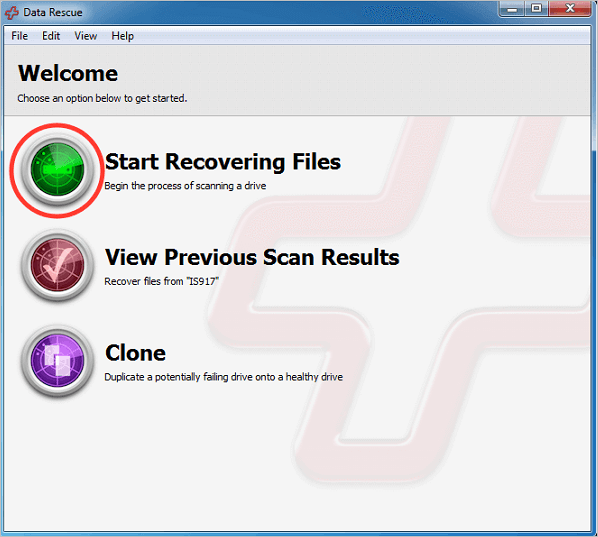 Step 2. Choose the drive that you want to scan.
The next step will allow you to opt for what discoverable drive you want to scan for recoverable or mislaid data. Do you want to scan your primary hard drive? You couldn't perform it unless you alter the temporary file location through File> Change Temporary Storage location. You may choose a USB and once select a drive that you want to scan and hit next.
Step 3. Opt for a quick scan or deep scan.
What do you prefer between a deep scan and a quick scan? Every scan will be going to assess your hard drive. However, the sole difference is how meticulous the scan will be. So, once you've selected one, hit the start button.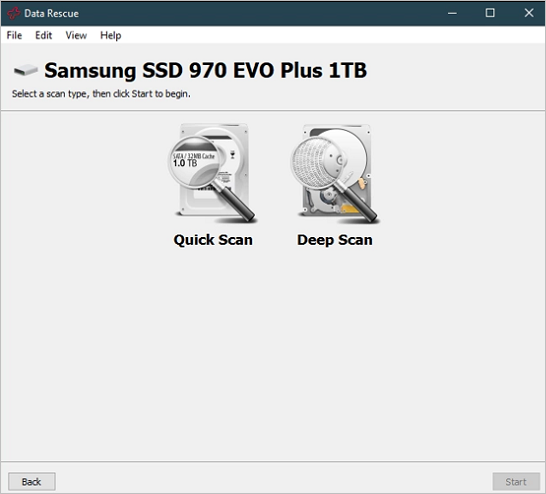 Step 4. Evaluate the scanned results.
When the scan is over, you will be given a detailed file list that Data Rescue 6 has found on the drive. It means these are the files to be retrieved quickly. While skimming through the list, you can choose the preferred files and utilize its preview section to check if that File is in the operable state. However, you may also utilize its Search function to search for particular files. If you want to recoup the files, you will have to upgrade to any of these between Standard or Professional licenses.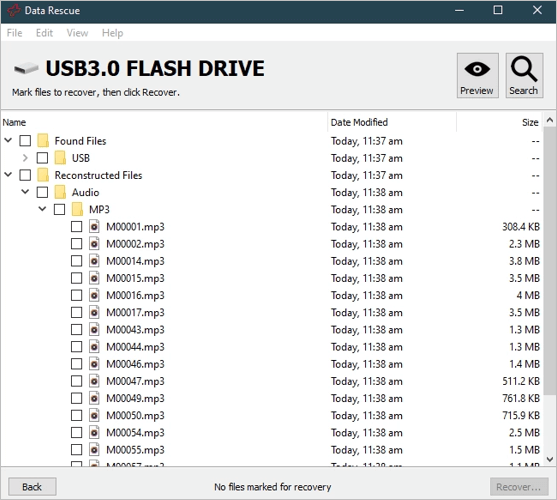 Data Rescue 6 FAQs
Prosoft possesses a FAQs page, which contains numerous tutorials for using the software on both Mac and Windows. In case your query isn't answered here, contact their team through live chat from Monday to Friday, 8 am to 5 pm PST. 
1. Is Data Rescue safe?
Data Rescue 6 is entirely safe. It's a top-notch recovery tool developed by Prosoft Engineering and evaluated broadly.
2. How much time Data Rescue 6 takes to scan?
The fastest scan facility offered by Data Rescue 6 is extensively more rapid than its Deep scan. However, the scan times depend on the disk size. So, the more substantiate the size, the more there is to scan. As per Prosoft, the Deep scan especially takes 3 minutes per gigabyte. 
3. How to install Data Rescue on USB?
You need to change the temporary file location through File> Change Temporary Storage location. Next, you may choose a USB, select a drive, and scan it.
4. Alternatives to Data Rescue
You must never want to be caught off guard when you mislaid a critical file. Therefore, having the best data recovery tool installed on your Windows PC will help you retrieve the complete files. Data Rescue 6 is indeed the best data recouping software. But are you looking for more? Here are the best alternatives to Data Rescue:
Data Rescue Final Verdicts
To conclude, Data Rescue 6 software provides:
Tool safety and reliability
Complete OS compatibility
Technical support
Full-fledged recovery expectations
Data Rescue 6 only allows you to preview the files while other recovery software lets you trial their retrieval features to a specific threshold. Lastly, it features an elementary UI, making it hassle-free to navigate and use. In a nutshell, Data Rescue 6 is the best tool for the fastest data recovery.

Cedric Grantham is one of the senior editors of EaseUS who lives and works in Chengdu, China. He mainly writes articles about data recovery tutorials on PC and Mac and how-to tips for partition management. He always keeps an eye on new releases and likes various electronic products.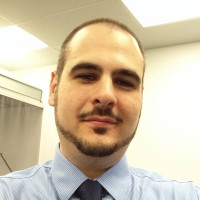 Approved by Evan Galasso 
Evan Galasso is a digital forensics and data recovery engineer with over 10 years of experience in the field. He presents opinions on the current state of storage media, reverse engineering of storage systems and firmware, and electro-mechanical systems of SSDs and HDDs.